Kanye West – JESUS IS KING Review
October 30, 2019 | Posted by
Kanye West – JESUS IS KING Review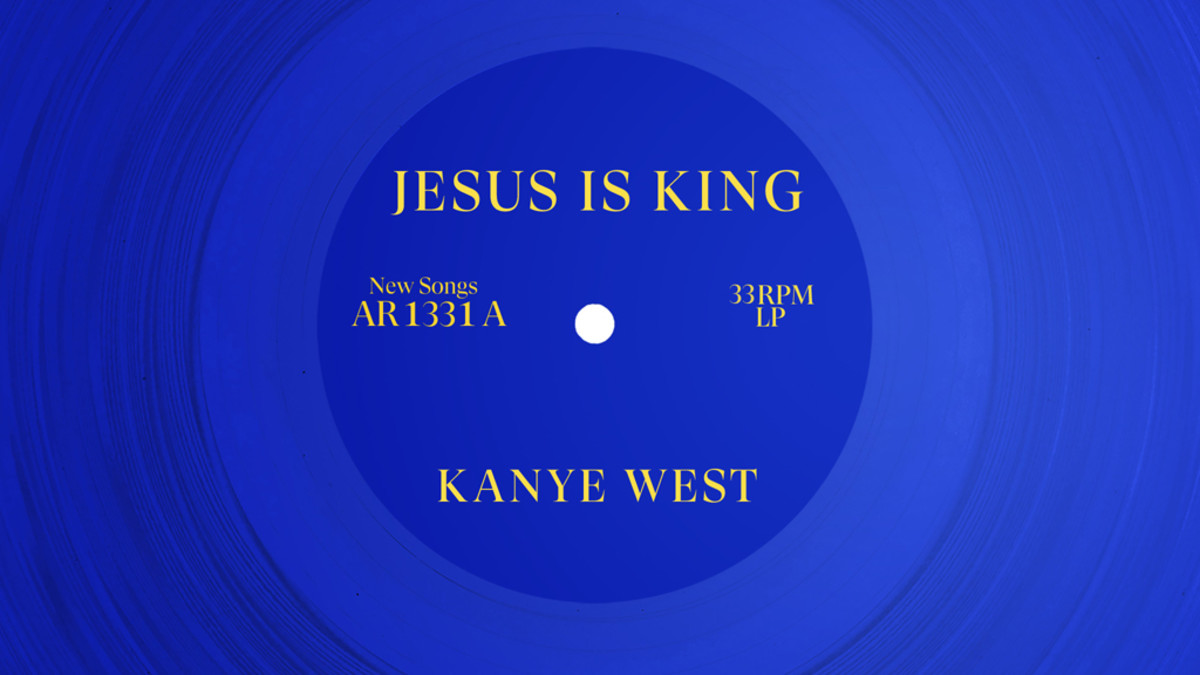 Kanye West, the perfectionist, is long dead and buried. The rapper and producer has always been erratic and prone to bouts of public controversy, but through it all his music remained daring, original and precision engineered. Love him or hate him, he was a visionary and one of the driving creative forces of the 21st Century. This vision of Kanye ended with The Life Of Pablo's arrival: the album was still progressive and excellent in places, but it was patently unfinished. It took nigh on a year (after release) for Kanye to settle on a final mix and tracklisting for the project. Anyone who hasn't heard the definitive mix should go out of their way to revisit TLOP, it really is a tremendous listen, but it was also the first sign that Ye had lost his grip on his creative vision as well as his public persona.
In this light and from the outside looking in, 2018 seemed like a rough year for Mr. West. He appeared bogged down in public flame wars as, yet again, he set and failed to meet artistic deadlines – however, when it came time for the rubber to meet the road, Yeezy delivered. Ye might be his weakest studio album to date, but it remained an intriguing reflection on an impulsive individual whose lack of self-control continually hurts those he loves most deeply. Still, if Ye was met with decidedly mixed reviews, Kanye's macro project – to release a series of rapid-fire, seven-song LPs from his base in Jackson Hole, Wyoming – was an undoubted success. This flurry of secluded creativity resulted in Pusha-T's career best work Daytona, Teyana Taylor's stunning reflection of motherhood K.T.S.E. and, of course, Kid See Ghosts, West's gorgeous, grotesque and long awaited collaboration with Kid Cudi.
Therefore, while the state of Kanye fandom might have been in crisis in 2018, you would be hard-pressed to argue that his art was faltering. His solo work might be sloppy and shoddy compared to years past, but his overall instincts and the sheer volume and diversity of his creativity proved impossible to deny. Even given the strength of last year's studio output, few fans were excited to learn that West was about to bombard his audience with even more music. The Life Of Pablo was not finished upon release, Ye sounded fragmentary and barely mastered, and now Kanye was about to drop JESUS IS KING, an album that as recently as three months ago was supposed to be called Yandhi (and was decidedly not gospel).
There is reason for optimism. Kanye might have alienated seemingly everyone in 2019, but there was one project that fans and critics alike seemed to adore. West's Sunday Service, his series of live performances (climaxing at Coachella) backed by a gospel choir and a full band, quickly became must-see events. Kanye has always embraced Christian themes and has enjoyed a complex relationship with the church, usually expressed through his adoration for his mother. Simply put, his music routinely sounded fantastic when backed by a billowing, sky scrapping choir, so while explicitly gospel albums rarely attract much mainstream interest, the announcement of JESUS IS KING happened to provoke a certain level of curiosity.
Sadly the album, which feels both frustratingly rushed and pleasingly tender, does not contain anything that rivals the brilliance of "Ultralight Beam". It is worth remembering when confronted with this gospel rap project, that the single most dynamic and truly futuristic music Kanye has produced this decade was in fact a piece of (albeit self-centred) worship music. JESUS IS KING may be transparently hurried and a touch under-baked, but it is absolutely awash with potential and it's hard to avoid wondering if Kanye could have scaled the heights of "Ultralight Beam" with a little more time and forethought.
Perhaps surprisingly, Kanye doesn't seem interested in building cathedrals of sound, instead he's presenting a harder (sonically) and more humble (personally) image. JESUS IS KING's standout moment is a soft and humane one: "Everything We Need". Calling in Ty Dolla $ign for a beautifully sung hook, Kanye West, the very epitome of bling-era excess, has penned an ode to possession free contentment and bliss. "Life too short, don't spoil yourself/Life too short, enjoy yourself", the lyrics may be charmingly simple, but therein lies their strength. There is no artifice and as such unguarded optimism is free to permeate. The production is chilly and mechanical, perhaps hinting at the suffering others may endure, providing a dynamic contrast to the soaring grandeur of Ty's chorus. It wouldn't be Kanye without a little self-centred narrative spinning, but his second verse proves so tight and shrewdly penned that few will begrudge him a touch of self-indulgence: "Switch my attitude, I'm so radical, all these people mad at dude…what if Eve made apple juice, you gonna do what Adam do?"
Elsewhere, West flirts with intriguing ideas without achieving a satisfying resolution. "On God" continues Kanye's assault of the 13th amendment (he is anti-slavery, but takes issue with the way the prison industry has replaced it) as well as  the US tax system (he needs to charge obscene prices for shoes and shirts or he'll be forced to lower himself and, shock horror, appear on Dancing With The Stars). His click-bait verse isn't what catches the ear (although his oblivious troll bars are a lot of fun), instead the bonkers production proves impossible to ignore. These squirrelly, needling, 8-bit electronics loop for all eternity at x4 speed – the result is akin to Sonic The Hedgehog's Emerald Hill Zone on crack. Six or seven listens later it is still impossible to decide whether "On God" is mind-numbingly annoying or a really rather clever concoction.
Not everything Kanye does on JESUS IS KING is so divisive. "Follow God" employs a lovely soul sample and a rock steady street level beat. It's a pleasingly conventional effort that affords Ye two minutes of space to fire out bar-upon-bar. After Kanye has adopted so many grandiose personas and provocative stances, it is genuinely refreshing to hear him go to back to directly discussing his personal struggles, albeit framed in his own bizarre celebrity parody of normalcy ("Lifelike, this is what your life like"). In this light, where his every move is tried in the court of public opinion, it's easy to understand why Kanye finds so much solace in worship and the church. Atop a strange, but beautiful medieval acoustic guitar part and operatic vocal opening, Kanye explains this impulse on "Closed On Sunday". The attention grabbing aspect of the song may be the tweet-able "chick-fill-a" silliness, but the track actually thrives as a quiet reprieve from the insanity of everything that is Kanye West. Of course, being Kanye, even in this moment where he is supposed to be praising the Lord, he makes sure to position himself as a Christ like figure leading black people away from a toxic culture ("Stand up for my home, even if I take this walk alone"). He might be ham-fisted, but this lushly produced track, that migrates from an ornate and naturalistic opening towards an alien, bleating, minimal electronic end, remains decidedly powerful.
"Selah" manages to toe the line between daring production and conventional straight-ahead rapping. Starting at a minimalist extreme, Kanye spits a series of hard bars explaining his transition towards gospel music ("everybody wanted Yanhdi, then Jesus Christ did the laundry"), till a thunderous drum sample begins to punctuate Kanye's bible verses. From then on in, "Selah" is off to the races: a choir rhythmically hoots "hallelujah" creating a luscious aura, the perfect contrast to Ye's hard, thrill-free verse backed by a terse militaristic beat. The end result is rich in cinematic, neigh Biblical, intensity. Sadly, "Selah" never kicks on to that next plain of existence, but the track represents an intriguing juxtaposition and a tantalising starting point for a sound Kanye never truly develops. It's also worth noting that Pusha-T is fantastic ghostwriter for Kanye, making Yeezy's flows tighter on "Selah" without messing around too much with Kanye's natural delivery.
If large swathes of JESUS IS KING range from pleasingly understated to genuinely inspiring, then are a host of moments that prove utterly tedious. "Water" offers an intriguing premise – human's are just water, innocent, beautiful, but ultimately immaterial – sadly this intellectual gambit and Ant Clemons' serene vocal are wasted first by Kanye's morose rap verse and then by a series of pitiful adlibs that fritter away any momentum the track may have built up. "God Is" employs a classic Kanye tactic – he contrasts an immaculate soul sample with his own fragile, cracking, childlike vocal. The vulnerability is palpable and proves good match for worship music, but the track simply drags on and on. It's hard to deny the power of the messaging and the wounded heartfelt nature of the approach, but will anyone really want to return to "God Is" as a stand-alone piece of music? Doubtful.
This vulnerability is a double-edged sword. On one extreme it presents Kanye in a new light, as a man struggling to reconcile his religious beliefs with the impetuous life he has lived. On the other, it rings hallow, playing as cover as Kanye positions himself as the victim of persecution and misunderstanding – if fans don't like his music or the price of his sneakers, then it's their fault, presumably for being bad Christians. Annoyingly, this dichotomy leads to some real lost opportunities. "Hands On" starts with Kanye terrified as he is pulled over by the police, wondering whether he's going to become ensnared in the prison system (or worse). It's a powerful opening and sets the stage for Kanye to better explain his comments about slavery. Sadly, his transition towards religion, which starts with a crafty joke (he's going on strike, he's not working for the devil anymore), only leads him down a solipsistic and self-obsessed rabbit hole where whatever point he may have been making is soon lost behind his own egotism.
JESUS IS KING might be a conflicted listen that ranges from genuinely soulful heights to mundane self-pitying lows (with lots of pleasant, if less dramatic, scenery in between), but it ends with a genuine bang. Reunited at last, Clipse ride once more: not to spit coke rhymes, but gospel verse. Kanye, assisted by Kenny G's gorgeous showstealing sax solo, summons an almighty arrangement as Pusha-T and Malice set to work. The beat isn't unique or new in the Kanye canon, it's one of his classic slaveship rhythms that speaks to both hardship and the endurance of spirit, but it proves the perfect backdrop for Clipse's razor sharp bars. It's refreshing that while they may be preaching pure positivity; Push and Malice still rap with murderous intent and a ferocity that remains undimmed a decade on from their heyday. After a muddled thirty minutes of music, the message finally reads loud and clear: worship music need not be devoid of edge, innovation or aggression.
6.5
The final score: review Average
The 411
Sadly, JESUS IS KING  is not "Ultralight Beam: The Album" and while this collection rarely scales the heights of Kanye's best work, it is still loaded with craftily composed beats and bold ideas. There's no denying that this project feels rushed and some of its stand out moments feel about 75% complete, but equally there are only one or two major misfires. Ultimately, Kanye's gospel rap diversion is a charming and rather straight forward listen that's easy to enjoy, but also relatively easy to forget.
legend