Lana Del Rey – Norman Fucking Rockwell! Review
September 7, 2019 | Posted by
Lana Del Rey – Norman Fucking Rockwell! Review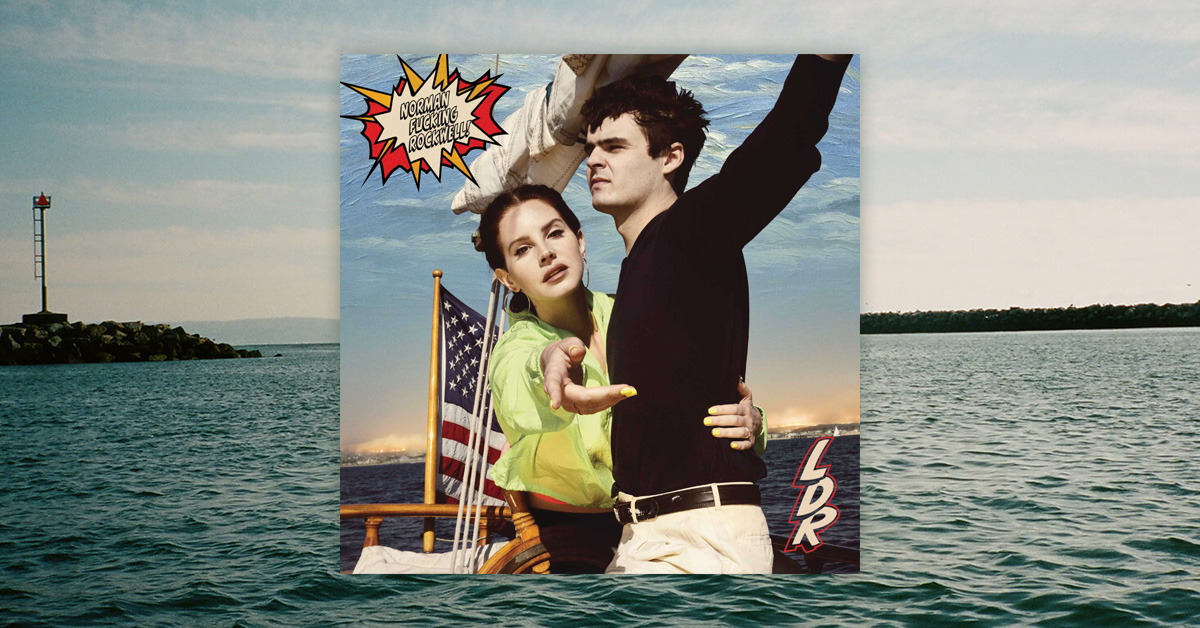 Lana Del Rey is both completely transparent and utterly confounding. She is the master of artifice. Transforming doomed toxic relationships and money obsessed bad boys into glorious, glamorous icons worthy of celluloid immortality. With her swooning vocal and a nourish eye for capturing the golden-age-of-Hollywood, she can transform something as mundane as watching men walk away or getting high by the beach into ornate slow motion epics. Her discography is wilfully preposterous, revelling in postcard Americana and romanticized nouveau riche tastelessness. The result is a beautiful observed unreality that thrives on violent conflict and exalts the serenely immaculate surface.
After four rapid-fire albums the world knew exactly what to expect from Lana Del Rey. We recognised who she was as an artist and intuitively understood her sonic, tonal and visual language (a language that was soon adopted by a million imitators, from Rihanna to Taylor Swift) – but, upon reflection, what did we really know about Lana the person? Her art was steeped in romance, intimate turmoil and dreamy disinterest, alluding to reality without ever actually feeling honest or true. She had created a world where someone called Lana Del Rey could live, but not one named Lizzy Grant. Was any of it real or was it simply another manifestation of her impeccable image control? The artistic eye bending glimmers of truth into an impenetrably illusive reflection.
Invoking the name of Norman (Fucking) Rockwell, the master of manicured and archly curated Americana, hardly suggested a shattering of Lana's immaculately constructed façade, but that is exactly what her fifth album delivers. Make no mistake, Lana hasn't suddenly transformed into an unguarded truth teller in the Mount Eerie or Angel Olsen vein, but slithers of light are seeping through the cracks in her glorious, gold laced, art deco exterior. Crucially, the narrative focus has shifted inwards. The American landscape and a parade of gorgeous, scorched earth lovers have slipped into the background as Lana's indecision, uncertainty and malaise come to the fore.
This subtle shift in focus combined with a selection of dreamy folkish and psychedelic experiments represents the great leap forward from 2015's Honeymoon that 2017's Lust For Life threatened, but couldn't quite delivered. Of course Lana hasn't abandoned her obsession with raising the stakes to the most preposterous, silver screen worthy extremes (nor would we want her to), but by mixing her own self-made mythology with snapshots of psychological vulnerability, she has struck gold.
Norman Fucking Rockwell is therefore an album defined by the indistinguishable borders between fantastical artifice and insecure intimacy. This is an album that, however implausibly, manages to reconcile the stunningly defenceless of woman asking the question: "is it safe to just be who we are", with Lana at her most windswept and fantastical crying: "I've been tearing around in my fucking nightgown, 24/7 Sylvia Plath/Writing in blood on the walls because the ink in my pen don't work on my notepad".
Those lines, taken from two of the album's most jaw-droppingly beautiful tracks ('Love Song" and "Hope Is A Dangerous Thing…"), cast one another in stark relief and yet perfectly explain Norman Fucking Rockwell's core conceit. Lana is trying to process her alienation, loneliness and disappointment with life in the only terms she can understand: those of grand cinematic gestures. She's a woman raised on romantic resolution, immaculately styled images and the myths of the American advertising industry. Reality is more mundane and so is she. Lana loves to layback, get stoned, drop out and wallow.  Rather than retreating inwards and dampening down her songcraft in a search of grit, she does the exact opposite: she writes songs of indecision, disappointment and regret as if the skyline were aflame and she were swaying in her lover's arms on the edge of a rapidly dissolving world.
There should be a disconnect between reality and façade, subject and presentation, but the exact opposite is true. Norman Fucking Rockwell is a tone poem to the human condition and the admission that, ultimately, nothing is of greater importance than the war being waged inside our own heads. Lana is stuck with her run-of-the-mill woes (her lover has moved away, California isn't what it promised to be and she's all alone), but in her mind these personal problems are as dramatic as a slow motion shoot out, as destructive as the 2008 financial crash and as unsettling as the lingering threat of climate change. Lana is no longer trying to codify and recreate a great American mythology; she is elevating the nagging subconscious struggles we all have to endure to those exalted heights.
This is easier than done. Luckily, Lana finds herself in immaculate voice as she dreamily dances through a haunted landscape of regrets. On the sensuous and subdued cut, "The Greatest", Lana starts with a simple proposition "I miss you, babe/I miss dancing with you the most of all" and allows that one thought to billow out into one of the great end-of-the-party anthems in music history. Lana inhabits those halcyon days of youth – the music, the bars, the beauty, the immediacy – but rather than finding solace and moving on as so many other artists have, she succumbs, but not to sorrow. Lana is casting off the shackles of maturity; she is tacitly embracing being a drop out as she coos: "I guess that I'm burned out after all/If this is it, I'm signing off/I miss doing nothing the most of all". By simultaneously mourning and immortalizing the glories of her youth she's created a monument to the listless ennui. She longs for the person she once was and will not apologise for it. She misses the feel and the thrill of New York, she misses the void and she misses being able to give herself wholeheartedly over to moment.
Lana has spent the best part of a decade honing her songwriting, creating these wilfully overwrought and perfectly poised phrases, pregnant with unspoken emotion and oozing timeless glamor. In the past they'd be wasted on flights of fancy, but when combined with a sense of personal tragedy her writing is suddenly enriched by this very ordinary ache ("We go so fast, we don't move"). On "Happiness is a butterfly" she blends cavalier melodrama with intensely believable detail ("don't be a jerk, don't call a taxi/Sitting in your sweatshirt, crying on the backseat/I just wanna dance with you"). Lana has such an intuitive understanding of the language of classic 60s pop music as well as a flair for millennial over-sharing, that she can shift between portentous grandeur and the pitifully human within a single sentence ("If he's a serial killer, then what's the worst that can happen to a girl who's already hurt? I'm already hurt"). The effect is disorientating and devastatingly effective.
"Fuck it I love you" is genuinely crushing. All the artifice and cinematic aloofness Lana has maintained across four albums comes crumbling down in a single sentiment: "I moved to California, but it's just a state of mind/It turns out everywhere you go, you take yourself, it's not a lie". All those glorious American myths she's been worshipping and intricately recreating are rendered worthless. There is no escape. The open road, the Californian sunset, shedding your identity and starting over – it's all meaningless because no matter how fast you run, you cannot outrun yourself. Remarkably, this ego shattering revelation transforms itself into both an immaculate love song (or longing song) and, strangely, an ode to California (the same state whose myth she is rejecting). This is certainly a theme: the American myths may be completely baseless, but you can discover something vital about yourself by re-enacting these well worn rites of passage.
Elsewhere, Lana finds herself struggling to overcome her admittedly hopeless taste in men. The album opens with an unflinchingly honest statement: "God damn man-child, you fucked me so good that I almost said I love you". In between some wonderful Lana-ism ("Self-loathing poet, resident Laurel Canyon know-it-all/You talk to the walls when the party gets bored of you") she glides towards a profound and potential self-destructive realization: "But I don't get bored/I just see it through/Why wait for the best, when I could have you?" It'd be easy to see this line as a pithy putdown, but it cuts deeper than that. Lana is offering a reflection on the inherent contradiction of maturity and what is expected of us as we age, both to settle down and grow up, but also to be strong enough to walk away from our self-destructive impulses. Hurry up and slow down! What is a girl to do?
Lana is attempting to navigate a minefield of lustful impulses, lonely nights, youthful regrets and doe-eyed disillusionment, but despite the inherent complexities her music remains gorgeously focused. Whether she's dreamily drifting while paying tribute to Leonard Cohen ("Mariners Apartment Complex"), skipping along to some noir-Ska ("Doin' Time") or melting in willowy haze of self-sacrifice ("Venice Bitch") the results are staggeringly consistent: sublime boundary pushing pop employing an aesthetic vernacular entirely of her own making. Even when she plays it straight ("How to disappear") the richness of her vocal, the soulful simplicity of the arrangement and Lana's crafty ability to inject a lyrical gear change shine through.
At times Norman Fucking Rockwell feels like the haunting negative of a Springsteen-ian photograph. The female eye cast on those grand masculine ideals of America. Lana sits back and watches "the guys getting high as they fight for the things that they hold dear, to forget the things they fear". On "Bartender" she expose the failings of the "Born To Run" ethos. She tries hitting the road and outrunning her woes, but there is no escape – memories of her lover torment her and paparazzi stalk her every step. She's sidestepped everyday tedium only to land in an equally tedious hole: stuck sitting with her haunting subconscious bartender as she attempts to quiet her mind without actually touching alcohol (another of her deadly vices).
All roads inevitably lead to the album's harrowingly beautiful closer. "Hope is a dangerous thing for a woman like me to have – but I have it" is one of those tracks that could be a disastrous act of self-indulgence. Drawing direct parallel between herself and her hero Sylvia Plath, the track runs the gambit of noxious relationships, inescapable alcoholism, torturous daddy issues, fractured religiosity and perpetual self-loathing. Serving as a memoir in microcosm (and an admission that she will never rid herself of the psychological scars of youth), the track, however tentatively, accepts that running from her demons simply will not work. For better or worse this is who she is. Lana is giving up pretence and embracing her every wound. Her immaculate façade is now caked in deep dark bruises. And yet, however dank the depths she has had to dwell within may be, in her only beautifully sung words, she has hope – it may only serve to hurt her once more, but she will not let it go.
In this light, her soothing cover of Sublime's "Doin' Time" makes perfect sense. Lana is using a man's words (expressing his exasperation with a cryptic and impenetrable lover) to perfectly explain her own struggle to understand her innate destructive impulses:
"Me and my girl we got this relationship/I love her so bad, but she treats me like shit/On lockdown like a penitentiary/She spreads her loving all over and when she gets home there's none left for me"
Norman Fucking Rockwell is a profound artistic statement: the moment when Lana Del Rey, one of this generation's great singer/celebrities, strips away her protective layer of artifice and mythology to expose the fragile, vulnerable and, ultimately, hopeful soul hiding beneath. Could this collection be a touch tighter and trimmer? Almost certainly, but wallowing-come-luxuriating in perfect posed agony is half the point.
10.0
The final score: review Virtually Perfect
The 411
Having spent the past decade maintaining an immaculate facade while worshiping at the alter of all-American iconography, Lana Del Rey watches her silver screen illusions come crashing down on Norman Fucking Rockwell. The torturous nature of reality floods to fore with all its innate depression, alienation and loneliness in tow. Bizarrely, this injection of honesty doesn't destroy Del Rey's fantastic celluloid worthy artifice, instead it's sent skyrocketing towards the stratosphere on her heartbreakingly beautiful new album.
legend