Muse – Simulation Theory World Tour Review
September 18, 2019 | Posted by
Muse – Simulation Theory World Tour Review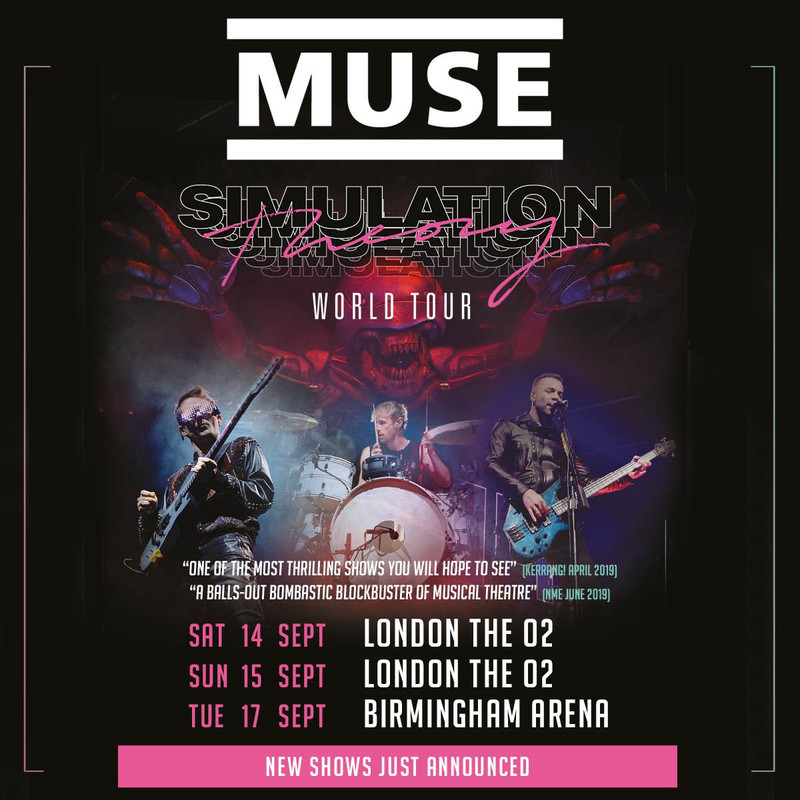 It has become a 21stCentury cliché to say that artists only release albums to promote world tours when, of course, for vast majority of the pop era the exact opposite was true. Not only is this observation trite, it's not actually true. Sure, for a handful geriatric behemoths new material can be an excuse for a lucrative multi-year, globe-trotting, stadium-rocking expedition, but most heritage acts need no such pretext. Queen, Roger Waters and The Rolling Stones are absolutely raking in the cash without the need for new material and, while there are younger artists more interested in singles, eps and mixtapes, most release albums because they are passion projects that represent a chance to recreate the iconic works that made them music fans in the first place.
It is a nonsense to imply that Muse only released Simulation Theory so they could sell 100,000 tickets in London alone – you don't pen a fanciful sci-fi, 80s-obsessed, rock opera about algorithms coming to life to destroy their creators when you're out of ideas and have nothing to say. However, it's not quite so silly to imagine, having seen their wonderfully preposterous live show, that Matt Bellamy and co were certainly thinking about stagecraft, visuals and arena sized storytelling when they sat down to write their largely derided new record.
In fact, the most striking revelation garnered from seeing Muse perform in 2019 is the idea that Simulation Theory's most horrendous ideas – take the sorry Imagine Dragons aping "Thought Contagion" for example – sound bulldozingly brilliant live and in the flesh. Suddenly, you're happy to hear twice over the kind of records you'd be desperate to skip on Spotify. This is no Johnny-come-latelism, nor a newcomer being overawed by Muse's formidable onslaught of spectacle, showmanship and soloing. I've had the pleasure of seeing Muse headline festivals, play Origins Of Symmetry in full and theatrically conquer Wembley Stadium throughout the 2000s (spaceships, satellite dishes, walls of flame, the lot).
In fact, The Simulation Theory World Tour is not merely the latest chapter for one of Britain's most wilfully over-the-top live acts; it is something of a return to form for the Devonshire three-piece. The last time they took the stage at the O2 Arena in support of 2015's Drones, the band's performance was something of a mess. Situated on a circular stage in the center of the arena they effectively segregated their crowd, killing the energy, surges and bounce-along intensity of the best hard rock shows and, despite some nifty flying drones, their staging was bare bones and unimaginative. Worse still, a wonderful career spanning setlist was shot to pieces by bad sound. Matt Bellamy's vocals barely audible. His falsetto obliterated by his own guitar.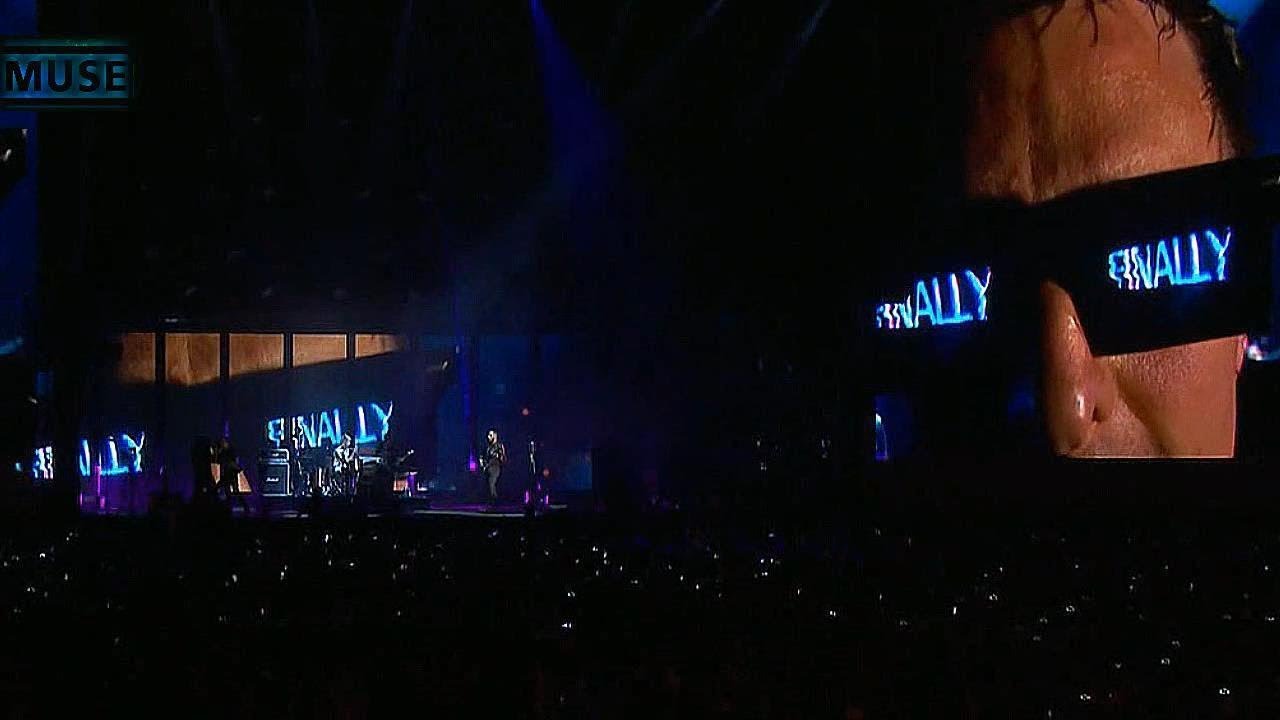 Fast forward to 2019 and suddenly the balance is immaculate. The guitar rips, snorts and soars seductively as Matt's vocal rings out clear and true. There is no disguising the weaker material, but each song is thoughtfully presented. Troops of dancers hang from the ceiling to shine lights above the band one moment only to surround Matt the next, throwing themselves to ground and firing smoke cannons as need be. The band still employ a runway and central second-stage as well as a grandiose and dynamic video screen full of Tron inspired graphics. Thankfully, the layout never diminishes the crowd's intensity. This is a rock show rather than theatre and the spectacle never quite overshadows the visceral nature of music itself.
"Pressure" might gone on for one coda too many, but its cheeky guitar riff and wilfully camp bridge provide a playful opening to preceedings, setting the stage for "Psycho" to unleashes hell. The latter has caught fire as a pogo-friendly, pit sparking live anthem in a way it never quite could as a chart single. When it comes to the classic anthems Matt is happy to let the crowd take control of tracks like "Uprising" and "Time Is Running Out". These are sure fire success stories and it's better for the band to simply get out the way rather than risk overcooking them.
"Propaganda" is another new track that works wonderfully well in the arena setting. Performed as a three-piece in the middle of the crowd, it feels like an enticingly low-key moment before its farcically bombastic chorus kicks in. "The Dark Side" is another surprise triumph. Its Daft Punk sonics and retro-future graphics are an absolute winner – as is the darkly sardonic verse that recalls Muse in their early 2000s pomp.
Still, as good as some of the new material sounds in person, there's no disguising the duds. "Dig Down", here performed center stage in a gospel fashion, feels like a forced attempt to create a lighters up moment with Matt imploring the crowd to singalong. The dubstep numbskullery of "The 2nd Law: Unsustainable" sounded bad at the time and worse now. It's all bluster and bulk, a desperate grope in search of relevancy that should be abandoned. The elastic riff of "Break It To Me" certainly feels fresh and gargantuan inside a cavernous arena, but there's no disguising the flimsy songwriting or general meandering nature of the arrangement. The solo and an early placement in the setlist just about salvages it.
Luckily the missteps are minor, totally inoffensive and completely blown away by sheer force of spectacle. "Madness" has always been a treat live, but now its staging has reached ludicrous new heights. Matt's sunglasses digitally display the lyrics before he solos his way down the aisle. His entire performances is beautifully backlit by an alien landing-craft lighting rig that is clearly paying homage to Close Encounters Of The Third kind. The crowd is bathed in hazy alien glows of pink, blue and purple, creating an otherworldly beautiful mist-like effect.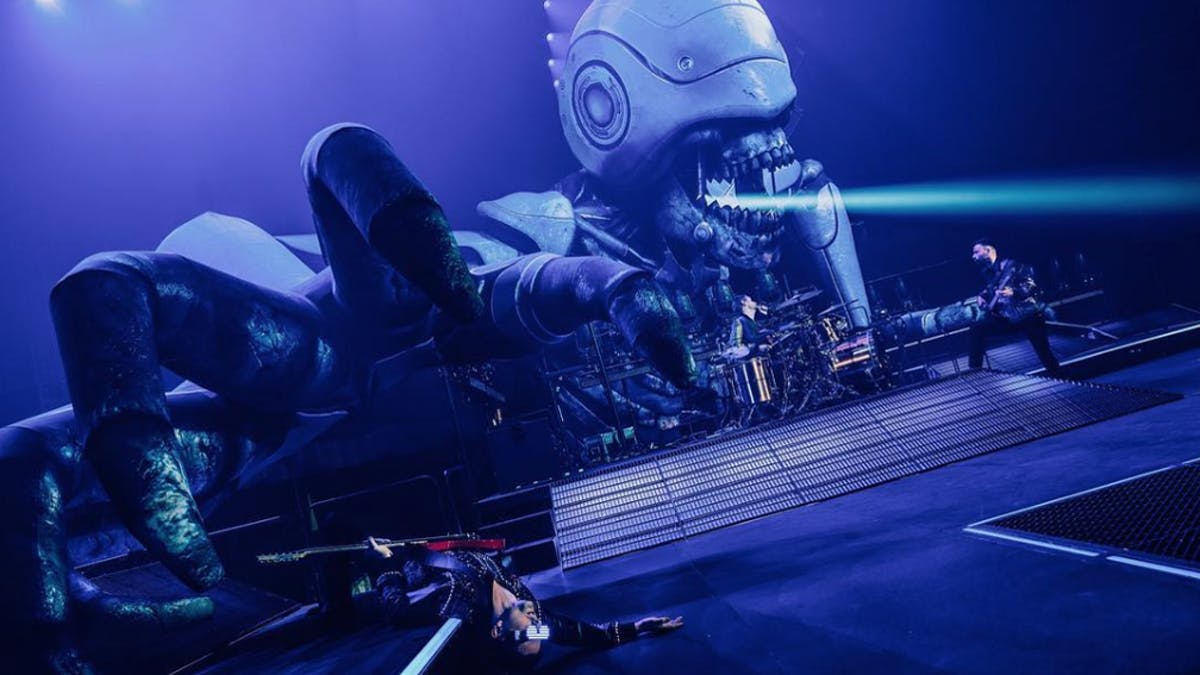 Big brazen virtuoso moments are never in short supply. Matt and Chris exchange solos with frightening regularity – offering old tricks ("The Munich Jam" and Led Zeppelin's "Rock and Roll") as well as a host of newly extended and improvised outro jams. "Hysteria" and "Plug In Baby" sound as fresh as a daisy and "Mercy" – performed while high fiving and hugging the crowd – is quickly becoming a must-see moment. Its crescendo sees the arena engulfed within as a blizzard of confetti and party-streamers, providing a suitable backdrop for Matt's hair-raising falsetto cries.
During the encore, after "Starlight" has united the O2 Arena in song, the "Algorithm" comes to life, gains humanoid form and bursts through the stage in what is quite clearly a nod to Iron Maiden's Eddie. Matt is left to do battle with the giant inflatable android as Chris and Dom go about their business completely unphased (as you do). How do you fight a giant robot I hear you ask? Well with a ripsnorting medley of four of your hardest guitar anthems of course ("Stockholm Syndrom/Assassin/Reapers/The New Born"). After some Pete Townshend guitar smashing antics, the beast is dispatched.
The closing sequence isn't perfect. "Take A Bow" is brutally big and now brought to life by a Hamlet reference of all things, but without its walls of flame it feels like a hangover from a distant era (despite an incredible lazer show). Equally, "Algorithm" is far too weak an offering to emerge this close to the crescendo even if the show's narrative arc demands it. Luckily, Muse have a trump card. "Knights Of Cydonia" remains one of the great set closers in the modern rock and roll canon – an anthem so buoyant that everyone must bounce along to it at least once in their lives.
So there we have it. Against all odds, despite some bad ideas and worse songs, The Simulation Theory World Tour represents a welcome return to form for one this generation's greatest living rock bands – and who would have predicted that when the album arrived with such little fanfare back in November?
8.0
The final score: review Very Good
The 411
Simulation Theory might have taken a critical battering, but this daffy 80s inspired tale of world conquering algorithms has reinvigorated Muse's already ferocious live show. This preposterous spectacle represents a radical improvement from their Drones tour, resolving sound and staging issues while beefing up their attack despite dropping a series of classic hits.
legend