Paul McCartney – Egypt Station Review
September 10, 2018 | Posted by
Paul McCartney – Egypt Station Review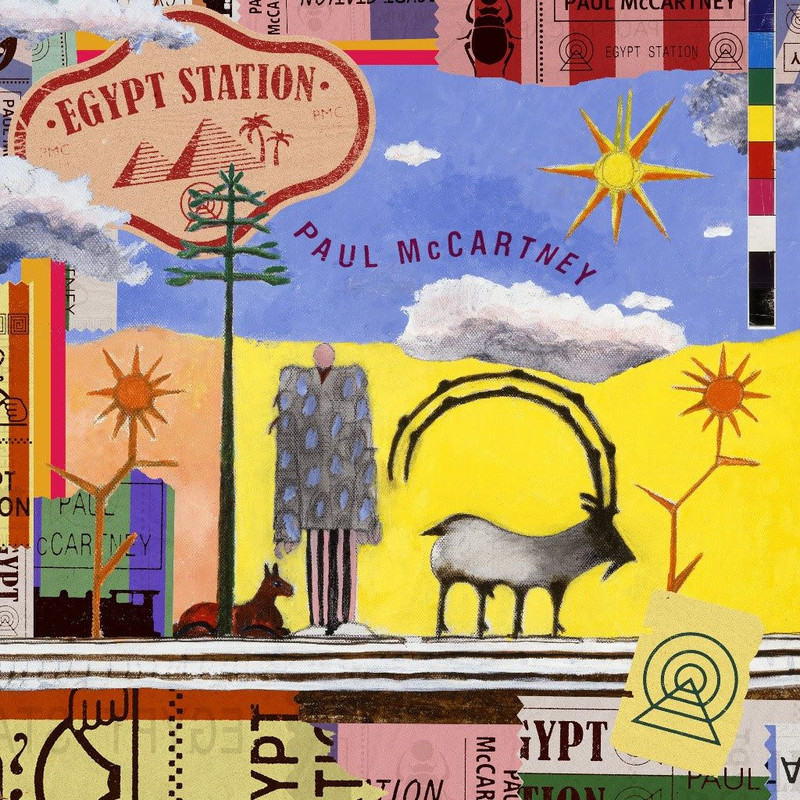 1. Opening Station
2. I Don't Know
3. Come On to Me
4. Happy With You
5. Who Cares
6. Fuh You
7. Confidante
8. People Want Peace
9. Hand in Hand
10. Dominoes
11. Back in Brazil
12. Do It Now
13. Caesar Rock
14. Despite Repeated Warnings
15. Station II
16. Hunt You Down / Naked / C-Link
Why on earth does Sir Paul McCartney care what people think? He was a bloody Beatle and is, to this very day, an arena filling solo star – and yet, for some unfathomable reason, he is obsessed with chasing an illusive hit single. On each passing album he bends a knee to the hitmakers of today. In 2013 he courted Mark Ronson (with no great commercial success) and in 2018 he finds himself at Ryan Tedder's ("Halo", "Bleeding Love") door. Now it might shock some of you to hear this, but Tedder's lead single "Fuh You" is an irredeemably insipid attempt at stadium-sized modern pop as anodyne uplift does its best to conceal a vacuous core.
It is the single worst song on what is an otherwise heartfelt, thoughtful and proudly old fashioned pop record. What makes McCartney's somewhat sad pursuit of relevance so frustrating is the knowledge that he so clearly knows better. The label executives at Capitol could hardly be thrilled when Macca promoted "Fuh You" by telling the press: "I've been involved with songs that have meaning, and this doesn't amount to anything, Y'know, I wrote Eleanor Rigby".
If only Paul would listen to that voice a little more often. He wrote the modern pop playbook and his influence still looms large over any young artist attempting to construct a half-decent melody. If only he'd follow in Bob Dylan's footsteps and embrace his age, stop chasing pop and make proudly old fashioned music with a great backing band and a producer who will, for the most part, stay out of the way. To his credit, principle producer Greg Kurstin (Lily Allen, Adele, Sia) does just that. He adds a polished pop gloss to the production, but his soft edges and soothing levels fit Macca's more restrained and elegant melodies.
Perhaps it's good to get the gripes out the way early, because, Egypt Station, by and large, is crammed full of delightful writing and masterful orchestrated arrangements. The principle problem with McCartney's 17th studio album is its length. This grandfatherly and wilfully frail LP loses punch as it meanders towards the hour mark. As a result the funky grooves of "Back In Brazil" (which feels like the neutered cousin of Paul Simon, David Bryne and Sting's globally minded pop) is awkwardly juxtaposed with the beautifully vulnerable "Do It Now" – a song that carries the weight of McCartney's 76 years. Its haunting coda ("Do it now, while your vision is clear") would be heart breaking alongside "Confidantes", a raw reflection on a lost, but still cherished friendship. Instead it's sandwiched between limp funk ("Back In Brazil") and lunk headed Latin-tinged rock ("Caesar Rock").
Outside of its length and sequencing, the only remaining issue with Egypt Station is its inherent naffness, but to be perfectly honest: who cares? If you're picking up a Paul McCartney album in 2018, chances are you are not overly concerned with cutting edge sonic and transgression. But that's not to say McCartney avoids all intrigue. Egypt Station actually includes two rather important developments.
Firstly, McCartney tackles Trump on "Despite Repeated Warnings". He initially drifts towards ennui before exploding in an "A Day In The Life"-ish evolution that amounts to both a scathing attack and a cry of optimism. McCartney quickens the pace as he presents the image of a domineering captain, reckless at the wheel, dictating to his family. Hope appears to be lost, but as the melodic strings run together Macca tells us that even the most obstinate leaders must, however reluctantly, bend to the will of the people. This psychodrama all plays out in a wandering multi-part suite that lightly echoes of The Beatles at their best, albeit in the prog-rock tones of his 70s solo work. It's a trick he repeats on album closer "Hunt You Down/Naked/C-Link": a dizzying waltz into the unknown that, underneath its chipper veneer, hints at the threat of dementia. The final moments of virtuoso string backed guitarwork recalls Pink Floyd's willingness to confront the void. McCartney, ever the optimist, couldn't possibly end on such a dour note, so instead he lets out a youthful "woo!" as the solo's fades.
Despite his glee and willingness to rock, Egypt Station's other key innovation is its embrace of aging. Ironically, in youth McCartney seemed like a baby faced octogenarian, obsessed with old fashioned dances and charming ditties, but when he actually hit the national retirement age, he seemed obsessed with chasing the sheen of youth. Thankfully, his attempts to sound modern are limited to the aforementioned "Fuh You" as the rest of album seeks to actively showcase the fragility of his vocal.
The masterful "I Don't Know" is riddled with self-doubt. Every time the track surges towards an optimistic key, it's drawn back towards a wonderfully somber piano arrangement. It's so rare to find a song obsessed with capturing genuine emotional dislocation. The result is disorientating, as if the mood of the moment never quite aligns with McCartney's internal narrative. When he's promising proudly to stand by his lover's side, the keys are gut-wrenching; when color rushes into the arrangement, McCartney is lost a sea. This terrifying sense of disassociation makes "I Don't Know" the album's most poignant moment and its finest songwriting achievement. It beggars belief, but Paul McCartney may have written the best song of 2018 so far.
Egypt Station never quite hits those heights again, but it does have a wonderfully fluid sense of control that few other artists could hope to achieve. "Come On To Me" seems like a paint-by-numbers upbeat rocker, but its constituent elements are disparate in the extreme. Nevertheless, McCartney pulls them together into a rollicking crescendo. Elsewhere the former Beatle is happy to keep things simple. "Happy With You" is another delightfully fragile acoustic ode to finding true companionship. McCartney remembers the nights high as a kite or absolutely blotto, but he no longer craves them, because he's found something more comforting, something that lasts.
It's to McCartney's immense credit that every inch of this LP sounds utterly effortless even as he takes on some truly baffling sonics (with decidedly mixed results). "Who Cares" certainly isn't a classic, but there is a charm to this preposterous fuck-the-haters anthem that sounds like Dire Straits attempting to write a hit for the Talking Heads. "People Want Peace" wastes a wonderful rapid-fire verse on an uninspired and soporific chorus that echoes David Bowie's "Where R We Now?" without any of that song's solemn sorrow. Thankfully, whenever Macca threatens to lose the plot, an undeniable tender masterstroke (like "Hand In Hand") is waiting in the wings to right the ship.
Taken as a whole, Egypt Station is a flawed and overlong listen, that proves undeniably compelling in spite of its foibles. Had McCartney trusted his better instincts and banished the turgid "Fuh You" and cut the remaining material down to a lean 12 tracks, this would been an undoubted triumph. As it stands, Egypt Station is a lovely record full of powerful reflections on aging, orchestrated by an artist whose compositional skills are on another planet to even his most revered peers. This isn't a case of what could have been, but how it could so easily have been better.
7.0
The final score: review Good
The 411
Paul McCartney foolishly chases the sound of youth on one horrible single, but pens some of the best songs of his post-Beatles career by reflecting on the pain, confusion and solemn comfort of ageing on this bloated collection.
legend