Prince – Piano & A Microphone 1983 Review
September 28, 2018 | Posted by
Prince – Piano & A Microphone 1983 Review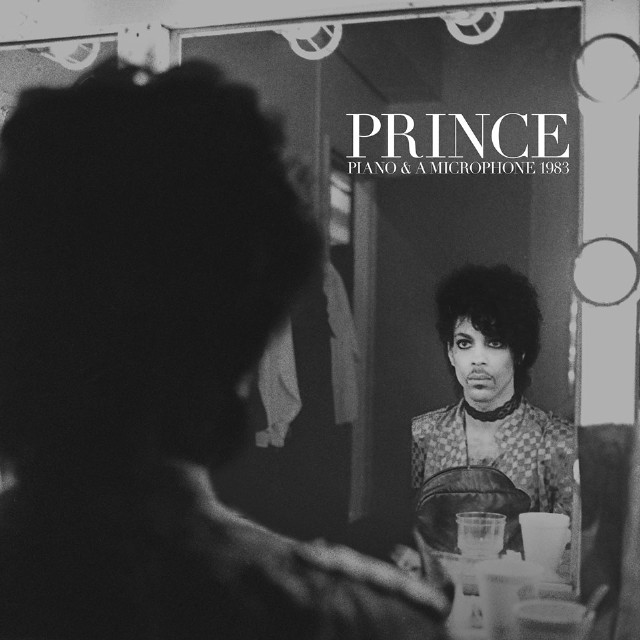 1. 17 Days
2. Purple Rain
3. A Case Of You
4. Mary Don't You Weep
5. Strange Relationship
6. International Lover
7. Wednesday
8. Cold Coffee & Cocaine
9. Why The Butterflies
It's hard to fathom a more poignant opening to any album than the voice of Prince, floating from the heavens, asking: "is that my echo?" The voice, of course, comes from a studio session in 1983, preserved on cassette tape in the Paisley Vault, but the sentiment is profound. Piano & A Microphone is an echo: an eerie afterglow of songs we now cherish, but were then unwritten.
This is the sound of one of pop's great geniuses creating, rearranging and, most of all, amusing himself in relative privacy. These tapes were never intended for release and it is this act of voyeurism from beyond the grave that proves so strangely enlivening. Prince's music is instantly re-contextualised and unanchored: a galaxy of new possibilities unfurls before us is the jazzy keys and yearning sighs of "17 Days", which soon melt into a skeletal sketch of "Purple Rain". It is in this moment of great undoing, where the synths, electric drums and rip roaring guitars have been banished, that we begin to glimpse all the creative pathways Prince never trod. The enormity of the tragedy then hits you: this small, immeasurably gifted man will never again sit down at his piano to re-imagine pop's possibilities.
It's hard to review this collection in the manner of a traditional album, as moments of rank amateurism – Prince mouthing the sounds of bass or drums on "17 Days" (perhaps a note for the finished version) – carry such undue poignancy. So much of the joy here comes not from the songs, but from imagining what could have been: what if Prince had thrown away the modish 80s studio effects and recorded a barroom blues, gospel or jazz LP? He folded so many influences into the sexualized soul of Purple Rain and paranoid funk of Sign O' The Times that we never got to experience The Purple One in his rawest and most naked form, until now.
Piano & A Microphone 1983 is as pure of a stream of consciousness as they come. Prince plays uninterrupted, bleeding each, at the time unreleased (and some never to be released ("Cold Coffee & Cocaine", "Why The Butterflies")) track into the next. To say he's feeling it is an understatement. The barest bones of a heart wrenching "Purple Rain" give way to a gorgeously slight and spectral cover of "A Case Of You" by Joni Mitchell. Prince's vocal performance on the latter is staggering: he switches between vulnerable and reassuring tones then dissolves into the ether. Before anyone could hope to get their footing, Prince swiftly switches gear and dives into the gospel stable, "Mary Don't You Weep". On paper his epic statement of grandiose cinematic pop-rock-opera, "Purple Rain", could not be more detached from those soul soaked covers, but Prince draws out the connection in the tenderness and earnest nature of his vocal.
One of Prince's greatest attributes was his ability to inject soul and seething intimacy into the most preposterous and salaciously glitzy pop compositions. Here we see where this power originates. Prince has a deep love for and technical understanding of classic and contemporary music, as well as ancient blues rhythms and jazzy interpolation. On this collection that love of music and his agonised soul is overt, whereas on Dirty Mind or 1999 it gently seeps through, ever-so-subtly, under the surface.
There is an unmistakable pleasure that comes from hearing Prince play around so recklessly with his most famous compositions. "17 Days" – considered by many to be the greatest stand-alone B-side in music history  – is radically improved by this more austere reading. "Strange Relationship" (from Sign O' The Times), on the other hand, isn't better per se, nor can it be said to be improved, instead it's pleasing dismantled. Prince starts by contorting that airy hit into a more bruising ballad, before indulging in a wild and frankly whacky piano work out. 1999's "International Lover" is stranger still. In its original form it's a cool and playful seduction, here, with Joni Mitchell and the Lord on his mind, it's far more desperate: a soft plea for companionship. The sex is secondary – and when do you ever hear anyone say that about a Prince song!
The unreleased material is a tease. Impossible to assess because, based on the prior evidence, who on earth could imagine how they might have sounded had they been released? Prince feels like he's amusing himself on "Cold Coffee & Cocaine". His keys are so jaunty and his vocal performance is almost farcical: Prince sings like a 1920s sleuth battling the onset of throat cancer as he improvises a seduction. He asks himself "what rhymes with house?" before settling on big black mouse and scurrying off on a serious of brainfart adlibs. It's not a song in any traditional sense, but that's part of the fun. Did "When Doves Cry" or "Raspberry Beret" start out with Prince at his piano scratching around for random rhymes while busting out a few of his favourite covers? We'll never know, but back in 1983, Prince had a hell of a hook and not much of verse.
"Why The Butterflies" is the pick of the never before released material. Prince's fingers are less busy, letting the keys hang in the air as he plays the curious and innocent child asking his mother questions of wonder and want. Again, there is the genesis of a great idea here as Prince experiments with wavering cries before descending into an eerie well of silence to ask: "Mother, where is father?" Then, as the album's denouement approaches, Prince is overcome by confusion and sings as if from beyond the grave, "where am I, what's this strange, strange…" before fading away mid-sentence, consumed by clattering keys. Eventually Prince regains his composure and returns to the chorus to close the LP. It's a heart-breaking endnote that cannot escape the lingering spectre of Prince's untimely death.
Piano & A Microphone 1983 is an invasion of privacy, a haunting and most definitely sacrilegious exhumation of The Purple One's genius – and that makes it utterly essential and unlike any record you'll hear this week, this month or this year.
9.0
The final score: review Amazing
The 411
Piano & A Microphone 1983 is a near sacrilegious act of pure voyeurism: a glimpse of a great artist alone at his piano: creating, rearranging and teasing out the historical threads that run throughout his back catalogue. This isn't an album, it hardly features a single complete track, and yet it may just be the most powerful, poignant and insightful LP released in 2018.
legend