Robyn – Honey Review
October 30, 2018 | Posted by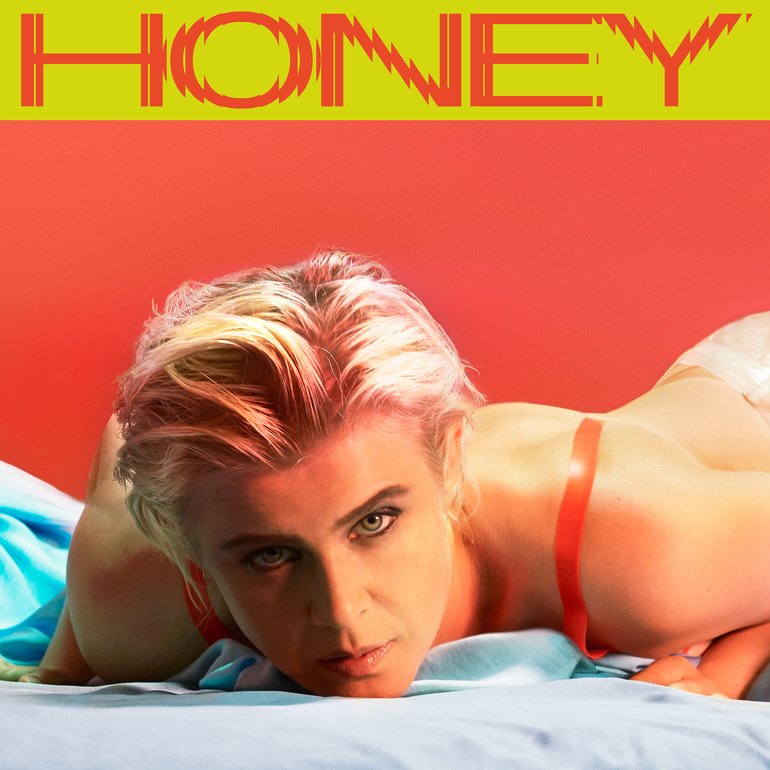 1. Missing U
2. Human Being
3. Because It's In The Music
4. Baby Forgive Me
5. Send To Robin Immediately
6. Honey
7. Between The Lines
8. Beach 2K20
9. Ever Again
Robyn does her own thing, in her own time: adhering to a glacial release schedule that would have most record company execs feverishly pulling their hair out. After dropping the Body Talk project in 2010 – a universally acclaimed trilogy of sorrowful-yet-joyous electro-pop albums, chocked full of career best singles – Robyn withdrew from the limelight for eight long years, indulging in passion projects (a joint EP with Rokysopp) and watching as her best songs were insipidly covered the world over. It's lucky then that the Swedish star is, quite literally, her own boss: running Konichiwa records she is afforded complete artistic autonomy.
It might sound like an enviable position to inhabit, but many a musician as gone off the deep end, indulging their worst excesses and rejecting all restraint, when faced with unparalleled sovereignty. Just look at Axl Rose and remember, "with great power, comes great responsibility". Robyn and responsible aren't words that typically go together – this is the Swede who tried to out brag rap Snoop Dogg, after all – but somewhere, deeply embedded in her DNA, is a perfect pop gene. Even when she revels in bad taste, she always manages to conjure eight-to-twelve immaculately realized radio-ready anthems (the joke of course being, that no one would ever willingly put Robyn on a mainstream radio playlist after the turn millennium).
Honey, her eighth studio album, is perhaps her most cohesive and certainly her most dignified release to date. Robyn has crafted, quite unexpectedly, the most serene and tender break-up album imaginable. Were it not for the occasional lyrical reminders ("Baby Forgive Me"), it would be easy to forget that this sumptuously smooth and enticingly airy love letter to dance was born of heartache and trauma. It's remarkable that during the album's dreamily unanchored mid-portion, where form gives way to melodic smears, mechanistic propulsion and snatched, half-articulated thoughts, that Robyn is practically begging her ex to excoriate her ("Send To Robin Immediately").
This shift toward intangible sensuality is entirely by design. Robyn made clear in the build up to release that, as she danced away her heartache, she began to see the tenderness and soft-edges of the sounds that made her move her feet. On "Between The Lines" she sings in a typical sensual tone of reading the hidden meanings in movements of men on the dancefloor (of course in the larger context of the album these same words may refer to the underlying realization that her relationship is falling apart in a million understated gestures). What's intriguing is the way this low-key and seductive sentiment is married to a classically relentless 90s house instrumental. The key to the juxtaposition lies in the way Robyn deploys a selection of 60s strings that recall both the love-struck balladeers of a distant era and the unfurling cinematic grandeur of the Amalfi coast. This is dance Jim, but not as we know it.
The result is a heady mix of sound: a palette geared down towards slow carnal caresses, even as it dabbles with the textures of MDMA inspired escapism. Perhaps that's the point, this is raw hedonism as a form of therapy. Her sorrow is dragging her down to the point of needing a soft embrace, but the beat is raising her up towards dancing queen status. Of course, if the body of the album represents a mercurial, vibe-laden, headfuck, then the stunning standout singles are a reminder of the purity of Robyn's pen.  Album closer, "Ever Again", is a thumping knee-jerk reaction to a break up that adamantly refuses to punch walls or smash furniture. Instead, Robyn remains seductive and collected as she coos, "Never going to be broken hearted, ever again/Come on, let's have it out" – in an instant she has transformed the post-break-up banger into something strangely adult, no less strident lyrically, but more tactile and considered in tone.
The opener, "Missing U", on the other hand, is a brilliant transition from the electro-pop world of Body Talk to the heavenly caress of Honey: the signature synths of "Call Your Girlfriend" bleed into the pulsating beats of 24/7 dancefloor culture as Robyn delivers a series of wonderful observed lyrics ("Now your scent on my pillow's faded/At least you left me with something"). The mood isn't strictly iridescent; "Human Being" is a ghostly barren affair by way of comparison. For long stretches the prickly, starchy beat hangs over an eerie mechanical hum, capturing the sense that Robyn's dancefloor conquests are as much about escaping isolation as they are about expressing a fundamental joy de vivre.
Honey is full of these delightful juxtapositions. "Because It's In The Music" is a heady blend of carefree 70s disco bounce and 2000s gay bar filth playing delightfully out of time. Robyn displays a Daft Punk-ish knack for embracing the glossy naffness of decades past, but decontextualizing their corniness around something more sorrowful and distant. The optimism of the arrangement and the sparkle of the production is ultimately in service of album's most startlingly vulnerable confession. All these beautiful effervescent sounds, that punctuated the greatest nights of her life, are now tied to the very moment everything fell apart: "even though they released it, on the day you released me/Cause it's in the music, we were dancing to it/I'm right back in that moment, and it makes me want to cry".
There might be moments where Robyn is too lost in the vibe for her own good ("Beach2k20"), but no slight misstep can undermine an album that so perfectly captures an ethereal high masking, or perhaps masquerading as, a crushing low. Honey is a gorgeous artefact from a broken heart: a simultaneous ode to a lost love and a whole-hearted embrace of the lover that will never leave Robyn's side, the dancefloor itself. This Swedish lady was born to jive and thrust and glide like no one was watching and Honey is the confirmation that, no matter what happens in her personal life, she will always be able to masterfully articulate her adoration for dance in the form of pitch perfect Scandi-pop.
9.0
The final score: review Amazing
The 411
Robyn's relationship has crumbled. Haunted by a heartache she careens into the arms of her true life long lover: the dance floor. Honey is the magnificent offspring of these strange bedfellows: as a broken heart embraces the soft, sensuality of the club beat. At times its impossible to tell whether Robyn is dwelling on what's she's lost or blithely engaging in wild, hedonistic, escapism - and in that confusion lies the beauty of her stunning 8th album.
legend
More Trending Stories