Taylor Swift – Lover Review
August 28, 2019 | Posted by
Taylor Swift – Lover Review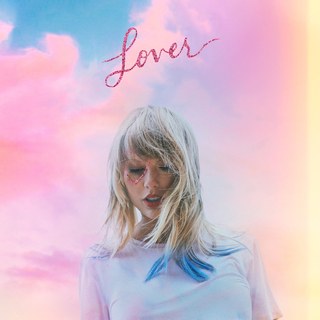 2017's Reputation was, in many ways, both the pinnacle of Taylor Swift's career as an unassailably dominant behemoth of the pop culture and an absolute disaster fuelled by bad taste, celebrity glad-handing and heaps of arbitrary bitterness. Swift half expected a backlash. The album was goading in the extreme, but it was an abject lack of charm and warmth that sunk the record. Reputation was rootless 1 percenter pop without any of barmy innovation that occasionally accompanies lavish self-indulgence. Luckily for Taylor, while the album and publicity campaign may have ground plenty of gears, her pop nous remained immaculately attuned.
The subject matter and soundscapes may have been off putting, but the Pennsylvanian's ability to weave complex melodies together proved intoxicating. Swift stands alone in the current pop pantheon, no other artist can interlace so many contrasting pre-choruses, hooks and sneaky melodies into such tightly coiled pop packages.
Suffice to say, the arrival of Lover, Swift's seventh studio album, feels uniquely pressurized. Taylor is technically bigger than ever, but the goodwill that 1989 earned has been frittered away. For the first time since Kanye West strode on stage at the VMAs, Taylor Swift has something to prove. This talk might seem fanciful, but Swift is clearly attuned to her public image and has trailed Lover's release with an about face on her political neutrality (she has criticised the President and taken a stand on LGBTQ+ rights) and the album's lead singles have been day-glo, kitsch, bulldozingly widescreen blasts of pure positivity.
The trouble is, the aforementioned singles ("ME!" and "You Need To Calm Down") are among Swift's worst. They might be catchier than chlamydia, but find themselves weighed down by sense of crass pandering. "ME!" proved particularly egregious: a pastel, snapchat filtered take on the current wave of insipid feel good musical anthems dominating the charts (think The Greatest Showman soundtrack reimagined as a contrived public relationship exercise). The message read a little too loud and clear: the loveable Swift of old had returned with her all cats, kookiness and underdog spirit in tow. Rather than reassuring an expecting audience, the calculated singles raised an unsettling prospect: Taylor Swift was set to flop at the very height of her fame.
Well thankfully those singles were a dramatic red herring. Lover might not be Swift's finest work, but it is a thrillingly energised and charming burst of optimism from a woman who is, for the time being at least, head over heels in love. Not only does this emotional U-turn leave little room for the vindictiveness and tabloid baiting antics of Reputation, it allows Swift to shake off the weight of her own imperious public image. This isn't the biggest pop star of the modern era; this is a woman absolutely enraptured with her new British bow. This new narrative wrinkle allows Swift to willing blend girlish naivety ("I'd marry you with paper rings") with the reflections of a battle scarred veteran of the single's scene ("I don't want to keep secrets, just to keep you") and the maturity of woman looking for something with greater permanency ("I'll tell you the truth, but never goodbye")
Musically, Lover is a mixed bag that suggests, in an attempt to reduce the damage wrought her razor sharp elbows, Swift has embraced the sounds of her more progressive peers. The obvious touchstone is Carly Rae Jepsen coyly seductive masterpiece E-MO-TION. Much of Lover mixes Jepsen's cynicism free, 80s inspired pop with Swift's famously cutting asides, effervescent chants and pithy counterpoints. The results are certainly gratifying; on the big pop numbers Taylor retains her edge, intimacy and spark, while recapturing the airy looseness of her early country-pop work. Elsewhere, Swift is less subtle as she borders on sonic cosplay. "Miss Americana & The Heartbreak Prince" is a transparent attempt to recreate Lana Del Rey's noir-ish celluloid romanticism. At times, it proves a touch unnerving as Swift audible copies Del Rey's vocal affections. Mercifully, the dreamy, coquettish Lana-ism are off set by a narrative that's pure Swift – as a high school drama provides a metaphor for a life chased by the paparazzi. It's a bizarre combination, but it works: silver screen grandeur with down home diary level desperation.
The fragile falsetto driven strut of "I Think He Knows", sees Swift pinching Lizzo's headstrong self-loving crackle as she cries: "he's so obsessed with me and, boy, I understand". The track is masterfully constructed as Swift switches between devilish asides ("he's got the boyish look that I like in a man") with more open-ended dreaming appropriate for the biggest stages. This is Swift at her hook and bridge stacking best – the track falters only briefly when she attempts a fading 90s refrain.
Of course, there are tracks that are 100% unadulterated Swift. "Paper Rings" is the kind of should-be-smash that defined the "You Belong To Me" era. There is no cynicism or snark. Glee reigns as she wholeheartedly throws her arms around her lover. The deftly arranged track picks up a hell of a pace with a punchy pop rock verse before diving into a sweet pseudo-country chorus. "London Boy" might be a touch corny with its shoehorned references to "rugby" and "high tea", but through its breezy pop pacing it captures the sensation with being head over heels in love. On a technical level, it's a triumph of Swiftian rhyming – the lyrics are tightly coiled and highly referential, but the rhymes are never forced and always fit the narrative even as Swift dances from one insidiously effective melody to the next.
Swift also makes moves to embrace the more serious world of modern R&B and rock balladry. Unfortunately, there is a lingering sense that Swift won't quite commit and ditch her soft pop affectations:. "The Archer" is buoyed by a brilliant pre-chorus, a host of stark admissions ("they see right through me, I see right through me") and a desire to stew on a genuine introspective low, but it never quite cuts deeply enough. "Cornelia Street" seeks stuttering vulnerability, but ends up bouncing softly towards banality. Elsewhere, "Soon You'll Get Better" offers a charmingly simple sentiment as well as a pleasingly stripped down and naturalistic arrangement without ever turning into much of song. "False God" is immaculately observed with its synthetic drift and subtly deployed horns, it might be the first sign of what a post-pop Taylor Swift could sound like – and yet, it is entirely indebted to a host of played out mid-2010s R&B tropes and is dangerously short of original thought. Still, it's far better and more beautiful sung than "Afterglow". It's a shame that Swift threw away one of her best lyrical concepts (basking in the after glow of a self-destructive relationship) on one of her most insipid arena-ballads.
The title track might just be the album's most intriguing and uniquely Swiftian offering. Starting with as a downbeat doo-wop ballad, Swift adds more and more personal details, applies a glossy instagram filter, throws in her goading vocal affectations before arriving at a farcical broken-fairy tale bridge. This is Swift overdosing on herself and it's bloody brilliant. She waltzes from the utterly gonzo and rapacious stream of consciousness pre-chorus ("[I] swear to be over-dramatic AND TRUE to my, LOVER!") into the genuinely touching and straightlaced coda: "and you'll save all your dirtiest jokes for me, and at every table, I'll save you a seat". It's a trip.
Ultimately, "Lover" is frustrating. There is magic to be found in this blending of the older, sweeter Swift with her wilfully ridiculous and riotous self-indulgent pop superstar alter-ego, but the songs never quite come together.  Swift is far too refined a songsmith to make more than a handful of truly bad songs, but she equally struggles to reconcile her conflicting impulses. She can imitate astutely, but not quite make modern R&B her own. She can dial herself down or turn herself up to 11, but rarely is the result ground breaking pop. Instead, "Cruel Summer" typifies her modern predicament and the album as a whole. There's an onslaught of crafty hooks and those delicious moments when Taylor completely loses the plot and screams "he looks so pretty like a devil!" There is much to admire, and yet, the track is undeniably limp and let down by a flaccid and strangely dated chorus.
When all is said and done Lover is nearly, not-quite perfect pop – and that's a problem, because pop music needs to be pristine. Whether it's big and bolshy or subtle and sweet, it has to be tightly wrapped and free from flaws (sonic, not psychological). The trouble is that, if you are going to buy manufactured goods, you expect them to be streamlined and immaculate. Lover, by way of comparison, is lumpy, uneven and only sporadically brilliant.
Swift may well be a victim of her own songwriting success, but in 2019 she remains a tremendous technician in search of a satisfying, fully realized sound. She's not floundering. She's not quite flourishing. Lover rises above expectation while falling short of its potential. The album will likely be remembered as a course correction from the indulgent folly of Reputation towards the likeability and uneven experimentation of Red, but little more.
6.5
The final score: review Average
The 411
Lover is a welcome course correction after the expertly crafted, but unlikeable and indulgent follies of the Reputation era. Swift is head over heels in love and recaptures some of the nativity and joy of her early records while cosplaying as a host of her modern pop peers. Swift's ability to craft melodies, hooks and intricately laced lyric sheets remains unquestioned, but Lover never quite comes together. The music is rarely daring (let alone thrilling) and there is a sense that Swift is doing great work without creating much in the way of great start-to-finish music. She's throwing a perfect spiral without actually scoring any touchdowns.
legend