Testament – Dark Roots of Earth Review
July 31, 2012 | Posted by
Testament – Dark Roots of Earth Review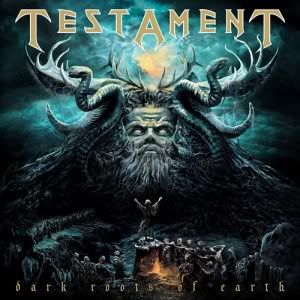 This is it, the new album from the legends of the Bay Area metal scene, Testament, has arrived. This album came out much faster than the one before it, which took nine years when you ignore the re-record album of First Strike Still Deadly. Their last album, The Formation of Damnation, was a great record in my opinion, and I think that it makes this album just that more anticipated. Add in the fact that my opinion, Testament has never made a bad album and you have the perfect opportunity for someone to take a dump on an album, but will it ever give me a chance?
Well, Metal Faithful, let us all find out together!
We open with Rise Up, which is 4:18 in length, and I must say that it is a great way for them to open the album. It is thrash incarnate, and is quite anthemic in its own right. If this song does not become a staple in their live set, I will be quite surprised, since the lyrics of "When I say rise up, you say war" and the following call and response is just begging for an audience to sing along with the song. The solo in this song is awesome, just pure awesome. I'm surprised Alex Skolnick's fingers didn't burst into flame while recording the solo, but amazing, they did not.
The next song is the second single from the album, and is called "Native Blood", as well as the one that gets the music video treatment (as I posted above), this song is another killer track, and I think it's a great choice for a single. Clocking in at a bit over five minutes and twenty seconds, it opens in your typical awesome thrash fashion with lyrics that are about the independence of the Native American spirit and customs that are being trounced by the white man, or at least that's what I get from the combination of video and lyrics. It features some damn good blasts beats from "The Atomic Clock" himself Gene Hoglan, who took over the drum duties for this album after Paul Bostaph left the band. I know that the blast beats have been a point of contention for some metal fans who think that they don't have a place in a Testament album, but I disagree and welcome them wholeheartedly. There is yet another killer Skolnick solo, then some Chuck Billy spoken word, and what I didn't know before watching the video is that the next solo was done by Eric Peterson, who I had seen before as more of a rhythm guitarist, but with a solo like that I can't deny that the dude is highly skilled and can do lead and rhythm.
After that we get the title track and what is one of my favorite tracks off of the album. It is more mid-tempo than the first two songs, but I get an opening riff that reminds me of "In My Darkest Hour" by Megadeth for some reason. The song is melodic and has solos that match it. I can see some groove in this section of the song, but at about 3:30 in the song, it picks up to a very thrashy solo section. A very headbangable song, to be sure.
Next song is the first single from the album, and is called "True American Hate", and it is available for free download from Nuclear Blast (just Google it, all you need to give is an e-mail address). It's another smoker of a song that comes in at almost five and a half minutes, with thrash coming out of every pore and some blast beats every once in awhile for our listening pleasure. The solos are more of the same greatness that we have already heard from them, no surprise there.
The next song "A Day in the Death", starts with of all things, a bass intro, and an awesome bass intro from the bassist who has been with the band for most of their run, Mr. Greg Christian. This song is another of the more middle tempo songs, and the lyrics repeat themselves quite a bit more than I would have liked, with 3 stanzas being repeated twice and 1 that separates those two identical sections of lyrical work. After that stanza is a totally kickass solo and music section that I would have liked the song to end on, because it's an awesome way to end a song, but more of Chuck Billy singing is not always a bad thing.
Next song is "Cold Embrace", which is more or less a ballad for most of the song, and it only really speeds up for the solo section. I think Testament are one of those thrash bands that can pull off a ballad though, because they make it work, with Chuck Billy giving out less harsh vocals and the guitar team of Peterson and Skolnick giving a nice solo section that breaks up the ballad-y sections that can drag a small bit for me, but only a small bit, because this song is still pretty good almost enough to warrant the whole seven minutes plus. The solos themselves could carry the song alone.
After that is "Man Kills Mankind", which is a good thrash song, while the lyrics are a bit grim, as the title would suggest, I think it works out fine. Just like the other songs, the solos are great, and at what is a smidge over five minutes, the song is around just long enough to give you more thrash after our ballad-y pallet cleanser.
Next up is "Throne of Thorns", which has an extended edition on the deluxe edition, starts out a bit slower than the rest, but picks up not too long after it starts and gives us all plenty to headbang to. There is also a section where Chuck Billy does a spoken section and awesome solos follow. To break up the solo is another passage of awesome vocals, and then the song ends on what I see as a beautiful ending of acoustic goodness.
The closer for the regular edition of the album is "Last Stand for Independence", this is still thrash but has some cool progressive elements in the composition of it, with great solos and nice drum work.
The deluxe edition has four tracks, one being an extension of Throne of Thorns that was already mentioned. We also get an awesome cover of "Dragon Attack" by Queen that was done in a cool Testament style, and has me headbanging for days. Also done is a decent cover of "Animal Magnetism" by Scorpions, and there is a third cover that is my favorite of the three and one of the best of the album is their cover of Iron Maiden's "Powerslave".
The 411: This album is a classic in my eyes, the only reason I don't give it a perfect score is due to some songs being a little long. That being said, the production on the album is top notch, and leaves just enough grime to be a good thrash album. The band all do their jobs impeccably, with new/old drummer Gene Hoglan killing the skins and the guitar duo of Skolnick and Peterson blazing a trail through the album that needs to be heard to be believed. Buy this album now, in special edition if you can, but support great music like this, because you will be buying something that many will talk about in the future in a very positive light!

Final Score:  9.0   [  Amazing ]  legend