The Top 100 Albums Of 2020 (#100-66): Eminem, Halsey, Nas, More
January 1, 2021 | Posted by
Well I'd be loathe to call 2020 a great year, because it was genuinely horrible, but at least it was enlivened by some fantastic music. The tragedy is that, in a year that afforded artists the freedom to write and record at their leisure, the very industry upon which their art relies (concerts, tours, festivals and dance floors) ground to a halt. Legendary venues, bars and nightclubs have closed across the globe and a host of promising musicians, have had to return to their day jobs (presuming that they still exist).
So while it is worth celebrating the outpouring of creativity that the Covid-19 pandemic unleashed, the incredible cost in lives and mental well being should not be forgotten – and nor should the cost to the music industry at large. 2020 might end up being a great year for Spotify and Apple Music, but a terrible one for the flesh and blood musicians behind the algorithms.
Disclaimer: I am only one man with limited time and, in 2020, I undertook a law conversion (hence the drop of in features in the winter), so if your favourite record is missing chances are I just haven't heard it yet, so please share your favourite LPs below the line.
Equally, because I've been extremely busy, this list leans heavily on albums that I have reviewed (big names, big hype releases) as there are still a host of records I'm desperate to hear, but will not include without having listened to them in full (Thou, Pallbearer, Sasha Sloan, The Koreatown Oddity, Napalm Death, Thundercat, Idles, Against All Logic, Declan McKenna, etc…).
Okay, now that's out the way, let's have some fun!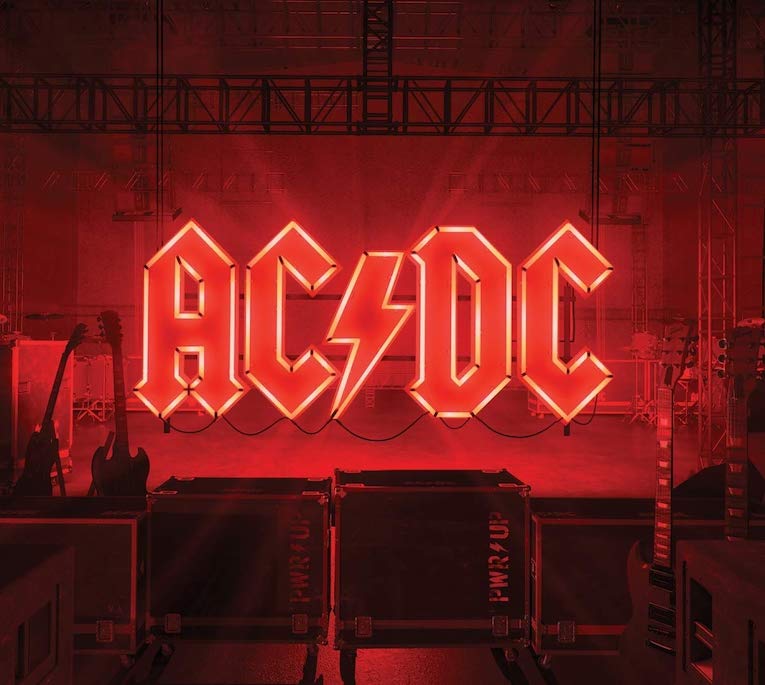 100. AC/DC – Power Up (Rock)
Power Up represents a radical departure from the riffs, rawk and sleazy formula that turned AC/DC into living legends and global stadium conquers. After the meat and potatoes rock of Rock or Bust, and Angus Young coyly decides to blend Aussie rock with subtle hints of reggaton, drill and PC Music, while Brian Johnson finds himself sing-rapping intermittently in Spanish and aping the layered pixified vocals that shot Grimes to superstardom. Power Up is proof that the Young brothers' riffs and rhythms (Malcolm remains a principal writer despite his passing) can fit neatly alongside even the most daring or incoherent of modern sounds…
…right, so now we know who actually reads the blurbs before commenting. In reality, Power Up is exactly what you'd expect, hard riffs, chantable slogans and grooves that cascade and crunch with metronomic precision. For some bizarre reason, Brian Johnson's vocals have been horrendously compressed on several tracks (most noticeably the opener "Realize"), which is a bizarre decision as he sounds raspy, soulful and plenty raucous on the sweeping grandstanding of "Through The Mists Of Time". AC/DC are too set in their ways to evolve and too old to repent, but who on earth could possibly care? It's been a miserable year for millions, so why not revel in a little throwaway rock? Let us not forget, AC/DC know how to right one hell of a hook and "Kick You When You're Down" is the perfect anthem for 2020.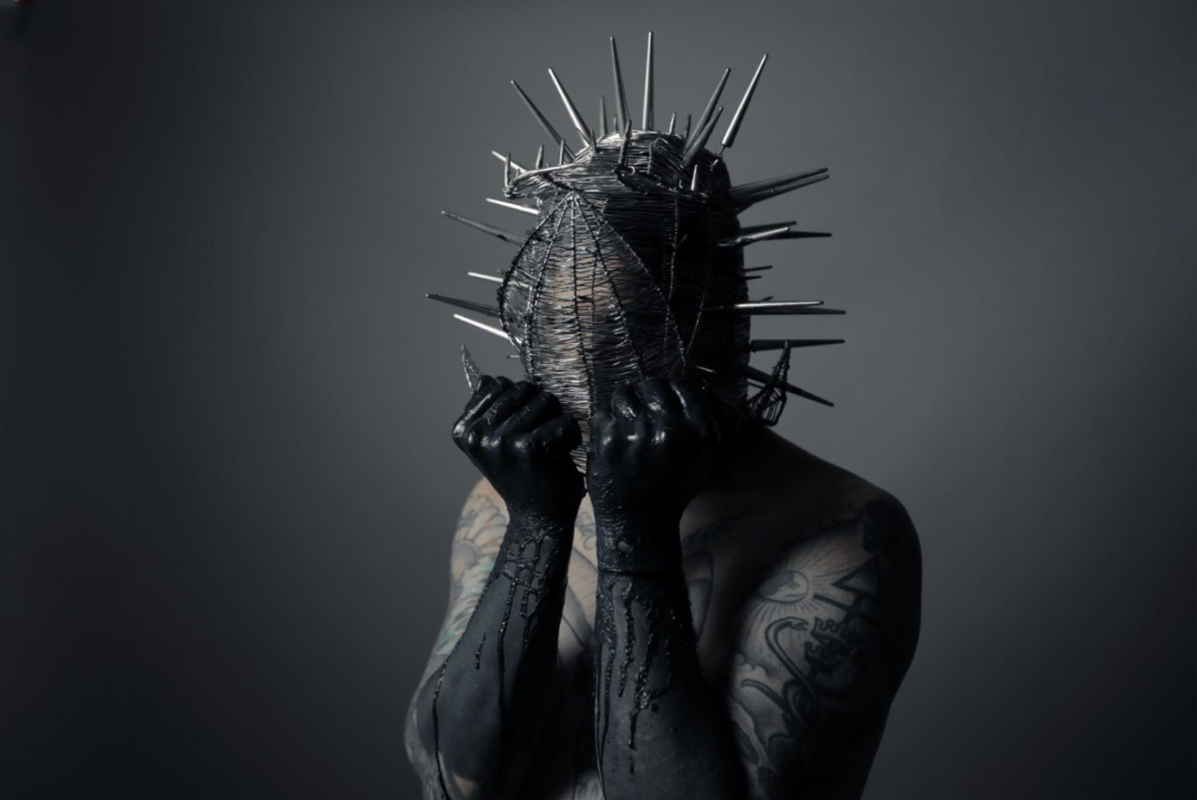 99. Ghostemane – ANTI-ICON (Trap Metal)
Should Ghostemane be pilloried or praised? The fact that I'm not entirely sure is pretty much the entire point. Ghostemone's ANTI-ICON, an album that exists entirely to make him an iconic to young Internet obsessed trap-metal noisiks, barely contains anything resembling songs. Fed up of drugs, disinterested by fame, and obsessed with images of gore, Ghostemane drifts from one half-realised idea to the next. At times, it feels as though he's just interested in sparking pits and getting entire rooms to bounce, but then he'll take a decidedly introspective turn. "The Winds Of Change" is wilfully meandering, largely instrumental piece that invites the listen to stew in their own juices. The concept of Trap-Metal isn't new, it's about as fresh as Nu-Metal and has been distilled down to its dullest elements by the likes of Scarlxrd, so Ghostemane cannot thrive on novelty alone. Thankfully, ANTI-ICON is genuinely interesting, sure it slaps with gleeful abandon precisely when it needs to, but it also offers a genuinely futuristic take on industrial beat making. Ghostemane might not be the greatest of MCs, but he understands when to pull back the curtain and let he audience into his own tragic story. The loss of his father at 17 and his willingness to allude to his upbringing, makes the hyper-stylised nihilism feel more like artistry and less like an Instagram filter. Is it really credible? Who knows. Like Marilyn Manson, the artifice is inseparable from the art and whether he shoots to superstardom or falls flat on his face, there is no denying that ANTI-ICON is the first genuinely interesting fusion of trap and metal with crossover potential.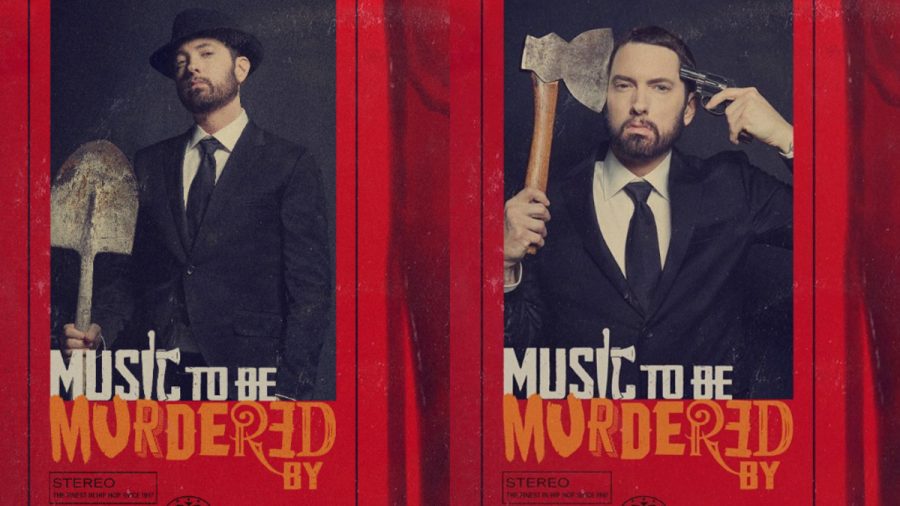 98. Eminem – Music To Be Murdered By (Rap)
"Music To Be Murdered By is still blighted by many of Eminem's familiar failings, but at least it sounds natural and coherent. It's genuinely refreshing that the approval seeking Em of "Premonition" disappears after the opening track and is replaced by the shovel wielding cartoon character pictured on the album's artwork. This is a project that no one specifically asked for and that, in itself, is endearing. At this stage of his career, Em is unlikely to drop the corny hooks, overwritten verses or completely unnecessary wordplay, but he can relax, have some fun and express himself on his own terms.
Eminem desperately needs a filter: a whole swathe of jokes should have been left on the cutting room floor (not because they are offensive, the Manchester bombing line works perfectly in a wonderfully maniacal flurry, but because they are cheesy momentum killers) and there are a host of songs that should have been saved for the Deluxe edition (the Ace Of Bass wankery of "Farewell", for example). Still, it's hard to complain when Em is rhyming at lighting speed, over bop-worthy-beats, in cadences and flows that sound genuinely pleasing on the ear – that might sound like faint praise, but it represents a big step forward in listenability.
Classic posse cut "I Will" captures Music To Be Murdered By's revitalized aesthetic perfectly. Sure, it might be full-to-overflowing with corny puns and brutally lame one liners, but I'll be damned if its throwback beat, zaney hook and pass-the-mic antics aren't a hell of a lot of fun." Read The Full Review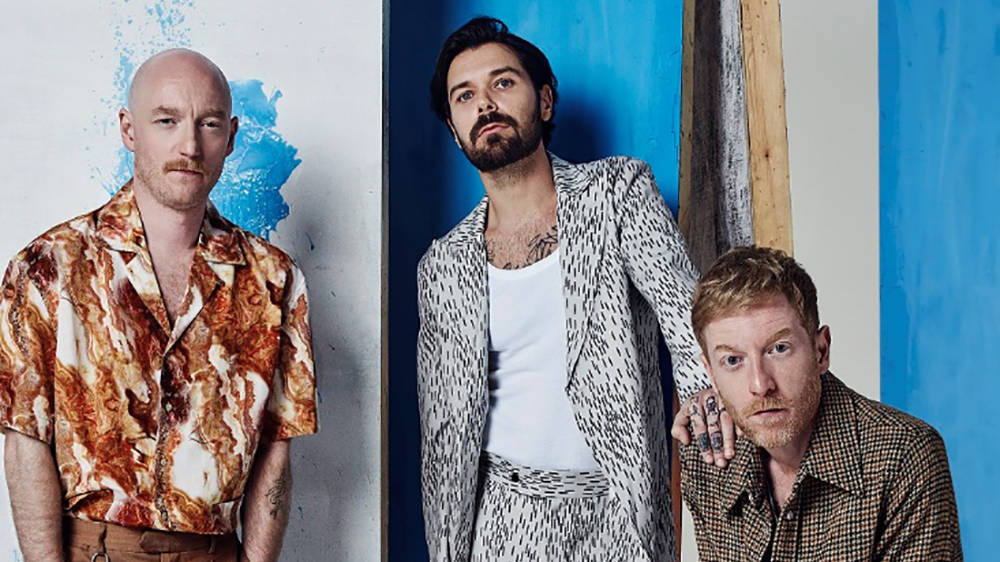 97. Biffy Clyro – A Sense Of Endings (Rock)
"A Celebration Of Endings leaves a strange taste in the mouth. It is a resounding return to form that expands an already ambitious band's horizons while serving up 45-minutes of infinitely listenable, headline worthy rock, but it is also an album that routinely misses the mark. The ballads are a little too flat or one note, the lyrics are fleetingly thrilling (and always thoughtfully composed) without cutting as deep as they once did, and the band's newfound compositional attack deserves to be let off the leash more often. The result is a nearly, but not quite record that shows of Biffy's depth of talent and considerable ambition without reaching the highest of heights. Nevertheless, A Celebration Of Endings represents a pathway between the dangerous extremes of crowd-pleasing smultz and experimental naval gazing. With a little refinement and few harder hitting hooks Biffy Clyro will effortlessly regain their title of Britain's most intriguing mainstream rock band." Read The Full Review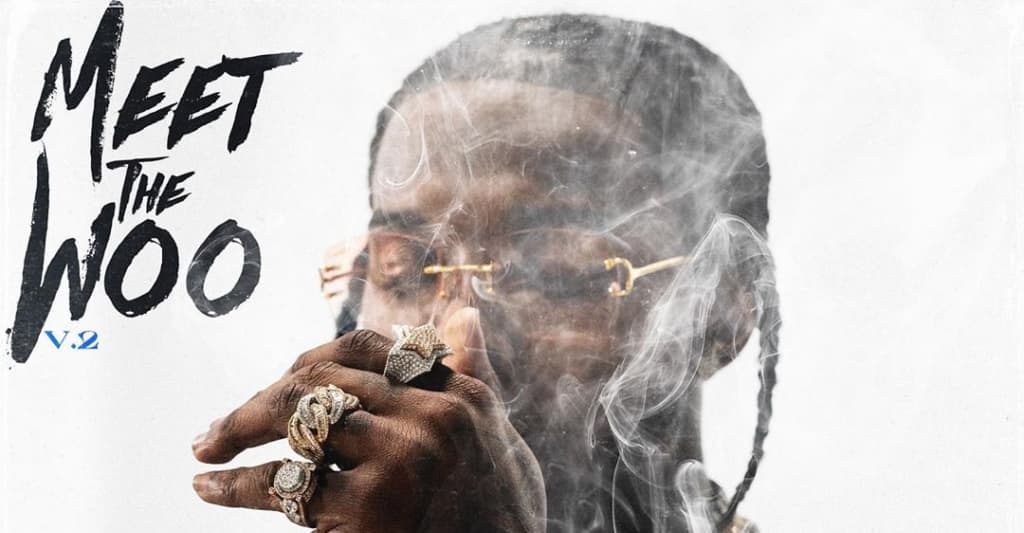 96. Pop Smoke – Meet The Woo V.2 (Rap)
Pop Smoke's untimely death has inevitably lead to a retrospective overrating of his Brooklyn drill oeuvre.  Stranger still, in the midst of the first wave of Black Lives Matters protests in the wake of George Floyd's death, Pop Smoke became the movement's unexpected soundtrack. Crowds of protesters happily filled hours on the streets rapping along in unison to Smoke's never-ending barrage of deep growling bangers. Truth be told, Smoke's music is perfectly suited to the latter. Meet The Woo 2  is a mixtape designed to the move crowds, spark mosh pits and blast from street corners. Perfectly positioned between Chicago and London, Pop Smoke has managed to create a transatlantic drill sound that's full of both bounce and bravado. The beats exude the requisite menace while Pop Smoke plays the laidback MC, walking us through his distinctly hedonistic vision of New York City. Meet The Woo 2 offers little more than self-indulgence. In one sense its paper thin, but Pop Smoke's tape slaps so hard few will care. Don't get hung up on the hype and just enjoy the ride.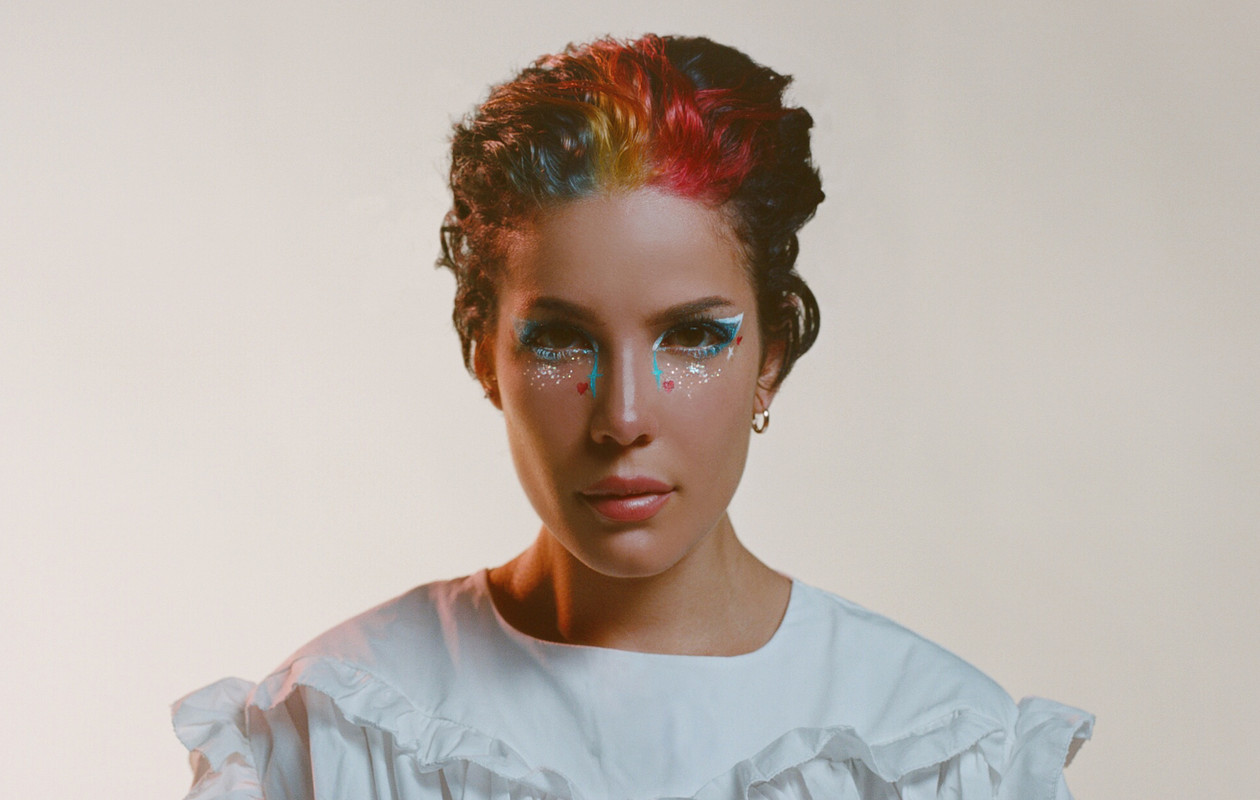 95. Halsey – Manic (Pop)
"Standing now, in the mirror now, that I built myself", despite the depths of self-doubt and neurosis to which Halsey will plunge on Manic, there is no doubt that she controls every inch of this LP. It's too long and full of bad taste turns, Manic could have been a career defining masterwork had it only been trimmed and tidied into 12 dynamite tracks – but that misses the point entirely. Manic is an outpouring and onrush of ideas of good and bad. It's a self-indulgence and a radical exploration of every thought, doubt and conception running through Halsey's head. Following in Taylor Swift's footsteps, Halsey is learning how to wind her vomitus outpouring of raw angst and emotion into swirling melodic spiderwebs. Halsey is more hamfisted, but also unencumbered by Swift's perfectionist streak. Halsey will wildly grope towards an ill-advised chorus ("Graveyard"), wilfully teenaged sentiment ("I HATE EVERYBODY") and self-mythologising emotional mayhem ("929"), while hopping genres with a borderline tasteless-glee. The result is a surreally psychotic attempt at self-administered therapy delivered by one of this generation's most brazen and iconoclastic popstars. Manic is a mess, just as it should be.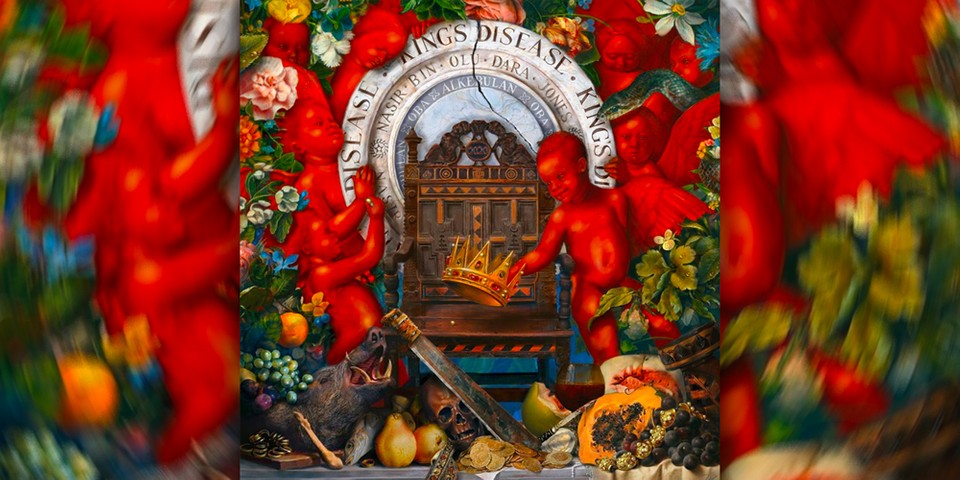 94. Nas – King's Disease (Rap)
Heavy is the head that wears the crown. Across two three decades Nas has born the weight of being New York City's heart and soul. Every glimmer of rejuvenation or thoughtful introspection turn is ravenously received by a generation of conscious rap devotees, while each brutally embarrassing flop cuts ungodly deep. Nas openly admits to feeling weighed down by his own legacy: Illmatic, aka his iron lung. In this light, Kings Disease feels like a lurch backwards towards the glory days, but given Nas' struggles to modernize, the idea of allowing Hit Boy to handle to the sonics while he puts his hood up and his head down to rattle off reams of rhymes feels strangely comforting. As a result, the choruses and guest features feel strangely detached from the star himself, but in a cultural moment where Nas' voice feels essential, he is ready to capture both sides of the coin when it comes to the black experience.
"Ultra Black" is the buoyant throwback hit that stands as a celebration as blackness, not merely as beauty, but as a culture that has conquered every corner of the globe (from Ed Sheeran to BTS). "King's Disease", on the other hand, acknowledges the baggage that must be overcome ("can I floss without you wanting me outlined in chalk?"). Nas admits to finding comfort in nostalgia as he comes to terms with his legacy, not as a revered great, but as a flawed human being who keeps on living and must endure both failure and fading relevance: "the markets see you as an old-ass artist. The McCartneys live past the Lennons, but the Lennon's the hardest". Truth be told, Nas is an old-ass artist and King's Disease is an old-fashioned record, light on new ideas, but overflowing with rekindled bravado and political outrage that respects neither left nor right: "Our youth is dead, they call us superpredators. Stupid words from the president's mouth, where are his editors?"
Nas has been revitalised via righteous anger and self-love. King's Disease is not a reinvention let alone a revolution, but it is a reminder of his prodigious talent.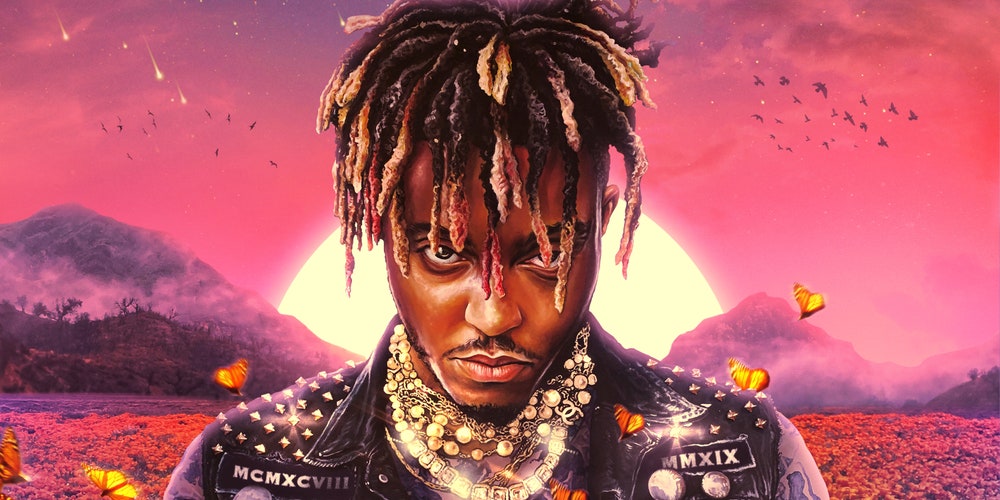 93. JUICE WRLD – LEGENDS NEVER DIE (RAP/POP)
Posthumous albums are often an unpleasant and exploitative business as labels and estates trip over themselves to cash in on the recently deceased's talents. Thankfully, with two albums, three mixtapes and eight EPs to his name, it is safe to assume that Juice WRLD would be happy to send his work out into the world in an unfinished and experimental state.
In this light, Legends Never Die feels like a strangely appropriate send off for a rapper who proved both prolific and prophetic. With "Lucid Dreams" Juice WRLD perfectly captured the hybrid of post-trap rap, the emo influenced woe-is-me songwriting trend and the blurred lines of personality inherit in the Internet age. Since that release Juice has floundered between hit singles and both undeveloped and overstretched ideas. Legends Never Die is itself long, meandering and inconsistent, but shot through with an incredible melodic impulse and a gift for lacing buoyant highs with introspective lows. Juice WRLD is determined to have his "cake and eat it too", but is always on the edge of being pulled away from the world and back into his anxiety.
In rap circles it has become modish to play mental illness and depression off as either a joke ("I got depression") or, perversely, the latest bad boy/sad boy posture. Legends Never Die presents Juice WRLD in a far better light, as the songwriter who could convey this feeling of being lost at sea, slowly sinking beneath the surface as the cheques roll in, without even a whiff of exploitation. Juice WRLD's sorrow doesn't come across as an Instagram filter quickly applied and crassly discarded, he's consistent as he laces hook atop hook, not in the chorus, but within each verse. Typically backed by the distinctly 90s acoustic guitar sound typically favoured by the boybands of yesteryear, he dives into his feelings, allowing the ripples to spread and collide with every aspect of his success. If there is a chink in his hitmaking armor, it's the choruses themselves. Juice's verses are so catchy and intoxicating, that his actual hooks feel signposted, obvious and lesser.
Sadly, this collection is inevitably too long, too stapled together and too reliant on guest stars to reach the finish line to truly be a classic stand-alone record. Despite this handicap, Legends Never Die is testament to a rapper who inhabited the pop-cultural zeitgeist more thoroughly than any of his superstar peers. Proof that Juice's third album would have been absolutely gigantic had he survived that tragic drug induced seizure.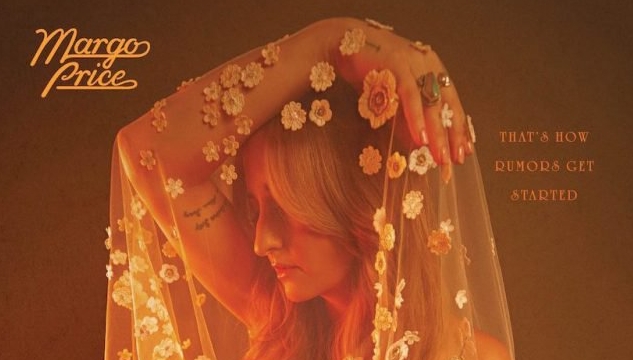 92. MARGO PRICE – THAT'S HOW THE RUMORS GET STARTED (ROCK/COUNTRY)
After releasing two stunning country albums, Midwest Farmer's Daughter and All American Made, Margo Price turns her arch satirical eye to the world of rock and pop. This her self proclaimed "rock 'n' roll record" and fittingly the title track offers a sumptuous caress that instantly recalls Stevie Nicks in her whispy FM radio pomp. Of course, you can take the girl out of Nashville, but you can't take Nashville out of the girl. Even as Price indulges in some driving rock arrangements or navel gazing ennui she retains the conversational narrative tricks of the country canon.
The trouble with her move toward a countrified rock and roll is that her compositions feel less original in these surroundings. "Twinkle Twinkle" starts with an intriguing dissection of the American mythos, "Way back in the good old days things weren't really all that good. We grew up with the TV on", but rather than growing in lyrical complexity the track gives way to a pedestrian array of guitar driven crunch and fuzz. "Stone Me" is better, with the guitar no longer in the foreground dictating the pace, Price is free to show off her understanding of the sensitive balance and soft textures of 70s pop. The result is a powerful tale on a once loving relationship torn apart both by both familiarity and their innate economic conditions.
The decision to ditch country certainly leads Price in a more impressionistic direction that limits her sharp songwriter's eye to brief flourishes and stand out lines while placing a greater burden on her Dolly-like vocal. On "Hey Child" and "I'd Die For You" she more than delivers mixing a whispery verses with a high pinched and strained chorus. The latter track proves to be a bulldozing hybrid of gritty detail ("Boards go up, signs come down…missing teeth, payments plans") and strapping yourself to the mast of the ship and howling into the oncoming storm style grandstanding.
Is Price a natural rockstar? It is hard to say.  She's certainly less novel in her new surroundings. In the country landscape she was a fresh and incisive voice, in rock she's a deft songwriter performing well observed reinterpretations of winding new-wave ("Heartless Mind") and street-stalking power-balladry ("What Happened To Our Love?"). There's no denying Price's talent as a retro-rocker and its always good to broaden one's horizons, but That's How The Rumors Get Started is more of a profound evolution for Price herself than music at large.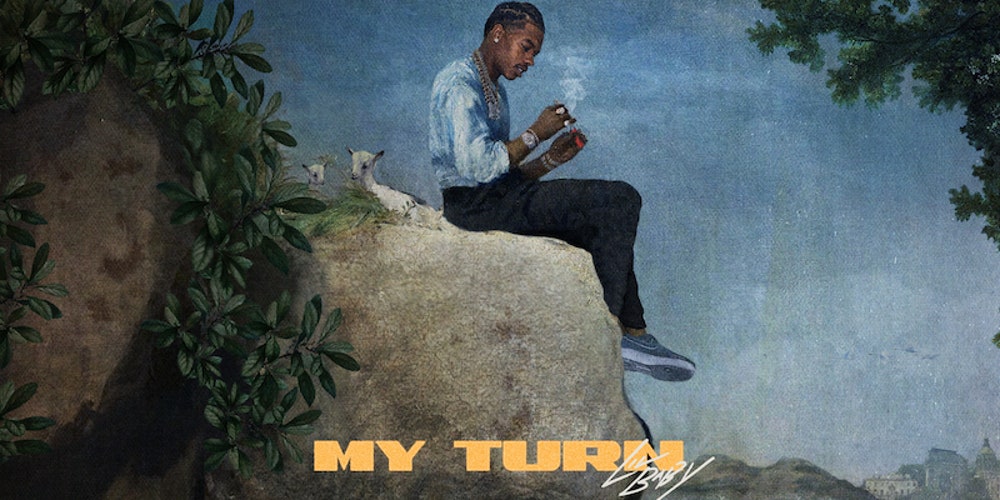 91. Lil Baby – My Turn
In a year defined by polarization, Lil Baby be hip hop's biggest opinion splitter. He's either the nadir of modern trap dominated hip hop or he's the man of the moment, 2020's visionary rapper with the midas touch. The truth is far more mundane and far more enjoyable. My Turn is an onslaught of low-key bangers, both grandiose in its beats and strangely uninterested in chasing the pop charts. Lil Baby has the nonchalance of a man who truly believes the hits will simply materialize if he keeps the bars fast and unburdened by undue pretentions. My Turn is the work of an artist who knows that he's the King of Atlanta at least for the moment. Lil Baby doesn't possess either the charisma or the virtuosity to truly change the game, instead he simply takes his turn in the limelight. Not one to waste his opportunity, Lil Baby delivers the purest distillation of his sound and his come-up story possible, nothing more nothing less. My Turn isn't a decade defining drop, nor is it a shameful abomination, it's one of the year's most enjoyable and almost accidentally accessible listens of 2020.
90. Ozzy Osbourne – Ordinary Man (Metal)
It's tempting to call Ordinary Man a haunting, heartfelt and genuine tender embrace of a rockstar's impending demise. The moment when a pop cultural immortal realises that, like Bowie and like Prince, he can and will die – and worse, he may very well be forgotten. The trouble is, while Ozzy might be sentimental, he's never moribund. For every sincere and solemn moment there's a dose of riotous rebellion, slasher movie camp or tongue-in-cheek pomposity. Ozzy is happy to bare his soul, but there's no way he's doing it with a straight face.
Fittingly, this thrilling and utterly energized all-star LP is defined not by Ozzy fading to black with a tear in his eye, but by the way he cracks these inane little jokes. On "Goodbye" he signs off, not with the harrowingly lines "all my friends are waiting for me…cryin' out for help", but with a giddy little aside: "Is it tea time yet? Do they serve tea in heaven?" Read The Full Review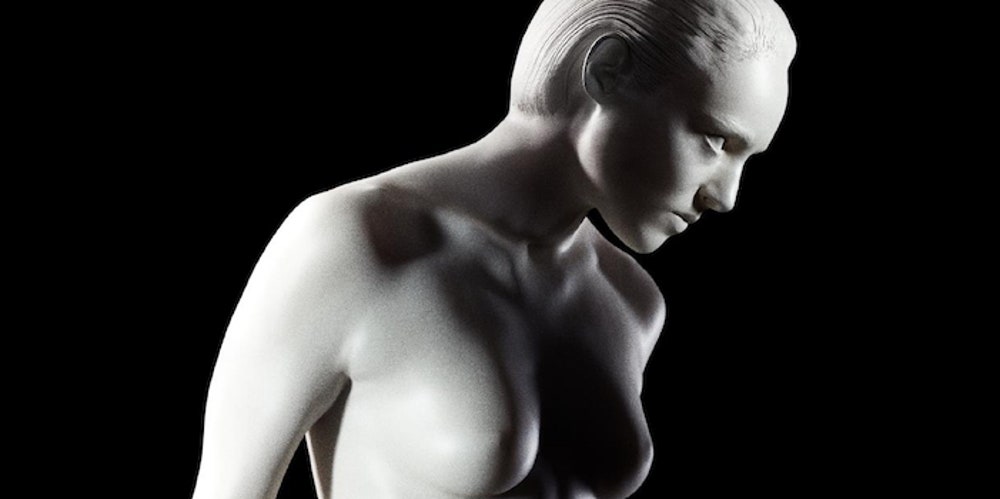 89. Jehnny Beth – To Love is To Live (Alternative)
Savages feverishly intense frontwoman Jehnny Beth steps out on her own for a harrowing and poetic solo offering. To Love Is To Live is guttural. The post-punk ethos remain in place, but Beth has migrated towards the soundscapes of howling industrial electronica. Less songs and more outpourings, the album's choruses are threadbare, not hooks per se, more seething anchors around which Beth vents her spleen or coolly explores her headspace. Macro reflection on gender and gendered-violence sit alongside beautiful and exploratory cinematic set-pieces. It's testament to the breadth of Beth's talents that the spittle spewing rage of the Joe Talbot assisted "How Could You" can sit alongside the gloriously understated love letter "French Countryside" – a sublimely controlled offering that recalls Bowie's haunting endnote "Dollar Days". At times Beth's outpourings feel overly-performative and trite – recalling a college art project – but more often than not these insidious post-punk offerings slip under the skin and cut devastatingly deep.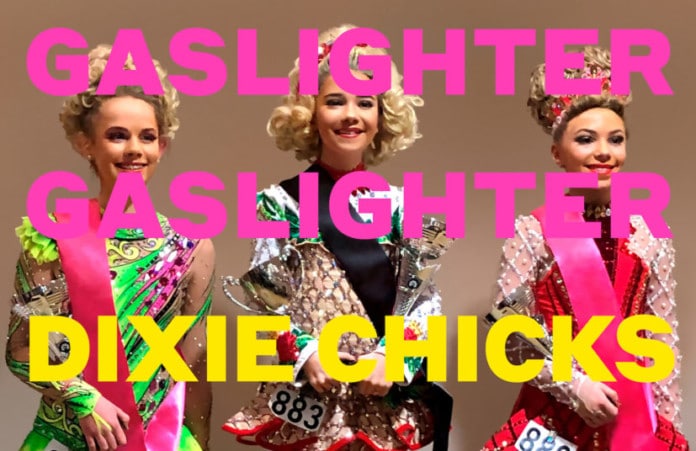 88. THE CHICKS – GASLIGHTER (POP)
The Chicks return not only with the Dixie stripped from their name, but, by and large, from their sound too. There is no reason to mourn the trio's move from the rootsy aesthetics of the south to the clean, chart-ready pop of producer Jack Antonoff, because Gaslighter is not defined by its sonics. In truth, The Chicks are less a band than a support group for Natalie Maines as she summons the strength to rip her cheating ex-husband to shreds. Gaslighter feels like a solo album and it is hard to complain when the axe is wielded with such precision and such hard earned bitterness.
The revelations are jaw dropping. From the moment when Maines had to make small talk with her husband's mistress before taking to the stage at the Holywood Bowl to the discover that her husband has been carrying on his affair on the yatch she paid for (via a pair of discarded leggings). Bitterness is endemic and deserved. "How do you sleep at night?" is the question that haunts the entire collection. Revelatory break-up pop is common in Taylor Swiftian age, but Gaslighter isn't knife twisting for sport, this album captures the most brutal of gut punches. Illusions are shattered, children are stranded and money is fought over as Maines narrowly avoids being silenced (the legal twist and turns are well worth following).
There are moments where the music and hooks can't rival the power of the sentiment, but more often The Chicks rise to the occasion capturing both the heart wrenching pain of watching society embrace the man who desecrated your family home to the solemn desire to be free of the bonds and baggage of marriage itself. It's not always brutally heavy, The Chicks make sure to have a little fun with a healthy dose of throwaway escapism in the form of petty insults ("Hey will your dad pay your taxes, now that I'm done?"). However, despite its slick pop surface, Gaslighter is a testament to human nastiness: a record that hopes it antagonist burns in hell and actually means it.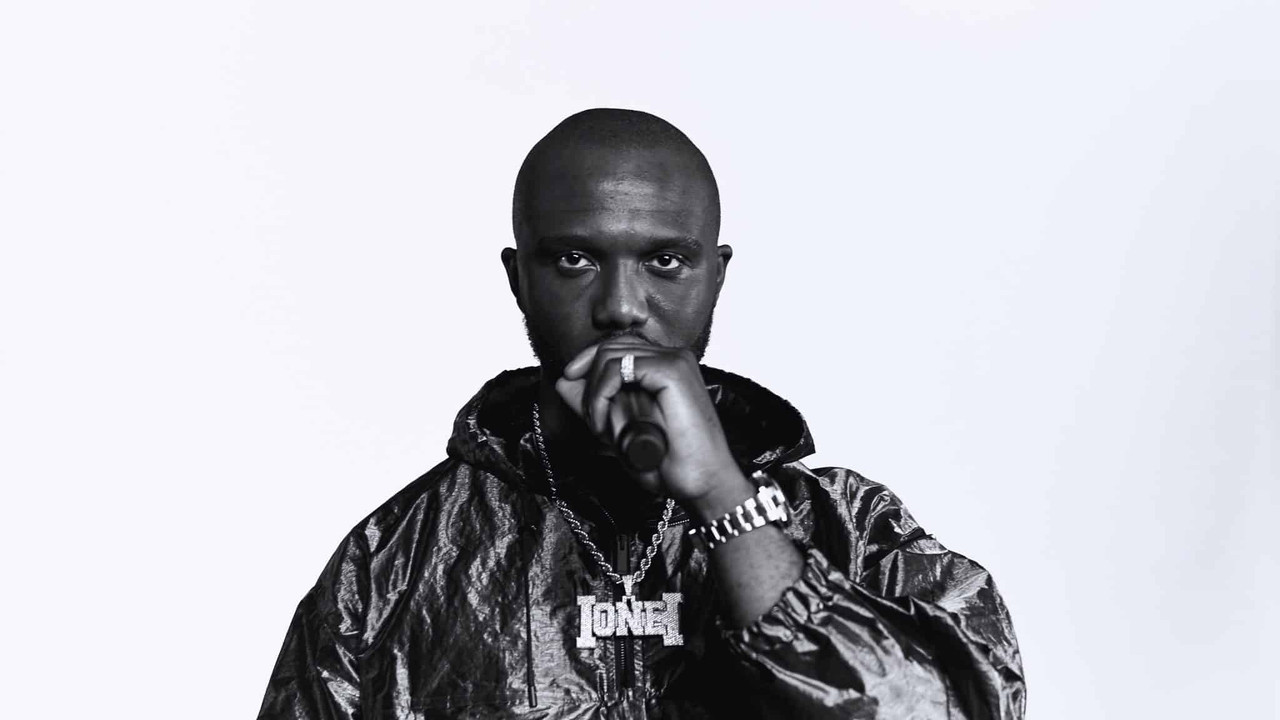 87. Headie One – EDNA (Rap)
It's hard not to mourn the long slow death of Grime. UK Rap is bigger than ever before. The global conquest of the UK scene in the mid-2000s was remarkable, not only for the artists it spawned, but for the young entrepreneurs who built empires entirely online. However, the direction of the travel has unmistakably reversed. The influence of trap and the modern dominance of drill, has left even a prodigious talent like Headie One bearing the unmistakable influence of USA. This isn't a slight, Headie is a brazenly lyrical rapper, who is determined to ensure that his pen doesn't succumb to the vibe or a club ready beat. EDNA is full of tight lyrical workouts soundtracked by a set of shifting sands arrangements that thrillingly elicits the UK's electronic innovation and sensual grooves of Afro-beat – as well as the most tiresome tropes of the modern club scene. Headie is an wily narrator, who eschews an introspective turn when faced with the violence of the day-to-day hustle. In his world, Black Lives Matter is a worthy cause, but a luxury pursuit he doesn't have the security to pursue. There's no doubt that EDNA is front-loaded, even if some of Headie's best bars are reserved for LP's backend. Truth be told, despite an array dazzling verses, Headie falls down of charisma and delivery. "Triple Science" and "The Light" ably demonstrate how effortlessly Headie can hold his own on a track, but while few can best him bar for bar, he nevertheless lacks a certain je ne sais quoi. But hey, in "Ain't It Different", Headie One delivers the best sampling of "Pretty Little Ditty" since Crazy Town's "Butterfly", can't say I saw myself writing that sentence this morning.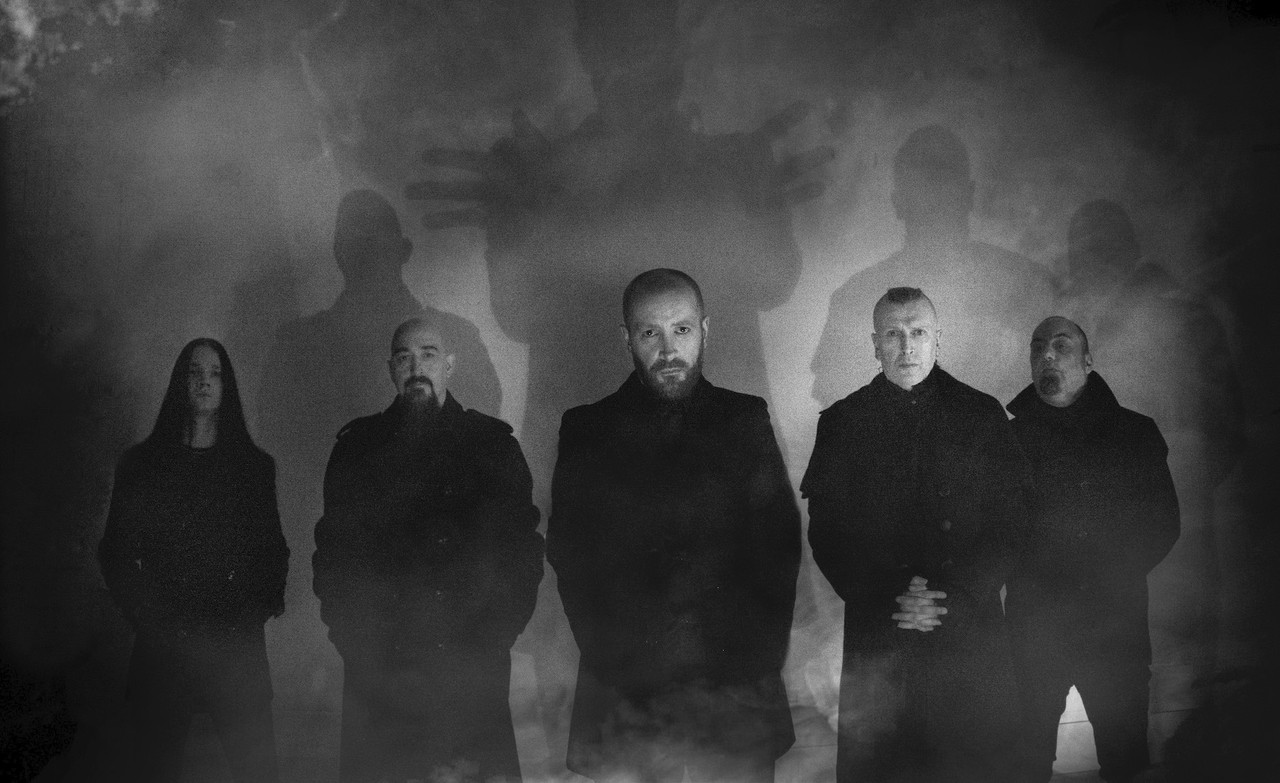 86. PARADISE LOST – OBSIDIAN (METAL)
"This one way street you're on, you'll never be fulfilled". Paradise Lost might start their stunning sixteenth studio album with a harrowing reflection on letting a singular agony creep in and darken your entire world view, but Obsidian is ultimately defined by the depth and breadth of its sonic horizons. Make no mistake, the mood is unremittingly bleak as the UK's premiere gothic metallers dwell on an unspoken internal agony endured in painful isolation, but the entire album is enlivened by the musical nous Paradise Lost have accumulated over a long and varied career. While Nick Holmes ploughs a lone furrow, his bandmates construct grand Cathedrals of sound – as likely to be informed by tubular post-hardcore grooves as they are the totemic and pulverising sludge of doom.
Over the course of 32 years, Paradise Lost have experimented, enriched and crystalized the frayed edges of their sound to the point where they can now effortlessly blend even the most divergent strands of their back catalogue. They may have alienated a host of long term fans to achieve this broader mastery of sound, but Obsidian rewards those who fans who either stuck around or decided to jump on board. The band deftly combine sullen synth-pop influences (Tears For Fears, Depeche Mode) with operatic theatrically, virtuoso rock and prog flourishes amid all the churning brutality and doom-laden heaviness their bleak subject matter deserves. In years past, Holmes unremitting lyrical severity might have led to a monochrome and predictable listen, but Obsidian is a strangely enlivening experience – a wonderful marriage of heavens-cursing misery and free-flowing virtuosity, perhaps best captured by "Forsaken's" rip snorting solo.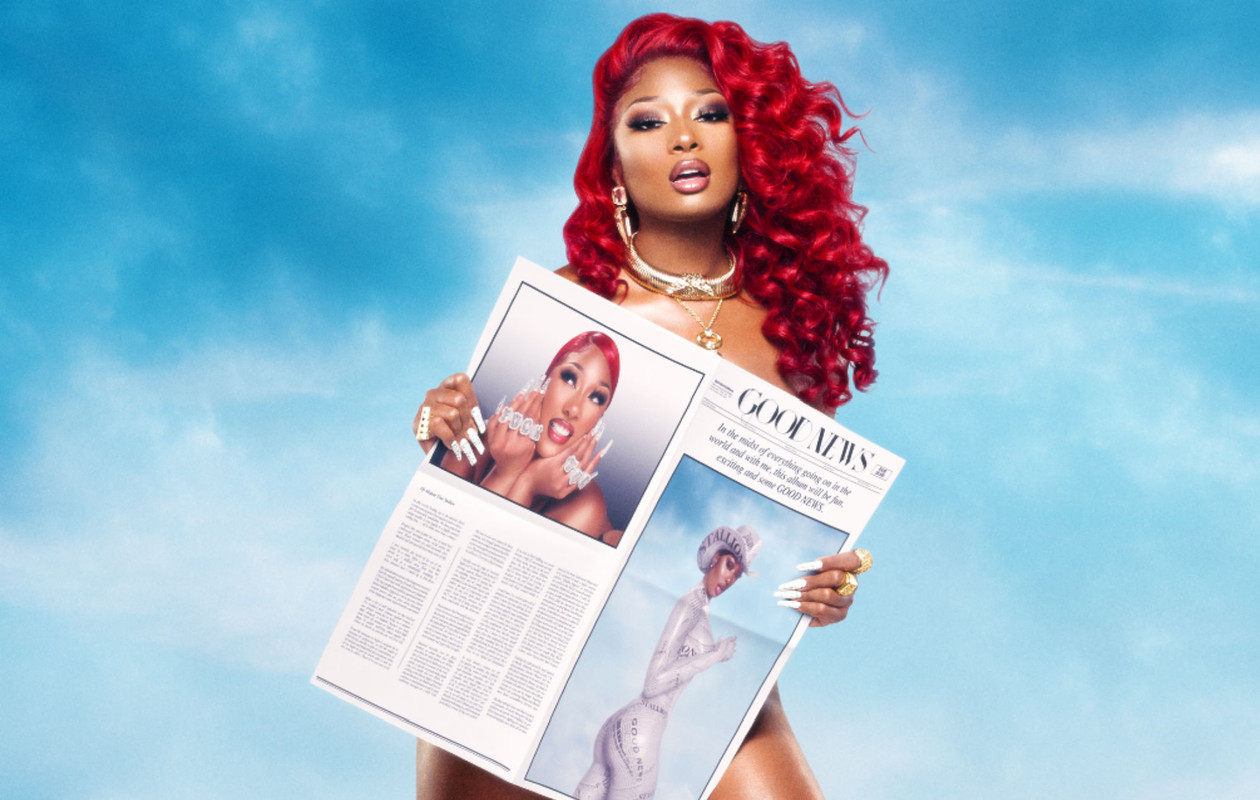 85. Megan Thee Stallion – Good News (Rap)
What is the correct vehicle for Megan Thee Stallion? The answer remains unclear. Good News showcases Megan's incredible charisma, rock solid flow and lyrical dexterity, but it does little more. The hits are there, the beats are minimal and more than serviceable, but Good News never feels like a statement record. Beyonce's arrival on the "Savage Remix" is reminder of how strident, distinct and daring Bey's recent LPs feel compared to this supposedly essential statement of a dynamic new voice. This might feel like and oddly negative entry for an album of the year contender, but that's only because Good News is a reminder of just how damn talented Megan Thee Stallion is. No matter how tired the beat or unimaginative the arrangement, Megan cannot be slowed, she projects unflappable bravado and never runs out bars, let alone punchlines. It's to her immense credit, that she never feels the need to resort to trap tropes or lazy broken rhymes, Megan wants to rhyme and ride the beat for all its worth. Good News is good enough and that's it. It's a vehicle for Megan the star, her next step will require better production and greater ambition.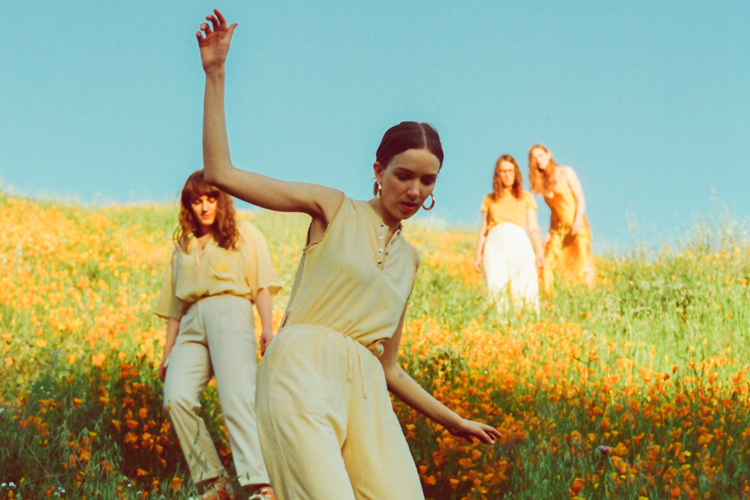 84. The Big Moon – Walking Like We Do (Indie)
The guitars are out and the synths are in as The Big Moon succumb to the pillowy embrace of slow-motion despair. The immaculate sounds of the 80s provide little comfort to these perennially broken-hearted indie starlets. The surfaces might be pristine and polished to within an inch of their lives, but there is no disguising The Big Moon's inherent shabbiness. They are a garage band trapped in a dream house. They might be intent to pulse and swoon rather than thrash and crash on their sophomore album, but the band lose surprisingly little of their edge. They still have the jittery impatient energy of a bunch of twenty-somethings desperate to throw themselves headlong into the world's embrace. The juxtaposition is delicious. The Big Moon are creating controlled grooves and glorious drifts without sacrificing the innate propulsion behind their best pop music. Juliette Jackson waltzes past her peers. Her song-writing is ambitious, dense and detailed, avoiding the most tired indie tropes without forgetting what makes an indie disco so much fun in the first place. Pulp's This Is Hardcore feels like a fitting comparison as The Big Moon have the knack of mastering the dark arts of cinematic melody even as they sardonically kick against and subvert the norms of rock.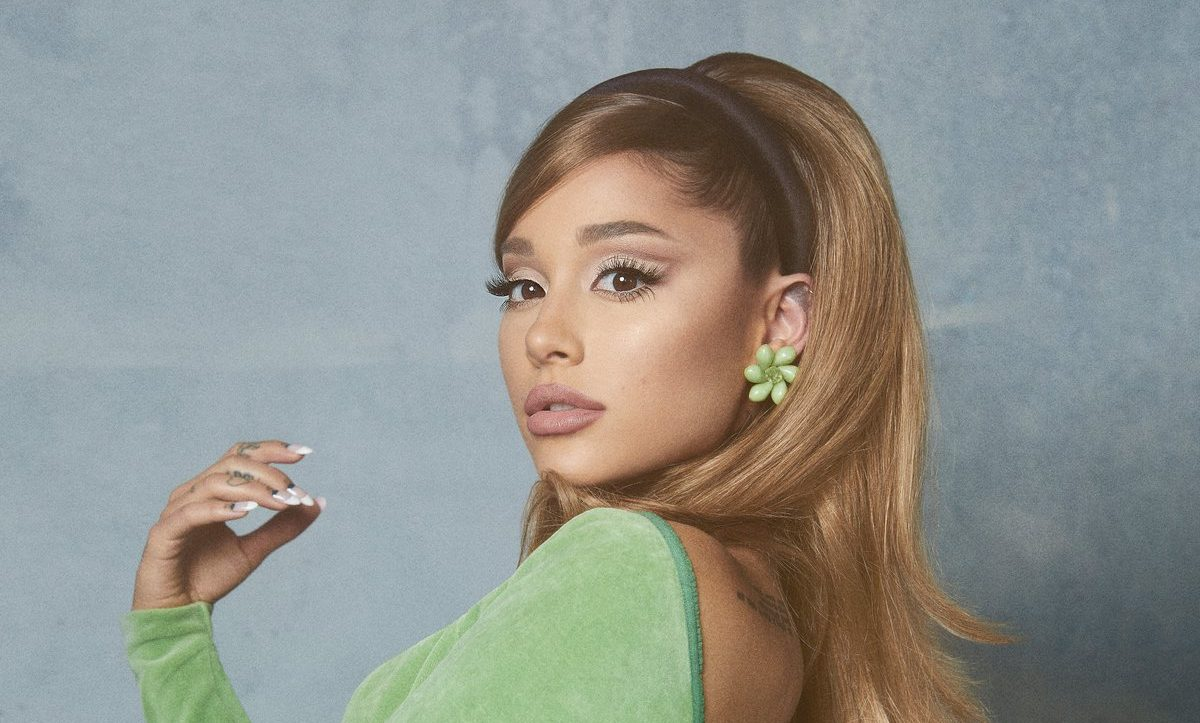 83. Ariana Grande – Positions (R&B)
Truth be told, Positions isn't what anyone was expecting, let alone hoping for. After the wild innovation of The Sweetener and the supremely slick-modern R&B of Thank U, Next, an exploration of understated soul feels inexplicable. Ariana has gone from being her biggest boldest and strangest self, to being something sweeter, more sensual and thoughtful. Positions is defined by the middle ground between glorious lusty sex and suspicion that accompanies midnight creeping. Between these extremes love appear to flourish, but in Ariana's world it takes the form of old fashion balladry and distinctly adult reflections on the complexities of commitment. In this light, Positions is a strange proposition. It's the kind of album that would be exalted were it released by 50-something-artist returning to form, but why on earth is a young trendsetter taking this stately, tender and settled turn? Well, whatever the rationale, the results remain stellar. Ariana has always had an incredible voice and masterful control, so subtlety suits her. Positions is the kind of thoughtful and sensual turn that critics are destined to rediscover in decades to come. Positions might not be the right follow up maximize her commercial potential postThank U, Next, but it is proof that Ariane Grande would have been a superstar in any decade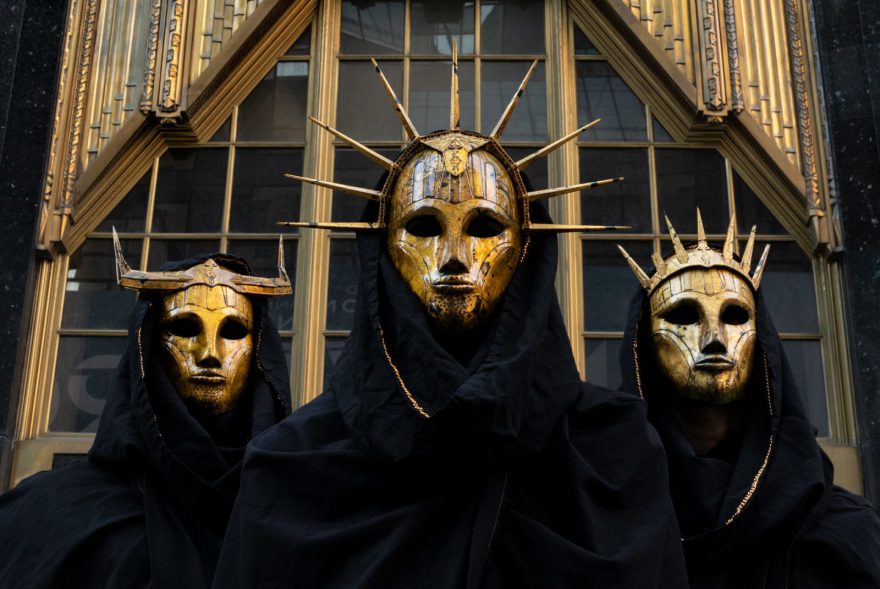 82. Imperial Triumphant – Alphaville (Metal)
The pseudo-religious cult like aesthetics, which feel like a cultist hybrid of Eyes Wide Shut and a leprosy mask, might give Imperial Triumphant a try hard air, but their music proves utterly undeniable. The fusion of crushingly bleak black metal with the complexities and ever-changing structures of jazz are a proven winner – and Alphaville pushes this marriage to its wildest and most enticing extremes. The cartoonish medieval menace combined with the trappings of a faux-religious order carrying out a long-forbidden ritual only adds to the pleasure of this knotty, yet intense LP. There has been a suggestion in recent years that avant-garde metal is moving into territory so obscure and precise that it is losing its connection to anything resembling enjoyable music, but Alphaville bucks this trend. No matter how heavy or strange the circumstances, the lead guitar work remains addictive and even playfully sneaky, while the jazz percussion brings plenty of nuance and abstract rhythm to what, in another band's hands, might be a pitiless void.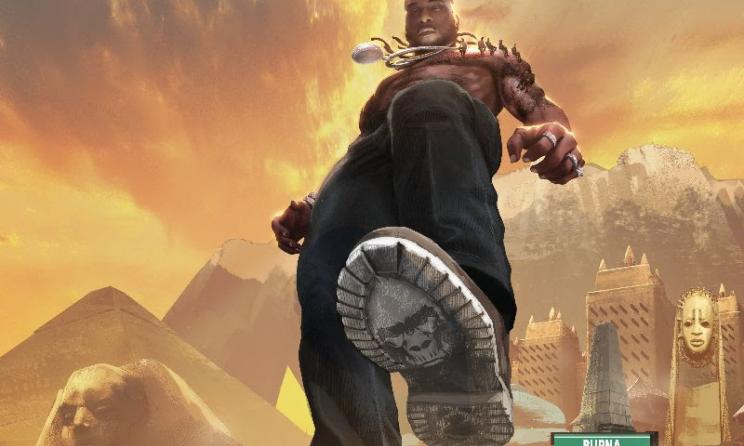 81. Burna Boy – Twice As Tall (Afro-Fusion)
Burna Boy is exceptionally good at what he does. His afro-fusion remains defiantly true to his roots despite his growing global superstardom. The rhythms and, far more importantly, the melodic lines of his African heritage shine through even as he masters the hard bars, eerily spacious urban production and grand narrative egoism of Western rap music. Twice As Tall is an album that seeks to simultaneously show how black culture and black love transcends borders and distance without allowing Burna Boy's distinctive cultural upbringing to be lost in the middle ground sounds of our global melting pot. Burna Boy isn't pulling his punches: across 52-minutes of music Burna Boy is determined to tell his life story while articulating the burden he bares being the superstar ambassador and face of modern African music. As such, the record at times feels weighed down by an invisible heft. Twice as Tall feels knowingly important, but it ultimately thrives when Burna Boy is at his lithe, loosest and most melodic. There are benefits to following a narrative – Twice Of Tall flows remarkably coherently for a near hour-long continent-crossing odyssey – and yet Burna Boy will always be at his best when he is moving a crowd. Twice As Tall can't quite reconcile the two sides of Burna Boys' artistry into one knockout masterpiece fit to surpass 2019's African Giant, but by god is his music effortless and enjoyable.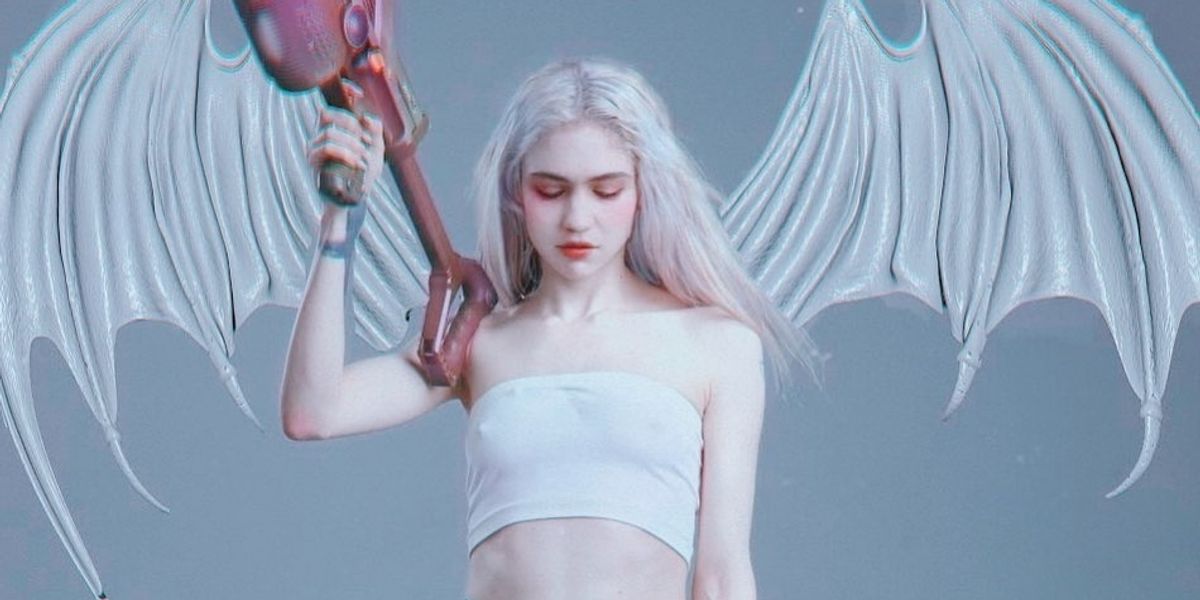 80. Grimes – Miss Anthropocene (Art Pop)
""IDORU" provides a fitting finale for an album that spends much of its run time ruminating and vibing in an intoxicating middle ground. Even when a rave threatens to break out on "4AM", it feels like mere window dressing for something darker. Unsurprisingly, "New God" follows: a severe ballad that nearly drifts into Bond theme territory were it not for its echo-laden and deliciously droll pre-chorus ("I wear black eyeliner, black attire, yeah/So take me higher and higher"). Grimes is conflicted yet again, here she is mourning a world that burns in the age of our new gods (plastic and pollution), but elsewhere she coyly jokes that our earthly destruction would make a great Instagram pic.
This is the fundamental contradiction that makes Miss Anthropocene so intoxicating. It might be an album made up of the worst songs of Grimes' career, but as a start-to-finish product it flourishes as a document to our distraction and disregard. We're too busy having fun, striking poses, taking antidepressants and falling in love to notice the world that is dying around us. Grimes frames the human/Gaia relationship as a love affair and we are the domestic abuser – no one questions our love, only our collective action (or inaction). The joy of Art Angels and the delicacy of Visions still exists, but they have been poisoned and subsumed by an encroaching heaviness. Numbed by opioids and coated in plastic: the original emotion is still recognisably present, it's merely smothered, slowly suffocating – dying, but not dead yet". Read The Full Review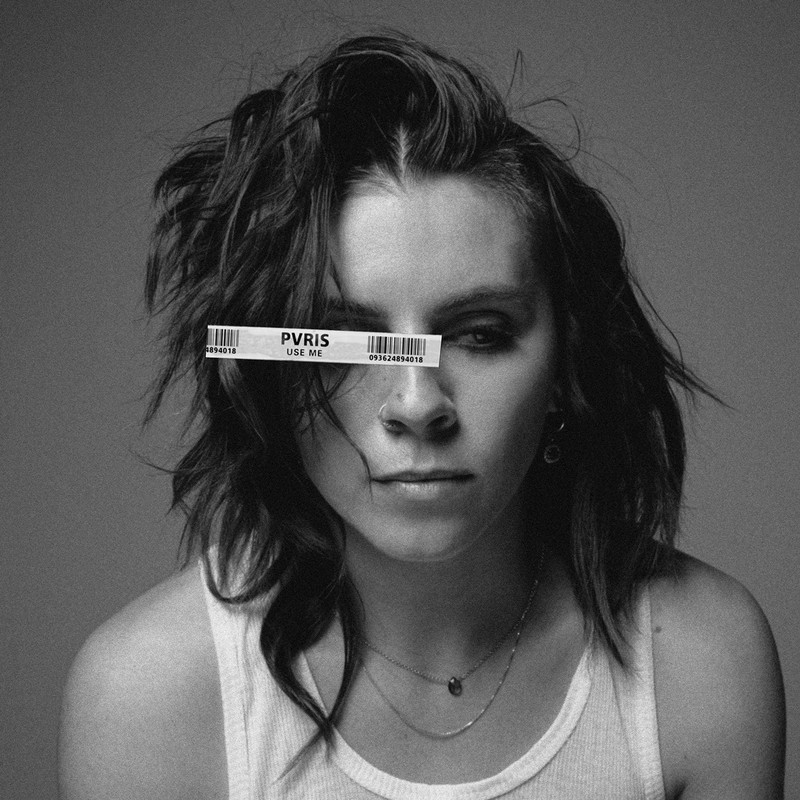 79. PVRIS – Use Me (Synth Pop)
Pvris are a band in name only. After releasing albums and EPs as a collective, frontwoman Lynn Gunn revealed that she was in fact the writer, composer, producer and instrumentalist behind every inch of Pvris' sound. As such, Use Me's onslaught of synth-pop-rock stands as one woman's vision, when she screams "I'm losing my mind, give me a minute" before ripping into a delicious wiry guitar riff backed by seething synths, we know good and well this is Lynn's vision of emotional fatigue and collapse. The brilliance of Use Me lies in the way it almost accidentally situates itself at the heart of the ven diagram of modern female fronted pop music. If Taylor is wringing out her exes on one extreme while Billie Eilish rolls her eyes with droll abandon, Hayley Williams disappears into tranquil experimentation and Halsey tattoos the wreckage of her relationships on her skin, then Lynn Gunn is happy, thrusting and grooving to the most sumptuous of synths in the midst of all this mayhem. Whenever Use Me threatens to veer too close to any of its prodigious peers, particular Eilish's breathy looming ennui, then Lynn always remembers to rush forward into a playful clatter of guitars and keys. Pvris may not rock particularly hard, but they do remember to rock out nonetheless, even if only briefly after a few minutes of skittish noodling and social commentary. There are moments where Use Me feels a little too on the nose. "Good To Alive" could well be titled "Pop in 2020" as Lynn whispers "everything I love is gonna find away a leave" before launching into the kind of painful, speaking-the-subtext-out-loud chorus that even Christopher Nolan would find a touch obvious: "feels good to be alive, but I hate my life". Still, Lynn is young and anguished and her music feels better for its all its clumsy melodrama. Thankfully, Use Me's impetuous oversharing is balanced by a series of shrew arrangements that pop, snap, seethe and bounce in all the right places.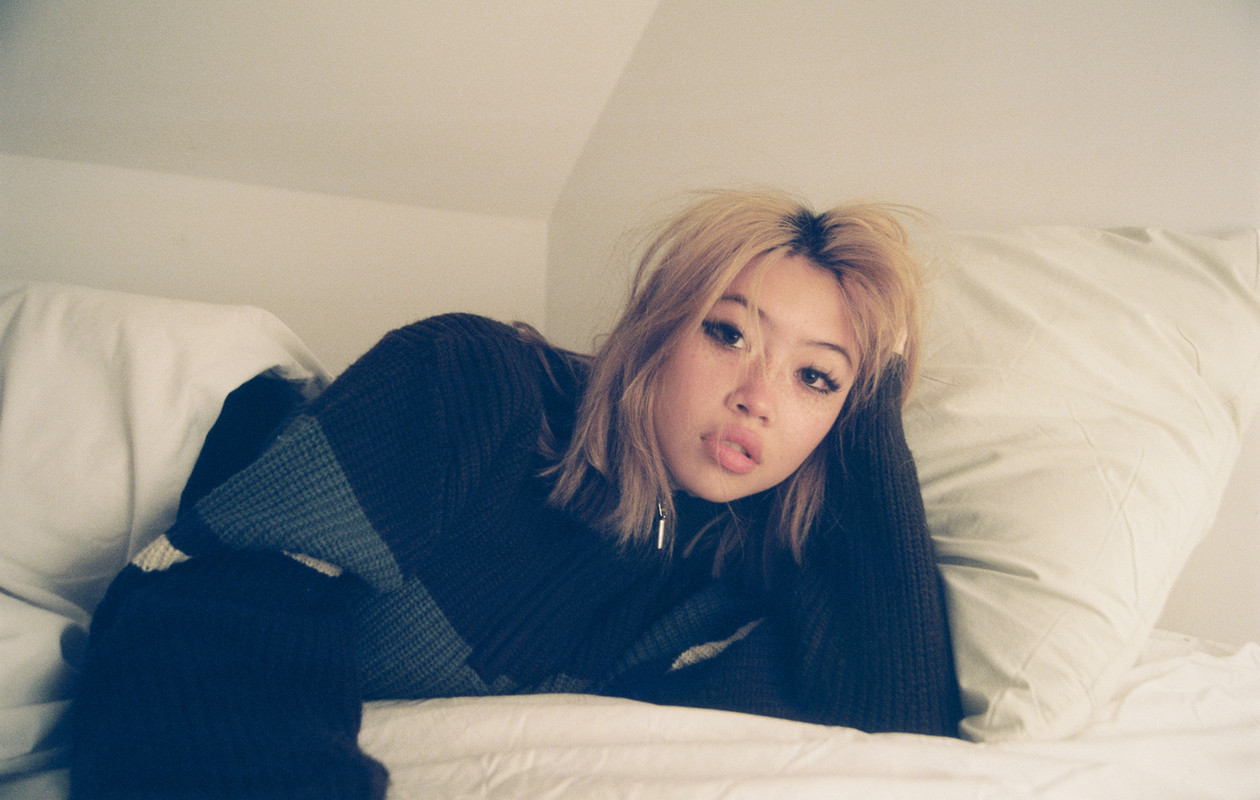 78. Beabadoobee – Fake It Flowers (Indie)
Beadadoobee wears her washed out alternative influences on her sleeve. The indebted nature of her compositions is transparent, her palette is rooted firmly in the 1990s, so it seems surreal that she faced a degree of backlash on release. Who on earth really thought that Fake It Flowers would be the sound of today, let alone tomorrow? Instead, Beabadoobee swims within her niche, making dreamy, raucous, vulnerable rock music. She feels like an essential voice and, perhaps more importantly in an age understated indie, she feels like a bone fide superstar. Her melodic impulses are impeccable. Thumping hooks and richly satisfying crescendos surge out from beneath a slackerish haze of disinterest and discontent with pleasing regularity. The solos are clean and efficient whenever they punctuate malaise and Beadabdoobee remains succinct at all times. The sounds might be intoxicatingly dreamy in their run-down dreariness, but Fake It Flowers never succumbs to elongated stretches of directionless jamming or noise for noise sake. This is precision engineered rock. Whether resilient or angst ridden, Beabadoobee never belabors the point. She delivers her most laceratingly lyrics without dilution. The result is a blend of razor-sharp rockers and loose-but-intimate diary sketches that offer a tantalizing glimpse into the songwriter's psyche while leaving her mystique intact.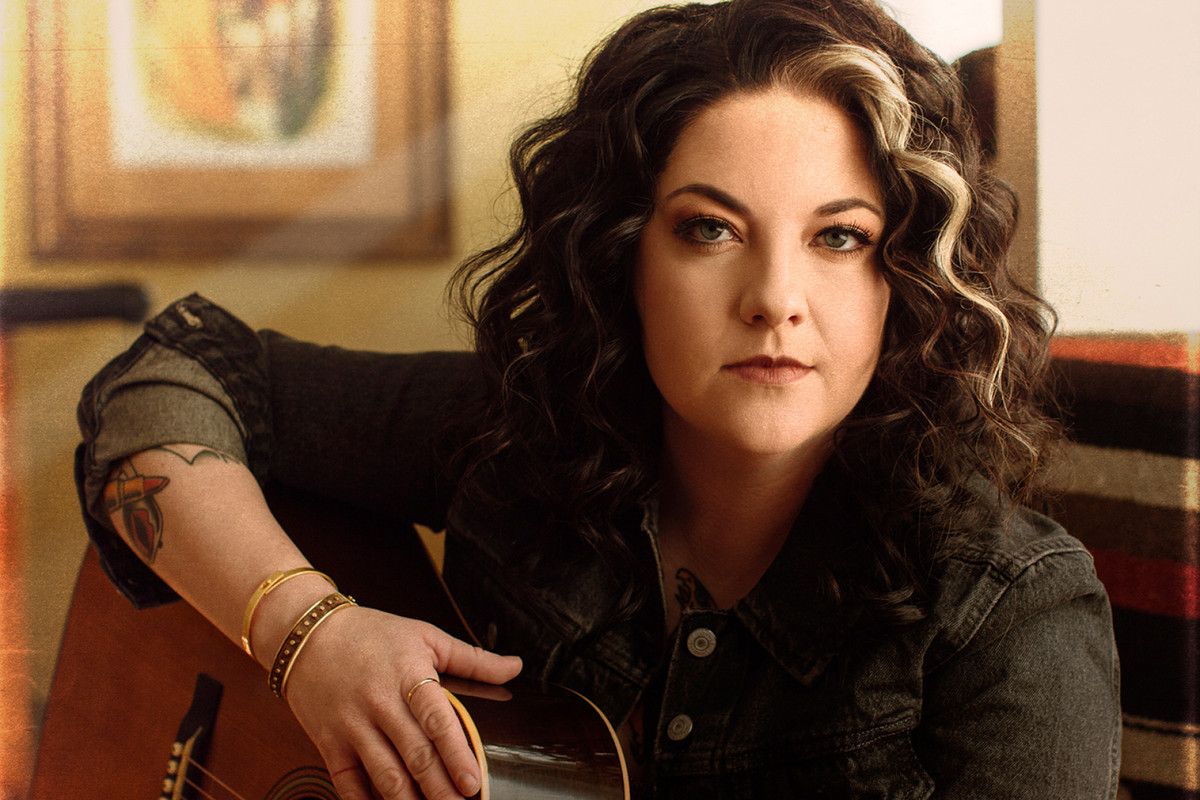 77. Ashley McBryde – Never Will (Country)
If capitalizing on breakthrough major label debuts is supposed to be a treacherous undertaking, then no one told Ashley McBryde. There's still an unsettling disconnect between the 90s Country radio gloss of Never Will's production and the raw "give no fucks" reality of these small town tales, but it cannot diminish McBryde's progress. Her stories of men and women ploughing their own furrow within the conventions of country life continue to be subversive and yet fit for the largest of arenas and the heaviest mainstream radio rotation. McBryde's greatest gift might be her ability to feel utterly down to earth, while writing driving country rock anthems fit for the biggest the arenas. "Shut Up Sheila" highlights the strange juxtaposition that has defined McBryde success. Essentially she's your hard arse friend at the bar, when one of your group starts banging on about the bible at an inappropriate time, she tells them to briskly to knock it off. Sounds like the subject matter of a quick and witty country ditty right? Well wrong, in McBryde's hand this simple sentiment blossoms into a scream it from the roof tops ode to self-assertion in the face of societal and cultural pressures. Never Will is an album that manages to celebrate rebellion on its lyric sheet while affirming country rock conventions in its compositions. Perhaps that's the point, McBryde is subverting country radio norms from the inside out.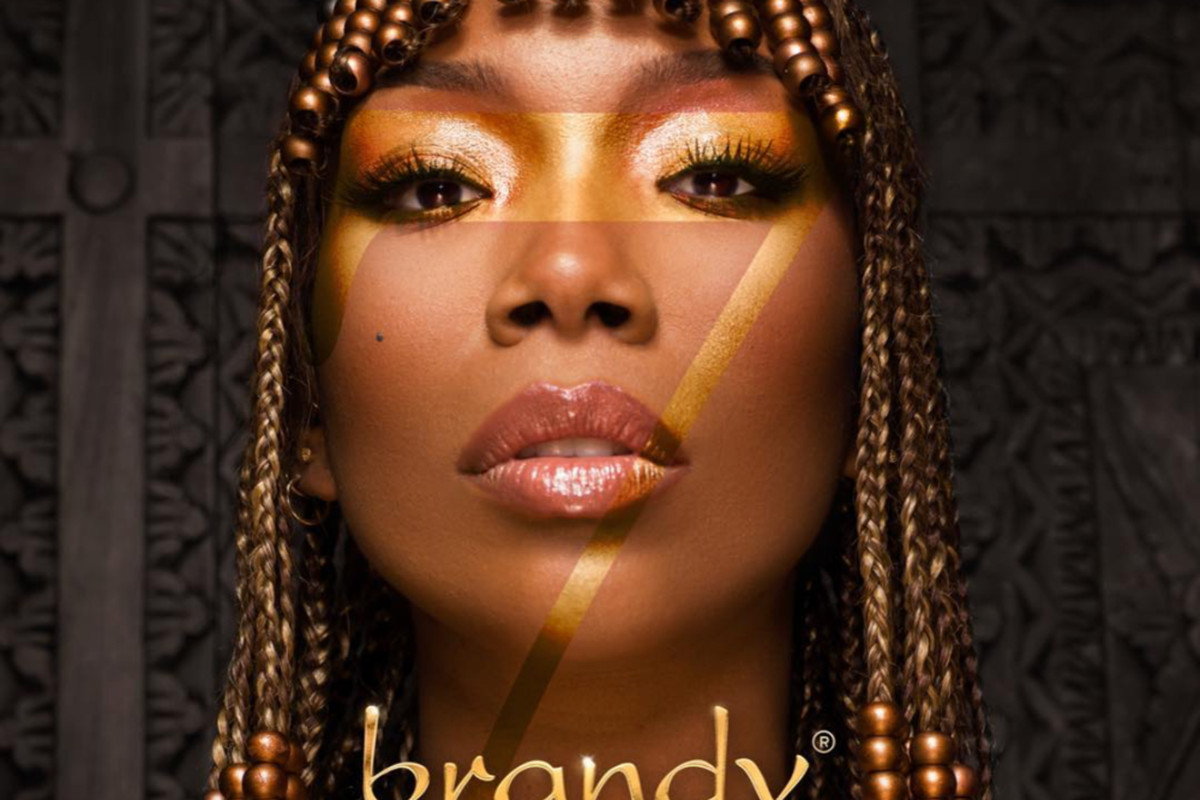 76. Brandy – B7 (R&B)
In her own words Brandy has been "an original since 1994" and, perhaps after eight years of pseudo retirement, the veteran R&B star with an implausible range has found a cultural climate that vibes with her vision of modern music. Backed by producer Darhyl Harder (H.E.R.) and her long time collaborator, the recently deceased LaShawn Daniels, Brandy slides surprising effortlessly into the thoughtful, introspective and anti-mainstream R&B environment fostered by Solange, Empress Of and SZA. What's remarkable about B7 is not that Brandy's vocal control and sly melodic impulses remain immaculate, but that her contorted and disjointed compositions feel as daring, angular and sensual as anything her younger peers could muster. Brandy hasn't rejected her former glories entirely: "I Am More" exudes both the silky control of the 90s while throwing in plenty of flashy post-Mariah vocal runs and, at times, her shifting sands sonics recall Timbaland and Aaliyah in their pomp. Nevertheless, Brandy carves out her own niche most effectively by marrying the warped sonics of the 21st century to her personal reflections on being a loving and independent single mother ("Unconditional Oceans", "Baby Mama").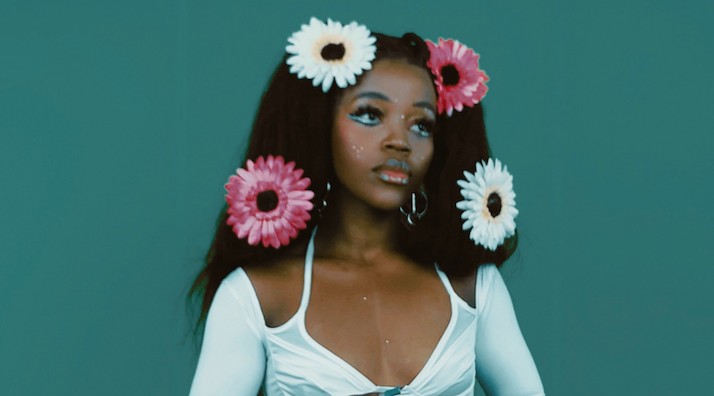 75. Tkay Maidza – Last Year Was Weird Vol. 2 (Rap/Pop)
Last Year Was Weird, Vol.2 is the work of an artist slowly rounding into form. By serving up another deliciously diverse and inventive mixtape, Tkay Mzaidza isn't so much mudding the waters or throwing shit against the wall in the hope that something sticks as laying the groundwork for her grand re-debut. Whenever her sophomore LP arrives expectations will be implausible high. Last Year Is Weird sets out Tkay's stall as, first and foremost, an indie-R&B/Rap/Dance hitmaker and a polymath. She's got Azealia Banks flow with Teirra Whack's free-wheeling, feel good versatility. Perhaps, like Charli XCX before her, Tkay is done with conventional releases and will jump on whatever trends happen to capture her attention: dispensing her best material without the slightest care for her label's fortunes. Whatever the case, Last Year Was Weirld, Vol.2 slaps ungodly hard as a simultaneous club, bedroom and art house listen. Hell, she even beats JPEGMAFIA at his own game on "Awake", so what's not to love?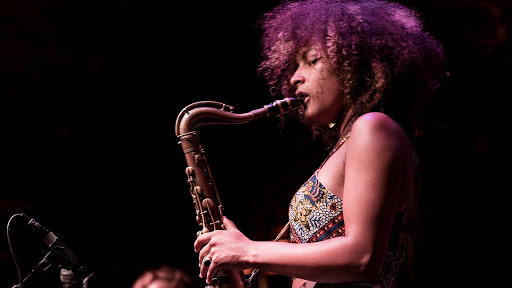 74. Nubla Garcia – Source (Jazz)
2020 has been an incredible year for mainstream Jazz crossovers. Perhaps better known as a radio DJ for her monthly residencies on NTS, Garcia has been the hottest ticket on the London jazz scene for quite some time. Her performances at Ronnie Scott's have been instant sell outs and, after some intriguing EPs, Source is her chance to take the global melting pot sounds she cultivated in London to the world at large. Garcia and her ferociously talented quartet have a remarkable knack for running the sounds of the Caribbean and Latin America through classic riffs on Coltrane and Hancock. The title track beautiful illustrates Garcia's gifts; over a dub groove, her sax is freed to drift and wind, both playfully and sensually. There's a wonderful sense of intuitive interplay, the direction is almost immaterial, Garcia is offering a sauntering exploration of soul. The entire African diaspora is being charted in sound, its influence on global cultural laid bare, but not in a formulaic or stilted fashion. Source exudes ease, even in its knottiest and busiest section. The quartet simply flourish whatever their surroundings, driven by an effortless cool and a majestic lead sax performance, the album never feels like an international revue. These migratory sounds might touch on every corner of the globe, but they have found their home in London town. Source is an apt name, Garcia is revealing the origins of our modern musical wealth, but she is also providing the blueprint for continued evolution. Even if Jazz has never piqued your interest, I wholeheartedly recommend "La Cumbia Me Esta Llamando", four minutes serene minutes destine to spark a love affair.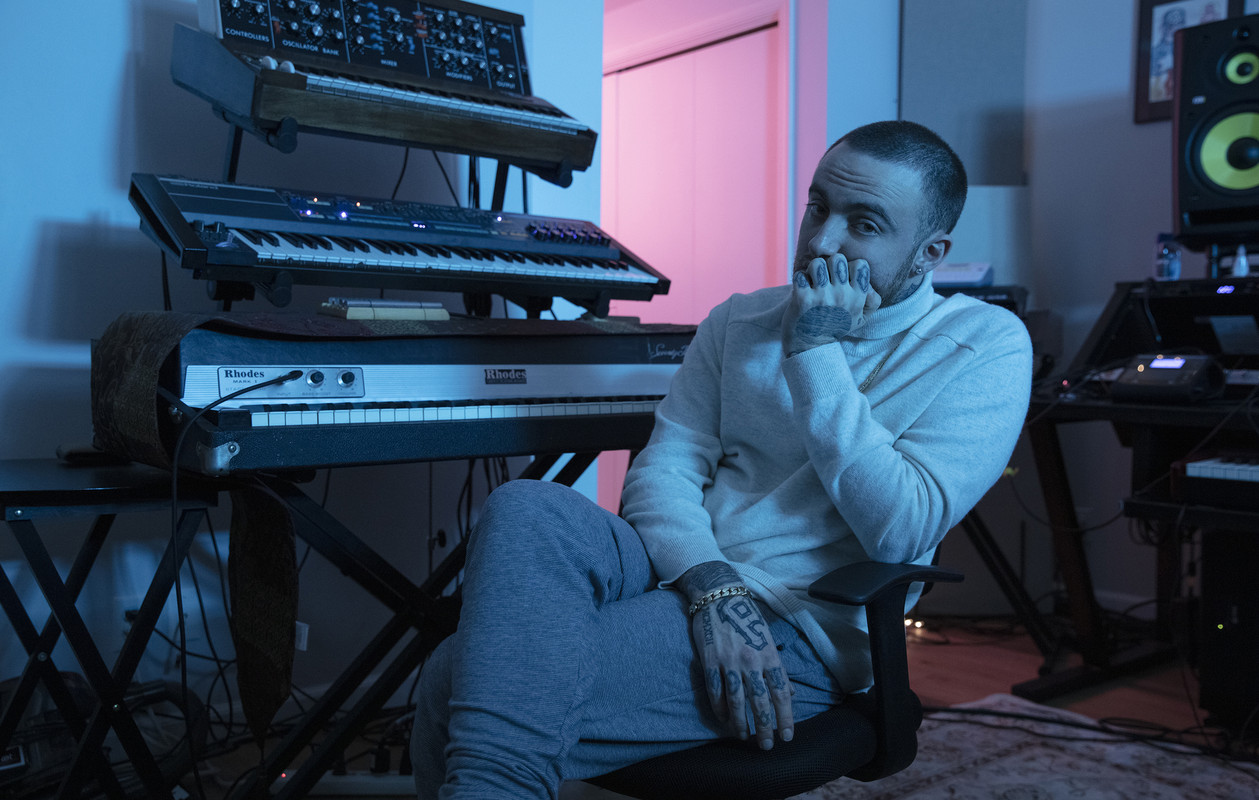 73. Mac Miller – Circles (Rap)
If Swimming suggested it, then Circles confirms the suspicion that Mac Miller left this earth just as he was reaching his apex as an artist. In 2018, frat-rap was a distant memory as Miller embraced a mournful and yet heart-warming introspection that revealed a tortured, but incisive soul. Circles and Miller are at their best when they reflect on the very mundane confusion on everyday life. Tragedy and warmth are discovered in those little silences while Miller sips his whiskey and his lover pours a glass of wine – or when the rapper finds himself sinking into a lazy groove and simply yawn-crooning his blues away. "I'm far too young to be getting old", feels doubly tragic given Miller's untimely death, but it perfect captures the aesthetic of an album that both thrives on and struggles against the banality of a settled existence. One moment Miller is bouncing through life loving the fact that he no longer has to boast, brag or live a caricatured existence, the next he is seemingly weighed down by the mundane nature of a stable relationship. Circles reveals the great truth in life: it's easy to live carefree, young and wild. When you actually settled down, invest in a place and a person, that's when the smallest and most inconsequential of issues can become the source of profound ache. Miller translated this "very common crisis" into a beautiful introspective rumination on middle-aged pseudo-maturity itself.

72. J Hus – Big Conspiracy (Rap)
J Hus has taken the leap. Standing out from the crowd was never the issue, as one of the UK rap's premiere hitmakers, his afroswing and naturally melodic delivery set Hus apart from a legion of sound-a-like Drill hard men.  However, for all his charisma and loverman charms, Hus felt like a prime hitmaker as opposed to burgeoning albums artist. Well Big Conspiracy shatters that image. J Hus remains remarkably controlled, exuding a relaxed calm even in the face of violence, indignity and wanton women, but it's his sound that has come on leaps and bounds. Hus no longer feels like he's chasing the dancefloor, instead he's managed to merge the danceable lilt of Jamaica and West Africa, with a soulful and at times harrowingly vacant palette capable of chilling listeners to the bone. Remarkably, despite stripping the immediacy from his sound, Hus sounds more urgent and essential than ever. He is now at hitmaker on his own terms. Inspite of his lover-shtick, Hus now feels like the only adult in the room. "How you gonna run the world, if you can't even run your life? How do you sleep at night, when you can't even fight for your rights?" Its testament to the transformative power of the 2020 experience (not JT's LP) on the mindset of a generation, that a perennial party starter like J Hus feels the need to give his flippant colleagues a dressing down. However, high minded thoughts only go so far, the reality of street supremacy soon rears its ugly head, as "Triumph" finds Hus spraying bullets with little regard for where they land in the name of petty dominance.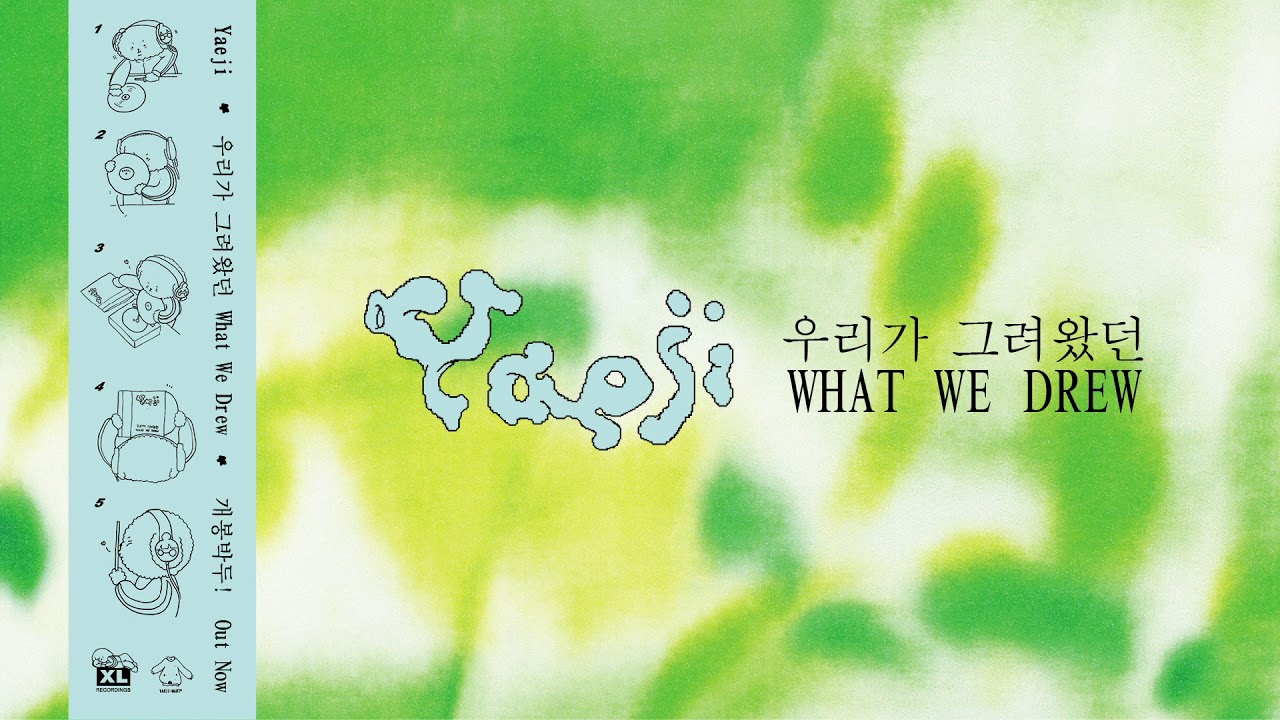 71. Yaeji – What We Drew (Electronic)
2020 was supposed to the year the clubs crumbled in the face of Yaeji's glorious migratory blend of pulse, rhythms, grooves and sly hip-hop inversions. But hey, 2020 was supposed to be a lot of things, for a lot of people. Nevertheless, even if no bodies will move to these drowsy, ironic anti-bangers, Korean-American superstar producer in waiting Yaeji still made her mark. Luckily for her, even if dancing was forbidden, her eerie soundscapes are full of nervous, sardonic, neurosis and existential drift, perfect for bedroom listening. In another universe Yaeji would be content releasing forty-minute single track shoegaze LPs, but, somehow, in this timeline she's emerged as a glitchy, dream-pop, dance producer who wilfully undermines even most heartfelt impulses with wry diversions. What We Drew speaks to an eternal disenchantment, so it's fitting that the album's most poignant offering, ends not with a grand statement, but with Yaeji cooing, "I'm a bit forgetful", over and over, and over again. What We Drew exists to subvert expectation.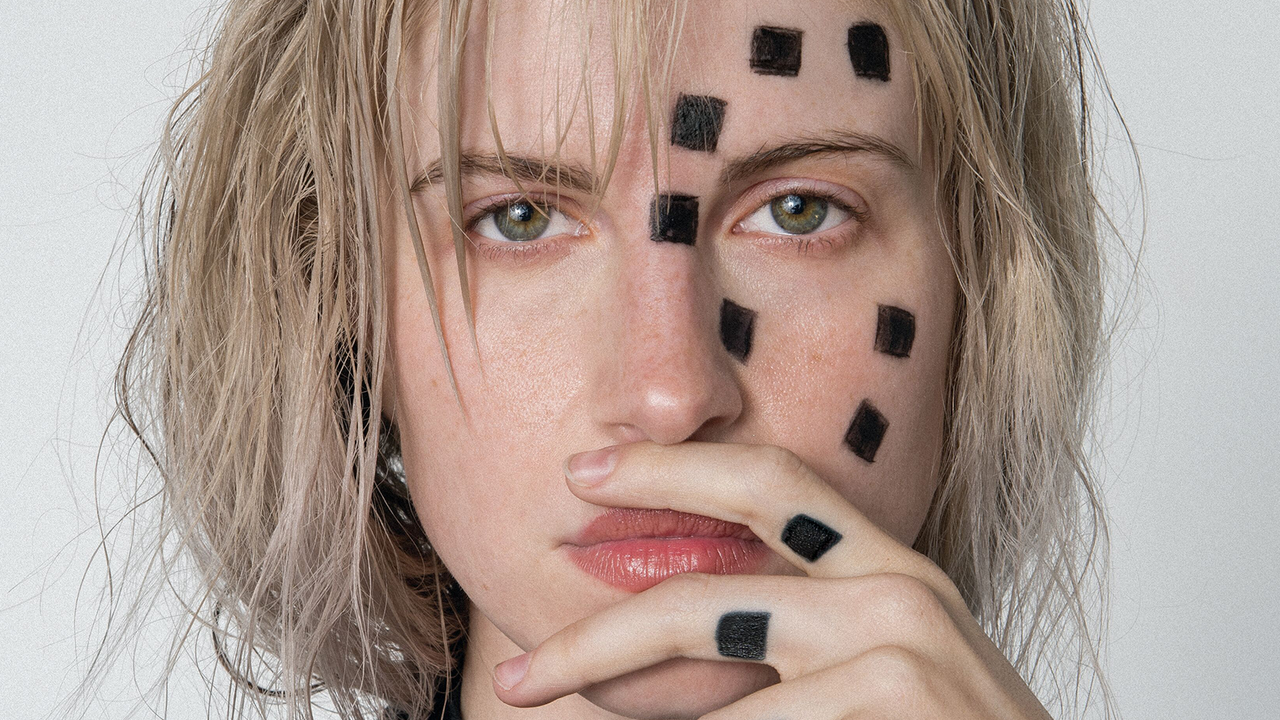 70. HAYLEY WILLIAMS – PETALS FOR MY ARMOR (ALTERNATIVE-POP)
Hayley Williams solo debut comes on the heels of Paramore's masterful After Laughter, a coy new-wave conversion that hid the anger and insecurities of a woman growing older in the public eye behind its immaculately observed throwback pop. If that album was defined by the sunny disposition women erect to disguise a litany of aches, indignities and resentments, then Petals For My Armor represents a dive inwards. The outward facing elements of Hayley's songwriting are cast aside in favor of a brooding exploratory alt-pop informed as much by Fiona Apple, Fever Ray and Merrill Garbus as it is by the usual suspects of avant-garde female fronted innovation (Tori Amos, Kate Bush, Joni Mitchell). Hayley Williams songwriting is certainly rich in metaphor and takes on a less punky and more poetic affectation on Petals For My Armor, but her anger and agony is still presented in a thrilling direct form.
Her divorce and the life-changing injury her cherished grandmother suffered are addressed without any of the witty asides or water off a ducks back braggadocio that defined Paramore's pomp. In the wrong hands this level on unflinching honesty could prove severe or morose, but Williams shrewdly contrasts her radical vulnerability with a series of fluid and surprisingly playful arrangements. There are Latin guitar flourishes, loose funk beats, staggered rhythms, calypso grooves, electronic shimmers and delicate atmospheric guitar tones that prove evocative without feeling either florid or wishy washy. Hayley occasionally struggles to marry her beautiful baroque and subtlety-subdued verses to a satisfying chorus and certain tracks feel unresolved, uneven and forced. But these quibbles fail to diminish a horizon broadening solo debut that sees this former pop-punk agitator stride towards the artful subtleties of alternative rock and, for the lack of a better term, adult contemporary.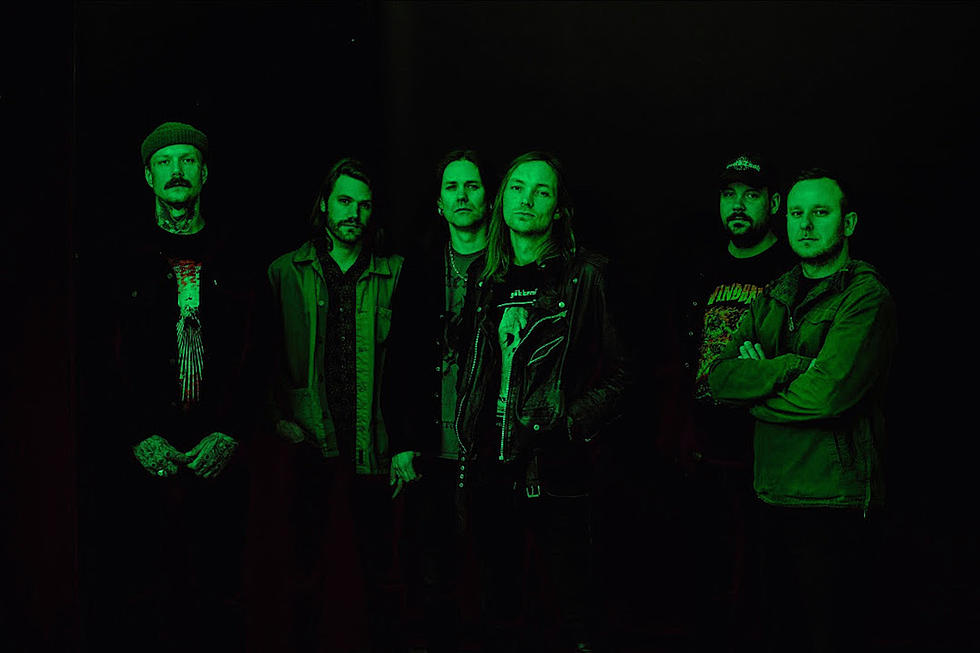 69. Kvelertak – Splid (Metal)
"We've got judgement day in our DNA", Kvelertak a welcome reminder that serious, bruising modern metal can still be a hell of a lot of fun. There's no need for auteur facades or pitiless grinds, album of the year contenders can be forged of blitzkrieg riffage and lashings of momentum. For all their growth, experimentation and compositional complexity, the Norwegian band still have the verve and immediacy that made them stand out from the crowd back in 2007. I fondly remember seeing the crowd spilling out of a small bar at Sonisphere over a decade ago, as legions of would-be-fans were drawn to bulldozing barrage of riffs emanating far from the mainstage. They call it "party black metal", but to me it simply recalls a blend of punk's skiddy pacing, classic rawk showmanship and the feverish intensity of metal. Sure, it's perfect for partying, but Splid thrives on its virtuosity. The three headed-monster's riffs and rhythms seem incapable of losing momentum, even as the grooves bounce, drop or jet off into out of space. The lingering question surrounding Splid's arrival was not the quality of the band's musicianship, it was how new frontman Ivar Nikolaisen would fit in. I'm happy to report that this long-term apprentice proves both excellent at simulating 90% of what Hjelvik used to provide, while also delivering clearer, sharper and more arena ready vocals. On a selfish note, Ivar is also relishes singing in the English language (he even shouts "air guitar, c'mon" pre-solo), so Kvelertak's long waited path to the top of the bill may have finally unfolded on Splid.
68. The Weeknd – After Hours (R&B/Pop)
"After Hours isn't perfect, but it is an incredible feat of reconciliation. From the songwriting to the stellar compositions, The Weeknd has managed to reconcile all the contradictions of his psyche and sound in one record. Better still, he explains with both lyrics and texture how these conflicts emerge in the first place: he is weak and he is tortured, forever pulled in two direction between the man he is and the man he wants to be. Remarkably, while harmonizing the sounds of Trilogy, Starboy and Beauty Behind The Madness, Abel manages to bring fresh influences (new wave, synth pop) into the fold. It should be a mess – and psychologically speaking, it most certainly is – but After Hours is a divinely dark and torturous pop record, the perfect representation of its conflicted creator". Read The Full Review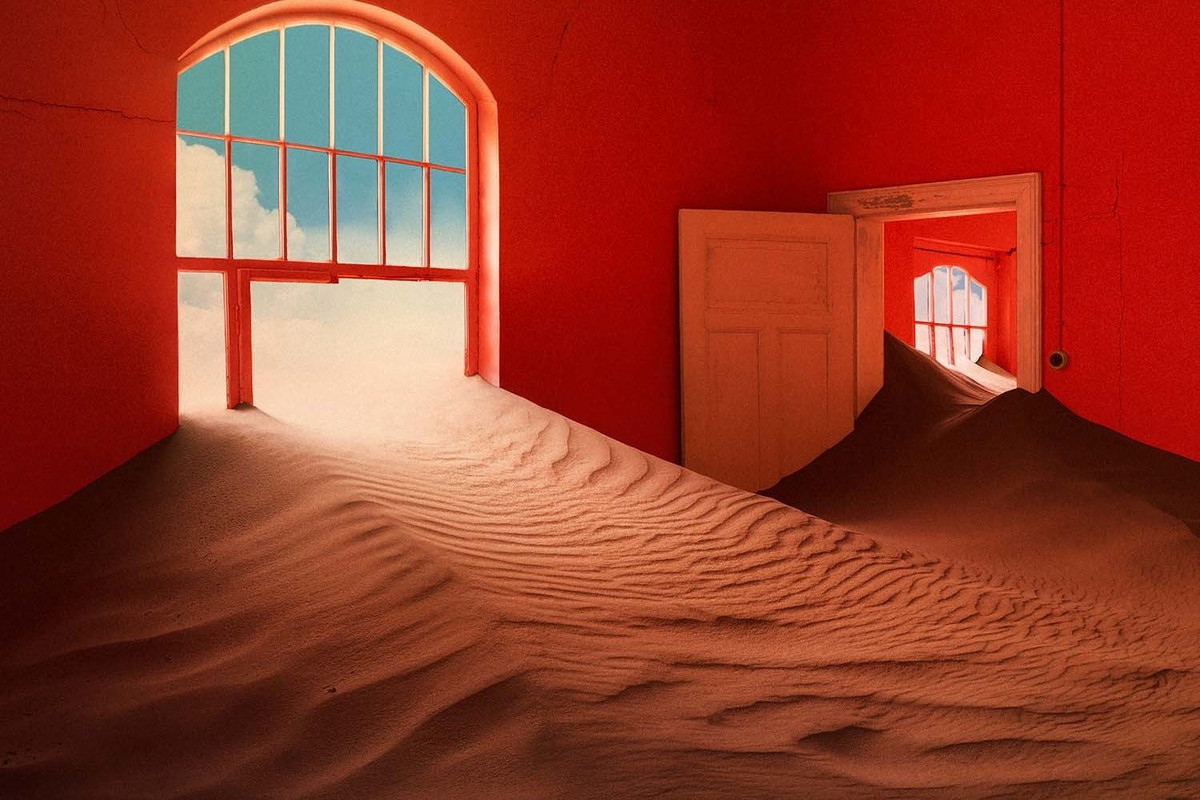 67. Tame Impala – The Slow Rush (Synth/Rock)
It won't surprise anyone reading this to learn that my end of year countdown of the best live shows has been cancelled. This is a genuine shame, not only because we've all missed out on fantastic live experiences as both historic venues and struggling artists see their coffers run dry, but because an entire two years' worth of art will be robbed of both its expression and its live adulation. It's not the end of the world, but on a selfish note, I was incredibly excited to see the combination of Tame Impala and Kraftwerk as festival headliners. How would these Psychedelic Aussies meld together the scuzzy guitars of Innerspeaker and the hypnotic riffs of Lonerism with the synth odysseys of Currents and The Slow Rush, their strange and subdued latest. The Slow Rush is perhaps the year's most aptly named LP, as Tame Impala ditch anything resembling immediacy and drift beneath the surface. Hardly a rock record, Tame Impala have embraced the soulful shifting sands as they drift gently from one state of being to the next. "Posthumous Forgiveness" was written before Covid-19, but feels even more devastating in the wake of so many lost love ones. Kevin Parker pays tribute to his father, by lamenting all the events, memories and milestones he won't around to witness. The musicianship is stellar. There is wild a wailing Led Zeppelin or Aerosmith sized epic dying to burst the damn and break forth, but Parker maintains control, keeps his cool and simply stews on his loss. It's testament to Parker's dexterity that this phantom ache of a song gives way to delicate disco shimmers of "Breathe Deeper" –  the kind of cut that shows an innate understanding of European house. The Slow Rush couldn't be further removed from Innerspeaker. Tame Impala now inhabit a solipsistic world of naval gazing that plays out across the eons. Their psychedelia no longer twists and crunches, it simply drifts, expanding in ever more refined ripples.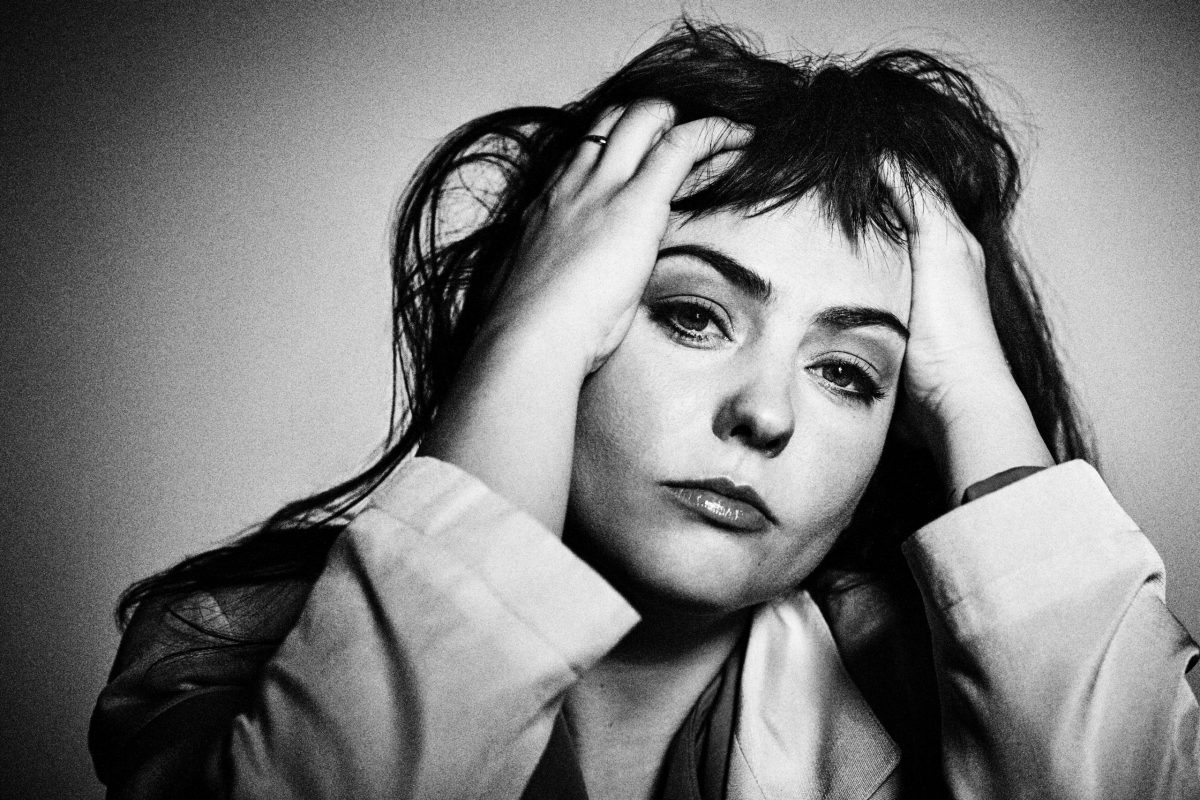 66. Angel Olsen – Whole New Mess (Indie)
A Whole New Mess? What could possibly have gone wrong in the ten short months that have elapsed since the release of All Mirrors, Angel Olsen's universally lauded third offering? Actually, considering the state of the world, a whole hell of a lot. However, for Olsen the shift comes not so much in subject matter – she's never exactly been a barrel of laughs – but in the way the polish and sharpness of her last two albums has been stripped away. That's in large part because this "album" was recorded back in October 2018 and features early versions of many of the tracks that would eventually populate All Mirrors. So, in other words, this is a distinctly new take on an old mess. Playing like a collection of raw demos (as one would expect), Whole New Mess instantly recalls the terse and jagged bite of her debut Burn Your Fire For No Witness. It is unsurprising then, that Olsen's latest project is driven by her paradoxical voice. Her vocal timbre is simultaneously corrosive and mellifluous, both depressively weary and angelically high. "(New Love) Cassette" captures the album's aesthetic perfectly. Barely a song at all, the guitar chugs along laconically, occasional rounding into a catchy rhythm while Olsen seeming sighs and croaks her way through a downtrodden and hungover verse before effortlessly reaching for a series of heavenly high coos. It's hard to know exactly what to make of an album that wears its under-developed and scratchy nature on its sleeve. Olsen benefits from the fact that her audience is already familiar with most of these offerings, but that doesn't diminish Whole New Mess. The ragged and un-garnished nature of this set restores the direct intensity of Olsen's youth without sacrificing the songwriting complexity and melodic delicacy she mastered on My Woman and All Mirrors.