The Top 20 Live Acts Of 2019: Drake, Muse, Vampire Weekend, More
January 2, 2020 | Posted by
2019 has been a fantastic year for live music and I say that as someone who, despite having tickets to see Tool, Ozzy Osborne and Judas Priest, missed out on all three. Luckily for me, Ozzy and Priest are rescheduled for 2020, but it's a testament to the sheer number of headline calibre acts pushing the boundaries of live performance, that I hardly noticed.
Disclaimer: Now of course this is not a definitive list. I can only rank the acts I've seen in person, I will not include any performances I watched on television – so no Glastonbury and Coachella. So feel free to share your best gigs and concerts of the year below the line.
I'm only going to write blurbs for the Top 20, but I will briefly rank all the acts I've seen this year. Apologies in advance for my shaky camerawork. 
53. Scarlxrd @All Points East: BMTH
52. Toto @Lucca Summer Festival
51. Anastasio @Lucca Summer Festival
50. Macklemore @Lucca Summer Festival
49. Grace Carter @Wembley Arena
48. Tillie @All Points East: BMTH
47. Hak Baker @The Brixton Academy
46. Phosphorescent @All Points East: Bon Iver
45. Manuella Iwansson @Scala
44. Alice Glass @All Points East: BMTH
43. Tallest Man On Earth @All Points East: Bon Iver
42. AYA (fka Loft) @The Barbican
41. Calcutta @Lucca Summer Festival
40. Matilda Homer @All Points East: Bon Iver
39. Evita @ Open Air Theatre, Regent's Park
38. Snail Mail @All Points East: Bon Iver
37. KoKoKo! @All Points East: Bon Iver
36. Run The Jewels @All Points East: BMTH
35. Lykki Li @British Summer Time
34. Lyle Lovett @Country 2 Country
33. While She Sleeps @All Points East: BMTH
32. Aldous Harding @British Summer Time
31. Ezra Furman @All Points East: Bon Iver
30. Metronomy @All Points East: C&TQ
29. John Grant @All Points East: Bon Iver
28. The Grand Ole Opry: Ashley Monroe, Dione Warwick, Dusty Slay
27. Goat Girl @British Summer Time
26. The Nightly Vivaldi Festival @Chiesa Di San Giovanni, Lucca
25. Blood Orange @British Summer Time
24. Architects @All Points East: BMTH
23. Ashley McBride @Country 2 Country
22. Nadine Shah @British Summer Time
21. The National @British Summer Time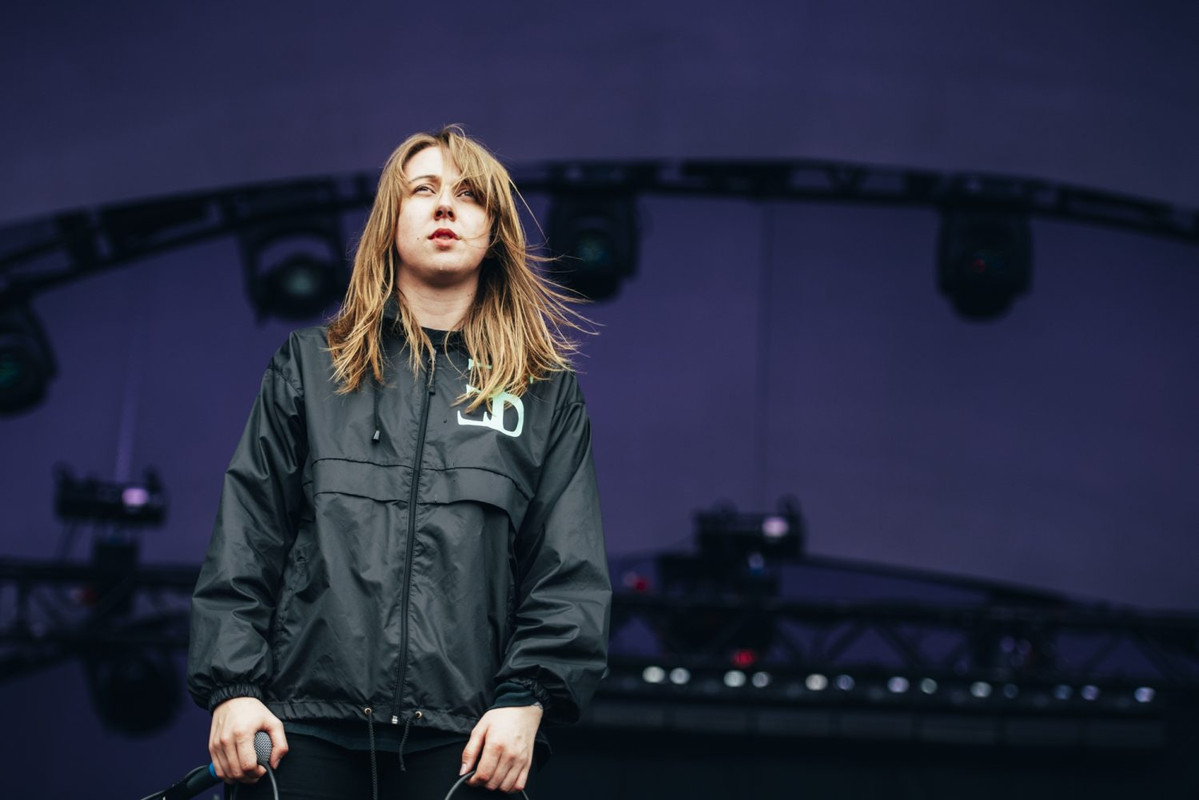 20. Employed To Serve @All Points East
This performance should be a celebration. Eternal Forward Motion is a stunning accomplishment, the kind of album that should launch a band into the stratosphere (albeit the very limited stratosphere of the metal fringe), but Employed To Serve cannot afford to pat themselves on the back, they have an almost entirely unfamiliar audience to win over. Faced with a legion of Architects and Bring Me The Horizon fans, they have to not only show off their complex compositions, but get actual heads banging.  Needless to say, they succeed effortlessly in front of a steadily swelling throng, as they dutifully rip through bone breaking anthems old ("I Spend My Days (Wishing Them Away)") and new ("Forced Fed", "Harsh Truth"). Clad in their fetching matching tracksuits, it is the elasticity of the grooves and the relentless nature of the pummelling that carries the day. The hooks are unlikely to land on what for many is a first listen, but the ferocious rhythms cannot help but impress (if not outright overwhelm).
19. Beach House @All Points East: C&TQ
Consider me a convert. Having been won over by their wonderful late career survey 7, I finally came to understand why the world fell in love with Beach House ten long years ago. Turns out I could have saved myself a decade of alienation by just going to see them live. Inside a cavernous tent, perfect for smoky projections and deep ruminating bass lines, Dream House get to work. Their live show thrives on three simple, but devastating elements. The lights show is irresistible, hypnotic, glaring, reflecting the light drone-like quality of the band's music. The melodies are dreamy: interacting with the seemingly endless space that surrounds them, both filling the void and at times hiding within it. Last, but not least, there is the bass. Beach House are here to rattle bones. It would be a stretch to call anything the band produce as "danceable", but their basslines and riffs smash against their audience's rip cages. The result is both trippy, seductive and surprisingly visceral. Beach House have legitimate meat on their bones – and you'd never understand that listening to their studio output alone.
18. Slowthai @The Brixton Academy
Slowthai asks a sold out Brixton Academy "do you know why I standing in front of these giant mirrors?" For a second he cheekily poses and checks himself out before saying, "it's so when you look at the stage you can see something great about Britain". He's right, I've been to hundreds of gigs in the last few years, but Slowthai's crowd is the only one that feels truly representative of modern Britain. Not only is the audience mixed in terms of ethnicity, there is a huge divergence in ages of people who have actively paid to see the show (not just dad's and mum accompanying their kids) and more importantly scenes. There are punks young and old turning up in their IDLES and The Damned tees respectively, there are grime fans and there are plenty of obvious indie lovers. Slowthai has united music fans in the age of micro-genre and niches. How has he done it? Firstly, with an undeniable and infectious energy, his music might be dark and bred of suffering, but that darkness never infects his jokester persona. Secondly, by blending rock's best and most rebellious instincts into his hard, but joke-laden rap bars. Live this onslaught is irresistible, joined on stage by Skepta for a triumphant rendition of "Inglorious", Slowthai provides so much energy his audience has no choice but to respond in kind.
Best of all, the Bet You A Fiver tour was true to its word, each ticket cost five pounds! How many artists at the peak of their fame would willingly lose money on the biggest tour of their lives?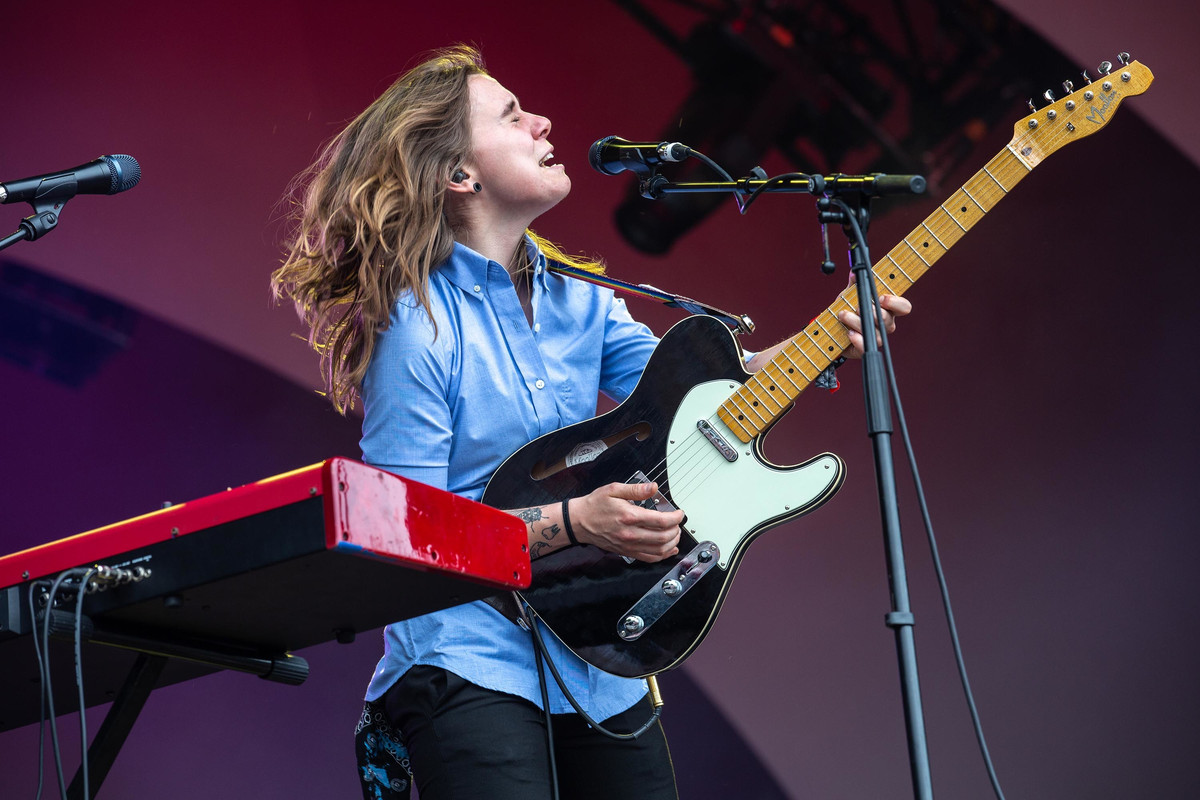 17. Julien Baker @All Points East: Bon Iver
List like this one are invariably filled with stadium sized stage shows and big brazen sounds, but there is always a place for the polar opposite approach. Julien Baker isn't quiet, or at least her music isn't, she roars and rips every shred of ache out of her guitar, but she stands painfully alone. Wounded, yet unafraid, she sings with a frayed, strained, but undeniably beautiful vocal as she holds a field of festival patrons transfixed. She is so painfully isolated up on stage that her performance should be gruelling, if not actively torturous, but instead time flies by as her anxiety and agony hangs in mid-air.  There is next to no "show" to speak of, but Baker puts on an incredible act of raw performance: the perfect blend of emotional anguish and technical excellence – a reminder that there's more than one way to win over a wide open festival field.
16. Chris Stapleton @Country 2 Country
Chris Stapleton doesn't really do showmanship and, as such, he sticks out like a soar thumb on the Country 2 Country line up. He might be the biggest authentically country act going today, but the UK has been raised on the stadium-sized showmanship of Little Big Town and the romantic balladry of Faith Hill and Tim McGraw. Stapleton makes no concessions to the arena in which he plays. His stage is dark, his band are near anonymous in their understatement and only the odd rug differentiates his set up from that of an opening act. The lighting only really kicks into life during "Parachute", otherwise, Stapleton simply stands, sings and let's his guitar do all the talking. He is hard-edged, gravelly and raw, something the sleek concrete of the O2 Arena is unaccustomed to. His brutal self-lacerating ballads howl, haunt and poison the air. "Sometimes I Cry" and "Whiskey and You" are minimal and anguished, yet somehow draw huge sing-alongs, suggesting that Stapleton has found a connection not just to Country's past, but the agonising blues of B.B. King too. Still, there's no denying that for all his intimacy and honesty, Stapleton could use a couple more hits and little more ambition, but as he stands he represents a frightening rejoinder, not just to Country Radio, but to contemporary arena headliners everywhere.
15. Bon Iver @All Points East
It's still surreal to imagine that the legendary recluse, Justin Vernon, is now a festival headliner – the type of musician who can play to sold out audiences of 50k. For Emma, Ever Ago and "Skinny Love" may have earned him a legion of fans and inspired a never-ending array of atrocious fireside covers, but in the proceeding years he has dived headlong into the avant garde. What's remarkable is that, for the most part, his audience has gone there with him. Victoria Park meets the strange paranoid mathematics of 22, A Million with gigantic roars of approval, if not whole hearted sing-alongs. Who knows how he does it – I've seen festival crowds grumble through Radiohead sets the second they move beyond OK Computer, but at All Points East the entire audience is transfixed by this shy, balding man, locked to his keyboard, crooning in falsetto with layers of cascading autotune. Of course, it's not all alienation, he reward his audience's patience with beautiful renditions of "Blood Bank", "Creature Fear", "Towers" and the hauntingly vulnerable set closer "Holocene".
Vernon would offer no encore, instead the show ended when he debuted two music videos from his then unreleased fourth album, remarkably the entire crowd sticks around to watch – testament to just how thoroughly he has won the day.
14. Drake @The O2
For the longest time I had no intention of going to see Drake live. After loving Nothing Was The Same and If You're Reading This, It's Too Late I'd quickly fallen out of love with the OVO rapper's music. He'd become indulgent, completely losing any sense of restraint as he manipulated algorithms by dumping huge lumps on music onto streaming platforms without a care for how repetitious and redundant his albums were becoming. Brilliant singles and genuinely exciting ideas were lost amidst the sludge of More Life, Views and Scorpion.
So why did I buy a ticket? Well because I'd had chances to see Drake in his pomp, but was instructed to go review something else or, on one occasion, had to pass up seeing the Canadian superstar and Rihanna as they clashed with a trip to Japan. So I thought: fuck it, better late than never.
Suffice to say, I'm very happy that I bit the bullet and went to see Drake. He is not best live rapper or singer, but he doesn't pretend to be. Instead, he takes up the role of the dancehall MC: he's our party host, rapping over a megamix of his career highlights while putting on a show that is beyond state of the art. From the flaming palm trees and flying cars to a performing on a neon basketball court and a beautiful choreographed sequence where the singer is stalked by floating lights that ape his movements as he croons a love song – every aspect of this show is pushing the boundaries of theatricality. The fireworks, the visual, the stagecraft, Drake has sunk millions into this show and it more than delivers. Better still, amid the orgy of lights and karaoke hits, Drake finds time to showcase the best of British. From a trailer for Top Boy to a special set where he hands over to Digdat, Unknown T and Giggs, Drake isn't interested in being the star of his own show – he is more concerned with making sure this carnival of a concert is success (Future will make an appearance to top off a night a surprises).
His live show is a welcome reminder that beneath the excess of his never-ending LPs and the idiocy of his beef with Pusha-T, Drake is still the well-meaning nice guy desperate to please his fans. Hopefully, this carefree and thoughtful Drake, who put together this incredible live experience, can re-emerge in the studio before he does his legacy any irreparable damage.
13. Muse @The O2
Simulation Theory might have taken a critical battering, but this daffy 80s inspired tale of world conquering algorithms has reinvigorated Muse's already ferocious live show. This preposterous spectacle represents a radical improvement from their Drones tour, resolving sound and staging issues while beefing up their attack despite dropping a series of classic hits. Read The Full Review
12. Travis Scott @The O2
Enter the man of the moment, but not the fans apparently. This show was nearly a complete disaster. The staff at the O2 Arena decided to have the 10,000 fans queue until the very start of support act Octavian's set before opening the doors. That's bad enough, making a paying audience miss one of the nation's biggest up-and-coming stars, but it was far worse than that. Me and my buddy happened to notice that our queue was entirely imaginary, we'd been told to stand in a snake that lead nowhere. Having noticed this, we went and joined the queue that actually led to the entrance. Would you like to take one guess what happened when they opened the single door to the arena over an hour late?
Yes, that's right, a stampede as the thousands of fans in a queue going nowhere ran full speed towards the one open door. A brutal crush ensued as there were no barriers and no credible organization to speak. The only time I've experience worse crowd management was at the World Cup in Brazil where I was literally lifted off my feet by the surge and pressed into a row of storm trooper police – with by body pressed against the policeman's machine gun, hoping he spoke English, I said: "sorry, I promise I'm not the one pushing", luckily the military police kept their cool and let me through.
Anyway, after that shit show, I am very happy to report that Travis Scott's preposterously overblown blend of trippy psychedelics and bombastic stagecraft is an adrenaline rush like no other. It's legitimately surreal, this strangely subdued rapper, who has mastered soft druggy ballads and low key bangers, has somehow produced a state-of-the-art live show that ends up resembling a war zone. Zapping between stages in the middle of the floor and the back of the stage, the sold out crowd sprints from one end of the arena to other in a dizzying, dangerous, but ultimately exhilarating head rush.
Scott will fly on a UFO, rap on stage with Ed Sheeran (the look on everyone's faces when they realized that Ed was about to rap rather than sing was priceless) and bring out Sheck Wes for a rampaging cover of "Mo Bamba", but Scott's main role is to not to perform, but to curate. He can rap live, but he's more interested in keeping the intensity levels up and leading the crowd in chant, song and mosh. At times it feels more like a workout than a live performance, but who could possibly complain when it's this much fun. This arena headline show is proof positive that Travis Scott holds the world's youth in the palm of his hand.
11. Orville Peck @Scala
Clad in a leather mask, blending traditional country with alternative, camp and cinematic culture, Orville Peck feels like an arch outsider, but that couldn't be further from the truth. His show is incredibly inclusive and driven by a welcoming charisma, he might be masked, but there is no boundary between audience and artist. He is warm, open hearted and happy to laugh with his audience as he guides them through this lingering atmospheric epics and quirky covers (he mixes Lana Del Rey's "Norman Fucking Rockwell" with George Jones and Tammy Wynette's conversational "Something To Brag About"). Driven by an ultra-tight band adept at both rock and country work outs, Peck thrashes and croons in rich baritone through a powerful show where his imposing vocal may be front and center, but a sense of shared revelation carries the day.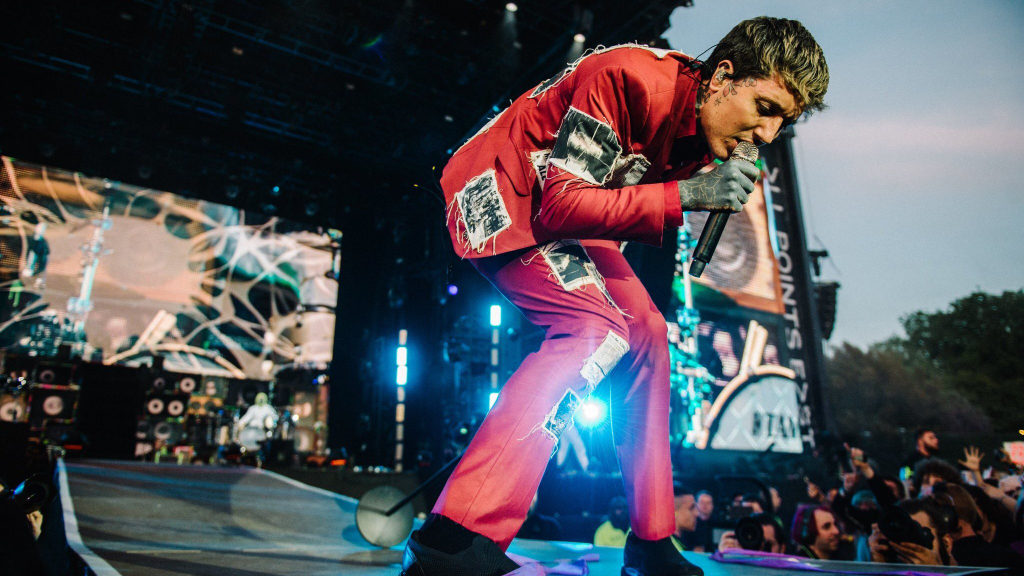 10. Bring Me The Horizon @All Points East
When I bought tickets to All Points East's metal and hard rock day, the headliners, Bring Me The Horizon, hardly factored in my decision. IDLES, Run The Jewels, Architects, Employed To Serve, While She Sleeps and a host of others highlighted a lineup archly curated by Olly Sykes himself, but the second BMTH stepped onstage it became apparent why they were headlining and their critically acclaimed peers were merely invited guests.
Long story short, BMTH know how to put on one hell of a show. From the bulldozing quiet-loud sonics and effervescent video screens to the backing dancers (yes you read that right) and a host of crowd interaction tactics, BMTH instantly won over a 50, 000 strong crowd dressed by and large in the t-shirts of other artists. The bombastic anthems of Amo slipped effortlessly alongside their older material and if at times the band feel a touch too slick, no one really notices. I handed two free tickets to a pair of my friends who'd never been to a festival before but had always wanted to try one, they'd never heard a single BMTH song and they were instantly won over and found themselves chanting along with "Happy Song" and "Diamonds Aren't Forever".
This is a rare experience in the modern rock/metal circuit. Bring Me The Horizon want to be superstars and are trying to create the kind of setlists that win over legions of new fans. There's no doubt that, as it stands, their showmanship surpasses their material (the excellent Sempiternal not withstanding), but if they keep plugging away Download will have generated at least one new headliner this decade – and for a while, hoping for one breakthrough act felt like a long shot.
9. Vampire Weekend @Alexandra Palace
The last time I saw Vampire Weekend they were headlining The O2 Arena in support of their album of the decade contending masterwork Modern Vampires Of The City. Their show was archly engineered, beautifully lit and performed with an incredible precision that provided a dynamic contrast to the soft melodies that made the band famous. In short, it was one of the best and most surprising live experiences I can remember.
In 2019 much has changed. Vampire Weekend are looser, less serious and more playful. Their set is less sculpted and far more spontaneous. They take requests, they joke around, they jam and switch genres and tones with an audacious ease. There are setpieces of course, a blistering run through of  "Harmony Hall", "Cousins" and "Diane Young" grows in intensity before culminating in a riotous rendition of "A-Punk".  But these overly orchestrated highs are few and far between, Ezra is far more interested in the individual tracks than the cohesive whole and as such this set is a pick and mix blend of personal highs. "Hannah Hunt" is crushingly solemn and "Jerusalem, New York, Berlin" is a teary eyed hymnal while "Sunflower" is jammed out to a preposterous extent before "Ya Hey" stands as an utterly incendiary (and rightful) closer.
The band take requests, the set ebbs and flows and occasional the jams are ill advised or unnecessary, but this laissez faire Vampire Weekend is a joy to behold. The pressure of perfectionism has been relieved and if the band can no longer reach the highest heights it hardly matters when they stand as a more likely and loveable live proposition.
8. Janelle Monae @Wembley Arena
She might have marked herself out as a thoroughly modern pansexual woman on the excellent Dirty Computer, but the tour to support her mainstream breakthrough LP is more of a love letter to the classic showmanship of funk and soul's past than a reflection of the moment. Janelle's show is precision engineered to within an inch of its life and is repeated night after night without deviation. Shockingly, considering how little room she leaves for ingenuity, the show feels remarkably fresh. The wild energy of her performance and the passion her crew put into the dance routines and set pieces is remarkable. Monae's performance feels spontaneous even if it is anything but.  The tracks that hit the hardest are still those from her first two records ("Tightrope", "War Of The Roses", "Q.U.E.E.N."), but her new work has given her the kind of arena filling hits she was lacking and required to take the next step in her career. The set peaks when, during an a segment where she brings fans up on stage to dance, two women wearing the vagina trousers from the "Pynk" video are followed by movie star Lupito Nyongo. Janelle's live performance is ultimately a celebration of the new seamlessly blending with the showmanship of old all in the name of funk and soul. The spirit of James Brown is alive in Janelle Monae.
7. Florence + The Machine @British Summer Time
Topping off a lineup that she herself curated, Florence Welch is faced with one hell of a tall order. After headlining arenas up and down the country and across the world with her stunning High As Hope stage show, she must now upstage The National and raft of the best female fronted rock bands. Perhaps acutely aware that this home coming/victory lap will take place in front of a very familiar crowd, Florence wisely mixes it up, not only with a new setlist, but with a fresh stage show. The wooden dancefloor of 2018 is out, giant LED's are in. Florence's every strain, stretch and flounce is put under the microscope, turning a collective effort into a ferociously intimate one-woman show.
From opener "June" on in it is immediately apparent that Florence cannot fail, she's in too fine a voice and she has the energy and exuberance to reach to the very back row of this 50, 000 strong crowd. There are rare delights in store to celebrate her homecoming she unearths a raucous "Kiss With A Fist" for the first time since 2015, recapturing the insanity of her indie rock days (before she became an arena filling pre-Raphaelite diva). In a strange diversion she sings "Jenny Of Oldstones" from Game Of Thrones and pays tribute to The National by humming "Bloodbuzz Ohio", but this show isn't a about the deviations, it is a tub-thumping triumph that unites a festival field in song while leaving plenty of hits off the table. Whatever your thoughts on Florence's music, there is no denying at this point, that she has found a pleasingly singular way to be a 21st Century headliner.
6. IDLES @All Points East: BMTH
We are approaching the point where Bristolian punks IDLES simply cannot fail. They conquered Glastonbury by sparking a host of circle pits and they'd end the year selling out two nights at Alexandra Palace, but in between they found the time to rock up at the metal day of All Points East (an archly curated hipster festival). In years passed, their presence might have been greeted with scepticism, but in spite of an early start they are treated like returning heroes.
The pits are sparked within an instant as "Heel/Heal" gives way to a stunning array of political charged hits. The class warfare of "Never Fight A Man With A Perm" rolls seamless into the sexual violence of "Mother" before they assault the oppressive burden placed on the male psyche with "Samaritans". The set peaks when the pro-immigration anthem/football chant-along "Danny Nedelko" sets the field aflame, shredding vocal chords in the process. From then on in, it doesn't really matter what they play, despite being followed by some of rock, metal and raps heaviest hitters, no one would incite a bigger circle pit than that of set closing drone rocker "Rottweiler" –  a parting shot a the Daily Mail. IDLES are a force of nature.
5. Holly Herndon @The Barbican
Holly Herndon created her own AI named Spawn and taught it to sing in a collaborative manner. She would sing to Spawn like a child, it would interpret, regurgitate and respond creating strange and intriguing new music. It is undoubtedly a shame when Holly announces that Spawn will not be performing with her band tonight, he/she's not ready for the road – likely because Spawn's interactions are organic, spontaneous and entirely of its own making, not ideal for a live tour built on precision and repetition.
Luckily for Herndon, even without her mysterious x-factor, she still possess a beautiful and frightening alien vocal of her own and a staggeringly idiosyncratic choir. Dressed in white dresses and gowns, dancing like their lives depended on it, and singing with a macabrely joyful edge, Herndon and her choir somehow bring to life the alien soundscapes of PROTO and Platform. The human voice is chopped, sliced and shattered over harsh pounding electronica…except of course it isn't. There is no digital manipulation, instead Herndon and her choir recreate the sonic manipulation of the studio live and in person. Not only is the resulting music beautiful, the act of performance itself is both transfixing and thrilling. The Barbican witnesses Herndon reverse manufacturing her best material live and in person.
Holly may have set out to showcase an alternative vision of collaborative human/AI interaction (symbiotic, less dystopian future), but instead she has born witness to the raw power of the human singing voice.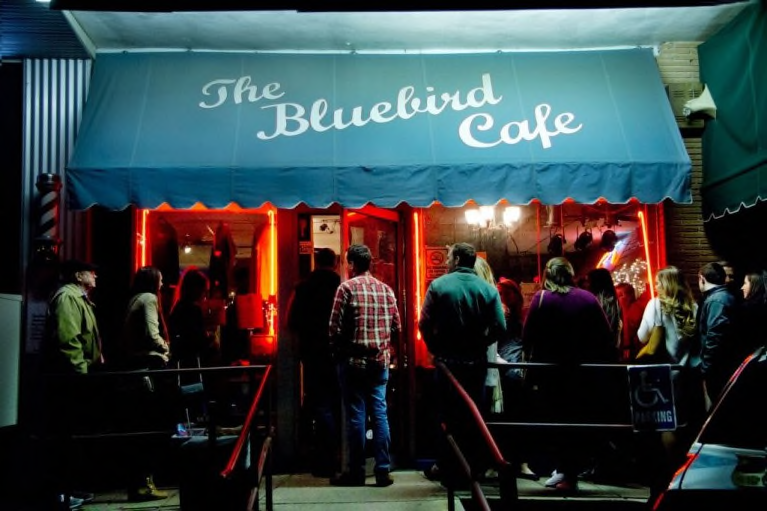 4. Open Mic Night at The Bluebird Café
This might feel like cheating, but as Londoner who loves American music, getting the opportunity to fly to Nashville, Tennessee and attend country music's legendary star making evening was a no brainer. Make no mistake, the Bluebird Café had a lot to live up to, this showcase for Nashville's finest up and coming songwriters could easily have fallen flat on its face. After all, so many hallowed grounds prove better in legend than in reality, but I needn't have worried. Hearing 27 songwriters perform 33 original songs in rapid succession in front of a rapt audience was all it's cracked up to be and more. Not every song or idea is great and plenty of the performers were extremely nervous, realizing that this could be their big break, but there is no denying the overall quality. Whether it's a syrupy love letter or a murder ballad, a coy and danceable ditty about Tinder or a blues lament for a lost lover, the polish and craft of each and every performer is undeniable. The time flies by whether you're staring in awe or meeting potential bandmates at the back of the room. The Bluebird is one musical pilgrimage that more than lives up to the hype – everyone should do it, whatever your taste in music.
3. Christine + The Queens @All Points East
If 2018 was the year Christine + The Queens conquered the critics and made waves on the charts, then 2019 was the hard earned victory lap. Christine's brilliantly choreographed dance routines were taken from the academy stages to festival fields and, staggeringly, they worked a treat. With the rain beating down and the wind in her face, she and her frankly incredible dance troop brought the best pop songs of the last year to life. Live her music has a terseness and, to be frank, a hard-edged masculinity that never quite comes across on her studio LPs. Her alter-ego Chris is allowed to shine in front of a rapturous audience happy to sing-along to "Girlfriend" or dance their arses off to the set closing b-side "Intranquillite" – a hard pulsating club anthem whose every gyration and body pop is backed by a blitzkrieg of strobe lights. Christine's true triumph is her ability, as a choreographer, to produce a show that is thoughtful, technical complex, humorous and detailed without undermining the sweetness or sorrow of the music itself. Christine deals in friendly strangeness and her ferociously professional live show is never lacking in gawky warmth.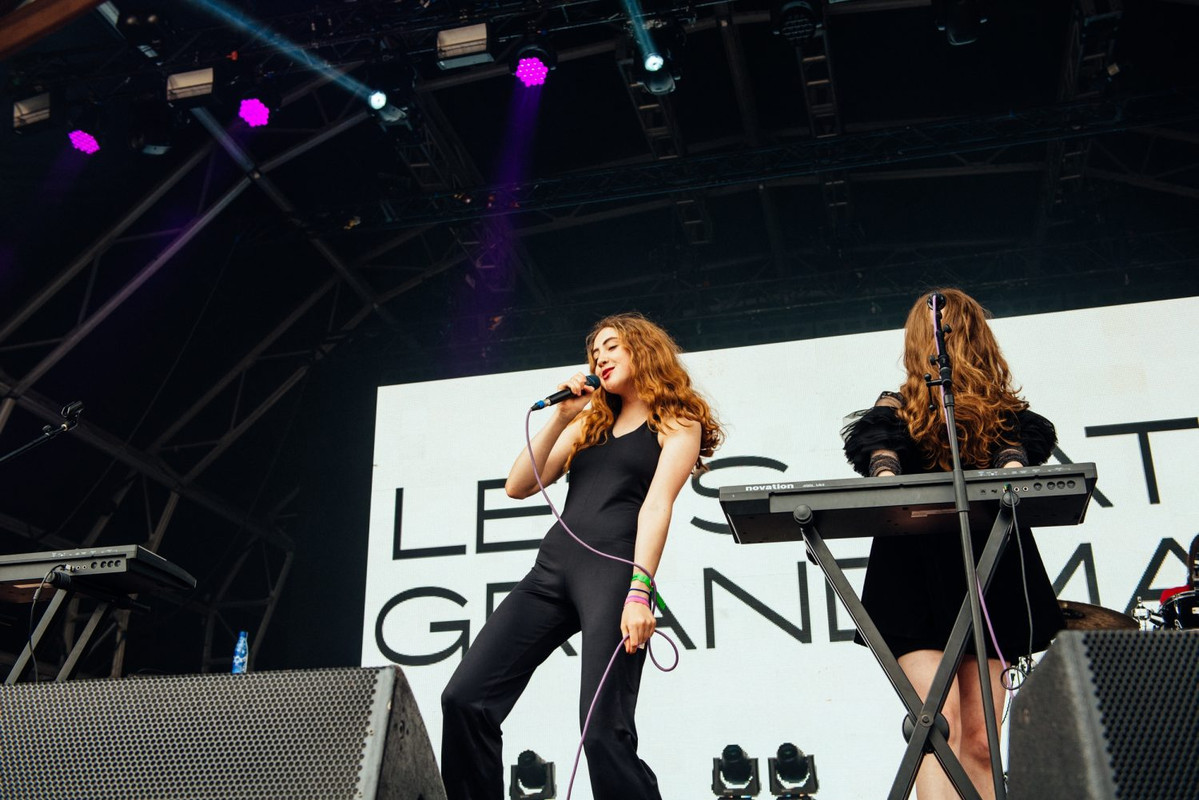 2. Let's Eat Grandma @British Summer Time
This show was bonkers. Two cheery, doll faced, childhood BFFs stand on stage and they open up their show, giggling and dancing their way through "Hot Pink", before the show is done they will dive into the crowd, run around like maniacs, collapse, disappear, perform a sax solo and botch up their own, obviously self-choreographed, dance routines. It could be disastrous or asinine, but Let's Eat Grandma's live show is never anything but joyous. These two sisters have managed to capture on stage, entirely organically and without any hint of contrivance, the joy of dancing like no one's watching to your favorite  record. Their entire performance is gleeful and best of all the music genuinely slaps. Faced with a half-bemused crowd at the outset, Let's Eat Grandma not only win over their initial audience with the sumptuously slippery melodies of "Falling Into Me" and "It's Not Just Me", but actively see their crowd swell as passers by are drawn to this small stage in the corner of London's Hyde Park.
Let's Eat Grandma might be having the time of their lives, but they are ferociously talented musicians. There are no backing tracks, they re-create their complex and dreamy compositions with immaculate precision and a lessez-faire ease. This is the rare live show that manages to both capture the thrill of creation, the joy of experiencing music live in person and the thrill of being a stupid, silly, teenager.
Elton John @Lucca City Walls
Elton John can lay claim to a rare late career double triumph: he has released by far an away the year's best celebrity autobiography (kudos to Alexi Petridis for the assist) and can, with some legitimacy, stake his claim to be the best live performer in the business today (oh and Rocketman wasn't bad either). The Farewell Yellow Brick Road tour, despite the odd speech or video showcasing Elton's charity work, never feels sappy, patronizing or self-aggrandizing – largely because Elton has put his music smack bang at the center of the show. It's clear that, all these years later, now that the screaming girls and cocaine are long behind him, that he still has an abiding love for Bernie Taupin's lyrics and great live musicianship.
There are of course wonderfully designed video packages and an implausible number of hits packed into this stunning show, but Elton seems most at home embracing his love of black music ("Philadelphia Freedom", "Levon"), celebrating his band's wild virtuosity ("Burn Down The Mission"), allowing Bernie's words to tell an at times preposterous story ("Indian Sunset") and bringing to life his grandest studio conceptions ("Someone Saved My Life Tonight"). Not only is Elton wise enough to showcase the touring musicians who've been his backbone for half a century, he's carefully calibrated each track to reflect the realities of his voice. He sings in a key lower today than he did in 1975. So rather than floundering to find high notes (see Stevie Nicks), he lets his drummer sing the falsettos on a stately and serene rendition of "Rocket Man". Better still, he includes late career works, like "Believe", where his new, deeper vocal is free to tower.
The Italian crowd he's faced with as he performs alongside Lucca's Roman walls are a strange bunch. They are totally engrossed in the show, but they want people to sit and watch, audible calling for international fans to sit down and stop dancing. Unfortunately, try as they might they cannot resist an onslaught of generation defining hits as "I'm Still Standing" gives way to "Saturday Night's Alright For Fighting" bringing the entire city to its feet in time for a solemn "Your Song" and a spellbinding "Goodbye Yellow Brick Road" – the latter of which seemingly floats through the air to close the show. If this truly is it, Elton couldn't hope to go out on a higher note. This preposterous never ending tour is a fitting tribute to an artist who loves to perform live and whose career is far more eccentric and musicalyl rich than he is often given credit for.