411 Fact or Fiction Wrestling: Should WWE Cancel The Crown Jewel Show?
October 21, 2018 | Posted by
Welcome back to 411 Fact or Fiction, Wrestling Edition! Stuff happened involving WWE Crown Jewel, people loved/hated it and let everyone else know. I pick through the interesting/not so interesting tidbits and then make 411 staff members discuss them for your pleasure. Battling this week are 411's Len Archibald & Ken Hill.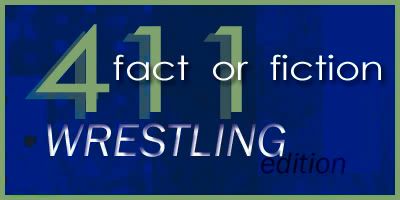 Questions were sent out Tuesday.
Participants were told to expect wrestling-related content, as well as possible statements on quantum physics, homemade pharmaceuticals, the Turtle Total Trip Theorem, pizza and hydroponics.
WWE should cancel the Crown Jewel Event & end their agreement with the Saudi Government.
Len Archibald: FACT – I don't want to do this. I am ok with others knowing all about my spiritual beliefs, my demons and my flaws, but I do NOT like providing a window into my personal value system or politics, because they belong to me – so I will preface with this: what I believe doesn't matter in the grand scheme of things. My opinion won't change shit, so if one wants to agree or disagree, have at it. Just be civil. With that said, FUCK YES WWE should cancel Crown Jewel and any future arrangements with the Saudis. Political fallout aside, WWE could possibly be looking at a PR shitstorm. They have already been called out by mainstream outlets. For as much money as WWE is making, they are still a niche product with a niche audience, in some circles still vilified and mocked just for existing. There are some who would love nothing more than for the entire wrestling industry to fall in the name of their own narcissism and would use this as more ammo of pro wrestling being a "dirty carny" industry. At the same time, let's not kid ourselves and not think there aren't politicians who are more than aware of the McMahon/Trump connection and wouldn't use this as ammo not just for the November elections, but 2020 as well. I am not saying that it will work, I am just stating that there is a very real possibility that it could be used against the administration. There is also the little subject of advertisers. If they start to get heat and decide to make demands on WWE to back out, lest they lose their advertising dollars, WWE could end up caught in the eye of the storm in a big way. So they should back out. But they won't. If they even go so far as back out of their agreement with the Saudis I will be surprised. I am at the point where psychologically I am calloused and cynical about humanity. I have made some heinous decisions in the past in the name of the almighty dollar too, so I get it. At some point I foolishly grew a conscience. I am pretty sure we don't live in that kind of world. Outrage will fade, everything will still turn and my personal opinion will mean nothing.
Ken Hill: FACT – Welcome to the Len-Kennection REDUX!…Redux…redux…redux…redux…re-
My apologies in advance to my next of "Ken" Mr. Ken Wood, but oh boy, where do I start with this one? Firstly (and I apologize if this seems more like political jargon rather than "setting the stage"), while what POTUS Trump is doing with M.B.S. (Mohammad bin Salman) and the Saudi Government in terms of enabling them and overlooking some of their offenses isn't anything that previous presidents haven't done, none of them have gone as far as Trump has in terms of green-lighting just about everything that has gone on in Saudi Arabia, including warring against Qatar, a US military ally, and "inadvertently" murdering innocents with US-bought weaponry. WWE, in a similar vein, has been touted for one or two shows per year in a 10-year propagandizing effort by the Saudi government to not only promote its positive local reforms like reopened movie theaters and women being allowed to drive, but to also whitewash what happened weeks prior to these reforms, such as a dozen female activists being arrested for campaigning for a woman's right to drive and being sought after for the death penalty by the Saudi government. WWE itself is no better in trying to gloss over the history of women's rights by trying to lay claim to "having the first women's match that had ever happened" in Abu Dhabi, even though the company had several of its female wrestlers perform in the region's more liberal countries back in the 1980s. Long story short, McMahon, like Trump, cares about three things above all else: Money, power and public image. If there is a buck or two billion to be made, Vince will overlook just about any flaws his business associates/dealings have, no matter how blatant they may be. Just look at "Eddie-sploitation" in 2006, which in my mind still stands as the dirt-worst use and abuse of a wrestler's legacy in the history of professional wrestling. It was an inherently and grossly-flawed concept that dragged on for all of 2006 before it took Eddie Guerrero's closest friend Chris Benoit putting his foot down for Vince to finally stop the madness. Vince runs another huge moral risk by sending his employees and performers over to a country with a historical disregard for human rights and basic decency, and Kashoggi's "disappearance" only serves to worsen their concerns. It's going to take a strong stance similar to Benoit's in '06 to get any sort of attention from Vince. Anonymous concerns from WWE performers and public outcry from senators and former WWE talents aren't going to sway Vince from dissolving a 10-year, purportedly $450 million deal with the Saudi sports authority, but a strong public stance from someone on the current roster just might. While some may suggest John Cena should raise his voice and get Vince to listen to reason, I wouldn't agree. Cena's a part-time novelty act at this point and would be seen as a hypocrite considering his public, if rather boiler-plate, praise of the Saudi royal family earlier in the year. Someone along the lines of a Seth Rollins or an AJ Styles, veteran top-tier talent whom Vince holds at least a modicum of respect for, could and should tell Vince to reconsider his dealings with the Saudi government. If the moral stance fails to sway Vince (no surprise if it doesn't), then he should look at things from a purely business perspective. The bigwigs of Uber, CNBC, CNN, and Viacom, among others, have withdrawn their support of Salman's "Future Investment Initiative" in the wake of Kashoggi's alleged demise, as well as the aforementioned WME Entertainment company having dissolved their multi-million dollar arrangement with M.B.S. Following suit would be a good PR move for Vince and WWE, as it would put them in a positive light as supporters of human rights and decency, slowly but surely moving them away from the Saudi arrangement snafu while keeping them in the limelight as supposed champions of civil liberties, and avoid a further-tarnished public image which could discourage networks, other companies and highly-touted performers from different walks of sports and celebrity life from associating with WWE. By not doing so, Vince runs the risk of turning WWE into a pariah among other billion-dollar entities in the sports/entertainment world by continuing with what's been seen by many people, senators, fans, and critics alike as a rather immoral, repugnant arrangement with the Saudi government. It's something he certainly wouldn't want to endure for the foreseeable future, especially with the billion-dollar, five-year deal forthcoming with Fox Sports in Fall 2019. Consider this: The Fox deal outweighs Saudi's contract by more than a fair margin (Over twice as much in half the allotted time) and the announcement of the Fox deal lead to a whopping 138.1% increase in WWE's stock share price within 6 months of the announcement. I believe Vince could dissolve his relationship with Saudi officials and withstand the financial fallout (i.e. lawsuits, contractual payouts, etc.) without suffering too much in the long run and then stick to his other, far less controversial international (UK, Japan, India, Australia, etc.) and stateside arrangements, still making a mint while not drawing the wrong kind of attention as he has in his dealings with M.B.S. and the Saudi government.
2. Smackdown 1000 was better than Raw 25.
Len Archibald: FACT – It wasn't really a tall hurdle, though, was it? Raw 25 was HORRIBLE. Nothing of note happened, which is funny because it was also a go home show for the bloody Royal Rumble at the same time. Austin stunning McMahon at the start of the show and the DX/Balor Club supergroup tease are the only points I remember. Smackdown 1000, while not a great show – was at least serviceable and did a better job with their legends (even though Evolution being on Smackdown was just…strange.) The Cutting Edge with Becky Lynch stole the show for me as it felt as if Edge was subtlety-grooming Becky to become the kind of heel he was…except she is being cheered for it. Oh, WWE. We did get a title change from a very good match between The New Day and The Bar and a nice teaser for a match between Nakamura and Rey Mysterio. I did find it hilarious that The Undertaker pretty much did the same here as he did at Raw 25. I don't know how to feel about the McMahon dance segment except that it will be some fun WrestleCrap and even though it made sense to begin the build on Raw, I LOVED Evolution getting together and the tease that Big Dave just may destroy Triple H again. Smackdown 1000 had a lot more going on than Raw 25 did…but that is the same as saying eating warm SPAM is a better option than eating boiling shit.
Ken Hill: FACT – I wouldn't necessarily say it was better than RAW 25…I'd say it was LEAGUES better than RAW 25. While they did miss a key component in not having The Rock, the man who actually coined the term "Smackdown", drop by to say a few words, the show was otherwise an above-solid effort. The McMahons' hilarious shimmying on Truth TV was a fun opener. Then we had a Triple H group reunion that, while it made no sense given that Evolution as a group never ONCE set foot on Smackdown from 2003 to 2005, gave us some classic funny moments between the four members and teased a potential HHH-Batista showdown at WM 35. Following that was an excellently-done Cutting Edge segment that furthered the Becky-Charlotte feud, followed by new Smackdown tag champs in The Bar thanks to Big Show's 1000th heel turn (an underestimation, to be sure) and capped off with a solid, if somewhat uninspired first meeting of Rey Mysterio and Shinsuke "Nakamerica" in the main event. All in all, it was a fun, productive show unmarred by any sort of ham-fisted, nostalgia-laced attempt to lure 19,000+ people over to the Hy-Vee, née Kemper Arena in Kansas City just to have them watch the actual broadcast on TV and force them to sit through a couple of do-nothing, two-minute matches. While SD 1000 had its share of aforementioned flaws, the distinct lack of "BULLSHIT" and "REFUND" chants cinched it for me.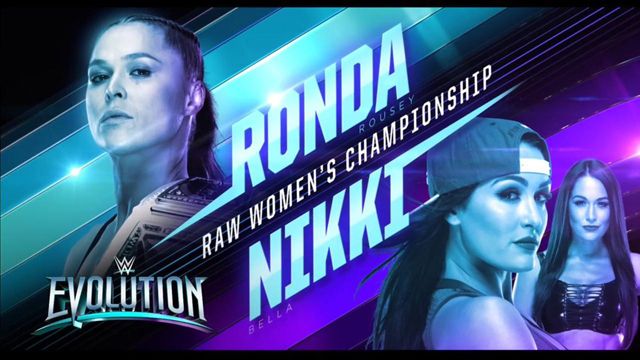 3. Ronda Rousey vs. Nikki Bella main eventing Evolution is the right call.
Len Archibald: FICTION – I get why it is main eventing. Ronda Rousey is one half of the main event. By proxy, any match she is in will (and should rightly) main event. My gripe on her and Nikki Bella main eventing isn't a strike even against Nikki Bella: it's because the match just…happened. The Bellas were all chummy with Ronda, turned on her like 45 seconds ago and now it's a heated rivalry worthy to main event WWE's first female-led event? GTFO. The whole thing was telegraphed and cynically transparent from the start. So, if Ronda can't get a feud worthy of her talent (which is a shame and a fucking blunder), WWE should have gone with one of two options: 1) Becky Lynch and Charlotte is approaching feud of the year territory and their rivalry has heat and investment – that could main event. …or if this is supposed to be a celebration of the future of women's wrestling – I don't know – maybe have the finals of the Mae Young Classic main event. Yeah, yeah, "but no one watches, star power, blah blah blah…" I've also heard that no one cares about women's wrestling as well, so why not take a chance if no one is watching, then? I don't know what has wound up as the bigger easy slam-dunk that wound up to be a tragic blunder: the handling of WWE's first all-female event or the collapse of the DC Cinematic Universe.
Ken Hill: FICTION –

Is it too obvious that I have a Jim Carrey fix today? I CAN NEVER TELL! I can't imagine why WWE would think having a virtual greenhorn in Ronda Rousey and an over-the-hill Nikki Bella close out their FIRST-EVER ALL WOMEN'S PPV IN WWE "HER-STORY" is a good idea outside of name and star power. It wouldn't be the first time Ronda's closed out a WWE PPV in 2018 (See MITB versus Nia Jax), but at that point they had the ability to use Alexa Bliss and the MITB briefcase gimmick to subtly keep Ronda's progress moving forward without making her look weak in losing out on her first (main event) title opportunity. They don't have that luxury here; Nikki simply isn't as viable an opponent for Ronda as Nia or Alexa was in terms of working an extended match and the lack of quality in-ring time I've seen from both Nikki and Brie doesn't have me hopeful for a high-quality affair either. On paper, it sounds more and more like a "halfway point" kind of main event rather than the real deal and would serve little purpose other than to give Ronda an obstacle, a true antithesis of everything she stands for as a female athlete, in Nikki Bella to go over. Also, the pay-per-view is called WWE Evolution, as in the evolution of a brighter future in women's wrestling. While Ronda steamrolling Nikki would showcase the kind of physicality and attitude WWE endeavors to have for future female competitors, it would behoove WWE to highlight other aspects of the progress in women's wrestling, such as NXT or the Mae Young Classic, in the main event. Why not feature the MYC Finals or Kairi Sane vs. Shayna Baszler for the NXT Women's Title as the main event? Either match would feature two highly touted female talents who would be more than capable of putting on a quality 15-20 minute main event that WWE would be proud to boast as the pinnacle of its inaugural all-women PPV.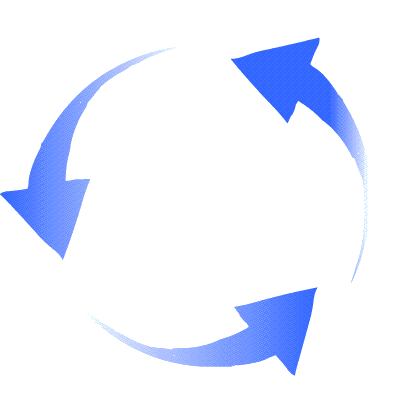 SWITCH!
4. Batista is worthy of a WWE Hall of Fame induction.
Ken Hill: FACT – I would most definitely say so. He's a 6-time World Champion, two-time Royal Rumble winner, and came up as a big part of the 2002 post-Attitude Era wave of "New Generation" stars alongside the likes of Brock Lesnar, John Cena and Randy Orton, even breaking on through to the main event scene at just about the same time Cena did in early 2005 at WM 21. He's also one of the few and proud along with The Rock and Cena to make the big jump from professional wrestling into a full-time acting career, and a rather successful one at that with his fantastic portrayal of Drax the Destroyer in the MCU's "Guardians of the Galaxy." Doubters best catch on to Batista's solid successes in and out of the wrestling ring, otherwise his eventual HOF induction will go right over their heads…
Len Archibald: FACT – It is nice to get an easy question once in a while. Batista is a 4x World Champion, 2x Royal Rumble winner (which is rarefied air), 3x tag champ, main evented WrestleMania twice, was the face of Smackdown for a while, was a strong babyface and in some instances a better heel, was in great feuds with Triple H, John Cena, Rey Mysterio, Edge, The Undertaker and The Shield, and is a movie star. Scratch that, a movie star that STILL has an addiction to the business. Yeah, pretty sure he is a surefire inductee. If the rumors are true, my only gripe would be inducting him the same year as The Undertaker…which I can't see happening. Taking away another future headliner would be a colossal boneheaded move.
5. Shawn Michaels' return at WWE Crown jewel is enough to make you watch the show.
Ken Hill: FICTION – You're kidding me, right Larry? If anything, HBK taking a Saudi payout to show up for a "golden oldies" tag match that people won't likely remember by Mania time early next year inspires me all the more to skip Crown Jewel entirely. In case I hadn't made my stance on it clear in prior posts related to HBK's shocking in-ring return, I'm disappointed in Shawn. For eight years, he was the standard-bearer for being a true legend of the industry, spending time with his family on their Texas ranch, committing himself to helping establish new talents on the main roster like Daniel Bryan and Seth Rollins, putting in time at the WWE Performance Center as a trainer, and making nice, fun little appearances here and there to promote the WWE product without taking so much time and spotlight from the current roster. He knew his role and for all accounts seemed quite content with it, even telling Sam Roberts in an early 2018 interview that "I know the reasons why I wrestled (and) why I don't. And, look, I would be doing it just for the money now and I don't want to do that." If this had been a return for helping to establish/reestablish a talent in WWE like a Daniel Bryan, an AJ Styles or a Kevin Owens, I would've grit my teeth and put up with the bittersweet feeling of HBK returning to the ring, as it would've been for a noble cause much like his post-retirement efforts in WWE in general. Instead, we're getting what will ultimately be a throwaway nostalgia match between him and three other far-over-the-hill legends whose combined ages pass the two-century mark. We all know how much of a mark HBK is for Ric Flair as well, how much he's idolized him and respected him over the years. I just never thought I'd see the day where he starts taking on Naitch's "post-retirement" habits. Hope the payday's worth the hypocrisy, Shawn.
Len Archibald: FICTION – I am salty. I said in the past that there is no way Shawn Michaels would ever come back because he had made it clear his retirement is very important and sacred to himself. Wrong. So wrong. And the salt is enough to top off a barrel of McDonald's fries. I am excited to see HBK return. I am also hesitant, as 8 years will have past and I don't want to watch someone who is a former shell of himself if that becomes the case. But it isn't enough for me to watch the show. Why? Because it just sort of happened – if WWE doesn't want to take the time and put in a concerted effort to hype up the in-ring return of arguably the greatest in-ring performer in history, why should I care? Also, this is the same as the Australian Super Show: there doesn't seem to be much stakes involved and will most likely be presented as a glorified house show. I will always have laundry to do, though – and this will be serving as my background noise as I fold towels.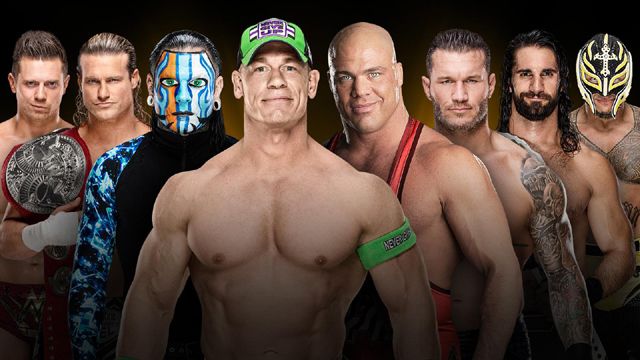 6. Who will win the WWE World Cup (To Determine The Best In The World) and why? (CHOICES: John Cena, Kurt Angle, Jeff Hardy, Randy Orton, Seth Rollins, Dolph Ziggler, The Miz, or Rey Mysterio)
Ken Hill: THE MIZ – Why are they still calling this the WORLD Cup? If the Saudi prince is such a fan of WWE nostalgia, let's just bring back King of the Ring, because THAT would makes loads more sense than what they are doing here. The definition of a World Cup is that it is a sports competition between teams/individuals from several DIFFERENT countries. John Cena? American. Randy Orton? American. Dolph Ziggler? American. The Miz? American. Jeff Hardy? American. Seth Rollins? Freakin' American. Rey Mysterio? American, born by way of Chula Vista, California. Kurt Angle…?
Get it? It's just another reason why I'm skipping out on Crown Jewel entirely. WWE's not only kowtowing to a big Saudi payday, but doing a lousy job of it by not enlisting its multitudes of international talent that would help to properly define a World Cup, like Rusev (Bulgaria), Sheamus (Ireland), Cesaro (Switzerland), Drew McIntyre (Scotland), and Andrade Almas (Mexico) for starters. Hell, bring UK Champion Pete Dunne or Tyler Bate (England) up from NXT, or the new Cruiserweight Champion Buddy Murphy (Australia) from 205 Live! WWE has a tremendous bumper crop of international superstars they could feature on the Crown Jewel plate and all they are serving up to Saudi is a big ol' slab of Grade A 100% American cheese. If I HAD to pick someone though, just for the sake of 411Mania's adoring public, I would go with Miz. Considering his program with Bryan has yet to truly conclude and Bryan's currently ensconced in a WWE Title feud with AJ Styles, I could see Bryan coming up just short at Crown Jewel and Miz sneaking out a World Cup win and hopefully parlaying that into a WWE Title opportunity, likely at Survivor Series. Miz brags that whereas Bryan fell short against Styles, Miz will not fail because he knows what he has to do to win. Bryan, paranoid at the notion of Miz upending a fellow dedicated wrestler in AJ Styles through nefarious means, tries to get involved and prevent Miz from winning, only to pull a Gargano and make a mistake, inadvertently leading his most hated rival to victory and the WWE Championship. Don't think I haven't noticed the interesting parallels between Bryan-Miz and Gargano-Ciampa. It's been fascinating to watch how similarly and differently the two storylines play out alongside one another.
SELF-PROMOTION TIME!
Get "Kennected" with my show's official website! Features a full archive of past episodes, WK Krew bios, behind-the-scenes features, and much, much more!
Also check out and subscribe to The Wrestling Kennection's official YouTube channel!
Len Archibald: John Cena – This really is the one time I should go the way of CENAWINSLOL and end it there, but I am honestly not that good at trolling. My logic is clear, and simply circles back to the first FoF question: The Saudis probably paid Cena a shit ton of money, recognize him as one of the major faces of the company, and want to provide a result that will resonate with the fans. Make no mistake about it – even though his reputation is now being reexamined in the West, Cena has always been a GOD in the East, so I can see him getting the duke here to get a major pop from the crowd and even set up a potential WM match.
…sigh, ok…CENAWINSLOL
CHEAP PLUG TIME: RING RIFFS is celebrating the month of October with some frightful reviews…The latest episode is a chilling revisit of the CHAMBER OF HORRORS Match from Halloween Havoc 1991. Like, share, comment and most importantly, subscribe to the channel!