411 Fact or Fiction 05.09.13: 4th Shield Member, Kaitlyn's Admirer, More
May 9, 2013 | Posted by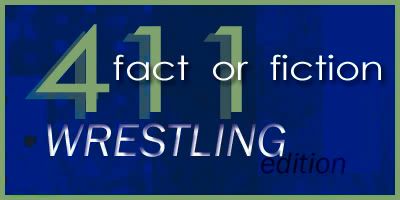 Hi, hello & welcome to 411 Fact or Fiction! I'm Steve Cook, & it's been another crazy week in the world of professional wrestling. The Shield is always a popular topic of conversation, and recently there's been rumblings of a fourth member. Alberto Del Rio decided to make his match with Dolph Ziggler & Jack Swagger at Extreme Rules a ladder match. Kaitlyn has enlisted the services of the Great Khali to figure out who her secret admirer is. WWE Financial Day was last week. Sting earned himself a title shot against Bully Ray at Slammiversary. Christopher Daniels & Kazarian are trying to reform Fortune. Everybody's forgotten about the Knockout Tag Team Titles except Stephen Randle. Paul London returned to Ring of Honor at their Border Wars iPPV, but his returned was marred by a concussion he suffered after Davey Richards stomped him in the head.
I've gotten two of 411's greatest writers and two of my bestest Internet friends to cover these topics. Introducing first, the former host of MMA Fact or Fiction & everybody's favorite T-Berg…Todd Bergman!
His opponent needs no introduction. He's everybody's favorite Larry…Larry Csonka!
Questions were sent out over the weekend.
Participants were told to expect wrestling-related questions.

1.) The Shield will introduce a fourth member in the near future.
Todd Bergman: FACT. This always seems to be the way that booking goes in pro wrestling. A successful group needs to expand and that ultimately becomes their downfall. I will say that I love the way that the WWE has handled The Shield to this far. Reigns, Ambrose & Rollins have been booked in a very strong manner and it's a very nice thing to see given the ups and downs of the quick minded WWE creative team. I could do some fantasy booking here and list the possible people that I want included into this list but all of you will do a fair amount of complaining regarding both my and my opponent's comments because you are a fickle bunch. The point here is that I have absolutely no faith in the creative process when it comes to keeping a marquee group with just it's original members. A fourth member will be announced at some point in the near future and I hope that it's a move more impactful than Manu's induction into Legacy.
Larry Csonka: FICTION. While I would personally love to see a guy like Kassius Ohno added to the group, I will have to go fiction on this particular statement. I have stated on several occasions that the Shield has been booked very well, having good matches and most importantly, winning those matches and not by bullshit fluke fashion. All three members have worked hard, they have delivered and I do not think added to the group at this time would add anything. If history has shown us anything it is when you constantly add members to a group it is then when you lose the importance of what made that group special. For me, it would have to be booked very well and with a long term plan in place for them to even consider it at this time. Basically, if it isn't broke, don't fix it. But that's just my opinion.
Score: 0 for 1
2. The World Title Ladder Match with Dolph Ziggler, Alberto Del Rio & Jack Swagger will be the best match at Extreme Rules.
Todd Bergman: FICTION. Ziggler is an absolute stud but I find Del Rio and Swagger rather boring and they add very little to this match. I tend to think that Lesnar/HHH inside the cage will be a good old fashion hard-hitting match. The aspect of a cage adds something to this match that a street fight couldn't do. The mystic of the cage, whether it's used or not, makes it seem like a feud ender and something special. I may be taking Lesnar/HHH based on this fact alone but I love a good brawling cage match any day of the week over a one or two spot ladder match. I can only wish that Brock & Trips will wear t-shirts and jeans to the cage match and I don't think that it's too much to ask for the blue steel cage match to be brought back for this match, right? Lesnar and Trips may have little in the ways of wrestling holds but it's technically still a wrestling match and something that will be better than Ziggler selling his ass off to two guys who are lost in the shuffle.
Larry Csonka: FACT. It's a bit hard to say with so little known about the card, I think Hell No vs. Shield if added could be really great, but the ladder match has a chance to be pretty damn fun. Swagger will be the catch guy with his size, Del Rio will take good bumps and Ziggler, well this shit is right in his wheel house. If it wasn't a very good to great match I would be surprised. The bottom line is that WWE selected a ladder match because people like them, they sell tickets and PPVs and they feel these guys will deliver. But I have to say, it made no sense for Del Rio to select a ladder match. Follow me here, in 2011, Del Rio lost to Christian in a ladder match, which got Christian the world title. Also, both Jack Swagger and Dolph Ziggler are MITB winners, and Ziggler also beat Cena in a ladder match. I know Del Rio won a MITB as well, but him selecting this match gave him no advantage what so ever, if anything he did the gullible baby face thing and gave every one a fair shot in the match. Sorry, just had to get that out there. Carry on.
Score: 0 for 2
3. Kaitlyn's secret admirer will end up being a disappointment.
Todd Bergman: FACT. The storyline is already a disappointment in my eyes because it's happening. This thing smells of The Great Khali being involved to the high heavens. Maybe the WWE will shock us all but I don't think so.
Larry Csonka: FACT. Secret admirer angles are like the big surprise announcement in wrestling for me, occasionally they are fun and make you happy, but 99% of the time people either set way too high expectations, or think they know who it is and come away disappointed. I have no hopes for this angle, because Kaitlyn having a secret admirer doesn't make me care about her because I am not a woman. That is who they are gearing shit like this to. I want to see Kaitlyn in matches with other good wrestlers on a weekly basis, that is what is interesting to me. The fact that I will have to put up with a secret admirer angle while reviewing Raw instantly means that this will be a disappointment for me. If this is something you enjoy, then I am glad that you will be enjoying this part of the program, I simply won't be.
Score: 1 for 3
4. You're interested in WWE's quarterly financial reports.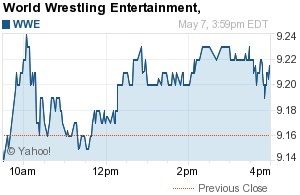 Todd Bergman: FICTION. When I was a stock holder of the WWE, I certainly cared but not since I sold the stock years ago. The only thing that comes from this reports and calls is that Vince once again finds some sort of BS answer to the WWE Network question.
Larry Csonka: FACT. In my line of work, I have to be. The WWE's well being is my well being. I always laugh when something bad happens, like a poor PPV buy rate or rating, and people post shit like, "I bet Csonka was happy to see that." No, no I am not. When WWE is hot and popular, wrestling is hot and popular, and that means my business is good. It's like me wishing for marvel movies to shit at the box office. I want them making hundreds of millions of dollars, because when they are popular people come here to watch trailers, TV spots and read reviews. I want WWE business to be good because of my business, it's as simple as that. But I have to add that the four days a year that the WWE releases the financial reports suck for me. Combing through all of that corporate horseshit to post numbers and such and listening to the conference calls is a shit ton of work.
Score: 1 for 4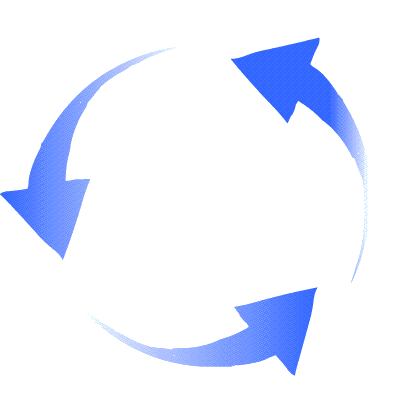 SWITCH!
5. Sting vs. Bully Ray is the best possible main event for TNA's Slammiversary PPV.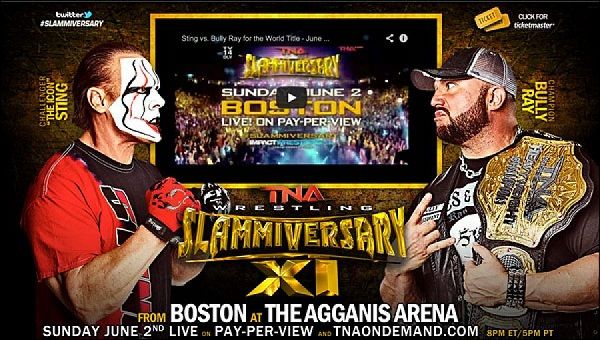 Larry Csonka: FICTION. If you read my column from last week, TNA Needed a Hero And All We Got Was Sting, you'll know that the answer is no. TNA could have gone different ways with this to be blunt. First of all, while a Sting match makes sense, I do not want to see the guy in a Slammiversary title match for the fourth year in a row. He works well for his age, but should be protected in multiple-man matches. I personally do not think that the match will be all that good. If you wanted a big name and a good match, Angle was the guy to go with. Angle can work with anyone, and has proven to be a PPV draw for TNA in the past. Also, those trying to hype Sting's PPV accomplishments from WCW by comparing the PPV drawing power of Sting to Mayweather, Manny, GSP or Anderson Silva are completely delusional. That's not even comparing apples to oranges, that's comparing diamonds to dog shit. Going with Sting is the same old shit, and is something that TNA relies on all too often. The fact that Hogan and Sting are the only ones to be able to take the war to Aces and 8s is also bad and has damaged the baby faces. Again, as I have said before, Sting has done a lot of good for TNA, but I strongly feel that this was not the best match to make for the PPV.
Todd Bergman: FACT. Following my EWR booking strategy, I can say that this is the best possible main event featuring two guys that are well known enough through the pro wrestling circle and known enough from non-regular watchers to hopefully pull a good buy-rate. I liked the article that Larry turned out recently about Chris Sabin being placed into the main event scene and that's something that I will look forward to but Sabin needs to be built back up before going into a title program.
Score: 1 for 5
6. Fortune should reunite.
Larry Csonka: FACT. I really liked the Fortune faction, and at a time when the Aces and 8s are running wild on TNA; they need a faction that can counter tat and lead to a proper culmination (unlike the Main event Mafia angle). Anytime you can have A.J. Styles, James Storm, Kazarian and Robert Roode together and working a ton of matches, I feel it is a good thing. I think the end game is AJ winning the title as the savior, so why not get the band back together. At the very least I feel you can do AJ, Storm and Roode; because Kazarian and Daniels are so great together, and rock as heels, I would hate to separate them. AJ could be on the role and make a mends with Storm, they could be taking the beat down one night, Roode decides to make the save. He and Storm fight back to back; hit the double suplex and do the old BEER! MONEY! Chant and everyone goes ape shit. Beer money in a temporary reunion under the Fortue banner, backing up AJ as they fight for the company that they have been with since day one (for the most part) I think would be a feel good story.
Todd Bergman: FICTION. TNA does not need another faction dominating storylines. While Aces & Eights started out strong and has fizzled, the company seems to intent on riding out the storyline to it's formal ending. Fortune was fun to watch for a little while but like I said above, no more factions in TNA taking up TV time.
Score: 1 for 6
7. The Knockouts Tag Team Titles need to be re-activated.
Larry Csonka: FICTION. No, they need to go away and never come back. TNA cannot book the divisions they have properly. I said back in the day that the titles were a bad idea, and would take away from the booking of the division proper, and it did. Plus they cannot keep enough women on the roster at the same time to make it viable. Add into this all the fact that they destroyed the titles as soon as they put the titles on Young and ODB and there is no reason to bring them back. Focus on the titles you have, maybe even go back and defend the TV title each week like you promised, or get some more tag teams in, but do NOT bring back the Knockouts tag team titles.
Todd Bergman: FICTION. Does TNA have enough Knockout wrestlers to warrant a tag division? No way it does and in fact, Mickie James recently said so in an interview. TNA goes in cycles when it comes to using its Knockouts and when it does devote some attention to the ladies, they completely outclass the WWE Divas when it comes to storylines and in-ring work. That doesn't mean that TNA needs to focus on more titles when they at the moment are not focusing on the Knockouts singles title.
Score: 2 for 7
8. Paul London can still be a star in a major wrestling promotion.
Larry Csonka: FICTION. With all due respect to Mr. London, I do not think so. First of all, the guy seems to enjoy being a free spirit and doing his own thing, with out any strings attached or commitment in place. There is nothing wrong with that, but at this time in his life, London seems to like being the non-establishment guy. And if you look at the DVDs he's done with Highspots burying WWE and key figured in wrestling, I highly doubt he'd be going back there anytime soon. I also spoke about his in ring shape during the ROH Border Wars iPPV, and while not a bad match, the man did not appear to be in ring shape. He looked good, he moved good, but he got tired very quickly and as I said in the report, the best way to put it is that the mind was willing, but the body was weak. I suppose if the guy was completely motivated and committed it is possible, but it's 2013, and I just do not see it happening. I see Paul London being the wacky traveler guy, working the shows he wants to work and discussing conspiracy theories and men on the bear skin rug. He seems happy that way.
Todd Bergman: FICTION. I will start this answer/debate with telling everyone that I'm a massive Paul London fan that goes all the way back to his showdowns with Michael Shane in Ring of Honor. However, Paul London has been his own worst enemy during his runs with TNA (stepping stone comment) and the WWE (basically being burnt out and acting like an idiot during the McMahon limo death scene). I don't view Ring of Honor as a major promotion and I don't see him getting back into the WWE unless he goes through NXT (even though he doesn't need the developmental background), which is highly unlikely for London to accept. TNA is out of the question because of London saying that he viewed that company as a "stepping stone." The guy could be a superstar because his aerial offense is breathtaking and his high school wrestling background leads him to be able to appease the pure wrestling masses as well. Like I said above, Paul London is his own worst enemy and his past transgressions will likely keep him out of TNA & the WWE even though it would be more likely for him to go to TNA than the WWE if I had to choose.
Final Score: 3 for 8
Not a lot of agreeance going on here, but that's the way uh huh uh huh we like it! Let us know who you think won this titanic struggle down in the comment section, and feel free to chime in on the topics! Thanks to Larry & Todd for participating, and we'll be back next week with more Fact or Fiction!
Remember to go to TigerFlashGames.com and play addictive, free flash games when you're bored at work, school, or whenever!
NULL