411 Fact or Fiction 10.18.12: Hardy as Champ, Punk teases Retirement, Ryback vs. Goldberg, More
October 18, 2012 | Posted by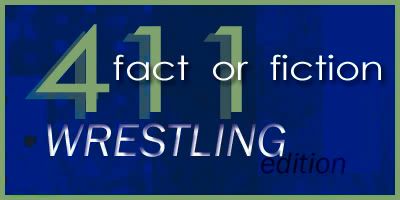 Hi, hello & welcome to 411 Fact or Fiction! I'm Steve Cook, and it's been another crazy week in the world of pro wrestling. TNA held their biggest show of the year on Sunday night, and Bound For Glory featured plenty of title changes & other surprises. Austin Aries lost the TNA title to Jeff Hardy while Devon was revealed as part of Aces & Eights. Meanwhile, Gail Kim, who wasn't even on the show, was named #1 in Pro Wrestling Illustrated's Female 50. In WWE, CM Punk found out he would be facing Ryback at Hell in a Cell. Both men had some interesting things to say before that.
I've invited two of 411's finest to join us this week. Our first participant was at TNA's Bound For Glory event on Sunday night. No word on if he got Brooke Hogan to agree to be a DeMarcette…give it up for Greg DeMarco!
His opponent is your Kennection to all things wrestling, and he's been Larry Csonka's favorite person ever since he took over the Raw recap. Say hello to Ken Hill!
Questions were sent out Monday.
Participants were told to expect wrestling-related questions.

1. WrestleMania 29 will bring over $100 million to the New York/New Jersey area.
Greg DeMarco: FACT. WrestleMania is a multi-media phenomenon that has an amazing economic impact on any metropolitan area. This year we know three wrestlers are already confirmed for the card – John Cena, The Rock and Brock Lesnar. One is the most over performer in the history of the business, one is the UFC's biggest draw of all time, and one is the face of the WWE. Add in CM Punk, Triple H, The Undertaker, Randy Orton and the WWE's newest star Ryback and the event will be a huge success for the WWE and the New York/New Jersey area.
Outside of the card itself, there is the travel factor. New York City (and the surrounding areas) will provide a ton of options for the WWE fan base to sleep, eat, and drink. According to Sperling's Best Places, New York City is 56% more expensive than Miami. Plus, Metlife Stadium holds 82,000 for football, whereas Miami's Sun Life Stadium held 78,363 for WrestleMania 28. So given the increase in cost (56%) and the increase in the number of fans attending the event (approximately 4,000), it's easy to predict that WrestleMania 29 will outreach its predecessor by 50% or more. If we stay at 50% to keep it easy, and we accept the 102.1 million figure publicized by the WWE for WrestleMania 28, then we can reasonably expect WrestleMania 29 to bring $153.15 million to the New York/New Jersey area in 2013.
Ken Hill: FACT. You can't argue with the numbers here; big cities equal big revenue and New York's been one of the prime beneficiaries of WWE's presence in past years, like the Royal Rumble and Survivor Series. This year's Wrestlemania raised $102.7 million, I wouldn't be surprised to see New York and "Joisey" match or break that mark next year.
Score: 1 for 1
2. CM Punk will retire in 2015.
Greg DeMarco: FICTION. CM Punk is an attention whore. I believe he's one of the best wrestlers in the game today, but he's still a bit of a prick and knows how to play the fans in his negotiations. He re-signed with the WWE in 2011, and I am 100% positive that his retirement claims are a negotiation tactic. I don't know when his contract is up, but it doesn't matter. If it's up in 2015, this claim will net him a bigger guarantee. If it's up in 2014, then it gives the WWE incentive to sign him to a longer term deal in the next go-round.
So don't let CM Punk fool you—he's not considering retirement. He's on top of the world and he has everyone's attention. He's selling a ton of merchandise and making boat loads of money. His 2015 retirement claim is nothing more than a negotiating tactic, and people everywhere are falling for it.
Ken Hill: FACTION. From full-time competition? Certainly. In all aspects? I'm not so sure. Yes, Punk's admitted the injuries are piling up, and he's not the spry youngster that first popped up on ECW in 2006. He's not getting any younger, and after his rumored match with Undertaker at WM 29, who Punk has left to face that he hasn't faced before is a very, very small list. I could definitely see him in a Chris Jericho-esque role, a part-time main event star who helps elevate the potentially big new talents, but not full-on retired. Wrestling's in the guy's blood.
Score: 1 for 2
3. Ryback will be a bigger star in wrestling than Goldberg.
Greg DeMarco: FACT. Normally I will write out my reasons in paragraph form, but for this one it's easier to make a list.
1. Ryback is a pro wrestler first. That's what he does, and where his passion lies. Goldberg turned to wrestling after football didn't work out.
2. Ryback wrestles for the WWE, Goldberg's rise came in WCW . By default, Ryback will have a more memorable run in the WWE.
3. Scott Hall and Hulk Hogan were the biggest names to put Goldberg over. Ryback could potentially go over CM Punk, The Rock and Brock Lesnar in the next 12 months alone.
4. It's 2012, and Ryback has a larger marketing machine behind him.
5. Politics. Goldberg was brought down by Kevin Nash inspired politics. In the WWE, that is less likely to happen.
Ryback is here to stay, and has a realistic shot at becoming a top player in the WWE. In fact, if the WWE plays Ryback's rise right, they might open the door for that John Cena heel turn everyone seems to want.
Ken Hill: FACT. Only if they plan on actually putting the WWE Championship on him. Even then, I'm not 100% sold that it will put him up there with Mr. "You're Next", but Ryback's been getting monster pops and people want to see him "eat" heels alive. He's well on his way to becoming a big star, and for that reason I say Fact.
Score: 2 for 3
4. Austin Aries' TNA title reign established him as a top player in the company in the future.
Greg DeMarco: FACT. Austin Aries proved to me, at TNA's Bound For Glory pay-per-view, that he is currently the best wrestler in the world. Not Daniel Bryan, not CM Punk, but Austin Aries. He delivered a great in-arena promo that will never be on television, and he had the crowd in the palm of his hand the entire time. Plus, the Phoenix crowd was so solidly behind Aries that they were chanting his name so loud and we couldn't hear Jeremy Borash's main event introductions.
The Destination X victory over Bobby Roode elevated Austin Aries to the main event. His performance at Bound For Glory—where Aries competed in the main event of the company's biggest event of the year less than 18 months after seriously considering retirement—was the best of his career. Go back and watch it, you'll see. Aries captained this match, and made Jeff Hardy look like a million bucks.
Ken Hill: FACT. The irony of this is that Aries did just as much to establish the TNA Heavyweight Championship as it did to establish him. He made it a focus in the feud with Aces & Eights, and the company rolled with it. Even when it came to non-title fights, he was the go-to guy on-screen because people knew he could get things done regardless of his size. Most of all, when Aries first won it, you could almost hear the proverbial glass ceiling shattering as he made the step from X-Division to the big time, paving the way for future X-Division stars who want to do the same. He's there, and he's not going anytime soon.
Score: 3 for 4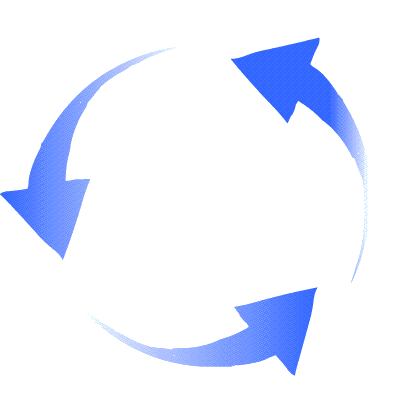 SWITCH!
5. Jeff Hardy winning the TNA title at Bound For Glory was the right move.
Ken Hill: FICTION. I said it before, and I'm not rescinding it here: Jeff's one mistake away from all of this turning into another "2011 Victory Road" disaster. Yes, it was a feel-good moment given his incredible comeback from the initial disaster, but it's been about the 3rd or 4th "incredible comeback" in his career. What's to stop this one from ending any different? What I felt was the only real downside to Bound For Glory.
Greg DeMarco: FACT. The IWC be damned! I just stated in No. 4 above that Austin Aries is the best wrestler in the world. But he's not the best choice to be world champion! Jeff Hardy is the John Cena of TNA. He got a Cena-like reaction at Bound For Glory, but he also sells merchandise and tickets like John Cena. TNA seems poised to take their product to the next level, everything is clicking and they are in such a better place over last year.
On top of TNA's position in the wrestling and media worlds, there was also a story to be told. A story of Jeff Hardy's redemption. Hardy struggled with drug abuse and put himself in a bad place on more than one occasion. He overcame that. He won over the locker room. He won over the fans. He won over TNA officials. Jeff Hardy winning the Bound For Glory Series and winning the World Championship at Bound For Glory completes his redemption story. TNA tells—and completes—good stories, and Jeff Hardy is the perfect example.
Score: 3 for 5
6. James Storm & Bobby Roode proved with their performance that they should have main evented Bound For Glory.
Ken Hill: FACT. If King Mo hadn't been added, then 1000 times yes. However, Mo being added to the match made it more of a special attraction than just a downright bloody feud between Roode and Storm. Not that it wasn't built up as such, but Mo just added nothing to the equation and only served as a slight distraction. That being said, Roode and Storm told one hell of a story and put on even more of a hell of a match.
Greg DeMarco: FACT. This is more like a pretend fact for me. Here's why. Bound For Glory is TNA's WrestleMania. Nearly 5000 fans packed into the Grand Canyon University Arena on Sunday and saw James Storm and Bobby Roode tear the house down in their Street Fight. It should have been a main event. It didn't have to be THE main event.
Bound For Glory should have had a double main event. It's a card worthy of double main event status, and Roode-Storm was worthy of being the second half of that main event.
Score: 4 for 6
7. The revelation of Devon in Aces & Eights was a disappointment.
Ken Hill: FICTION. Actually, I thought it was pretty clever given that we hadn't heard much about Devon's negotiations with TNA concerning his contract or that the fact he hadn't defended his TV Title every week was just something we passed off as another one of TNA and Hulk Hogan's slip-ups. Not the case this time around, and now Bully Ray becomes even more of a factor between Aces & Eights and TNA.
Greg DeMarco: FICTION. If you answer with "fact" you need to stop being a fan. I take that back. If you answer with "fact" then you've already stopped being a fan. TNA worked everybody with this reveal. Everybody. You, me, the websites, the mainstream media—everybody. They had us thinking Devon was gone, they even vacated his championship. Hulk Hogan publicly voiced his disappointment in their inability to re-sign Devon—even in mainstream radio appearances. And this was the story the entire time.
Go back and watch the video of Wes Brisco's first TNA appearance—there were Devon and Garett Bischoff. The role of VP was played by D-Lo Brown to make us not see Devon playing the role—but still maintained the continuity of VP being a black male. Bully Ray being the man to push for Sting & Hogan's selection plays right into Devon's angle as well.
So if you're disappointed, then you don't like a good story. Maybe you wished it was Joey Ryan. Or Bully Ray. Or Matt Morgan. Or someone else. But Devon actually makes sense. Devon in Aces & Eights is a logical step in his story and the Aces & Eights story.
I think the bigger problem people have is the desire to see new stars. Bully Ray and Devon, along with Rob Van Dam and Jeff Hardy, are relevant superstars in 2012. Their careers aren't over. They will work to get new talent over, but they're not done with their careers yet. Devon is now higher on the card than ever before, and TNA deserves nothing but praise for getting him there.
Score: 5 for 7
8. Gail Kim deserves to be at the top of Pro Wrestling Illustrated's Female 50.
Ken Hill: FACT. If we take into consideration the condition of the women's division in just TNA and WWE, then can you name anyone who's actually done something decent this year or held a major women's title as long. Layla did nothing with the Divas Championship, same with the Bellas. Gail at one point this year was a dual champion, regardless of how much the Knockout Tag Titles mean now. No one else, aside from her former partner Madison Rayne, can argue that they did the same.
Greg DeMarco: FACT. If you're screaming the names of Cheerleader Melissa or Sara Del Rey, just shut up now. They don't compete on a stage big enough to be considered as No. 1 in Pro Wrestling Illustrated's list. I don't know the exact dates of TNA's list, but let's just pretend it was October 1, 2011 –October 1, 2012. Look at what Gail Kim has done during that time frame.
Gail Kim returned to TNA on October 20, 2012 after being granted her WWE release (which she asked for). Less than one month later she won the Knockouts Championship, and she and Madison Rayne went on to eclipse Karen Jarrett during her executive storyline. She also held the Knockouts Tag Team Championships with Rayne. She defended her title against Mickie James, Tara, Madison Rayne, Velvet Sky, and Brooke Tessmacher. She was finally defeated, after a 210 day reign, by Tessmacher in an angle that made Tessmacher a star.
Who accomplished more on a grand stage? Yes, she's been less prominent since losing her feud with Tessmacher, but PWI needs to evaluate women's wrestling over their entire 12 month period—and the first half is just as important as the second half. Thus, Gail Kim is fully deserving of her No. 1 ranking.
Final Score: 6 for 8
Our panelists enjoyed Bound For Glory and seem to agree on most things…except for the whole Jeff Hardy thing. How do y'all feel about it, and the other topics in this week's column? Let us know in the comment section! Thanks for reading, and we'll be back next week with more Fact or Fiction!
Remember to go to TigerFlashGames.com and play addictive, free flash games when you're bored at work, school, or whenever!
The Ocho Fantasy Football Podcast returns tonight with a special 9:30 start time! Go to offtheteam.com to check it out!
NULL