411 Fact or Fiction 11.29.12: Punk vs. Savage, Shield, Shamrock, More
November 29, 2012 | Posted by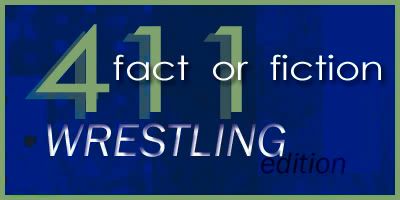 Hi, hello & welcome to 411 Fact or Fiction! I'm Steve Cook, and I hope you're having a fantastic week. Monday night's Raw featured John Cena vs. Dolph Ziggler in a match most people expected to happen at TLC, the first interview conducted with The Shield, and CM Punk's championship title reign passing Randy Savage's lengthy title run. A rumored match with Punk & Mick Foley was reportedly nixed because Foley was unable to get medically cleared. (Lots of "rumored" & "reportedly" there, yeah?) Ken Shamrock no-showed an AAW event in Illinois where he was scheduled to wrestle Sami Callihan. 411 articles spawned two interesting discussions I thought merited attention in this column: Ric Flair vs. Shawn Michaels at WrestleMania 24, and the Montreal Screwjob.
Overshadowing all of this (at least in my opinion) was the news that Ben Savage & Danielle Fishel would be reprising their roles as Cory & Topanga on Girl Meets World. This bombshell led to Girl Meets World trending on Twitter throughout Raw, and given Boy Meets World's connection to pro wrestling I thought we could touch on that as well.
I've invited two of 411's finest to join us this week for competitive banter. Introducing first, the Occupant of the Throne, Lord of the Man Cave & a man I once did a Boy Meets World podcast with…Jeremy Lambert!
His opponent is one of the greatest Heat recappers that ever lived. He's done other things, but we mostly remember him for Heat. Give it up for Scott Slimmer!
Questions were sent out Monday.
Participants were told to expect wrestling-related questions.

1. Dolph Ziggler's feud with John Cena will get him to the next level.

Jeremy Lambert: FICTION. This would be fact if I had any faith that he'd actually win the feud. He just lost on Monday night to Cena clean, and he may get that victory back at the PPV, but chances our it'll involve some type of shenanigans. They took a step in the right direction when they gave Ziggler the win at Survivor Series but so far, during Ziggler's MITB reign, he's been on the wrong end of things. Cena is not the type of guy that can elevate you just by feuding with you. He can only elevate you if you beat him and I don't think they're going to have Ziggler beat him, at least not clean.

I wish they'd book Ziggler better, but we're talking about WWE here. Their theory is that you can beat a guy 100 times, but if he wins the World Title, then none of those losses matter. But to most fans, wins and losses do matter and it's tough to take a guy serious after 100 losses, even if he wins the title. Ziggler has all the makings to be a star, I'm just not sure he'll be allowed to get there.

Scott Slimmer: FICTION. Dolph Ziggler is a future World Heavyweight Champion, and he will be a main eventer in WWE for years to come. That being said, Ziggler's current feud with John Cena will not be what finally catapults him to that elusive "next level." Ziggler has been an upper mid-carder for the past two years. He challenged Edge for the World Heavyweight Championship at Royal Rumble 2011, and he challenged CM Punk for the WWE Championship at Royal Rumble 2012. Ziggler technically even had a brief World Heavyweight Championship reign in early 2011, but in truth it was more of a footnote than an actual title reign. Ziggler is one of WWE's top workers in the ring and one of WWE's best talkers on the mic. The "next level" for Dolph Ziggler is to finally be a true main eventing world champion, and that simply can't happen while he's feuding with John Cena. Despite how fervently WWE tries to convince us that there can be three or for "main events" on a single card, and despite the fact that John Cena is still the face of the company, the fact of the matter is that feuding with Cena over allegations of an inappropriate relationship with AJ is just another upper mid-card feud for Ziggler. I'm not saying that this feud hurts Ziggler or even that it's a waste of time for Ziggler. This feud continues to give Ziggler exposure and allows him to work with one of the top stars in WWE history, so it's definitely not a bad thing. It's just not what Ziggler needs to get him to the next level. What will get Ziggler to the next level is an honest-to-goodness world title reign, and luckily that seems to be a safe bet for the current Mr. Money in the Bank. I do believe that Dolph Ziggler will successfully cash in his Money in the Bank contract to win the World Heavyweight Championship, and I believe it's going to happen at Money in the Bank. There are rumors that Ziggler would then feud with Randy Orton over the World Heavyweight Championship as we head down the Road to WrestleMania, and there's even a chance that Ziggler could be in the world title match at the biggest show of the year. And that will be what finally gets him to the next level.

Score: 1 for 1

2. Roman Reigns will end up being the biggest star in The Shield.

Jeremy Lambert: FICTION. He's got the build that WWE likes, but they've also allowed smaller guys shine in recent years. I think Rollins has the best chance to be a star because WWE has shown that they're willing to stick with guys who had a lot of success in the Indy's as long as they're willing to work hard. I think Rollins is cut from the same cloth as Daniel Bryan and CM Punk, and they're doing pretty well. Ambrose had Indy success as well, but I see him more as a guy who will fade into the mid-tier. The problem with big guys in WWE is that if they don't click right away and don't continue to click, they're dropped. It's easy to say that WWE had a hard on for big guys, and that's true, but not everyone has the success of Sheamus. Some guys end up like Tensai. Reigns may get a big push whenever The Shield breaks up, but that doesn't mean his push will last.

Scott Slimmer: FICTION. Roman Reigns has three things going for him. He's got a good look, he's got the size (which could kind of be considered the same thing as having a good look, thus bringing him down to two things going for him), and he's got a heck of a (real) last name. Unfortunately, what we've seen over the past few years is that those selling points are no longer a guarantee of success in WWE. Ask Ezekiel Jackson. Or Mason Ryan. Or Rosey. Or the Usos. Roman Reigns is going to have to prove himself in the ring and on the mic, and I would tend to give the edge to both Dean Ambrose and Seth Rollins in both of those departments. In fact, given the emphasis on mic work and character identity in today's WWE, I'd put my money on Dean Ambrose being the biggest star in The Shield. He's not as big as Reigns, but he's actually a bit bigger than CM Punk or Daniel Bryan, so size shouldn't limit him too much. He's solid in the ring, but his real forte is his tremendous psychology and mic work. Ultimately, you never really know who's going to make it in WWE. Sometimes sure things fizzle out, and sometimes underdogs go all the way. But if you're asking me to pick just one guy from The Shield as the potential biggest star, I'm definitely going with Dean Ambrose.

Score: 2 for 2

3. CM Punk is a better world champion than Randy Savage was.
Jeremy Lambert: FACT. Only slightly though. It's funny because the reigns of Punk and Savage are a bit similar as both guys have been overshadowed. Punk played second fiddle on a lot of PPVs to John Cena or Brock Lesnar or The Rock or whomever while Savage was always teaming with and being the background player to Hulk Hogan. The biggest difference between the two is the exposure that CM Punk as gotten. Since he's champion in 2012 and not 1988, he's on TV every week and he's a big part of social media. He's also had a number of good PPV matches. Savage wasn't afforded those opportunities. He only got a few PPVs a year, and he was always paired with Hogan on those PPVs. So while maybe Punk didn't go on last, he was still able to steal the show. Savage could never steal the show.
Scott Slimmer: FACT. Randy Savage held the WWE Championship for 371 days, from WrestleMania IV on March 27, 1988 to WrestleMania V on April 2, 1989. Last Monday was CM Punk's 372nd consecutive day as WWE Champion, thus moving him past Randy Savage with the 7th longest WWE title reign of all time. It's interesting to compare Savage's year-long title reign with Punk's year-long title reign, because both men carried the belt while still living in the shadow of another man. Hulk Hogan was clearly the face of the company while Randy Savage was WWE Champion, and John Cena has clearly been the face of the company while CM Punk has been WWE Champion. Thus, in order to evaluate whether CM Punk is a better world champion than Randy Savage was, we have to evaluate which of them has had a more exciting and more prominent title run despite that fact that neither of them was the face of the company. Punk may be living in Cena's shadow, but he's still had the chance to have high profile feuds that did not involve Cena, and he's still had the chance to put on outstanding PPV title matches. Over the course of the last year, Punk has defended the WWE Championship in great PPV matches against Dolph Ziggler, Chris Jericho, Daniel Bryan, and John Cena himself. Punk's title matches weren't always the last match on the card, but more often than not they stole the show. Punk thus stands in stark contrast to Savage, who didn't defend the WWE Championship on PPV a single time between WrestleMania IV and WrestleMania V. Granted, there were far fewer PPVs in Savage's era than in Punk's era, but just look at what Savage did have to endure during his reign. At SummerSlam 1988, Savage and Hulk Hogan faced Ted DiBiase and Andre the Giant. At Survivor Series 1988, Savage and Hulk Hogan led a traditional Survivor Series team against the team led by Akeem and the Big Boss Man. At Royal Rumble 1989, Savage was in the Royal Rumble match and was eliminated by, you guessed it, Hulk Hogan. And then, at WrestleMania V, when Savage was finally given the opportunity to defend the WWE Championship on PPV, he dropped the title to… wait for it… Hulk Hogan. Randy Savage was a tremendously talented professional wrestler, and he is one of the greatest stars of all time. Unfortunately, during his year-long WWE title reign, he was trapped in Hulk Hogan's shadow. Randy Savage truly was just keeping the belt warm for Hogan, and it's a damn shame. CM Punk was at least given the chance to be his own man and defend his WWE Championship, so yes, I have to believe that CM Punk is a better world champion than Randy Savage was.
Score: 3 for 3
4. Mick Foley will never wrestle again.
Jeremy Lambert: FICTION. This is wrestling. You can never say never, especially when it comes to Mick Foley. This is a guy who will do a match against The Coach if it means getting a few laughs and a pop. Would anyone really be shocked if he teamed with Hornswoggle to face Vickie and Ziggler? Hell, would anyone be shocked if he did a match on the Indy circuit if it meant a pay day? I think Foley is a nice guy, but he's also a guy who doesn't have much shame. If he's asked to work a match against anyone in any scenario, he'll do it.
Scott Slimmer: FICTION. As a general rule, the answer to "Professional Wrestler X will never wrestle again" should always be FICTION. History has proven time and time again that it's never safe to bet on professional wrestlers actually staying retired. Superstar Billy Graham wrestled again. Bob Backlund wrestled again. Hulk Hogan wrestled again. Ric Flair wrestled again. And again. And again. The Undertaker will wrestle again. Triple H will wrestle again. Hell, it's even looking like Stone Cold Steve Austin might actually wrestle again. In fact, Shawn Michaels is the only man I would bet on to never wrestle again, and even then it's still a risky bet. And so yes, I absolutely believe that Mick Foley will wrestle again. Even putting aside my aforementioned general rule, I think the way that Foley said goodbye the ring is another powerful indicator that he's got at least one more match in him. Mick didn't retire because he was ready to retire. Mick didn't retire because he'd done all he could ever do in this industry. Mick didn't retire because he was ready for the next chapter of his life to begin. Mick retired because every damn part of his body hurt every damn minute of the day. But time heals all wounds (or so they say), and with time Mick was able to sporadically return to the ring. He had amazing matches with Randy Orton, Edge, and Ric Flair, and I have to believe he's got at least one more match in him. One thing Mick Foley knows better than just about any other wrestler in history is how to tell a good story. The story of Mick's "retirement" in 2000 was a good one, but he's been back so many times since then that you have to put the word in quotes at this point. Mick Foley will want to tell the story of the true end of his career, and now that he's back with WWE, I can almost guarantee that Vince McMahon will give him the chance. I mean, hell, Vince let Kevin Nash wrestle again. In a ladder match. In 2011. Just sayin'. So when the right opportunity comes along, and when he feels healthy enough, and when he finally is ready to say goodbye, Mick Foley will definitely wrestle again.
Score: 4 for 4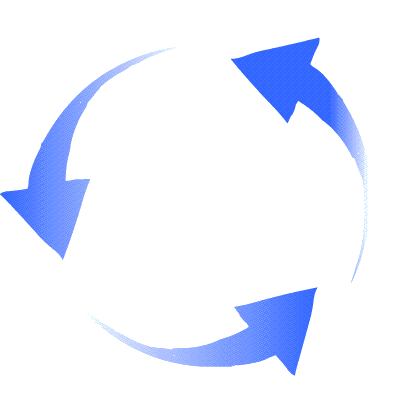 SWITCH!
5. The Ric Flair vs. Shawn Michaels match from WrestleMania 24 is overrated.
Scott Slimmer: FICTION. In case I didn't make that clear enough, FICTION. Last week in The Contentious Ten, Gavin Napier ranked the Ric Flair vs. Shawn Michaels match from WrestleMania 24 as the top Ric Flair match of all time. And he was right. I'll go even farther and say that the match is a true five star classic, although I suppose that much is implied if you're already saying it's Flair's best match. There have been longer matches in wrestling history, and there have been more athletic matches in wrestling history, and hell, Ric Flair was in a lot of those matches as well. But for as much as we may cringe at the term "sports entertainment," the truth is that professional wrestling isn't just about the scripted portrayal of athletic competition. Professional wrestling is about telling stories, and the story that Ric Flair and Shawn Michaels told at WrestleMania 24 was easily one of the most emotionally compelling stories in the history of the industry. Most professional wrestling matches that have a strong emotional component are fuelled by anger, rage, and even hatred. Very rarely do we see the drama of a professional wrestling match driven by love, respect, regret, and sadness. Flair and Michaels created a singular moment in the history of the industry. It was a moment so powerful that not even Flair's eventual return to the ring could diminish the legacy they left that night. Arguably the two greatest professional wrestlers of all time stepped into the ring and told a simple, beautiful, and poignant story of saying goodbye. Flair and Michaels created art that night, and there's nothing overrated about it.
Jeremy Lambert: FICTION. It depends on who is rating it. Do I think it's the best Ric Flair match of all-time? No. But I think the consensus is that it's a good match and would've been a fine ending to the career of Flair. And if that's the consensus, then I think it's rated perfectly. I haven't watched the match in forever, but I remember being impressed with Flair and what he was able to do at that age, but also feeling like is was just a passable match. It wasn't a five star classic, at least in terms of in ring work, but it was a fine match and obviously a very memorable moment with the finish.
I'm sure this statement came on the heels of Gavin Napier ranking this match #1 on his list of Flair's top 10 matches, but I'm fine with that. Shawn Michaels vs. Bret Hart at Wrestlemania 12 is my favorite match of all-time and people think that's overrated. So maybe everything with Shawn Michaels is just overrated.
Score: 5 for 5
6. You would attend an independent wrestling show to see Ken Shamrock.
Scott Slimmer: FACT. I was about to answer FICTION, I really was. Hell, I even had it typed at one point. Because going to an independent wrestling show to see a retired MMA fighter make a buck just seems sad and a little pathetic. But then I remembered that I actually did once attend an independent wrestling show. To see Jake Roberts. In 2008. So yeah, I really have no moral high ground here, and the truth is that I would totally go to an indy show to see Ken Shamrock. Judge me if you want. I'm just being honest.
Jeremy Lambert: FICTION. I'm not Alex Rella.
Score: 5 for 6
7. The first season of Girl Meets World will feature at least one guest appearance by a pro wrestler.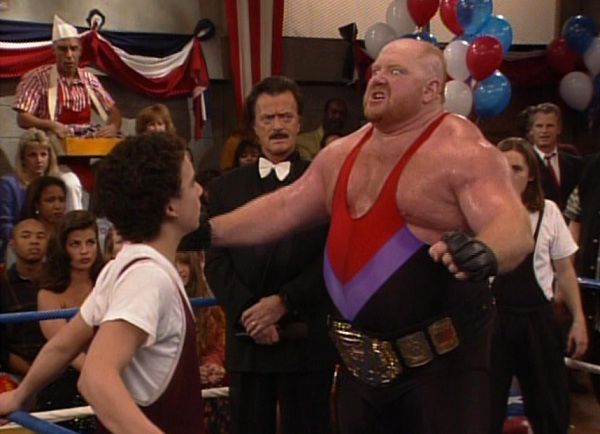 Scott Slimmer: FICTION. Unrest in the Middle East. Fiscal uncertainty in Europe. A presidential election in the United States. The Olympics. Gangnam Style. Star Wars Episode VII. 2012 has been filled with huge news stories that generated tremendous buzz on social media, but in recent weeks those stories have all been eclipsed by the historic news that the most beloved television show of all time, Boy Meets World, will return to the airwaves in an updated form as Girl Meets World. The repercussions of this cataclysmic news have been felt all throughout the entertainment industry, and nowhere is that more true than in the world of sports entertainment. It's no secret that many sports entertainers would like to make the transition to acting, so it shouldn't be surprising that several prominent sports entertainers have recently been in talks to make a guest appearance on what will undoubtedly be the most culturally relevant television show of this generation. Unfortunately, at this point it appears that sports entertainment's attempts to penetrate the Topangaverse have been blue-balled at every turn. Stone Cold Steve Austin, Mick Foley, and Terry Funk all read for the role of Mr. Feeny, but they were disappointed to learn that producers were only conducting the casting sessions in order to give themselves leverage in their ongoing negotiations with the original Mr. Feeny, William Daniels. Santina Marella was interested in the lead role of Cory and Topanga's daughter, but unfortunately she failed the pre-casting physical. Brodus Clay was in preliminary talks for the titular role of World, but producers have since learned that the actual planet Earth is available and will work for scale. Finally, Chyna sent several exploratory texts to an assistant director, but she was disappointed to learn that the show will be titled Girl Meets World, not Girl Meats World.
Jeremy Lambert: FACT. At least I hope so. Anyone who watched Boy Meets World knows that Vader was a pretty big guest star as the father of Frankie. It would be awesome if Vader came back for a cameo, but I'm not holding my breath. However, we know that Cory is a big wrestling fan and that he and Topanga shared a sweet 16 dance in the middle of the ring. Why can't Cory take his daughter to her first pro wrestling show? That's a whole episode right there. WWE has guys with that crossover appeal who could easily make a cameo. Obviously John Cena immediately comes to mind but there's also The Big Show, The Miz, Sheamus, Ziggler, etc…. One episode guys, that's all I'm asking. And if you don't give us one wrestling episode, Steve Cook and I will bury your show on a future Man Cave Podcast.
Score: 5 for 7
8. The Montreal Screwjob was a work.
Scott Slimmer: FICTION. The question of whether or not the Montreal Screwjob was a work has been debated for more than fifteen years, and despite WWE's recent attempts to finally close the door on that chapter of its history, it seems like this debate will always continue in one form or another. Given all of the misunderstanding, misinformation, and blatant lies that have surrounded the Montreal Screwjob, the first question we have to ask is what it would even mean to say that it was all a work. I my mind, the only way that the Montreal Screwjob could truly and completely be considered a work is if Bret Hart was in on the plan and knew what was going to happen. No matter who else did or did not know about the plan – Vince McMahon, Jerry Brisco, Shawn Michaels, Triple H, Earl Hebner, whoever – the situation would still have to be considered a shoot if Bret Hart didn't know how his final WWE title reign was going to end that fateful night. Last week in Shining a Spotlight, Michael Weyer argued that the Montreal Screwjob was in fact a work. Michael made a number of very good points, but at the end of the day I still personally believe that Bret Hart wasn't in on the plan. Bret's a smart guy, and he'd been around the business long enough that he almost certainly had fears about the many ways that the night could end, but at this point I simply haven't seen enough evidence to convince me that he was working with Vince McMahon and Shawn Michaels to set up an incredibly elaborate long-term storyline. My gut still says that conspiracy theories continue to surround the Montreal Screwjob because we will always be fascinated, intrigued, and even obsessed with the events that shape our lives. There are conspiracy theories about the Kennedy Assassination. There are conspiracy theories about the moon landing. And while the Montreal Screwjob may not stand alongside those historic events in terms of importance to the world as a whole, it certainly stands as one of the most important events in professional wrestling history. For many of us who grew up in the Rock 'N'Wrestling Era and the New Generation Era, the Montreal Screwjob represented a defining paradigm shift in the way we viewed the industry. For many of us, it was the first time we truly questioned what the hell we just saw. It drove us to scour the young internet for news and gossip and theories and even more speculation. It transformed a generation of marks into a generation of smarts. For better or worse, the Montreal Screwjob defined how an entire generation of fans would view professional wrestling. And so if the whole thing did end up being a work all along, then does that mean that our love of the industry was predicated on a lie? And would that even matter when the industry itself is built on the foundation of lying to the paying customer about the nature of the entertainment being presented to them? If for no other reason than to preserve my sanity and my fandom, I'm going to choose to believe that the Montreal Screwjob actually was a shoot. At least for me and Bret Hart.
Jeremy Lambert: FICTION. What a loaded and random question this is. I'm not even going to dignify this with an actual response, I'm just going to bury Steve Cook for bringing this up. Who do you think you are Cook, Vince McMahon? How old is the Montreal Screwjob? It happened in 1997. That's 15 years ago. Move on. How would you like it if I brought up the girl who broke your heart 15 years ago Cook? That would make me look like a dick who can't let go of the past and just wants to rub it in even though you've hopefully moved on and I'm sure she's moved on. Everyone has moved on from this. Shawn Michaels and Bret Hart are friends now. Bret Hart and Vince McMahon no longer hate each other. What is your angle here, Cook? WHO ARE YOU WORKING FOR?!?!?!
Final Score: 6 for 8
I'm working for 411wrestling.com as an independent blogger, Jeremy. Anywho, lots of good times here. Thanks so much to Scott & Jeremy for participating. Let us know what you think about their answers & these topics down in the comment section, and we'll be back next week with more Fact or Fiction!
Remember to go to TigerFlashGames.com and play addictive, free flash games when you're bored at work, school, or whenever!
NULL