411 Fact or Fiction 12.13.12: Rock Loves Punk, Slammys, Generico, More
December 13, 2012 | Posted by
Hi, hello & welcome to 411 Fact or Fiction! I'm Steve Cook, and the wrestling year is nearing its conclusion. WWE is heading towards their TLC event on Sunday, though that seems secondary to stuff like the Royal Rumble & the Slammy Awards coming up in 2013. TNA had their final PPV event of 2012 on Sunday, and Jeff Hardy remains your TNA champion. Some people are excited, others not so much. Lanny Poffo is still insisting that he & Angelo Poffo have to go into the WWE Hall of Fame with "Macho Man" Randy Savage. The Rock claimed on Twitter that he & CM Punk love each other. Gavin Napier called the Brawl For All the worst idea in WWE history. ROH is heading towards their Final Battle iPPV this weekend, featuring Kevin Steen taking on the man he referred to in his Smart Mark Video shoot interview as the best wrestler in the world, El Generico
(By the way, if you're an indy wrestling type of person you should get the Steen set. Fun wrestling and the dude has a pretty good head on his shoulders.)
I've invited two of 411's latest & greatest wrestling news reporters to discuss these topics. Introducing first, the man that brings you fantastic sports entertainment news every Thursday…Sean Kelly!
His opponent co-writes the always intriguing Wrestling 5 & 1 every Saturday…Tony Acero!
Questions were sent out Monday.
Participants were told to expect wrestling-related questions.

1. You're interested in this Sunday's TLC PPV.
Sean Kelly: FACT. Only because I will be taking my daughter, Awesome Ladybug Girl, to her first live WWE event at the TLC pay-per-view. I have to admit that the main event switch is disappointing, but the card is pretty decent and there are a lot of potential possibilities as far as cashing in the Money in the Bank briefcase is concerned. All we can hope for are some top notch matches and some intriguing angle advances in the build to WrestleMania, and the PPV will be worth it. I know I will enjoy TLC since I'll be there with my kid, but if I wasn't going to the event the answer to this question would probably be FICTION. While we're on the subject, any other 411mania readers attending TLC?
Tony Acero: FACT. But to be fair I am interested in every WWE PPV. It's in my blood, I suppose. Would I pay to watch it? No, I won't be doing that. I'll most likely head over to the local bowling alley and catch it there for $10 and a free drink. As for the card, I think it's been built well, and will be a good show wrestling wise. I am interested (and frightened) of what could possibly happen in the Dolph and Cena match. If Cena wins, I'll have an entire column's worth of venting. I'm also infinitely more interested in the three-on-three match than I would be with Punk and Ryback going one-on-one. Sure, some of the card was just built this past Monday, but the potential for good wrestling is still there, and that's enough "interest" for me to hold onto.
Score: 1 for 1
2. WWE needs to stop holding The Slammy Awards.
Sean Kelly: FICTION. The Slammys are something different that can be used to create or advance interesting storylines. What's the alternative? Watch another average episode of RAW? Every entertainment industry has year-end awards to recognize achievements in their respective fields: TV has the Emmys, Film has the Oscars, Music has the Grammys, and Wrestling has the Slammys. As silly and contrived as the whole thing is, it capitalizes on the retrospective mood that the world feels at year's end. So I say keep holding the Slammy Awards, WWE, or you tarnish the legacy of Owen Hart!
Tony Acero: FICTION. I haven't really cared about The Slammy Awards since facial hair, but they are a tool to use for writing, and typically are more of a booking crutch then anything. With that being said, there's nothing wrong with that on a week just before the Rumble. I don't always agree with the direction of the writing crew, but there is such a thing as burn out, so if they want a week to have a little fun, I don't have an issue with it. The Slammy's usually see some older wrestlers come back, and that's always fun. It's also yet another attribute a wrestler can list (ala The Miz), that holds some sort of validity…right?
Score: 2 for 2
3. WWE should induct Lanny & Angelo Poffo along with Randy Savage into their Hall of Fame.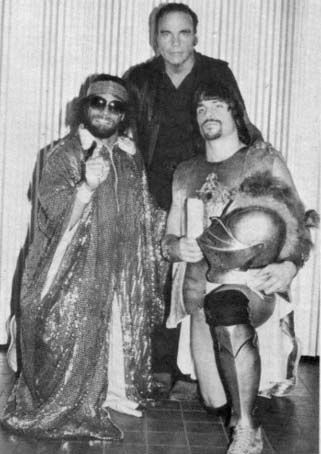 Sean Kelly: FICTION. I don't believe the Genius for one second that Randy's wish was to get the whole family inducted together. This smells like a desperate attempt to stay relevant by Leaping Lanny. Even if he is telling the truth, just because Savage MAY have wanted it that way doesn't mean the WWE is obligated to induct the whole family. Randy's career stands on its own, and he deserves recognition for his achievements as an individual. Given my pessimism toward Lanny's claims and Randy's outstanding achievements as an individual, this is a big FICTION for me.
Tony Acero: FICTION. Well, not exactly fiction. I mean, I think they do deserve to be in the Hall of Fame, but not at the same time that Savage does. That should be an event on its own. We also have to ask ourselves how important being in the WWE Hall of Fame really is. The answer is that it isn't all that important and is all purely a spectacle. if we are to treat it as something important, however, then I stand by my position that if Randy Savage is going to be inducted, it may be for the best to do it for him solely.
Score: 3 for 3
4. You believe @TheRock when he says "I love Phillip & he loves me."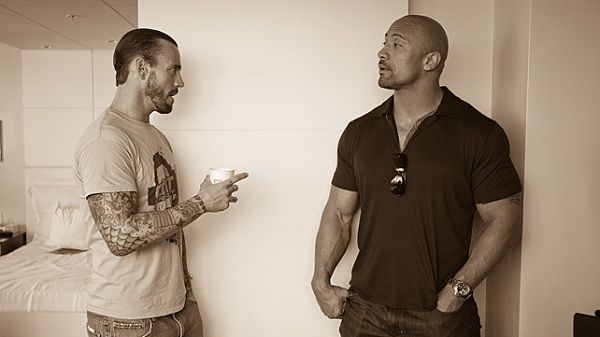 Sean Kelly: FACT. Why would they hate each other? I'm sure some of Punk's on-screen bitterness toward the Rock is rooted in truth, but my bet is that any bitterness is greatly overshadowed by a sense of mutual respect. After all, they are both pros and only want to tell great stories in the ring (and make oodles of cash doing so). To tell those great stories, their on-screen characters need to HATE each other. But backstage? I'm sure they're cordial at worst, friendly at best. Being WWE Champion is an exclusive club, and only those who've held the title know the challenges that come with doing so. That shared experience plus the fact that both men love wrestling gives me the sense that in real life, both men "love" each other.
Tony Acero: FACT. I truly don't think there's any ill-will between the two men. They both have egos, sure, but they are also both entertainers. They know exactly what they are doing, and they are doing it well. I will say that I think CM Punk speaks a layer of truth when dissing "Dwayne" for the past year, but at the end of the day I think they both get along and both know how great a feud between the two can be. They're simply playing the parts, and doing it well.
Score: 4 for 4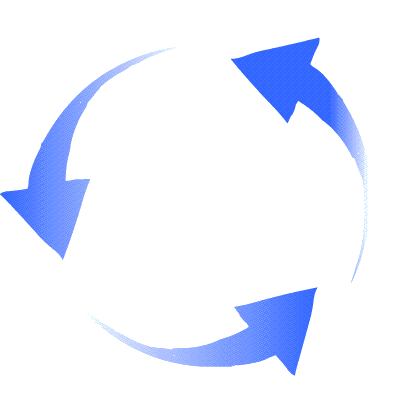 SWITCH!
5. The Brawl For All was the worst idea that WWE ever had.
Tony Acero: FICTION. I can't readily say that when there are far worse ideas out there, such as the XFL (on a grander scale) and Katie Vick (on a slightly smaller scale). These are only two examples of many things the WWE has done in its existence that trumps a nice little Brawl 4 All that – although wasn't all that entertaining – still had a place in the time it was pdone. It didn't end well, but the idea may have been a far better one then, than it is now.
Sean Kelly: FICTION. It was good in concept, but bad in execution. I'd say that the Gobbledy Gooker, Katie Vick, Mae Young's pregnancy, HBK & God as a tag team, Mike Adamle as GM, etc. are far worse ideas both in theory and in execution. With the Brawl 4 All, there was a chance to add some legitimacy to the wrestling world. In fact, the Brawl 4 All was ahead of its time as MMA hadn't yet broken through to a mainstream audience. If the combatants had delivered a series of exciting, hard-hitting, crowd pleasing matches, McMahon could have spun off the Brawl 4 All division into its own promotion. But alas, numerous injuries and unexpected outcomes (think Butterbean nearly killing Bart Gunn in a few seconds) derailed whatever potential the Brawl 4 All had. But worst idea ever? Hardly.
Score: 5 for 5
6. You've been interested in Jeff Hardy's TNA title reign.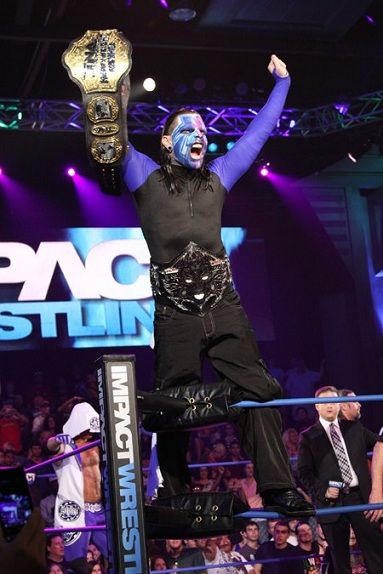 Tony Acero: FICTION. I'm really not interested in anything Jeff Hardy does in TNA. For whatever reason, I feel like what he has acheived since his return is both unwarranted and a bit unfair. I'm not on any sort of high horse, or anything, and he is still pretty entertaining in the ring, but I can't get over the fact that there were – and still are – more viable choices for the champion. In all reality, I haven't fully caught up to date with TNA (almost there), but from where I am now, it seemed forced and unnatural for Jeff to get the opportunity that he did.
Sean Kelly: FACT? I dunno. I don't watch much TNA. It's nice to see Jeff Hardy in the main event, and I'm just glad he's not in jail (or worse). He's had the title, what, two months now? So far it seems he's put on some good matches against respectable opponents, so…yeah. Fact. Look, me answering TNA questions is like choosing between Lita & Lilian Garcia in a Hot Body/Weird Face contest. It can't be done!
Score: 5 for 6
7. Kevin Steen will retain his ROH Championship at Final Battle 2012.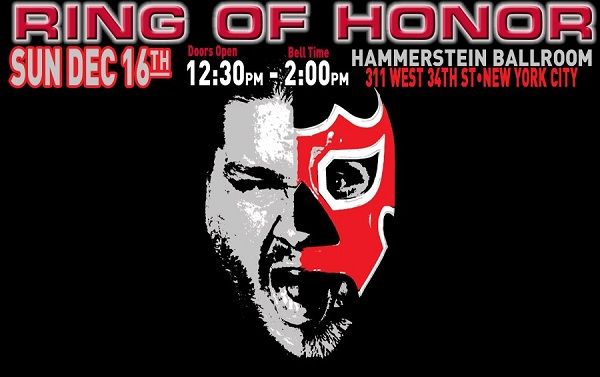 Tony Acero: FACT. I just saw Kevin Steen and El Generico for the first time ever, a couple of weekends ago, and I was thoroughly impressed by both. I have not been able to catch all of their interactions, but I hear it is a feud to behold, and one that will very likely blow me away. I know next to nothing about ROH, but I am going off of who impressed me more at PWG to answer this question, and that answer is Steen. While Generico showed me why he has a strong fanbase by being a solid in-ring performer as well as a man who has a firm grasp on his character, Steen just seemed vicious and I latched onto him rather quickly as a character. Again, I don't know what their current storyline is, or long he has held the title, but I expect the match to be solid and am actually pretty interested in it.
Sean Kelly: FACT. I may not watch much TNA, but I don't watch any ROH. Most of the time, the champion retains, right? So I'll go with the odds and say FACT on this one. Jesus, Cook. You know I don't watch this stuff. These ROH questions are rougher than Dolph Ziggler in the bedroom.
Score: 01234567 for 7
8. El Generico is the best wrestler in the world.
Tony Acero: FICTION. I have only seen the man in one match, and although it was a solid affair, it was simply not enough for me to give him this accolade. Sure, my opinion may not mean much anyways, but for me to label someone the best in the world isn't something that I could just throw out there all willy nilly. To be honest, I don't know that I could name anyone right now. Sure, I have my favorite in Eddie Guerrero, but he's dead so does that even count? At any rate, let me not make this seem like I don't respect El Generico, because like I said, I have only seen him in one match. During that one match, though, he was a solid performer and both he and Steen made me interested independently enough to want to see them battle it out at Final Battle. No easy feat, for an indy-newb like myself.
Sean Kelly: FICTION. Everyone knows that CM Punk is the best in the world! Nah, just kidding. The best wrestler in the world is…(drumroll please)…JACOB STEPHEN VARNER! Your 2012 Olympic Gold Medalist in Men's 96 kg freestyle wrestling. I picked him because he's an American gold medalist in wrestling. See what I did there? I didn't answer the question because I don't know anything about El Generico. Hey, at least I'm honest about being a WWE mark.
Final Score: 7 for 8
Tony & Sean agreed on everything except Jeff Hardy. What is it about Hardys that make ordinarily agreeable folks turn against each other? Seems to be a trend in my life. Anywho, thanks to Mr. Acero & Mr. Kelly for participating, and I invite you all to comment on these topics down in the comment section. See ya next week for more Fact or Fiction!
Remember to go to TigerFlashGames.com and play addictive, free flash games when you're bored at work, school, or whenever!
NULL