411 Fact or Fiction Wrestling: Will The Hardys Be In WWE By The End of 2017?
March 11, 2017 | Posted by
Welcome back to the latest edition of 411 Fact or Fiction, Wrestling Edition! Stuff happened, people loved/hated it and let everyone else know. I pick through the interesting/not so interesting tidbits and then make 411 staff members discuss them for your pleasure. Battling this week are 411's Len Archibald and Wyatt Beougher!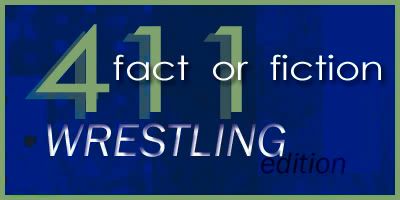 Questions were sent out Monday.
Participants were told to expect wrestling-related content, as well as possible statements on quantum physics, homemade pharmaceuticals, the Turtle Total Trip Theorem, pizza and hydroponics.
1. You would rather see Braun Strowman vs. Undertaker at WrestleMania over Roman Reigns vs. Undertaker at WrestleMania.
Len Archibald: FICTION – As much as I am a fan of BRAUN and his ability to adapt as he faces more high-profile opponents, Reigns vs Taker is the best option if we are not getting Taker vs Cena. WrestleMania is about pomp, circumstance (DIG IT!) and atmosphere. Reigns finds himself in the same spot Cena was in early 2006 booked as the #1 babyface but treated as the #1 heel at the same time. There will be few that will cheer for The Roman Empire, but many will boo his ass out of SunLife Stadium. If Reigns and Taker work a smartly planned match, this could reach Rock/Hogan levels of insanity when it comes to fan participation. The question is who will work the match as the heel and if Reigns can be trusted to call an audible if the crowd reaction becomes too much to overcome. I expect him to walk out the victor to hammer home the notion that WWE is now his "yard". If he keeps up his progress, BRAUN's time will come…just not yet.
Wyatt Beougher: FICTION – Initially, I went with FACT here, because giving Reigns a win over the Undertaker isn't going to magically get him over like WWE wants him to be over (especially after beating Daniel Bryan in 2015 and Triple H in 2016 didn't), and Strowman getting a win over Undertaker at WrestleMania would go a long way towards establishing him as WWE's new monster for the next decade. That said, my rational brain won out and I went FICTION because after that match with Big Show a couple of RAWs ago, I feel like Strowman would be wasted in a match with the Undertaker, who hasn't had a good match since WrestleMania 29 (at least one that didn't involve him getting ragdolled by Brock Lesnar to cover his present deficiencies in the ring). Think back to a random RAW between Elimination Chamber 2014 and WrestleMania, when Bray Wyatt couldn't carry Roman Reigns to a good singles match, which was (allegedly) the reason the finish of Wyatt's WrestleMania match against John Cena was changed to Cena going over, even though Wyatt had just had a fantastic match with Daniel Bryan at Royal Rumble. If that rumor is true, and I have no reason to believe that it isn't, then Reigns has been bulletproof for at least three years, so if someone is going to have a poorly received match with the Undertaker at WrestleMania, which is certainly a possibility, I'd prefer it be a guy whose future isn't going to be negatively affected by it. As for Braun, he can either end up in the Andre the Giant battle royal, where a win would be a logical next step for his character's progression, or if they end up doing some kind of multi-man ladder match (Money in the Bank or otherwise), it could end up being a showcase for his destructive potential.
2. While the Hardys have "signed' with ROH, they will be back in WWE by the end on 2017.
Len Archibald: FACT – Matt and Jeff (especially Matt) can't continue to tweet out challenges to WWE tag teams without paying off. The Hardys had become one of the most over acts in wrestling (not talking mainstream appeal, just the bubble of the wrestling world) and it is pretty obvious the brass in WWE has taken notice. I expect them to be around for SummerSlam – and, yes, I believe it will be the current Broken iteration of the team that will appear. WWE has been more lenient on letting stars be who they are that caused them to get noticed in the first place and the Hardys are still big enough names that they can cause waves in WWE's floundering tag division.
Wyatt Beougher: FACT – Matt Hardy is forty-two years old, and while he's experiencing arguably the most successful period of his career right now, he is almost certainly closer to the end of his career than the beginning. And that's doubly true for Jeff, who, in spite of being three years younger than his Broken brother, has taken far more physical punishment between insane spots and a wilder life outside of the ring. While it's wonderful that they are receiving the reception that they are right now and enjoying the freedom to branch out and leave their mark on some independent promotions, RoH foremost among them, I can't help but think that they would like to have a final run with the company that gave them their big break, and from all indications, WWE is certainly interested in making that happen. Plus, we've gotten conflicting reports about the lengths of their Ring of Honor contracts, so I don't think it's too crazy to assume that even if we don't see the Broken Hardys at WrestleMania, they'll make their triumphant return to WWE at some point before the ball drops on 2017. With it looking like we might get multi-team matches for both the NXT and RAW tag team championships over WrestleMania weekend, it would certainly be a delight to see the Hardys sweep in and win both sets of titles to continue their storyline of deleting other teams' runs with the gold, but even if that doesn't happen, a return at Summerslam could provide one of the big moments that WWE is going to need for its second-biggest show of the year. There are a ton of possibilities for how to work the Hardys back into WWE, and both sides stand to make good money together, so I would be surprised if this turns out to be FICTION.

3. The Raw women's title match at WrestleMania should be Sasha Banks vs. Bayley.
Len Archibald: FICTION – Do I *want* the title match to be a 1-on-1 affair between Bayley and Sasha Banks? Yes. But that really isn't the question. I am still of the belief that if you carried the load and performed at a high level, you deserve a spot, and in all fairness, Charlotte's performances over the past year has given what I feel is the right to be in the Raw women's title match. The division has been built around her, she has more than exceeded expectations and the story of her losing in a triple threat – the same style of match she won a year ago – bookends the perfect story for her. Nia Jax is serviceable, but just is not on the level yet to be seen as a believable threat or draw as a contender and a feud between her and Charlotte would be more of a demotion than anything else. Keep the triple threat and give them an opportunity to steal the show again like the women's title match did last year.
Wyatt Beougher: FICTION – I would love to see Sasha Banks vs Bayley as the women's match at WrestleMania; however, like so much of what WWE has done since the start of the Women's Revolution, they just haven't earned it yet. And when I say "they", I don't mean Sasha and Bayley, who have more than earned that match and the WrestleMania moment that it would provide them. No, I'm referring to WWE Creative, who haven't yet put in the work to get the reactions that Bayley and the Boss got during their matches in NXT. I honestly don't think Bayley should have won the title yet, as it lacked all of the triumph of her win in Now with that in mind, I'm perfectly fine with the RAW Women's Championship match at WrestleMania being a four-way match between Bayley, Sasha, Charlotte, and Nia Jax, as it was a four-way match in NXT that really catapulted that women's division to the forefront. I'm not confident that the RAW creative team will be able to recapture the magic of the NXT women's division, especially when the most underrated member of the Four Horsewomen is on Smackdown (seriously, go back and re-watch that era of NXT – Becky was secretly the best part of those multi-woman matches and enjoyed the most character development of any of the Horsewomen). But I would still rather they at least try to give their women's division a real build so that when Sasha and Bayley do get their WrestleMania moment, it actually feels like one, instead of WWE just telling us that it is (hi, Roman!).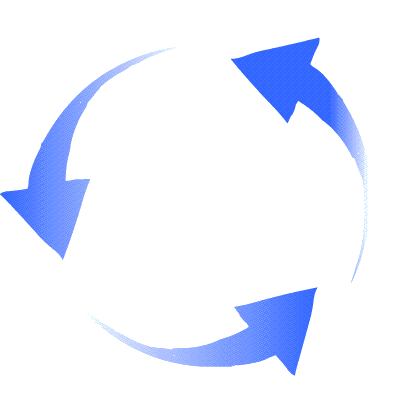 SWITCH!
4. Alberto El Patron is a great signing for TNA.
Wyatt Beougher: FACT – This was a tough one, as I don't trust Alberto El Patron not to get dissatisfied with TNA and burn yet another bridge in the wrestling business, but if you look at it like an NBA team trading for a veteran whose contract is about to expire to give the team a boost and bolster their playoff chances, then sure, I think this one is a FACT. As they embark on their eleventeenth reboot in the past handful of years, TNA needs a well-recognized star to generate some press and attempt to get some eyes back on the company, and the former Alberto Del Rio fits that bill. I'm not sure if he'll be able to recapture the magic that he brought to the first season of Lucha Underground, but El Patron is still wrestling royalty in Mexico, he's still a capable performer in the ring, and, if TNA allows him to be himself, he's got more than enough charisma to keep fans tuning in. I'm still amazed that WWE, who have been searching for a Mexican star to draw in more Latinx fans for what feels like forever, managed to whiff so badly on Del Rio/El Patron not once, but twice. But yes, I absolutely think that as a short-term investment, El Patron is an excellent signing for TNA, although I hope they're smart enough not to put too many eggs in that particularly basket.
Len Archibald: FICTION – I like El Patron better than Del Rio. When he uses the Patron moniker, Alberto seems rejuvenated and has the fire he lacked in WWE (esp. his last run.) Now comes the caveat: TNA…or Impact…or Anthem is looking to make some of the same mistakes they did in the past – relying on WWE stars to build credibility with their fan base and give the impression that they are on WWE's level. Not that I think they are outright trying to do so, but perception is reality and I don't believe El Patron will be worth the dump truck of cash they offered. The company needs to keep their focus on Lashley, EC3, Edwards, Magnus and Matt Morgan to forge their own identity. Let the released WWE stars have their podcasts, restaurants, indie dates and leave the wrestling to the homegrown TNA talent***. ***I realize there may be some hypocrisy as I mention the Hardys would be a good fit for WWE's tag division. I feel the difference is the Hardys, for the most part, are still identified as WWE talent to the casual fan and that is where they can help to move the needle a little bit.
5. You have no interest in checking out Bully Ray in Ring of Honor.
Wyatt Beougher: FICTION – …with a caveat. I'm interested in seeing what Bully Ray can bring to the table in Ring of Honor, so long as they don't take the most obvious route and run him against the Hardys. Fortunately, with D-Von under contract as an agent with WWE, I think it'll at least make RoH think twice about pursuing that angle, which should give us some fresh matchups for Bully Ray. Honestly, I'm curious to see if he can recapture the old ECW magic or at least the better parts of his TNA run. I'm not exactly beating down any doors to watch Bully Ray in Ring in Honor, but I am interested enough to call this one FICTION.
Len Archibald: FICTION – Are you kidding? I am for Bully Ray anywhere and I am still miffed WWE missed out on what would have been a heat magnet if they allowed him to be the Bully character he perfected in TNA. Let Ray run roughshod over the ROH talent, curse and spit at the fans and do his part to cause near riots. It is rare to see a fully-fledged heel in this day of internet memes and fantasy booking. Ray and The Miz right now are the rare breed that are baddies and are treated such by the fan base. I believe Bully Ray is a steal for ROH and if they play their hand right, they might have something special.
6. What is your excitement level for WrestleMania 33?
Wyatt Beougher: 5 out of 10 – I started at a ten, then subtracted two points because Goldberg is the Universal champion and the main event of the show is a match between a forty-something part-timer and a fifty-something part-timer, then another point because instead of giving us AJ and/or Luke Harper in the WWE Championship match, they rushed Orton's turn and gave us the most boring possible match. Then I subtracted another point because Undertaker and Shane McMahon are again going to be in high profile matches, and the final point was taken away because AJ Styles, arguably the best wrestler in the world and easily the best wrestler on the WWE main roster, is going to be wasted in a match with Shane McMahon. There's a pretty good chance WWE is going to do more to make me disinterested in this show, but unless Bray Wyatt loses the WWE championship between now and WrestleMania, there is no way my interest level won't be AT LEAST a five. After all, there's a solid chance this will be the only WrestleMania that I'll ever be able to see him go in as a world champion, so I have to enjoy that while I can. If they can find a way to work Harper back into the WWE Championship match, If they can find a way to work Harper back into the WWE Championship match, they do something meaningful with American Alpha and also the RAW tag division, and the cruiserweights actually get a chance to showcase their abilities, then my interest could still go up, but for now, I think a five is probably giving WWE too much benefit of the doubt.
Len Archibald: 10 out of 10 – I am a wrestling fanatic and addict. I will get pizza and wings, have some friends over and we will either be awed by a lackluster build that will put together a great show (like WM 31) or it will be a dumpster fire and we will MST3K the show like we did during WM 29. Either way, I will have a blast just watching the spectacle. Because I am an addict. Now, about those questions about quantum physics and the Turtle Total Trip Theorem…Larry, I want my pizza!