411 Interviews: Tim Donst of Chikara and Absolute Intense Wrestling
May 28, 2012 | Posted by
Tim Donst is a very successful member of the Chikara roster, who will be competing on Chikara's second iPPV, Chikarasaurus Rex, in a Hair vs. Mask match against Hallowicked. This iPPV will take place on June 2nd. You can read the full card and buy tickets for this event at the Chikara Events Page. You can pre-order this iPPV at GoFightLive.TV.
TJ Hawke: At the upcoming CHIKARA iPPV, "Chikarasaurus Rex," you will be having a Hair vs. Mask match with Hallowicked. For any casual fans out there, can you explain what your problem with Hallowicked is? What do you expect to find if you unmask Hallowicked?
Tim Donst: The idea of it is rather simple really. We're both former Young Lions Cup holders and each considers ourselves better than the other. It starts to get a little complicated when you throw in the destruction of my scrapbook, the switching of trophies and of course a brawl in a furniture store which ended with my arrest.
See that very brawl right here!

TJ: At the last CHIKARA iPPV, we saw you and Ares lose another Luchas de Apuestas that involved Hallowicked. Ares took the pinfall in that match, and it seemed like the BDK was finished as a result. However, you and Jakob Hammermeier have remained together in 2012. Jakob has been pinned or submitted in several of the matches that you two have tagged together in so far this year. Have you been taking any steps to make Jakob better? Is it possible that you will stop teaming with Jakob if he can't turn things around?
TD: You know how I got better? I lost. You have to lose if you're gonna be a winner, so Jakob is doing just fine. And if he isn't who cares? I got the biggest match of my career coming up on June 2nd. I'm a singles guy through and through, and I'm prepared to prove it to Jakob and the world.
Note from the Author: Watch Tim Donst & Jakob Hammermeier vs. Shane Matthews & Scott Parker from January 2012
TJ: Our readers may think of you as a wrestler first, but you also have a flourishing singing career. Your first single, "Who is the Man?" reached number 1 on Billboard top 100 according to Wikipedia. Has it been difficult to simultaneously have careers as a singer and as a wrestler? How can people purchase your first CD?
TD: Wikipedia is a VERY serious and prestigious journal so the idea that they would ever cover my career really makes me feel great. Who knew that all that cardio and yelling at my opponents would make my vocal chords sound like a tag team of Justin Bieber and Taylor Hanson? It's very difficult to perform,play,sing,wrestle,edit. But I live to work and feel wierd when Im not going anything. My CD "Old Memories of a Young Lion" is currently only being sold at whatever show I happen to wrestle on but it will be available on my new website soon!
Check out Donst's first hit song!

TJ: In late 2010, your work in CHIKARA lead to you getting a tour in Japan for Osaka Pro. What was that experience like? Do you have a match or a moment that you are most proud of from your time there?
TD: The experience was great. It's a different style there, and I felt like I put on some killer matches. More importantly being able to hold my own in another country where the language isn't English was a great confidence booster and helped my skills once I got back to the states. I really enjoyed my match with Ultimo Spider Jr. who you may recall from our 2011 King of Trios event but I'd be lying if I said dancing to "Party in the USA" on Halloween night in a club wasn't a highlight as well.
TJ: While you are probably best known for your time in CHIKARA, you also compete in many other promotions like Absolute Intense Wrestling. At AIW's big summer show, Absolution, you will cash in your Absolute Title shot in a triple threat match versus Johnny Gargano and the current Absolute Champion, Eric Ryan. What are your thoughts on that main event? What is it like to work for AIW in general?
TD: With all these "contracts" in wrestling, it's harder than ever for promotions to mix talent pools. AIW is the exception of that and really has become the melting pot of the indies in my mind. You have Gargano who though competes for CHIKARA, but he is primarily known for his DGUSA stuff, Eric Ryan who is a homegrown talent representing AIW's growth over the past few years and of course myself, the greatest Young Lions Cup Champion in CHIKARA's history in one ring for one title. AIW is a really fun atmosphere in general. How can it not be when there fanfest includes fans entering a ring and cutting promos on each other AND a contest which saw a fan win an awkward date with a diva that we get to watch!.
TJ: For this section of the interview, I was hoping that you could share your thoughts on some of your most prominent matches:
Tim Donst vs. Eddie Kingston from CHIKARA's Showdown in Crisisland 2007
TD: It hurt like hell and I'm proud people still remember it to this day. It helped make me a name but also gave me a big tag as a "punching bag" which took years and years to get away from so I can be the legit puncher instead.
Tim Donst vs. Zack Sabre Jr. from HWA's Heartland Cup 2011
TD: Really fun match. I've yet to see it!
Tim Donst vs. Mad Man Pondo from AIW's Todd Pettengill Invitational 2011
TD: I haven't had many run ins with hardcore matches so I think this got to showcase a different skill set not often seen by me. Many people said it was their favorite match of the weekend which is great because there were about 10,000,000 matches. But I'm glad I got to do it with one of the true hardcore legends in wrestling.
Tim Donst vs. El Generico CHIKARA's Green Ice 2012
TD: Getting to beat a Canadian wrestling icon like Generico in his home country was amazing. But it didn't choke ME up (pun intended).
Tim Donst vs. Brian Kendrick from AIW's JT Lightening Invitational 2012
TD: Amazing. The first indy match I ever watched was at my trainer, Chris Hero's house. It featured TWA's Danielson vs. Kendrick. Not only did it leave a lasting impression on what I could strive to be but it also made me believe I could make this a career when Kendrick was the first "indy" guy I recognized prior to his debut on WWE TV. You could imagine how nerve racking it could be to meet, let alone work with someone you looked up to since you were 16 years old. Luckily, we got along super great and it really made me even a bigger fan of his work.
TJ: Thank you so much Tim for taking the time to do the interview. Is there anything you want to plug, while you are here?
TD: Make sure you check out ChikaraPro.com and our IPPV June 2nd so you can be the first to answer the question, WHO IS UGLIER: JIGSAW OR HALLOWICKEDDDDDDDDDDDDD?
You can find info about everything going on with CHIKARA at the CHIKARA Youtube page , by following their Twitter and liking them on Facebook.
Chikara DVDs and MP4s can be picked up at SmartMarkVideo.com . You can stream Chikara shows from the last three years at SMVOD.com
411's Kevin Ford also has two great Chikara resources that you should check out: The Chikara Special Blog and a Chikara Tumblr.
Watch Tim Donst vs. Mike Quackenbush from Chikara 2007. Watch some other free Chikara matches.
For more information on Absolute Intense Wrestling, check out their:
Website
Facebook
Twitter
DVD Selection at Smart Mark Video
Check out some free AIW matches.
Trailer for the iPPV!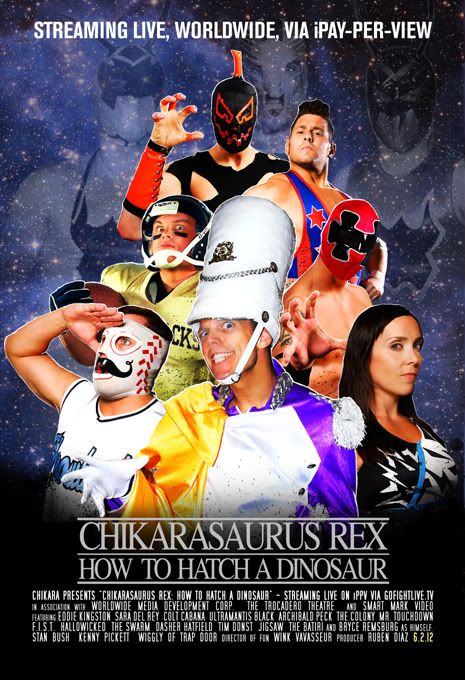 Thanks everybody for reading! You can send feedback to Twitter or at my email address: [email protected]
PLUGS!
My Favorite Matches in 2012 So Far
I am now the editor of a brand new wrestling website, FreeProWrestling.com . What is this site, you ask? It's a website that posts a free wrestling match every single weekday. All matches are legally provided by the promotions that originally put them on. Occasionally, we are lucky enough to have the wrestlers of the matches exclusively discuss the matches retrospectively. So far, we've been lucky to have thoughts from Eddie Kingston , Prince Devitt , Sugar Dunkerton , AR Fox , and more! If you like wrestling and you hate spending money, I think you will enjoy it!
Be sure to check out some of my past 411 Interviews
Kevin Steen Part 1 & Part 2
Eddie Edwards
Johnny Gargano
Mike Quackenbush
Nigel McGuinness
Lance Hoyt/Vance Archer/Lance Archer
Adam Cole
Gran Akuma
Be sure to follow 411mania on Twitter!
411mania
411 Wrestling
411 Movies/TV
411 MMA
411 Music
411 Games
For all of my interviews (like TJ Perkins , Steve Corino , Davey Richards , Jimmy Rave , Joey Ryan , Kyle O'Reilly , AR Fox , etc.) before 411mania, check out my Road to Mania Blog .
Clear Eyes. Full Hearts. Can't Lose.
NULL