411's Countdown To SummerSlam: 2007
August 10, 2011 | Posted by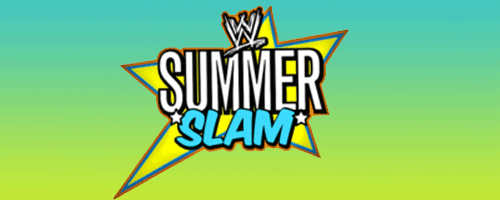 SUMMERSALM 2007
August 26th East Rutherford, New Jersey
Continental Airlines Arena
This is widely considered one of the worst SummerSlams in history.
Headlined by a strong match between John Cena and Randy Orton for the WWE Championship, the rest of the card was underwhelming. Batista challenged The Great Khali for the World Heavyweight Championship. HHH made an in-ring return in a King of Kings Match vs. Booker T in a below average match.
Usual good matches like Rey Mysterio and Chavo failed to ignite and other matches like Kane/Finlay, Divas Battle Royal were met with apathy or complete indifference.
The Intercontinental Championship makes an appearance with champion Umaga managing to avoid The Curse of the IC Title beating Carlito and Kennedy in a three0way dance. The match however was only average.
Here to provide there thoughts are…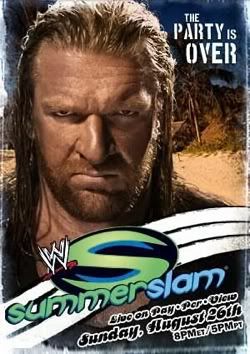 Aaron Frame: Recent addition to the 411 clan. His scrutiny of some of wrestlings most famous matches has been the cenerpeice of The Wrestling Framework.
Scott Rutherford: Longtime 411 stalwart and jack of all trades for over 7 years. Has bounced between most zones as an editor or news columnist. Spends most of his time these days offering music reviews and a Top 5 Wrestling contributor.
THE CARDsize=+2>
Kane vs. Finlay
Winner: Kane via pinfall
Time: 8:49
Intercontinental Championship: Champion Umaga vs. Carlito vs. Kennedy
Winner: Umaga via pinfall
Time: 7:24
Rey Mysterio vs. Chavo Guerrero
Winner: Rey via pinfall
Time: 12:06
Diva Battle Royal
Winner: Beth Phoenix
Time: who care?
ECW Championship: Champion John Morrison vs. CM Punk
Winner: Morrison via pinfall
Time: 7:07
Triple H vs. King Booker
Winner: Triple H via pinfall
Time:
World Heavyweight Championship: Champion The Great Khali vs. Batista
Winner: Batista via DQ
Time: 6:55
WWE Championship: Champion John Cena vs. Randy Orton
Winner: Cena via pinfall
Time: 21:19
COLIN RINEHARTsize=+2>

Best Match: John Cena vs. Randy Orton (WWE Title Match) – This was one of the first big Cena/Orton match-ups, and unlike later entries in their overlong feud this one was actually a damn fine match. The rest of the show is pretty bland, so this wins the best match award pretty easily despite not quite being a "classic".
Worst Match: Batista vs. Great Khali (World Heavyweight Title Match) – This match and feud right here is a fine example of how the WWE managed to sour me on their product almost completely around this time, as you paired the absolutely terrible Khali with a guy like Batista who already usually needed a more experienced opponent in the ring to help him get by at this time. Awful, terrible, horrible match that atleast has the good conscience to only go about 6 or 7 minutes.
Highlight: Cena/Batista/Orton Cement their Places – This is a pretty good show to use to show the turning point when the WWE really started to focus their shift almost entirely on the new generation of stars like Cena, Batista, and Orton. All three had been elevated to main event status already before this, but injuries and other things prevented them from being able to have all three in the spotlight like they did here. Guys like Booker and even Triple H started to wind their careers down after this and these three men carried the promotion for a few years (in terms of starpower).
Hidden Highlight: CM Punk vs. John Morrison (ECW Title Match) – Although this one was cut criminally short, the rest of this card really is just so forgettable that this winds up being the only other match worth really looking into. They totally outdid themselves about a month later on ECW, but the importance of these two guys fighting for the third "World" title in the promotion on Summerslam was pretty big and it showed us a hint of who would be the next talent to ascend to the main event scene eventually.
MVP: John Cena – Difficult to pick an MVP here again as this was a rather mediocre show, but Orton and Cena by far had the best match of the evening and I've got to give the nod to Cena since he picked up the win. Pretty big win for Cena around this time as Orton was starting to really find his place as a main event heel.
Overall Rating: 4.5 – Really weak show here unfortunately. There's only one match worth going out of your way to check out on this show, and that's the main event. Everything else ranges from terrible to average and as a whole the show just comes off pretty poorly. Thumbs Down from me here.
SCOTT RUTHERFORDsize=+2>

Best Match: Cena vs. Orton…back when it wasn't done to death. This match had a little of everything and had that extra something to help elevate it against the rest of the pack. Admittedly the rest of the pack is extremely week and the card overall will go down as one of the poorest SummerSlams ever is besides the point. These gave great main event and should be recognized as such. Plus, having gone back and watched this I can sorta see why Vince just went "these guys are credible and can deliver a good main event. Make sure at least one of them is in every main event"
Worst Match: Divas Battle Royal by default. Of the rest….Khali and Batista. Dave just can't catch a break at SummerSlam's after last year losing the same way to Booker T. Given the right opponent Khali can have a passable match…Dave is not that opponent. Overall this was just the drizzling shits and words really can't express at how horrible it was.
Highlight: The booking of the main event. This was the definition of a one match show but since that one match is Cena/Orton most people will probably dismiss it. However, this match was booked 50-50 with both guys made to look good despite who actually won. Spots led logically to next spots and built up to the end. As JD Dunn pointed out in THIS review it's not what you do but how you do it that matter and you have the crowd popping for headlocks and punches. It's the difference between just wrestling a match and working one.
Hidden Highlight: Beth Phoenix's ass in her ring tights?? Maybe? Usually there is some little gem hidden away on every PPV that you should check up but the outside the main event the other matches are disappointing efforts that didn't live up to expectations rather than a surprising *** from people you wouldn't expect.
MVP: Cena and Orton. Sure it looks like I'm hanging off their nuts but really, who else could you choose? A great main event, dripping with effort, drama, good booking and big time feel, both men put into this match with equal measure to make it work so both deserve the credit.
Overall Rating: 3 – Absolute crap. Thank god for the main even because without it this was going right toward worst PPV of all time territory. Most of the matches are short with only one going any decent length of time and things like Triple H's (who I'm a mark for) burial of Booker is just inexcusable. Seek the main event out elsewhere and avoid the rest of this PPV
AARON FRAMEsize=+2>

Best Match: John Morrison vs. CM Punk – I don't know why, but I really think this was the best match of the card. Granted it only was given about 8-9 minutes, but for these 8-9 minutes Punk and Morrison gave us a good show. It may not have had that epic feel like HHH/Booker or Cena/Orton, but it was more entertaining work wise. Probably going to receive some major backlash for this, but oh well. It's just my opinion.
Worst Match: Batista vs. Khali – Do I really have to explain why I picked this match for worst match? Not so much on the Batista side of things, but more on the Khali side of things. I mean, Batista wasn't exactly one of the best wrestlers around, but he was good enough to be able to get a decent match out of another big man. But when it comes to Khali…well, the guy moves like a plank of wood. It's hard to make a plank of wood look good.
Highlight: Cena vs. Orton/HHH vs. King Booker – Hard to pick between the two, but both of these matches were the true highlight matches of the night. Cena and Orton were on a pretty hot feud over the title and HHH and King Booker were in a feud over who was the true king or some stupid shit like that. All I know is that the two high profile matches brought it on and made it a much better card because of it.
Hidden Highlight: Mysterio/Chavo –
MVP: Chavo/Mysterio – These two get the nod for MVP because they had a match that for some reason to me it seems was pushed to the side even though it was an IC title match. It was a pretty good match too. Except Mysterio's silver costume was just plain weird.
Overall Rating: 4.5 – Not that great of a show. In fact, it was one of the worst that I can remember. Sad, really. As a SummerSlam show should never dip below a 6 rating. Why? Because it's the second biggest show of the year. Second biggest show of the year should be good enough to be a 6+ rated show, am I right? Yeah, I'm right.
NULL