411's Countdown to WrestleMania 28: WrestleMania 13
March 18, 2012 | Posted by
INTRO
WrestleMania XII ended with the Iron Man Match and Shawn Michaels' Boyhood Dream coming true as he would become the WWF Champion. WrestleMania XIII originally to be a rematch of HBK and Bret Hart, but then Shawn lost his smile and gave the title up. Psycho Sid Vicious would win the title and walk into WrestleMania to do battle with the Undertaker. Back to Bret Hart. He was brought out of his self-imposed retirement by Stone Cold Steve Austin and the two would do battle before WrestleMania numerous times, but the score had to be settled once and for all. They would meet in a Submission Match with UFC Hall of Famer (and later WWF Star) Ken Shamrock as the special referee. Also, the most electrifying man in sports and entertainment would make his WrestleMania debut, although no one thought that Rocky Maivia would be that guy.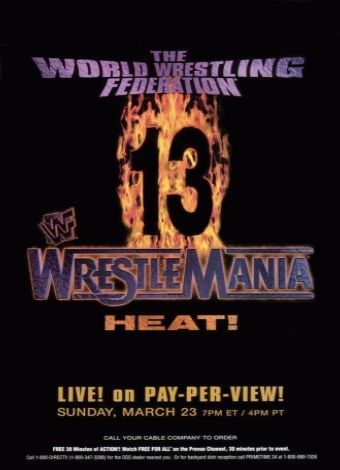 * The Headbangers defeated The New Blackjacks, The Godwins and Furnas and Lafon @ 10:29 via pin
* WWF IC Title Match: Rocky Maivia defeated The Sultan w/Iron Sheik and Backlund @ 9:47 via pin
* Hunter Hearst Hemsley w/Chyna defeated Goldust w/Marlena via pin @ 13:20
* WWF Tag Title Match: Owen Hart & the British Bulldog vs. Vader & Mankind w/Paul Bearer went to a double count out @ 16:10
* Submission Match: Bret Hart defeated Steve Austin via submission @ 21:05
* Street Fight: Ahmed Johnson & The Legion of Doom defeated The Nation of Domination via pin @ 10:45
* WWF World Title: The Undertaker defeated Sid via pin to become the NEW WWF Champion @ 21:19
Porfirio Diaz
BEST MATCH: Steve Austin vs. Bret Hart ***** It would be easy to post "Austin's face drenched in blood, double turn, lots of stars, BOOM, exit stage left" as the cliff note version of their classic encounter. Or as JR would put it, "All hell is breaking loose!" As far as accolades in pro wrestling are concerned, the WM13 submission match is ranked as an obvious selection for the Mount Rushmore of historic wrestling matches. All aspects of the match, from the brutal ring work to the commentary to the moment when the double turn materializes, developed into a thing of beauty, if beauty was characterized by a harmonic and bloody warfare between two hatred individuals out for vengeance. But as much impact as the match had in terms of star ratings and wrestling superiority, the repercussion is what launched a brand new chapter for the once-mild federation. In a single 20+ minute rampage, the end result turned Blood and Guts Murphy Austin into a loveable bad -ass persona, Bret Hart from benevolent national hero to grouchy Canadian countryman, and led the WWF into the halls of insolent notoriety known as the Attitude era. Five stars? Sure, why not.

WORST MATCH: Rocky Maivia vs. The Sultan 1/2* Rocky Maivia was a high profiled pet project who lacked the charisma he eventually became known for. But he sure did carry a lot of spunk and vitality! The Sultan was pre-Attitude Rikishi, a masked man best known for his bibliography: he had no tongue and thus never spoke in promos. So how did the openly hated blue-chipper and his tongue-less adversary do in a match for the Intercontinental title? Hint: not so well. Elaboration: the match blew donkey chucks. Both men didn't seem like they belonged on the grand stage, as the crowd audio settled into a tune of silence. Whenever the audience did muster away their muteness, it was to throw deafening verbal stones at poor Rocky. Just horrible, horrible all around.

HIGHLIGHT OF THE SHOW: All 186 seconds of Austin locked in the Sharpshooter – It became to be known as the "Before" and "After" effect of both men's careers and the WWF as a whole. Also, it gave the wrestling world steveaustinbloodiedface.jpg.

MVP OF THE SHOW: Bret Hart – Could the carefully planned out scenario have happened without the Hitman's involvement? Probably. Would it have had the same effect? Magic 8-Ball says very doubtful.

OVERALL SHOW RATING: 6.0 – WrestleMania 13 is a two men, one match show (and what a match!), but WrestleMania 13 is also the birthplace of the Attitude Era, as well as the popularity growth spurt of one "Stone Cold" Steve Austin. The show may not have wowed fans with the Sid-Undertaker main event (although Shawn Michaels on commentary sure did), the tag team title match (a decent affair), or the six man Chicago street fight (which I like more than most). However, as a show which ushered in a new beginning and paved the way for a handful of new stars to conquer the wrestling world in the next few years and beyond, it was… slightly better than OK.
Nick Bazar
BEST MATCH: Steve Austin vs. Bret Hart [****3/4] The match that saved Wrestlemania 13 from being a complete disaster and turned Steve Austin into a legitimate superstar. The story these two men told for 22 minutes was just brilliant with Bret Hart showing an uncharacteristically vicious side that had Austin fighting back as the underdog at every turn. The only thing that kept it from being a true 5-star match for me was Austin's refusal to sell the left knee throughout, but that's only a minor complaint. Even still, this was an instant Wrestlemania classic the moment it ended, and a match both competitors consider one of their best.

WORST MATCH: The Sultan vs. Rocky Maivia [*1/2] To say this was an under whelming Wrestlemania debut for the future "People's Champion" would be an understatement. While we did see glimpses of Rocky's natural athleticism here and there, a large portion of the match was taken up by Sultan's methodically boring offense. At least we got an appearance from Rocky Johnson at the end.

HIGHLIGHT OF THE SHOW: The one and only image from this Wrestlemania that has stood the test of time has been Steve Austin's bloody face as he tried to endure Bret Hart's Sharpshooter. On a night that saw The Undertaker become a two-time WWF Champion, Austin's struggle to survive the dreaded Sharpshooter has to be seen as the highlight of the show. It's iconic, and the perfect summation of Austin's rough neck character.

MVP OF THE SHOW: Bret Hart. While Steve Austin is still recognized on this night for never submitting to the Sharpshooter, Hart's efforts throughout the course of this match are the reason it's the classic we remember it as. He was on fire for the duration of the bout, uncovering elements of his character that he had never tapped into before. It's never easy to go against the grain, but Hart did exactly that, and the payoff was the making of a new superstar.

OVERALL SHOW RATING: 5 – If it wasn't for the Submission's Match between Steve Austin and Bret Hart, this would probably be the worst Wrestlemania of all time. It featured an overly long and largely boring main event preceded by a number of dull undercard matches. The only other worthy match on the card was the Chicago Street Fight, but even that was nothing to write home about.
Sean Garmer
BEST MATCH: Stone Cold Steve Austin vs. Bret Hart (Submission Match) [****]- This one stole the show for sure and was just a classic kick ass brawl between these two. Bret Hart did the super smart thing and worked on Austin's banged up knee and tried anyway he could to do damage to it. Austin fired back with some stuff of his own. They used everything they could find to beat the living crap out of each other and it was fantastic. The crowd turned in the middle of the match and started chanting for Austin and the rest is history as many would say. One of the most iconic Wrestlemania moments is Austin in the Sharpshooter with that crimson mask of blood all over his face. This match cemented who Austin would become and finished Hart's heel turn all in one motion.

WORST MATCH: Four Way Elimination Tag Match [*]- It wasn't horrible, it is just obvious this is there to have some more people on the card. The Headbangers and Godwinns end up having an okay match, but this could have just been a regular tag match and it would have been fine. I just didn't care about this match and I thought the IC title match was a little better than this, or that match would have been here instead.

HIGHLIGHT OF THE SHOW: Stone Cold Has Arrived & Undertaker Gets His Wrestlemania Moment – Stone Cold went out there and had his best match, he'd had up to that point, with one of the best ever. Not only that, but he ripped into the fans emotions and made them root for him in the end. When you do that, you know as a performer you have something special, and there is no doubt Austin had that. Even though this match could have done without the late interference by Bret Hart, it was still very nice to see Undertaker get his "Wrestlemania Moment." I think Undertaker also suffered from the early champ itch that struck Randy Orton and Jack Swagger. So, when he won the title here at WM 13 this was more appropriate and he was truly over with the fans after this match.

MVP OF THE SHOW: Stone Cold Steve Austin – Undertaker may have won the Championship at the end, but Steve Austin became the next star of the WWE after WM 13. He gained the most out of this Wrestlemania and he also was part of the best match on the show as well. One of the few flatout brawls I have ever enjoyed (because it had psychology to it) and Austin was a large reason why I enjoyed the match too.

OVERALL SHOW RATING: 6.0 – Bret Hart vs. Austin was terrific, I liked the Chicago Streetfight, the Tag Title match wasn't bad but it did have the stupid countout finish. The problem is the main event for me. I loved having HBK on commentary as I thought he really added to the match and put over both guys, it also kept King's mouth shut more. Most of the match was slow and there were quite a few lulls. Sid had most of the action and there were way too many rest holds in this thing. The only reason Undertaker got any major offense was when Bret Hart interfered two different times. I also hated that Bret's last interference gave Undertaker the win. There was no reason to protect Sid at all here, if they let Kevin Nash get beat clean at WM 12, I don't understand the decision of Hart's involvement three different times in the main event of WM 13. I think it tarnishes Undertaker's win and it makes the match below average for me. The match had one nice spot where Sid got the Tombstone and you thought he might win there, but that's basically it. Sid controlled too much of the match, the pace was very slow for the most part, and Bret Hart's interference was stupid. We had one great match, a good main event, and a couple of decent matches in there. The main event wasn't as good as it could have been and at Wrestlemania that is what matters most.
-Remember to come back tomorrow for our review of WrestleMania 14…
TWITTER
Your heart is free. Have the courage to follow it…TO CSONKA'S TWITTER!
http://www.twitter.com/411wrestling
http://www.twitter.com/411moviestv
http://www.twitter.com/411music
http://www.twitter.com/411games
http://www.twitter.com/411mma