411's Countdown to WrestleMania 28: WrestleMania 2
March 7, 2012 | Posted by
INTRO
"I remember when I originally saw this show. In the summer of 1986, Showtime aired the card several times, including once during a free preview weekend. Ah, free boobies…
Vince McMahon introduces his co-host, Susan St. James. At this time, she was co-starring in "Kate and Allie" with Jane Curtin, but there was another reason she was there. No, it's not because, as has been suggested elsewhere, she was sleeping with Vince. She was (and still is) married to Dick Ebersol, producer for "Saturday Night's Main Event."
Roddy Piper starts the festivities with some pre-recorded comments about Mr. T. The best line: "Never will I shave my hair like and Indian and paint myself black." Well, he was half right…"
– Former 411 Writer Ron Gamble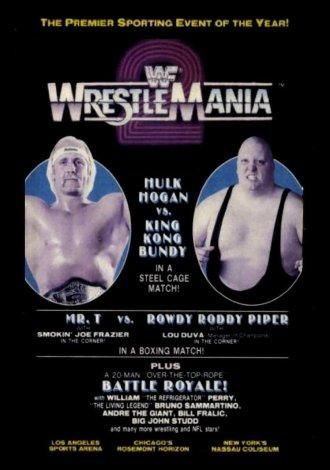 * Paul Orndorff and Don Muraco fought to a double DQ @ 4:30
* Randy Savage retained the WWF Intercontinental Title over George "The Animal" Steele via pin @ 7:07
* Jake "The Snake" Roberts defeated George Wells via pin @ 3:04
* Mr. T defeated Roddy Piper in a boxing match via DQ in Round #3 (10:15)
* The Fabulous Moolah defeated Velvet McIntyre via pin @ 1:00 to retain the WWF Women's title
* Corporal Kirschner defeated Nikolai Volkoff @ 1:35 in a flag match via pin
* Andre the Giant won a 20-man Battle Royal of wrestlers and NFL stars
* The British Bulldogs defeated The Dream Team to become the NEW WWF Tag Team Champions via pin @ 12:04
* Ricky Steamboat defeated Hercules Hernandez via @ 7:34
* Adrian Adonis defeated Uncle Elmer via pin @ 3:00
* Steel Cage Match: Hulk Hogan defeated King Kong Bundy when Hogan escapes @ 10:18
Scott Rutherford
BEST MATCH: Junk Yard Dog/Tito Santana vs. The Funk Brothers [***1/2] Get four great workers (at the time), give them 10 minutes to tear the house down and you get this match. I would be extremely interested to know if this match was planned out or was it called in the ring with only the finished worked out. My money is that it was called and the reason why is it feels like a fight that flows from one spot to the next without anything contrived. It was a good, old-fashioned brawl between four tough as nails men who beat the crap out of each other. A true lost WM gem of a match that gets overshadowed by the Dream Team/Bulldogs tag title change earlier in the show.

WORST MATCH: Don Murraco vs. Paul Orndorff [DUD] So many matches to pick from but only one choice can be made. This gets the gong because of the complete lack of interest shown by both men and if you could tell Orndorff was mere months away from being involved in the biggest money feud in wrestling up to that point, you should get a job as fortune teller.

HIGHLIGHT OF THE SHOW: Mr. T vs. Roddy Piper – If you asked me this question two weeks ago I would have had a different answer but I just recently watched the most recent Legends of Wrestling roundtable and Rowdy talked about WWF management being so shit scared he would shoot on Mr. T they tapped his thumbs into the palms of his hands before putting on his gloves to avoid him taking the mohawked one out. With everything else about this match that has come out, it becomes fascinating to watch when smartened up and shake your head at the lengths the WWF went to protect Mr T from a lowly old wrestler.

MVP OF THE SHOW: Adrian Adonis. Fat, out of shape and at the start of his horrible cross dressing gimmick, he went out and busted his ass in his match with the barely mobile Uncle Elmer and managed to actually get a watchable match. To be sure, the match isn't much and barely hovers over one star but Adonis and his ability to bump and work shine through like a shinny beacon.

OVERALL SHOW RATING: 4/10 – WrestleMania was still not WrestleMania at this time. It still was very much your normal house show card with a hot main event and several hot undercard matches between feuding rivals. It has some bright spots and would have been better served if the main event wasn't a disappointment but when you have two matches that run around a minute and a couple of others that barely went five it's hard to call this card anything but poor.
Greg DeMarco
BEST MATCH: British Bulldogs (Dynamite Kid & Davey Boy Smith) vs. The Dream Team (Greg Valentine & Brutus Beefcake) [****] – This was a perfectly executed tag team title match. It featured drama as to who could win, it featured false finishes that were believable, and the fans were buying in to every part of the match. It's almost crazy to think that this went on after the Battle Royal that featured Andre the Giant and NFL stars, but it was the right call. Chicago ate this match up and went nuts for The Bulldogs' win.

WORST MATCH: Mr. T vs. Roddy Piper in a boxing match [*1/2]
Explanation? This was a boxing match between a wrestler and a TV star. It ended in a DQ because someone used a wrestling move on a wrestling event. It was ill conceived from the start, and it shows that Vince has bought into celebrities wrestling for far too long. Mr. T was very capable when it came to talking and doing a run-in. And that's where his involvement should have ended. His run-in would be expected, yet it would easily pop the crowd. Instead he was taken way out of his element and thrown into one of the main events of WrestleMania.

HIGHLIGHT OF THE SHOW: Randy Savage w/Elizabeth vs. George "The Animal" Steele – This is a highlight because of the family element. Knowing how much people tend to mean to each other, it's fun to look back on and see that this match featured a man, accompanied by his wife, facing his wife's father. I know they played it as Steele being infatuated with Liz, but playing it was him being the disapproving father would have turned into an example of a family angle that worked in wrestling.

MVP OF THE SHOW: Hulk Hogan – The strength of a face champion is his ability to make you think he's in jeopardy of losing to the heel challenger at all times. As a kid, I watched this match on the edge of my seat worried that Bundy would win. I was yelling at the TV—and I watched it on VIDEO! I already knew who won, and I still bought in. I love seeing the old school blue big bar cage, and think Cena should bring it back for a special RAW at some point—he can call it a throwback cage match.

OVERALL SHOW RATING: 7 – This show was an experiment in wrestling. it was spread over three cities, so each only got four matches and some closed circuit TV. While it worked for Starrcade, it might have backfired a little here. I'd love to see the WWE do this now, even if it were for SummerSlam. Put it in two cities and see what happens. With a brand extension it could work (or could have worked when they stuck to the brands). You had three main events, and two of them delivered. The battle royal was far better than it deserved to be, and much of the undercard was good for its time.
Colin Reinhart
BEST MATCH – British Bulldogs (Davey Boy Smith/Dynamite Kid) vs. Dream Team (Greg Valentine/Brutus Beefcake): [***3/4] One of the most memorable WWF tag team matches took place on this otherwise forgettable show as the Bulldogs got their revenge on the Dream Team and won the tag team titles with Ozzy Osbourne of all people at ringside. Easily the highlight of this show and chock full of great stuff.

WORST MATCH – Roddy Piper vs. Mr. T (Boxing Match): [DUD] I suppose some would let this slide since it's not technically a "wrestling match", but much like the sumo match with Big Show and Akebono, this was horrid. Even worse, it took up nearly 15 minutes.

HIGHLIGHT OF THE SHOW – British Bulldogs winning the WWF Tag Team Titles: Great moment as the Bulldogs got their first big tag title win with Ozzy Osbourne in their corner, probably drunk out of his mind. Not much else to remember on this show to be honest.

MVP OF THE SHOW – British Bulldogs: Again, on a show where nothing really stands out besides the tag title match and a solid Funk brothers/JYD and Tito Santana match the Bulldogs get the pick here for MVP.

OVERALL SHOW RATING: 6.0 – Average show here really, the only things that stand out are two solid tag team matches and the gimmick of having the show emanate from three separate locations. It's certainly worth checking out for the historical value and nostalgia, but don't expect to be blown away or anything.
Sean Garmer
BEST MATCH: [*** 1/2] The British Bulldogs vs. Greg Valentine and Brutus Beefcake – This is tag team wrestling at its finest right here. The best part, Beefcake knows he isn't a good in-ring performer so he stays out of the match most of the time. The match started out at a quick pace and had lots of back-and-forth action going on for quite a while. I like that they didn't go straight to the normal tag team convention of having the heels pick out one guy and beat on him forever until he can tag his partner, until much later in the match. Beefcake did his job by coming in and breaking up pin attempts and adding in some offense when needed. Valentine did most of the work for the heel team, while Davey Boy and Dynamite made quick tags in and out to keep the offense fresh. This had all the elements of what can make tag team wrestling great if done correctly. These guys didn't need tables, ladders, and chairs to have a great match, they worked as a team and eventually the Valentine got to work on the smaller Dynamite. I also liked the finish because Dynamite tried to hit the Flying Headbutt at one point but he was unable to do it. So, at one point Valentine is flung hard into the corner by Smith only to get run right into the head of Dynamite for the surprise win and a nice moment for the English guys with fellow Heavy Metal icon Ozzy Osbourne in the ring with them.

WORST MATCH: Fabulous Moolah vs. Velvet McIntyre [DUD] & Nikolai Volkoff vs. Corporal Kichner [DUD] – This along with three other matches on this card could have been left off entirely and the fans still could have gotten their money's worth. This is why the three state venue did not work because they had to add four matches to the card to give everyone the same amount of matches at each venue. This was so short I don't even see the point of having this on the show at all. Not to mention, it was followed by a boring and useless flag match and these two matches started off the first half of the Chicago portion of the PPV. The last two matches in Chicago were worth the price of admission, but this PPV suffered from too much filler and this an example of why, especially at Wrestlemania, short filler matches on PPV are a waste of time.

HIGHLIGHT OF THE SHOW: Seeing a Cage Match At Mania & Tag Team Wrestling – I liked the Cage match, and I think it delivered as a main event. Hogan no sold his rib injury until almost the end of the match to give Bundy one last shot at escape, which I didn't like. Aside from that, the match was good. Hogan almost showed a mean streak here where he just went off on Bundy at one point during this match. The use of the injury tape was a good bit of improvisation to have a weapon in the match and the Cage was used well to a certain extent. There was consistency in the match as well, I think we all knew King Kong Bundy didn't have the athletic ability to get over the top of the cage, so he tried multiple times to get out through the side door. They created a decent amount of suspense, even though everyone knew what the end result would be. The fans got to go home happy and the one time Bundy actually hit the cage he got busted open, which is how it should have been. Those old school blue cages were more dangerous than the mesh fences they use nowadays, and it was cool to see the effect of hitting the cage. I think this was better than a normal big man match and both men were motivated to make this work. Bundy was a very good worker for a big guy and I never felt like Hogan had to carry Bundy at any point. This PPV was a great showcase for tag team wrestling with two very well done tag matches one in Chicago and the other in the Los Angeles venue. I already spoke about the Tag title match, but again the best part was they didn't stick to conventions in that one. The last match before the main event was the Funk Brothers vs. Junkyard Dog & Tito Santana. The Funks pulled out all the heel tactics including Jimmy Hart stepping on Tito Santana on the outside. The finish with the megaphone was an extension of the whole match and it worked in my view. They singled out Tito Santana and worked him over until he was finally able to tag JYD to get a breather. The heels eventually won, but I thought it was a good way to showcase four guys and do it by just working in the ring and keeping the crowd involved.

MVP OF THE SHOW: Hulk Hogan – This was the first of Hogan's title defenses at Wrestlemania and the whole show was really about the Hulkster. He had two backstage interviews during the event, they used him in a long video to deter fans from watching the setup of the cage, and he was in the main event. Hogan did his part in the main event and made the crowd happy. Say what you will about his wrestling ability, but the fact is, the guy knew how to entertain and he accomplished that at WM 2.

OVERALL SHOW RATING: 6.0 – The main event delivered, the tag title match was damn good, and the fans got to see a bunch of football stars compete against wrestlers in the battle royal. There was also another good tag match and Ricky Steamboat was able to pull a pretty decent match out of Hercules to open the Los Angeles portion of the show. However, there was A LOT of filler crap in this show that could have been removed if they didn't insist on making this happen in three different states. New York got bitch slapped by WWE management here as well because if you throw out the Boxing thing, there was hardly anything on the first part of the show that is memorable. We get two useless filler matches to start off New York (WWE followed the same progression in Chicago as well.) Macho Man vs. Animal Steele was silly and really nothing meaningful happens other than getting to see Animal eat some turnbuckle pad. The boxing thing had some cool star power with "Smokin" Joe Frazier in Mr. T's corner, but the match itself had such an obvious ending, the only good thing is they kept the boxing ordeal short. The last two matches of Chicago and almost all of Los Angeles (lets forget that Uncle Elmer vs. Adrian Adonis even happened) saved this show from being totally deplorable. I already talked about the horrible opening to the Chicago venue with two useless matches, but then we get the fun battle royal and the great tag team title match. I don't care that the last football player left had some wrestling experience, "The Fridge" should have been eliminated by The Hart Foundation. I understand they didn't want the crowd to go against Andre, so it makes sense that they didn't have Andre throw out William Perry at the end. If they would have put this whole show into one venue and cut out about three of those useless matches, this might have gotten a higher rating. The way they totally bitch slapped one of the venues entirely and the amount of filler matches in it makes this a barely average show for me
-Come back tomorrow as we look at WrestleMania 3!
TWITTER
Your heart is free. Have the courage to follow it…TO CSONKA'S TWITTER!
http://www.twitter.com/411wrestling
http://www.twitter.com/411moviestv
http://www.twitter.com/411music
http://www.twitter.com/411games
http://www.twitter.com/411mma