411's Countdown to WrestleMania 28: WrestleMania 3
March 8, 2012 | Posted by
INTRO
WrestleMania was a success. WrestleMania II's concept was considered disastrous by many; but the promotion's leader Vince McMahon was behind the concept and the company build to WrestleMania III. The location would be the Pontiac Silver Dome, a huge venue and the company was determined to fill it up. To do so they would have to headline the event with a match almost bigger than the company and the business itself. They would build to an epic battle of the "undefeated" Andre The Giant, who was one of the biggest draws of the 70's, and he would face current champion and former friend, Hulk Hogan. A reported 93, 173 filled the Dome to see the battle, let's talk about it…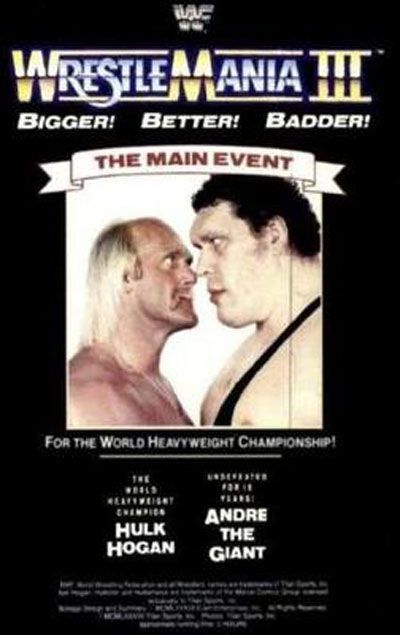 * The Can-Am Connection defeated Don Muraco and Cowboy Bob Orton via pin @ 5:38
* Billy Jack Haynes and Hercules fought to a double count out @ 7:53
* Hillbilly Jim, Little Beaver and The Hati Kid defeated King Kong Bundy, Lord Little Brook and Little Tokyo via DQ @ 4:22
* Harley Race defeated The Junkyard Dog via pin @ 3:23 in a "Loser must kneel" match
* The Dream Team defeated The Rougeau Brothers via pin @ 4:05
* Roddy Piper defeated Adrian Adonis in a hair vs. hair match via submission @ 6:45
* The Hart Foundation and Danny Davis defeated The British Bulldogs and Tito Santana via pin @ 8:52
* Butch Reed defeated Koko B. Ware via pin @ 3:39
* Ricky Steamboat defeated Randy Savage via pin to become the NEW WWF Intercontinental Champion @ 14:25
* The Honky Tonk Man defeated Jake Roberts via pin @ 7:04
* The Iron Sheik and Nikoli Volkoff defeated The Killer Bees @ 5:44 via DQ
* Hulk Hogan © defeated Andre The Giant via pin @ 12:08
Scott Rutherford
BEST MATCH: Randy Savage vs. Ricky Steamboat [*****] This is one of the greatest matches of all time and I personally have it as my number one. While most will cite Flair/Steamboat as being better just the sheer pace this match was worked and the culmination of storylines involving these men plus Steamboat corner man George "The Animal" Steele finally getting his revenge on Savage and the historic nature of the card, you just can't go past this match. I used to be able to recite this match move for move to anyone that cared to listen when I was a kid and I literally broke my family VCR, I watched this match so often.

WORST MATCH: King Kong Bundy/Lord Little Brook/Little Tokyo vs. Hillbilly Jim/Little Beaver/The Haiti Kid [-***] From main event to midget squasher, how the might have fallen hey Bundy? No wonder he quit the promotion soon after this but while this much was the shits the image of him obliterating Little Beaver is a thing of beauty.

HIGHLIGHT OF THE SHOW: Roddy Pipers retirement. I could have easily have had gone for Andre being slammed and losing but this moment was much more organic and dripped of fun. Not sure if Piper had every intention of staying retired because, as we know, he's had more retirements than Terry Funk but the crowd reactions and the emotions were real and didn't need to be brow-beaten into us like Andre/Hogan and their feud was. Everyone looked like they were having a ball and it's still a moment I look back on fondly. I also want to give a quick special mention to Davey Boy Smith and his piledriver and Danny Davis…I swear he nearly bounces Davis into a wheelchair with that thing. VICIOUS!

MVP OF THE SHOW: Savage & Steamboat (tie). No surprise here since they had the best match of the show, the decade and maybe ever.

OVERALL SHOW RATING: 7/10 – Easy thumbs up as Vince started getting the hang of how to book these things. Hot opener, a couple of hot angle matches, a big title change and a legendary main event. Like WM1, it has history dripping off it and needs to be watched by every fan at least once.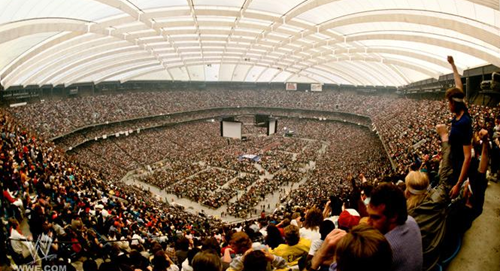 Jack Stevenson
BEST MATCH: Hulk Hogan vs. Andre the Giant- Hulk Hogan vs. Andre the Giant- In this case, star ratings are irrelevant. Semi-paraphrasing a fellow writer for this site, many matches can claim to be the biggest and most important of all time, but only one actually can, and it's Hulk Hogan vs. Andre the Giant in the main event of the biggest show of all time. It's a match that has been watched, rewatched, analyzed, discussed and debated more than any other in pro wrestling history, but it still somehow remains shrouded in mystique. 25 years after it first took place, there is still an aura about it, a special feeling that is only found in the greatest pro wrestling matches. This is entirely down to the build to and execution of the match; the story leading up to it was absolutely perfect, and that continued into the bout itself. Hulk Hogan and Andre the Giant were hardly the most mobile and energetic competitors, but never have two men made so much out of so little. Every move was meaningful, heightening the tension to an absolute fever-pitch, and hooking the crowd into the story. 80,000 people were all 100% behind Hulk Hogan, and you only have to listen to the finish as evidence. And god, what an amazing finish. The slam and the leg drop, more powerful and memorable than a million indy high-spots, permanently etched into the consciousness of everyone who saw it. It truly is the WWF's, and arguably, pro wrestling's shining accomplishment. Not one thing could possibly be changed to make it better

WORST MATCH: Junkyard Dog vs. Harley Race [1/4 *] Junkyard Dog vs. Harley Race- This was a really disappointing match between two talented workers. The after match shenanigans were entertaining enough, but on the biggest stage these two would ever wrestle on nothing seemed to click in the ring, which is a real shame. It's not exactly an embarrassment to the Wrestlemania legacy, but it was certainly the lowest ebb of a magnificent show.

HIGHLIGHT OF THE SHOW: Piper/Adonis & Savage/Steamboat- Roddy Piper vs. Adrian Adonis/Randy Savage vs. Ricky Steamboat- Picking the Hogan-Giant body slam seemed redundant, so I cheated a bit and went with two bouts that, on most other shows, would have waltzed to the title of best match. First off, Roddy Piper's 'retirement' match against Adrian Adonis, a match that has lost none of its emotion and charm despite the passing of time and Piper's repeated return to the ring. This was a well-booked man that played to both men's strengths and delivered in spades. Later on, Savage and Steamboat tore the house down with an electrifying grudge match for the Intercontinental Championship that has gone down in history as one of the all-time great Mania matches. I'm not quite as big a fan of this match as some are, but I do think it's a great, great battle, especially for the time period. The honorable mention goes to King Kong Bundy's midget hunting.

MVP OF THE SHOW: Andre the Giant- I was torn between Hogan and Andre, and contemplated giving it to them both. However, this was very much Andre's crowning Wrestlemania moment, and the biggest match of his entire career. Yet despite that, he agreed to sacrifice a chunk of his legacy to take Hulk Hogan to the next level in terms of popularity, and that's commendable. I think we can all agree it worked out well both everyone involved in the end, and was thus a worthwhile risk on Andre's part.

OVERALL SHOW RATING: 10 In my humble opinion, this is the greatest Wrestlemania of all time, the greatest show of all time, and the pinnacle of sports-entertainment. Every match had at least some entertainment value, the characters were strong, the matches huge and often high in quality, all the big stars were on show, and, most importantly of all, the whole card was just heaps and heaps of fun, from beginning to end. Wrestlemania 3 is compulsory viewing.
Colin Reinhart
BEST MATCH – Randy Savage vs. Ricky Steamboat: [*****] No it's probably not the best Wrestlemania match ever, it's a bit on the short side and takes a few minutes to get going, but everyone knows that from there this was nothing but five star gold, paying off one of the best angles the WWF had at the time. Might pale in comparison to modern "five star matches", but it's still a classic for the ages regardless.

WORST MATCH – Hillbilly Jim/Haiti Kid/Little Beaver vs. King Kong Bundy/Little Tokyo/Lord Littlebrook: [DUD] These are the kinds of matches that make it hard to defend being a wrestling fan sometimes. More like something you'd expect to see at the circus rather than the biggest wrestling show of the year.

HIGHLIGHT OF THE SHOW – Hulk Hogan slams Andre the Giant: While I'm tempted to go with Steamboat/Savage again here, you really have to go with the most iconic image of the show, that being when Hogan finally slammed Andre in the main event. Regardless of the quality of the match itself, that's one of the biggest moments in wrestling history.

MVP OF THE SHOW – Hulk Hogan: Body slamming a 500 pound man really isn't easy, brother.

OVERALL SHOW RATING: 8.0 – One of the better early 'Manias, you got the best of both worlds really at this show with the pure wrestling fans being treated with Steamboat/Savage while the sports entertainment masses went crazy for Hogan/Andre. Seminal show and required viewing, but a tad bit overrated in terms of match-by-match quality compared to some of the later supershows.
Sean Garmer
BEST MATCH: Macho Man Randy Savage vs. Ricky Steamboat [*****] – Wrestlemania's first five star classic wrestling match came right here at Wrestlemania III. I don't think Chris Jericho was the only guy to ever want to learn this match move for move. This match told a story and it had two great performers, who were allowed to go out there and have a killer match. Not to mention, this made the Intercontinental Title look like a million bucks by the end because they had so many near falls and pivotal moments in here. This may have been only fifteen minutes but it was fantastic use of outside interference and even rest periods. Too many times wrestlers use submissions as rest holds, but instead the action came fast and furious here, with a few lulls when the action went to the outside. The match really drove home the point that Steamboat was going to stop at nothing but payback Macho Man for his dastardly deed in destroying Steamboat's throat. These two may have used simple maneuvers that many fans today would dismiss as boring, but WWE fans had not seen very many matches like that up until this point. It had some high-flying, constant pins, and a lot of action and they were able to fit that into a nice pocket of time as well. This was an outstanding match that showcases what Wrestlemania can truly bring if WWE doesn't put their focus solely on making the main event the only match of importance on a show.

WORST MATCH Billy Jack Haynes vs. Hercules: [DUD] – This match screams classic Vince McMahon, "hey let's have two big guys compete in a full nelson vs. full nelson match." Really? This was boring and I would just tell you to fast forward through this and the midget match on this show. Hercules isn't bad for a big guy but Billy Jack is awful, and when each guy is doing just enough damage to try to lock in a freaking full nelson, what can we expect from the match. Then the match is made useless by the stupid double countout ending. I hate non-finishes at PPV's especially when it is in a feud that means nothing to the overall product.

HIGHLIGHT OF THE SHOW: The first epic Wrestlemania Match- Hulk vs. Andre – This was the first "passing the torch" moment fans ever got to witness on such an epic scale at Wrestlemania. This is why you had 93,000 people in that arena and this is one match that people who don't watch wrestling, still remember to this day. The match was not a five star classic by any stretch, but it truly was the old standard up against wrestling's shining star. The conclusion was never in doubt, as long as Andre decided to let it happen, but when Hulk slammed Andre it was the first ever "Wrestlemania Moment" that fans still remember to this day. I can still watch this match today and feel like as soon as Andre's body hits the ground and Hogan hits the leg drop for the three count, the world of wrestling took a monumental shift into the stratosphere.

MVP OF THE SHOW: Macho Man & Steamboat – These guys could have decided to just go out there and have a serviceable match for the IC title. Hogan vs. Andre was the main event, in the casual fans eyes they are just filler to help them get to the main event of the evening. Instead, Savage and Steamboat went out there and tore the house down and had the first match in Wrestlemania history that would stand up against any other match that would come after it. They went out there and did more than they had to, and they should get major props for that. RIP Macho Man, you are missed.

OVERALL SHOW RATING: 7.0 – This PPV is known for one great wrestling match and the other timeless historic confrontation between Hogan and Andre. Roddy Piper's "Retirement" hair vs. hair match was fun because seeing Adonis wake up with a shaved head and punch the mirror was hilarious. The Jake Roberts vs. Honky Tonk Man match wasn't too bad either come to think of it. However, the rest of the card was just kind of there, we had mostly filler with a few other nice matches that help the quality of the show a tad. The show still has those two classic matches and that makes it a PPV worth watching in my view.
Come back tomorrow as we breakdown WrestleMania 4!
TWITTER
Your heart is free. Have the courage to follow it…TO CSONKA'S TWITTER!
http://www.twitter.com/411wrestling
http://www.twitter.com/411moviestv
http://www.twitter.com/411music
http://www.twitter.com/411games
http://www.twitter.com/411mma