411's Countdown to WrestleMania 28: WrestleMania 4
March 9, 2012 | Posted by
INTRO
With the colossal success of WrestleMania III, WrestleMania IV would hit the Trump Palace and Casino for the 4th incarnation. This WrestleMania was filled with controversy after Ted Dibiase had hired Andre the Giant to get him the world title that he could not buy from Hulk Hogan. With the "double Hebner" situation and quick count, Andre would take the title from Hogan on the Main Event, and hand it to the Million Dollar Man. President Jack Tunney wouldn't stand for this and the title was in limbo. WrestleMania IV would see a huge tournament take place to crown an undisputed champion. This would also see Hogan and Andre get byes into the second round, but the deal was they had to face each other…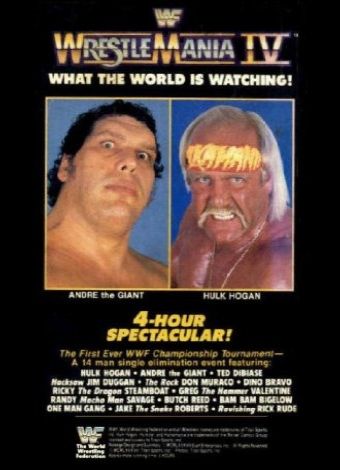 * Bad News Brown won a battle royal, last eliminating Bret Hart
* "The Million Dollar Man" Ted DiBiase w/Andre the Giant & Virgil defeated hacksaw Jim Duggan @ 5:03 via pin
* Don Muracco w/Superstar Billy Graham defeated Dino Bravo w/Frenchy Martin @ 5:51 via DQ
* Greg "The Hammer" Valentine w/Jimmy Hart defeated Ricky Steamboat @ 9:31 via pin
* Macho Man Randy Savage w/Elizabeth defeated Butch Reed w/Slick @ 4:10 via pin
* The One Man Gang w/Slick defeated Bam Bam Bigelow w/Sir Oliver Humperdink @ 2:35 via count out
* Rick Rude vs. Jake Roberts went to a 15:00 time limit draw
* The Ultimate Warrior defeated Hercules @ 4:37 via pin
* Hulk Hogan and Andre the Giant fought to a double DQ @ 5:23
* "The Million Dollar Man" Ted DiBiase defeated Don Muracco @ 5:35 via pin
* Macho Man Randy Savage w/Elizabeth defeated Greg "The Hammer" Valentine w/Jimmy Hart @ 6:05 via pin
* Brutus "The Barber" Beefcake defeated The Honky Tonk Man © with Jimmy Hart and Peggy Sue @ 9:00 via DQ
* The Islanders & Bobby Heenan defeated The British Bulldogs & Koko B. Ware @ 7:25 via pin
* Macho Man Randy Savage w/Elizabeth defeated the One Man Gang w/Slick @ 4:10 via DQ
* Demolition defeated Strike Force © to become the NEW WWF Tag Team Champions @ 8:04 via pin
* WWF Title Tournament Finals: Macho Man Randy Savage w/Elizabeth defeated "The Million Dollar Man" Ted DiBiase to become the UNDISPUTED WWF Champion @ 9:17 via pin
Scott Rutherford
BEST MATCH: Greg Valentine vs. Ricky Steamboat [**1/2] Pickings are SLIM on this card as it's stacked with short, crappy matches. From a pure match quality standpoint, this little match certainly was the best. I'm sure these two wrestled each other in the Crocket territories a million times over the years and putting on this match was nothing for them.

WORST MATCH: Hulk Hogan vs. Andre The Giant [-*1/2] Andre could barely walk and Hogan's ego was running rampant. Need I say more?

HIGHLIGHT OF THE SHOW: Randy Savage with a teary-eyed Miss Elizabeth on his should with the WWF title over her shoulder. It is one of the indelible images of that era of wrestling and one of the magic moments that can't be faked as this real life couple managed to scale the biggest height you could in wrestling.

MVP OF THE SHOW: Randy Savage. Four matches in one night that showed that Randy was the man. He was the breath of fresh air the WWF needed to keep moving forward and he was so successful as champion there was serious management talk of him keeping the title past WM5.

OVERALL SHOW RATING: 5/10 – This show is uber-historic but uber-crappy from a match quality standpoint. Still this night capped the rise of Randy Savage as a true main event star and the breakout of Demolition who ran with their tag title win all the way to the longest title reign ever.
Porfirio Diaz
BEST MATCH: Ted DiBiase vs. Randy Savage *** – Despite the fatigue that affected both men, DiBiase and Savage ended WrestleMania IV with the best performance on the 14-tournament card. The action, especially from two men who earlier participated in two and three matches respectively to advance at this spot, was about as solid as it could get, plagued only by time restrictions and constant outside meddling that prohibited them from generating a technical matchup for the ages. As a matter of fact, as much as the ring is constructed to keep the focus squarely exclusive within the four-corner structure, it was the large outside support of Andre the Giant, Miss Elizabeth (the best on-air personality during the major boom of the 1980s, with the possible exception of Bobby "The Brain" Heenan), and Hulk Hogan who secured a slice of the spotlight and heavily resulted in the Macho Man's first WWF Championship. While their involvement did eliminate the chance of a refined four star-plus affair, the group provided enough drama for the event's epic conclusion: the big elbow drop by Savage – made possible after Hogan's illegal assistance because turnabout is fair play (much to Jessie Ventura's initial chagrin) – secured his final victory of the night, the WWF title, and an picturesque WrestleMania climax.

WORST MATCH: One Man Gang vs. Bam Bam Bigelow 1/2* – This was hardly not the fault of either men, as both were given the same amount of time as The Who's Pinball Wizard (related note: the match makes for a better viewing when the two are synced together). But the match was essentially as presented: forearm clubs, an awkward cross body, head-butts, two cartwheels, and a lame count out finish. Hurr de derp. The burden of a 14-man tournament (11 matches in total) in addition to 5 other matches – as if you hadn't realized by now, WrestleMania IV was pretty much a bloated 4-hour 16-match card event – meant certain contests had to be kept short in order to fit the entire schedule. As a result, a number of matches were in contention for the illustrious "Worst Match" award. I just so happened to choose the one nerfed of all intrigue and enjoyment. Nice cartwheels though.

HIGHLIGHT OF THE SHOW: The Main Event Aftermath – Randy Savage's post-match ritual is a two-person celebratory episode. After his victories or whenever he sees fit, he hoists Miss Elizabeth on his shoulders and points towards the heavens in a trademark pose that would become formal within the parameters of his WWF career. But the final image of WrestleMania IV – the couple's trademark pose, this time with Miss Elizabeth's bare shoulders occupied with the world title belt – is one of the best treasured moments any pro-wrestling can truly cherish. The whole event was an accumulation for Macho Man's coming of age moment, and although Hulkamania lingered in the festivities far more than necessary (which paved the way for a year's worth of storyline and insecurity), the closing image of one mad man's triumph over the night's adversity – as well as the enduring love of his main squeeze – was really a moment made in heaven. Honorable mention: Bob Uecker being choked out by Andre.

MVP OF THE SHOW: Macho Man Randy Savage – I don't know what other pro-Savage delicacies I can include that's not already been mentioned. He wrestled in four tourney matches, won the world title on the biggest stage, and foiled the Million Dollar's chance to collect sanctioned gold (the one negative aspect of the event: DiBiase would never come close to the WWF Title again, and that's a shame). If that doesn't make him MVP of the show, then I don't know what does.

OVERALL SHOW RATING: 5.0 – I love tournaments, repeat: I love tournaments. Whether it's the Deadly Game (Survivor Series 1998), King of the Ring, Crockett Cup, or the 1997 Karate Fighters Holiday Tournament, I love the thrill of a single-elimination tournament in any sports, much less pro-wrestling. But the idea of hosting one under a 4-hour window, with excess filler material, was bound to become lackluster, and that's exactly what happened here. Some matches caved under time restrains while some dulled my brain into a fine coma. Sure, there were some fine exhibitions and a variety of memorable moments, but trying to watch the entire show in one sitting was a major chore. I would have preferred if they furnished solely to the tournament bracket or had it stretched out for a couple of weeks with the event playing host to the semi-finals/finals. Same results, but with a much more nourishing journey. However, this was Macho Man's big moment in the sun, so feel free to label WrestleMania IV as a "tame event with historical implications" and be done with it.
Colin Reinhart
BEST MATCH – Randy Savage vs. Ted DiBiase (WWF Title Tournament Finals): [***1/4] While the tournament concept didn't lend itself to many memorable matches on this show, the finals certainly delivered with two of the hottest young wrestlers in the game at the time finally getting their main event due. And while this was about as high up as DiBiase would ever get, he made sure to put on a good match with Randy to give the Macho Man his first World title in memorable fashion.

WORST MATCH – Rick Rude vs. Jake Roberts: [*] Normally you'd see those two names and think "Oh that should be decent" but no, you'd be wrong. This was before Rude really learned how to work a match and instead relied on a chinlock to kill five full minutes of this drawn out, slow, boring 15 minute time limit draw. Horrid stuff mostly with a couple of decent spots.

HIGHLIGHT OF THE SHOW – Randy Savage wins the big one: Savage was one of the first examples in the WWF of a heel who was so good at what he did that he eventually had to be turned face because the fans just started to cheer him anyways, and his title win here was a big moment to solidify him as a real main eventer as Savage went on to be the number two face behind Hogan during the golden years.

MVP OF THE SHOW – Randy Savage: Unlike DiBiase who only had to wrestle twice, Savage had to wrestle four different matches on this show, with the most important being the finals of course. This was his shining moment, even if Hogan did try to steal some of the spotlight in the post match celebrations.

OVERALL SHOW RATING: 6.0 – Another of the somewhat forgettable early Wrestlemanias, this show benefits from having a good main event and a really solid Steamboat/Valentine match in the midcard to make up for some of the crap in-between. Not a big recommendation, but an average show that's worth a look for historical value.
Sean Garmer
BEST MATCH: Macho Man Randy Savage vs. Ted Dibiase [***] – Both of these guys had already wrestled three times before facing each other in the final match of the WWE Championship tournament. I don't think we could expect them to put anything similar to his match with Steamboat at Wrestlemania III. These two were tired and you could tell, as much as I would have liked to see the referee throw out Andre and let the two contenders battle it out for the title, the interference was probably needed by this point. If there weren't so many non-finishes during the entire show, the extra involvement in the main event wouldn't have been a big deal at all. This match was good given the circumstances, but it was just that, average.

WORST MATCH: Ultimate Warrior vs. Hercules [½*] – Maybe WWE didn't think Warrior was ready to have a spot in the tournament but why did this and the six man tag need to even happen at this PPV? This was a big throwaway match just to give everyone a bathroom break and it accomplished a whole lot of nothing.

HIGHLIGHT OF THE SHOW The Tournament: I loved the tournament idea and they later did this during Survivor Series 1998 and all those King of the Ring PPV's as well. Only Ricky Steamboat vs. Greg Valentine and the main event stand out to me as anything noteworthy as far as matches go in the tourney. However, the more alarming thing is that we had five non-finishes in the tournament, and a DQ in the IC title match as well. The only that made sense was Hulk vs. Andre because it would have been really difficult to eliminate either one of these guys later without needing another countout or DQ. Besides, I think the fans needed a break from Hulk Hogan in the main event of Wrestlemania. I think the Battle Royal was fine and you keep the two other title matches, but by cutting the two other filler matches it could have given some of the early matches in the tournament a bit more time. It makes sense for the matches to get shorter as the tourney goes on because the wrestlers are tired. I didn't understand the draw between Jake Roberts and Rick Rude, that was stupid to me. Isn't the whole point of a tournament to break-up ties? And declare a sure fire winner. If they would have just had the one DQ it still creates a bye and it makes the tournament feel a little more important. With all the non-finishes it gave an average feeling to this whole show.

MVP OF THE SHOW Macho Man Randy Savage: He wrestled more than anybody else did on the show and he got to win the title at the end of the night. He had a good match with Butch Reed, another one with Greg Valentine, and he got whacked with a cane by One Man Gang, and still came out on top. Macho Man was truly a star at this point and he earned his stripes by running the gauntlet to his first WWE Championship.

OVERALL SHOW RATING: 6.0 – This whole show felt average to me, there wasn't anything wrong with the show, but there wasn't anything spectacular either. The tournament was a very cool idea that had a fresh ending. It wasn't executed as well as it could have been and WWE added a couple of extra matches to the card that didn't need to be there. The tournament had too many countouts and DQ's, so that adds to my plain jane feeling with this PPV. It is great WWE gave everyone a break from Hulk-A-Mania, the tournament was a neat concept for a big PPV like Wrestlemania, and we got a fresh new WWE champion to boot. However, that's pretty much it, there isn't much else to talk about.
-Come back tomorrow as we breakdown WrestleMania 5!
TWITTER
Your heart is free. Have the courage to follow it…TO CSONKA'S TWITTER!
http://www.twitter.com/411wrestling
http://www.twitter.com/411moviestv
http://www.twitter.com/411music
http://www.twitter.com/411games
http://www.twitter.com/411mma