411's Countdown to WrestleMania 28: WrestleMania 8
March 13, 2012 | Posted by
INTRO
WrestleMania VII saw the retirement of the Macho Man and the World Title win of Hulk Hogan. But many changes would happen in the year between WrestleMania VII and VIII. The Macho Man would be reinstated as Ric Flair entered the WWF and won the WWF title, all while claiming, "before she was yours, she was mine" in regards to Miss Elizabeth. Hulkamania would find a new challenge in Sid Justice and the Rockers were dead; allowing Shawn Michaels to go solo and prove himself as a singles competitor. Roddy Piper returned and won the IC Title, his first WWF title. and would face off with Bret Hart….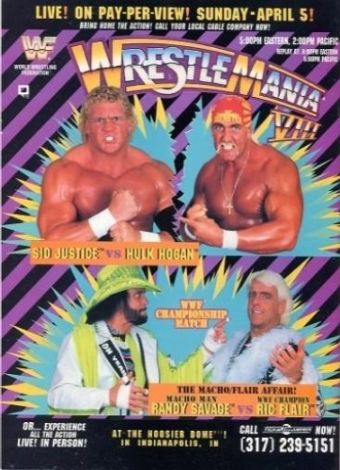 * Shawn Michaels w/Sensational Sherri defeated Tito [email protected] 10:38 via pin
* The Undertaker w/Paul Bearer defeated Jake Roberts @ 6:42 via pin
* WWF IC Title Match: Bret Hart defeated Roddy Piper @ 13:51 via pin to become the NEW IC Champion
* Jim Duggan, Sgt. Slaughter, Big Bossman & Virgil defeated The Mountie, Repo Man, & the Nasty Boys @ 6:31 via pin
* WWF Title Match: Randy Savage w/Elizabeth defeated Ric Flair © w/Mr. Perfect @ 18:01 via pin to become the NEW WWF CHAMPION
* Tatanka defeated Rick Martel @ 4:24 via pin
* WWF Tag Title Match: The Natural Disasters defeated Money Inc. © @ 8:30 via Count Out
* Owen Hart defeated Skinner @ 1:13 via pin
* Hulk Hogan defeated Sid @ 12:28 via DQ
Arnold Furious
BEST MATCH: Bret Hart v Roddy Piper [****1/2] Roddy Piper was a stubborn man but he knew the business and he knew when it was time to do the right thing. When he laid down for Bret Hart at WM8 he made Bret's career as a main eventer. Piper generally avoided jobs during his WWF tenure, especially against Hulk Hogan. So when Piper lost a match it meant something. But it wasn't just the outcome that made this such an important match. It was the structure. The teasing of a heel act (the ring bell) from Piper in particular before a great finish where Piper's reluctance to let go of his own hold allowed Bret to pin him. I know Savage-Flair on this show is great too but for me this is MOTN and its probably Piper's best singles match.

WORST MATCH: Jake Roberts v Undertaker [1/2*] On paper I'm sure it sounds like a dream match but it didn't work out that way. There are plenty of throwaway nothing matches on WM8, as there were on every WM in the early days, but this one should have been so much more. As it turns out Jake was on his way to WCW, the Savage storyline all but concluded, and a freshly face turned Undertaker just squashed him. Hard on Jake, who was a great storyteller, to end up in lousy matches at major shows. This one he even threatened to no show based on Vince reneging on an earlier promise to add him to the writing staff. He wrestled like his heart wasn't in it.

HIGHLIGHT OF THE SHOW: I'm sure some in the building would go with Warrior's return after the main event but I'll go with Randy Savage's title win. It was his last run with the WWF title when he could still go in the ring. A year later he'd be ringside doing commentary having effectively retired. This was his one last shot at showing he could get the job done at the very highest level and he didn't disappoint.

MVP OF THE SHOW: Roddy Piper. If he hadn't done the job for Bret I have no doubt that Bret would still have gotten over to the degree that he did. Eventually. Beating Piper meant something at a time when wins & losses were important sometimes. Piper's reluctance to lose at other times made this job a famous one. Plus he busted his ass to have a great match with the Hitman.

OVERALL SHOW RATING: 8.0 – One of the best Wrestlemania's at the time. Probably only bettered by WM3. Two great matches and a wonderful overall vibe. The end of the Hogan, Piper, Flair & Savage era and the beginnings of Bret and Shawn coming up. It was an exciting time to be a fan. Of course Wrestlemania 9 was horrible but that's wrestling for you. Ups and downs.
Joel Thomas
BEST MATCH: Bret Hart vs. Roddy Piper, ****¼. While the Dog Collar match with Greg Valentine at the first Starrcade was my favorite match of his career, Roddy Piper had the best match of his WWF career in an Intercontinental Title defense against Bret Hart at WrestleMania VIII. Since they were friends and both men were babyfaces, this first-ever meeting between the two started as a heated struggle and evolved into a knock-down drag-out after the Hit Man twice tricked the Rowdy One by playing possum and catching him by surprise. In response to Bret's subtle heel behavior, Piper busted him open with a bulldog headlock and teased a heel turn of his own as he contemplated nailing Bret with the ringbell while the referee was down. After deep consideration of his personal morals and values, Piper chose not to do it and ended up losing his one and only WWF championship moments later when Hart turned Hot Rod's sleeper into a pinfall victory, a finish he would recreate with Steve Austin at the 1996 Survivor Series. Rather than reacting bitterly to the clean loss, Piper strapped the belt around Bret's waist and congratulated him on his win, foregoing the heel turn that some of us wanted to see. Really, Piper would have been justified in clobbering him after Bret had tricked him twice earlier like a total dick. Just a great example of professional wrestling as physical storytelling, featuring two of the finest practitioners of all time.

WORST MATCH: Natural Disasters vs. Money Inc., ¾*. Truth be told, this Tag Team Title bout wasn't quite as bad as I remembered, but there are a few problems with it. A majority of the action consists of two big fat guys beating up two much smaller rich guys, which is a dynamic (Obese America taking on the One Percenters) that might work today, but the crowd in the Hoosier Dome was far more conservative with their reactions to the newly-babyface Earthquake & Typhoon at the time. The storyline going into this match was that Jimmy Hart had screwed over the Disasters, his former charges, in favor of Money Inc. and as a result, Ted DiBiase & IRS received the Disasters' scheduled title shot and captured the WWF Tag Team Championship from the Legion of Doom. However, the Mouth of the South didn't play much of a role and the ending came off flat, as Money Inc. left with the belts and took a count-out loss. Not an especially fun or interesting match to watch.

HIGHLIGHT OF THE SHOW: The Ultimate Warrior returning to the WWF. As much as the company has vilified him in recent years, the Ultimate Warrior always enjoyed massive popularity and his shocking appearance near the end of the show generated a gigantic roar from the 62,000 fans in the Indianapolis Hoosier Dome. With Hulk Hogan planning to step away from the ring, Vince McMahon was in need of another squared-circle superhero and made the call to bring back the unreliable Warrior to boost his sagging business. While it was a huge surprise to those of us watching at home and he received a deafening reaction when he charged out to rescue Hogan from Sid Justice and Papa Shango, Warrior was not the answer to the WWF's problems and he disappeared back to Parts Unknown six months later. Nevertheless, the unexpected return of the Ultimate Warrior was a vivid WrestleMania moment that is still etched in my memory 20 years later.

MVP OF THE SHOW: Randy Savage. Since losing the Career Match at WrestleMania VII, the Macho Man had finally consummated his on-screen relationship with Miss Elizabeth and found himself drawn back into the ring to defend her honor when Jake Roberts made her a target. She was also the impetus for his feud with Ric Flair, as the Nature Boy had published photographs of himself poolside with Miss Elizabeth, allegedly taken before she met Savage. Understandably, Savage developed a searing hatred for the new WWF Champion and he carried that tension into their one-on-one showdown, going right after Flair as soon as he hit the ring and eventually busting him wide open. An extremely close runner-up for Match of the Afternoon honors, the Savage/Flair title tilt was a great one, marred only by some blown spots and an unnecessary referee bump, as the Macho Man proved that he was still a tremendous performer with plenty left to offer the business. Like a true professional, Savage sold the hell out of Flair's figure-four and even took an extended post-match assault from Flair and Mr. Perfect, something that I don't recall Hogan doing after his WrestleMania victories. One year after being forced into retirement, Savage was back on top of the mountain in his second reign as WWF Champion.

OVERALL SHOW RATING: 8.5/10 – Only a year after the been-there done-that feeling that accompanied WrestleMania VII, the landscape of the WWF had shifted dramatically and that added a spark to the card for the eighth annual extravaganza. Sgt. Slaughter, Big Boss Man, Virgil, and the Nasty Boys were all involved in major bouts one year previous, but by 1992 they were thrown into a meaningless midcard eight-man tag team match. Two of WCW's biggest stars, Ric Flair and Sid (Vicious) Justice, had jumped ship and were immediately inserted into the upper card, which provided a fresh set of opponents for the WWF's two most recognizable names, Randy Savage and Hulk Hogan, the latter of whom had promised to retire after his match. Another long-time WWF veteran was also finishing up his last night with the company, as Jake Roberts put the Undertaker over on his way out of the WWF and went down in history as the second victim of the Dead Man's famed streak. Bret Hart had ascended to the Intercontinental Title and in the process, he put away another big name from the past in the form of Roddy Piper. In the opening contest, Shawn Michaels made his first solo heel appearance after competing in thrilling tag team matches at previous WrestleManias and he pinned the repackaged veteran "El Matador" Tito Santana, who had participated in all eight WrestleManias and was unknowingly competing in his final one. Tatanka beating Rick Martel and Owen Hart upsetting Skinner are two more examples of the clear theme running throughout WrestleMania VIII, as the WWF realized they needed to shake things up in a major way and they did so. Add in the surprise returns and debuts that were peppered throughout the show–ranging from Lex Luger's satellite interview promoting the World Bodybuilding Federation to Paul Ellering's first WWF appearance resuming his role as the Legion of Doom's manager to the shocking return of the Ultimate Warrior–as well as the plethora of good-to-great matches and a lively crowd in Indianapolis made this year's event one of the greatest WrestleManias of all time.
Colin Reinhart
BEST MATCH – Randy Savage vs. Ric Flair: [****1/2] Some people get hung up about the fact that Flair and Hogan didn't square off at this show but in a way I'm glad because we would have never gotten this classic match and rivalry if we hadn't. Flair going so low as to doctor photos of Elizabeth in compromising positions with the Nature Boy put the angle over the top, and when it came time to deliver both men had their working boots on. Probably Flair's best WWF match right here and another Wrestlemania classic for the Macho Man.

WORST MATCH – Money Inc (Ted DiBiase/IRS) vs. Natural Disasters (Earthquake/Typhoon): [*] It came down to this match or the main event between Sid and Hogan, but for some reason that Sid/Hogan match always had a small bit of entertainment value to me so I went with this match here, which truthfully isn't awful but it's just a filler five minute nothing match so it takes this category by default this year.

HIGHLIGHT OF THE SHOW – Flair and Savage tear the house down Like I said before, this is a stone cold classic and one of the best matches in Wrestlemania history. Savage and Flair on the top of their game, essential stuff and easily the highlight of the show.

MVP OF THE SHOW – Randy Savage: Boy it seems like Savage keeps taking this award huh? Goes to show just how important he was to the success of the early Wrestlemanias though, as he delivered yet again in the big match and picked up his last WWF World title.

OVERALL SHOW RATING: 8.0 – I love this show, it's got a classic WWF title match with Flair/Savage, an outstanding story-driven match between Bret Hart and Roddy Piper for the IC title that's one of my personal favorite 'Mania matches ever, and we even got a solid opener in HBK vs. Tito Santana. One of the better early 'Manias for sure and a rousing success.
Sean Garmer
BEST MATCH: Macho Man Randy Savage vs. Ric Flair [****] – The story going into this was that Flair was going to show some "naked centerfold" of Elizabeth if he won the match. So, this thing was a brawl mostly and included a really nasty blade job by Flair, where like half of his hair turns crimson. There was just a lot of good back-and-forth action in this one. Macho Man is supposed to be trying to defend his woman's honor and his anger is felt throughout the match. I really liked that even though there was some shenanigans, the match didn't end that way. The crowd was hot all the way through on this one and popped huge when Savage won. I think that is a testament to how much heat Flair can bring on himself and how much the fans loved Savage after Elizabeth came back. There was quite a few times where it looked like maybe Flair might win this thing, even though any fan that was above 15-years-old knew they weren't going to be showing any centerfolds at Wrestlemania. I loved the post match stuff too, Flair kisses Elizabeth and Savage just whoops on him for a while. Flair's promos before and after the match were epic.

WORST MATCH: Tatanka vs. Rick Martel [½*] – This was the beginning of WWE's push of Tatanka that extended to the next Wrestlemania as well. Tatanka wasn't horrible, I've certainly seen worse characters receive pushes from WWE over the years. However, I just never got what the big deal about Tatanka was. Martel was a good worker but he just never got over with the fans for some reason and similar to Tito Santana kinda just played bit parts on these early Wrestlemania cards.

HIGHLIGHT OF THE SHOW: Nice Matchups – WM 8 had some nice big matchups between some giants in the industry and some up and comers as well. This show also had another great match on it that I haven't mentioned yet. Roddy Piper defended the IC title against Bret Hart and I loved that Piper actually tried to wrestle with Hart. The match also had a lot of brawling elements, but the best part was Piper throwing the bell down and even though he got beat because of his indecision, it really drove home the story Piper tried to setup in the promo right before the match. Piper has known Hart for a long time, since he was a wee boy, and he has a lot of respect for him. Hart also admits to having much respect for Piper but he wants his title back. This match had a little bit of everything that you want in one of these older guy vs. future of the business type matches, and the ending was great. I loved that Piper was super classy and presented him with the belt and they hugged. Another one of these "passing the torch moments" for Wrestlemania and it was a wonderful undercard matchup.

The WWE Championship match was great as well and delivered its part of the double main event. I have no idea why this match couldn't have ended the show, because Savage and Flair have a ton of star power. I know the crowd loves Hogan but we kinda new what to expect with Sid being his opponent. Speaking of that match, it was slow, plodding, and basically just Hogan taking a bunch of big moves. Sid tried to prove he was crazy by talking into the camera and playing to the crowd. For someone that wanted to kill Hogan's career he sure didn't do much in that aspect. The ending just totally killed the match for me and is the big reason why I think WM 7 was better than WM 8. Sid's manager Harvey Whippleman didn't even touch Hogan but they called for the bell and said there was a DQ, how stupid. The whole match was just there to have Ultimate Warrior come back and should have never been called a main event by WWE.

MVP OF THE SHOW: Ric Flair – This was the only Wrestlemania that Flair was on during his first short run in WWE. Flair just made the title match seem so important with his promo at the beginning, while also furthering the Elizabeth story as well. I already talked about the match, and aside from the bad blade job, it was damn good. He then delivered a great promo later backstage as well that put over the result and let fans know he wasn't done with all of this. Flair really gave WWE fans a show and they got to see what they were missing if they didn't watch him all those years in the NWA/WCW. Since he doesn't show up in WWE again at Wrestlemania until 10 years after this event, I thought his whole impact on this show was worth mentioning.

OVERALL SHOW RATING: 6.0 – The WWE and IC title matches gave us some great Wrestlemania matches and moments. However, the rest of the show was lacking. The Undertaker had a little bit longer squash match with Jake Roberts (who is a perfect opponent for him) than he had with Jimmy Snuka at WM 7, and Shawn Michaels first Wrestlemania singles match was kinda blah. The rest of the show could have been skipped and you wouldn't be missing much. The slow pace and disqualification in the main event totally ruins it in my view, and the Tag Team title match was worthless because of Earthquake and Typhoon being involved. The two matches I've mentioned many times were great, but there is hardly anything else worthwhile on this show. So, it gets an average rating from me and it is not as well rounded as WM 7 was.
-Remember to come back tomorrow for our review of WrestleMania 9…
TWITTER
Your heart is free. Have the courage to follow it…TO CSONKA'S TWITTER!
http://www.twitter.com/411wrestling
http://www.twitter.com/411moviestv
http://www.twitter.com/411music
http://www.twitter.com/411games
http://www.twitter.com/411mma