411's DGUSA Freedom Fight iPPV Review 11.14.2012
November 14, 2012 | Posted by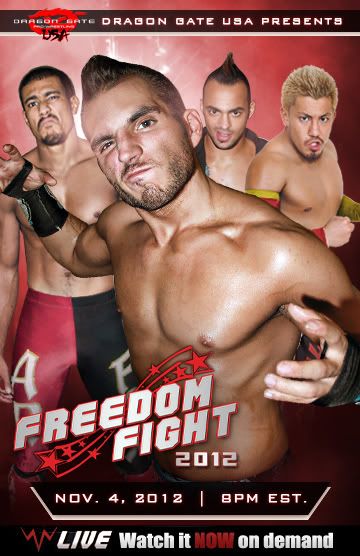 November 4, 2012
Deer Park, NY
Commentator: Arda Ocal
Eita vs. Jon Davis
Eita was pretty over as soon as he came out, which took me by surprise.
Eita went for some pinning combinations early, but Davis eventually caught him with a huge delayed, vertical suplex. Davis was in control until Eita was able to get some chops in. Eita managed to send Davis to the floor, and he then hit a moonsault. Back in the ring, Eita got a nearfall with a missile dropkick. Davis then caught Eita with a powerbomb, and he followed it up with a German suplex and a lariat: 1…2…3!
This was a solid opener. It was mostly designed to put Davis over strong, but Eita continues to look good, and I think he should be on as many future DGUSA shows as possible. And since he is touring in Mexico at the moment, it would be cool if he was flown in every once in a while for Evolve. Jon Davis is using the lariat as his finisher now, instead of Three Seconds Around the World. I think he needs to do a better job of adding some "flare" to his lariat, so fans react to it more strongly.
Match Rating: **1/2
Tony Nese & Papadon vs. The Scene (Caleb Konley & Scott Reed w/ Larry Dallas & Trina Michaels)
Nese and Papadon need to be on more WWN shows. The Scene desperately need to have a good match.
Nese was a rudo at the Evolve 14-16 tripleshot. He doesn't seem to be one here. Nese and Papadon were in control for a while. Larry Dallas tried to interfere, but Marti Belle got involved. The shenanigans allowed the Scene to cut off Nese, and they started to get the heat on him. Nese was able to block a tornado DDT from Reed (which looked impressive), and Nese then hit Reed with a super hurricanrana. Papadon and Konley tagged in. Papadon ran wild! Papadon hit Konley with a buckle bomb as Nese hit him with an enzuigiri (ala the Young Bucks). The Scene came back with a series of kicks on Papadon, and Konley then hit him with a German: 1…2…NO! Nese gave Reed a Cactus Clothesline. Trina Michaels tried to distract Papadon, but Marti Belle pulled her off the apron. Reed pulled Papadon to the floor. Nese gave Konley and enzuigiri and then a 450 Splash: 1…2…3! Yay!
This was easily my favorite match with the Scene ever. It was slightly annoying that the winners were quickly beaten down and dismissed after the match, especially since it was in the name of continuing a nothing storyline with the Scene. Nese and Papadon did a great job in this match, and I wouldn't mind them continuing to team in the WWN universe.
Match Rating: ***
The Scene attacked Nese and Papadon so that they could get to Marti Belle. Larry Dallas had his shirt off for some ungodly reason. Reed hit her with a powerbomb. Sami Callihan and Arik Cannon, the great defenders of women, made the save. Cannon wanted his match now…
Arik Cannon vs. ACH
Ocal said this was an impromptu match, but this was in fact announced ahead of time. ACH hit a hurricanrana and a tope suicida early on. Back in the ring, ACH went for a diving crossbody, but Cannon pulled a Joe and just walked away to avoid it. Cannon worked ACH over after that. ACH came back with an enzuigiri and a rolling Paydirt. Cannon came back with a Buckle Bomb and a big lariat: 1…2…ACH got his leg on the ropes. ACH came back with a reverse hurricanrana: 1…2…NO! ACH went for the middle rope 450, but Cannon avoided it. Cannon then hit the big punch, a kneeling superkick and a brainbuster: 1…2…3…sigh.
ACH is one the most talented independent wrestlers in America. He should be on every DGUSA and Evolve show possible. He should not be losing to Arik Cannon. Whatever. The match itself was fun and energetic.
Match Rating: **1/2
Super Smash Bros. (Player Uno & Player Dos) vs. The Electric Cherry Starship Project (Jigsaw & Fire Ant)
They did some amusing pre-match shenanigans. Jigsaw made fun of the SSB because no one bought their shirts before the show. Uno missed several Hadouken attempts until he finally hit one on Fire Ant. Dos and Jigsaw then did a really fun sequence. This match has been lots of fun. The Cherry Starship Project was in control until Dos hit them with the double Pele. Uno tagged in. SSB worked over Jigsaw for a while. Eventually, Fire Ant was able to tag in. The match lost some of the heat for a bit there. Fire Ant and Jigsaw each hit a tope suicida. They then hit Dos with a double brainbuster: 1…2…NO! SSB gave Jigsaw a Falcon Punch/Code Red Combo. Fire Ant then ate the Get Over Here Suplex and the Alabama Slam/Backstabber combo: 1…2…NO! Fire Ant caught Uno with a Stunner, and then, Jigsaw and Fire Ant hit Dos with a double superkick. SSB were in a corner, and the Cherry Starship hit a double Coast to Coast dropkick. Uno had Fire Ant up for the Fatality. Jigsaw came off the top rope to block but he instead just landed on his back. I have no idea what that was supposed to be. Dos then got on the top rope…Fatality: 1…2…3
I have no idea what Jigsaw was going for there. Regardless, this was a fun match. They couldn't really keep the momentum from the beginning going until the end, but I definitely enjoyed this. SSB should be getting a title shot soon, and Fire Ant/Jigsaw should be booked as often as possible going forward.
Match Rating: **3/4
Chuck Taylor vs. Rich Swann [No DQ]
This match was a brawl right away. They ended up on the floor with Taylor in control. Swann came back with a chair, but Taylor caught him with a superkick and a DDT on the concrete. Back in the ring, Taylor took a screwdriver to Swann's mouth. Taylor then used some pliers on Swann's fingers. Out of nowhere, Swann managed to hit the Lethal Injection. Swann then used a chair and a crutch on Taylor. Taylor went for a piledriver, but Swann came back with a sole butt and a scissors kick on the chair. Doctor Colonel Nolan Angus made his way to the ring, but Swann just gave him a superkick. Taylor then gave Swann a Rock Bottom through a chair: 1…2…NO! The Colonel then gave Taylor a belt. Taylor whipped Swann with the belt. "This is racist!" chants. Swann came back with an enzuigiri and a super hurricanrana on the chair. Swann then hit a weak chairshot to the head. It looked safe, but when it also looks so weak, it's kind of distracting. Swann finished Taylor with the Trouble in Paradise and the standing 450: 1…2…3!
This was a fun brawl, and hopefully, this is the definitive end to this mini feud. It's kind of a shame that the Taylor/Swann tag team didn't keep going as they were really good together, and it was probably the best thing for both men. Oh well. The first half of this show was quite enjoyable.
Match Rating: ***
CIMA vs. Sami Callihan
CIMA is the current Open the Dream Gate Champion so if you think Sami is winning, you probably also though Mitt Romney was going to win the Electoral College in a landslide. #Math
Sami got the first advantage. CIMA quickly came back with a backstabber. CIMA worked over Sami after that. Sami came back with a Brogue Kick, a DVD, and the BOING Splash. Sami then hit the Silverking Lariat and a tope suicida. Sami was in control for a bit until CIMA came back with a Perfect Driver: 1…2…NO! Sami came back with his figure four variation. CIMA made the ropes. CIMA hit a superkick, but Sami came back with a big lariat: 1…2…NO! Sami then hit a Brogue Kick and a Liger Bomb: 1…2…NO! Sami immediately transitioned into a Stretch Muffler! CIMA looked like he was going to tap, but he made the ropes. CIMA came back with an enzuigiri and a bridging back suplex for a nearfall. CIMA then hit the Coast-to-Coast dropkick and the Air Raid Crash: 1…2…NO! METEORA: 1…2…3!
I enjoyed this match quite a bit, and I was happy that CIMA seemed to go out of his way to make Sami look strong, even in defeat. That being said, this Sami arc continues to make very little sense. He was a cheating rudo who lost all the time. He then lost to Finlay clean. Finlay told him to focus. Sami then lost to AR Fox and El Generico clean. He turns tecnico for a show and gets squashed by Masada. He turns rudo again and defeats Del Sol and Generico clean. He now loses to CIMA clean. THIS MAKES NO SENSE. Whatever. The match was good.
Match Rating: ***1/2
Ricochet came out after the match, and he told CIMA to stay out of his business.
El Generico & Samuray Del Sol vs. Jimmyz (Ryo Saito & Genki Horiguchi)
Generico and Del Sol got the first prolonged advantage, as they worked Genki over for a while. Genki managed to cut off Del Sol for a second. Saito was going for the rubber band attack, but Generico blocked him. Generico then did a short range rubber band attack on Genki. The Jimmyz then isolated Del Sol, and they got the heat on him for a while. Del Sol eventually came back with a springboard back elbow. Generico then tagged in and ran wild. Del Sol wiped out Saito with a tope con hello. Generico got a nearfall on Genki with a Blue Thunder Bomb. Back in the ring, Del Sol went for the Rising Sun, but Saito reversed it into a German Suplex. Del Sol came back with a standing Sliced Bread #2: 1…2…NO! Saito caught Generico with a German for a nearfall. Generico hit Genki with a Yakuza, and he then hit the Sick Kick. Del Sol then hit Genki with the Rising Sun: 1…2…3!
This was another fun match on a show full of them. Generico and Del Sol are an awesome team, and I hope they get a tag title shot in the near future. Saito and Genki were not the best choice of DG talent to come over, but they definitely had some good matches this weekend.
Match Rating: ***1/2
Johnny Gargano© vs. Akira Tozawa vs. AR Fox vs. Ricochet [Elimination Match for the Freedom Gate Title]
Jon Davis, out of nowhere, attacked Gargano before the match. He reinjured Gargano's back (again). The match still went on with Gargano on the floor. The opening minutes of the match kind of fell flat because everyone seemed distracted by the Gargano situation. Ricochet mocked Gargano for "pretending" to be injured. Gargano finally got up and ran wild on everyone until they all hit big moves on him. Ricochet hit him with a shooting star press: 1…2…Fox pulled Ricochet out of the ring. At one point, everyone but Tozawa was in the corner, so Tozawa gave them all the Kobashi chops. Ricochet was on the outside, and Fox ended up on his shoulders. Gargano then wiped them out with a tope suicida. Tozawa then wiped them out with a tope suicida. Fox used a pillar and a guardrail to hit a kickflip moonsault. Back in the ring, Tozawa hit Fox with a brainbuster. Gargano got a nearfall on Fox with a slingshot spiked DDT. They did a tower of doom spot. Fox got a nearfall on Ricochet with a diving Codebreaker. Fox then got a nearfall on Gargano with the Thugbait. Fox got another nearfall on Gargano with a springboard 450. A lot of superkicks. Ricochet hit a ridiculous no-hands dive on Fox. Tozawa hit Gargano with a Wizard. Ricochet used a chair to attack Fox's previously injured left knee. I guess this is a No DQ match. Back in the ring, Ricochet locked Fox into a Texas Cloverleaf, and AR Fox had to tap out. AR Fox was eliminated.
Tozawa got a nearfall on Gargano with a saito suplex. Tozawa and Ricochet double teamed Gargano for a while. Tozawa eventually hit Ricochet with a Brogue Kick by accident. Gargano then hit them with a DDT and a reverse STO at the same time. Ricochet hit them with his rolling double Pele. Ricochet then hit them both with a Phoenix Splash: 1…2…NO! Tozawa came back with a super German on Ricochet. Gargano hit Ricochet with the Hurt's Donut, and Tozawa then hit him with the High Tension Suplex: 1…2…3! Ricochet was eliminated.
These two have had two singles matches in the past, and they have each won one of the matches. Gargano took off his back tape/bandage. Gargano killed him with the Lawn Dart and a kneeling superkick: 1…2…NO! Gargano hit the Hurts Donut, but Tozawa came back with two Germans. Gargano hit a superkick, but Tozawa hit another German: 1…2…NO! Gargano came back with a draping spinning STO and another Hurts Donut: 1…2…NO! GARGANO ESCAPE! Tozawa got to the topes and got a small package: 1…2…NO! GARGANO ESCAPE! Tozawa taps out! Johnny Gargano successfully defends the Freedom Gate Title.
This was not a perfect match, but this was an awesome main event for the last DGUSA show of 2012. There was a bunch of cool touches to this match that made it feel more important (as opposed to just being sequences of "stuff"). Ricochet and Fox let their personal issues get the better of them at times, and that cost them the match in the long run. Gargano and Tozawa did sequences that played off their previous matches. I think there were two things missing from the match to make it one of the best of the year. One, while the crowd was certainly not dead, this wasn't really an environment for any match to truly flourish in. Two, I think Gargano's back injury should have played a bigger role in the finish somehow. Even without those two things though, this was an excellent main event, the best match of the tripleshot, and it's a match that everyone should go out of their way to see.
Match Rating: ****
The 411: This was definitely the best DGUSA show of the weekend, and it was probably the most consistent DGUSA show since Wrestlemania weekend. No match (not even the one with the Scene!) dragged the show down, there was a great pace to things, and there was basically something to like about everything on the show. It definitely wasn't a perfect show (ACH losing to Cannon immediately jumps to mind), but hopefully this is a show that gives DGUSA/Evolve some semblance of momentum after the two promotions seemed so lifeless for the last couple of months. Broken record time: these two promotions have so much talent. There is so much potential. Shows like this remind me that there is still hope that these promotions can become very good again soon.
Overall Recommendation: Strong Thumbs Up. Check this show out for sure.
Thanks everybody for reading! You can send feedback to my Twitter or to my email address: [email protected] Also, feel free to check out my own wrestling website, FreeProWrestling.com. Also, check out my Best of Chikara blog and an archive of all my 411 video reviews.


For more information on DGUSA, check out their:
Facebook
Twitter
DVD Store
Youtube Page
NULL