411's NXT Takeover: Chicago Preview
May 20, 2017 | Posted by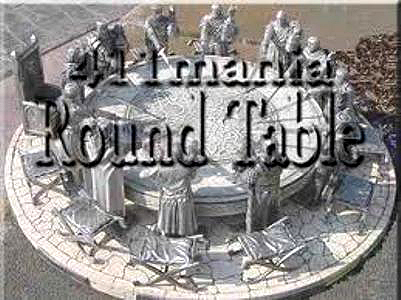 ~THE STAFF~
* 411 columnist, Mr.
Steve Cook!
* The Nostradamus of 411, Mr.
Justin Watry
* 411's Mr. NXT, Mr.
Kevin Pantoja
* 411 contributor, Mr.
Jake Chambers
* 411 contributor, Mr.
Mitch Nickelson
* 411 contributor, Mr.
Ken Hill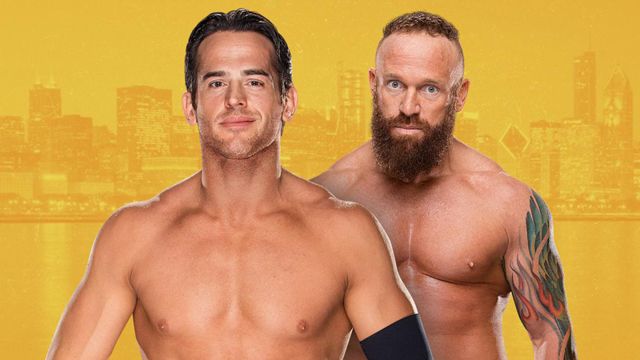 Roderick Strong vs. Eric Young
Ken Hill: I've certainly appreciated the focus made on Strong's life in and out of the ring; if more insight were given on a number of current and upcoming stars, I feel like the live and online audiences could make a more solid "kennection" with them and resonate with them on an emotional level. That being said, this is Strong's receipt for helping Dillinger get a final hurrah over SAnitY, so expect Young to get his rebound victory.
WINNER: Eric Young
Mitch Nickelson: Both of these guys could find themselves at the top of the NXT card with a few big wins, so this match could signal who's ready to move up. Roddy has been getting strong buzz with the recent video packages that showcased more of his personal life. He's a likable guy. The powers that be should ride this wave of momentum and give him a solid win on this show.
WINNER: Roderick Strong
Steve Cook: Roddy has been going against Sanity for awhile now without much in the way of success. A win over EY here would help him gain some measure of revenge, and I can see him winning to get pushed up the title contention ladder. But if you think I'm picking against one of my fellow die-hard Nashville Predators fans, you've got another thing coming. Times like this, us Smashville boys stick together.
WINNER: Eric Young
JUSTIN WATRY: Finally a reason to care about Roderick Strong! Finally. Those videos following his journey to the wrestling ring were fantastic. I thought for sure I'd be teary eyed by the end (I don't cry at all), but I barely made it. Such a job well done to everybody behind the scenes at NXT for putting that together. Besides the joy of welcoming a child with the love of his life, this is sure to do wonders for his professional career – which was the entire point. Sadly, I can not say the same for Eric Young and Sanity. The breakout star of that stable has been Nikki Cross, not any of the guys. Thus, I suspect Strong will look strong here (ha!) and win. Kudos to all for making me care about Roddy. Tough task accomplished.
WINNER: Roderick Strong
Jake Chambers: It's the ROH vs. TNA "dream" match that NO ONE ever wanted to see! Brought to you by WWE's developmental Performance Center no less! Nah, we don't want La Sombra vs. Chris Hero, what a shitty PPV match that would be. Or could you imagine a Oney Lorcan vs. Drew Galloway re-match, ugh, what a waste of time. And I think Aleister Black's awesome debut at the last Takeover is really gonna be out done this time by the surprise appearances by NXT's latest acquisitions: Shark Boy and Bobby Dempsey! As for this match, hmm… kind of reminds me of that Dean Malenko / Scotty 2 Hotty Backlash 20000 match, only without the threat of a wicked top rope Jake Roberts-style DDT finish. And the winner? Well it's really vignettes vs. faction, and in pro-wrestling logic you've gotta go with vignettes every time!
WINNER: Roderick Strong
Kevin Pantoja: I think NXT did a great job with the video packages to get the fans behind Roderick Strong. I do think it was a mistake to not put the SAnitY attack on TV though. This is one of those matches that feels like it could go either way. I could see Strong winning to build upon his vignettes and such, but I think they made him a sympathetic character. That means he can stay over with a loss. Plus, SAnitY has been booked very strong. I say Young wins here and this feud follows a similar pattern to the Dillinger/Young one.
WINNER: Eric Young
WWE UK Title Match: Champion Tyler Bate vs. Pete Dunne
Ken Hill: I feel there would've been a little more hype for this match if it hadn't been outright spoiled a few weeks prior. Aside from that, this should be another fun, brutal encounter if their finals match from the UK Tournament was any indication. It WOULD be interesting to see Dunne and his oh so villainous ways take the duke here, but I think WWE will wait to get their proposed weekly UK show up and running with their inaugural champion at the helm before that happens.
WINNER: Tyler Bate
Mitch Nickelson: Pete Dunne is the man. Make him the Champion. Tyler Bate is good as well but it's Dunne that needs to be the face the WWE UK scene. He's captivating. It'll be fun to see this match in front of an NXT audience in Chicago. There's a solid push to get this division and new show off the ground this weekend; this match will serve as a strong reason whether or not there's success or failure. Given enough time, I'm confident that they'll hit it out of the park.
WINNER: Pete Dunne
Steve Cook: Would it make much sense for the UK Championship to change hands in Chicago? Probably not. I figure Dunne will be the next man to hold the strap, but it'll be at a future UK taping. The important thing here is for Bate & Dunne to deliver a solid match and make NXT fans feel like they can't miss the UK shows.
WINNER: Tyler Bate
JUSTIN WATRY: Usually, NXT is pretty straight forward and predictable in its' presentation (which is a good thing). However, I actually find this card to be fairly unpredictable. I do not think we are in store for any major shocking moments or anything, but Chicago should be on fire for a memorable show with a few twists and turns. The WWE UK Championship match is right at the top of my list in "who the heck is going to win?" discussions. The obvious answer is Tyler Bate retains and moves forward as champ for the new brand coming to the WWE Network. However, he has held the title since January and outside of a couple of NXT appearances, the man did a whole lot of nothing. Partially WWE's fault obviously. Well, maybe entirely WWE's fault. Still, I wonder if Pete Dunne can be the bruising heel at the top during the launch of the Untitled UK Show debuting soon. I will pick a title change but not feel confident in it. Let's just hope for a very good match that is well received. Be kind Chicago. Don't 205 Live this UK thing right off the bat.
WINNER: Pete Dunne
Jake Chambers: The WWE UK Championship is my favourite mystery in pro-wrestling right now. They made a title belt exclusive to a geographic territory but don't have a roster or regularly scheduled program for that market. OK. But, the UK Championship apparently CAN be defended on foreign soil like this upcoming match in Chicago. OK. But every time they do one of these matches the competitors have to be UK citizens. So, like, Finn Balor couldn't win the UK title then, right? But what if you have a work visa for the UK? What if it's just a working holiday visa? What if you live in a Commonwealth country and your paternal grandparents were born in the UK, like their rule for dual-citizenship application? What if you're just really good at doing a British accent? What if you prefer the original British version of The Office to the US one? What about Jack Gallagher, he can work in the 14.6 st and under "division" and also compete for the UK Championship it seems? So what about Ho Ho Lun then, who was born in Hong Kong before the 1997 handover? What exactly qualifies you to challenge for this coveted title? Fascinating.
WINNER: Tyler Bate
Kevin Pantoja: This is the toughest match to call for me. Though Tyler Bate won the title and has had a strong 2017, Pete Dunne was presented as the biggest star during the UK Tournament and has had an even better 2017. Dunne as UK Champion could work, but I think him having the PROGRESS Title is the most he'll have for now. This should be a tremendous match, nearing the quality of their UK Tournament finals. I'm gonna say Bate retains and whenever the title does eventually change hands, it'll be on UK soil.
WINNER: Tyler Bate
NXT Women's Title Match: Champion Asuka vs. Ruby Riot vs. Nikki Cross
Ken Hill: Again, I'm liking these recent videos that allow us a more personal look at certain superstars and where they are coming from and where they are going. With Asuka, you can see that the fan-friendly facade, her "mask', if you will, is slowly starting to crack, and we can see the arrogance, annoyance and resentment starting to trickle in. The day that "mask" fully breaks and we get the evil, will-MURDER-you-to-retain-her-title, Asuka full-time is not too far off, but Takeover: Chicago will not be that day.
WINNER: Asuka
Steve Cook: It feels like it's time for Asuka to lose the title, but I've been saying that for a long time and it hasn't happened yet. The Riot/Cross issue has been picking up lately and I don't feel like it needs the title. So I'm picking Asuka, but if she ends up losing you might keep an eye on her showing up at Backlash.
WINNER: Asuka
JUSTIN WATRY: Okay, Asuka wins. She still has a showdown (and eventual loss) with Ember Moon down the road. Unless that changes with the new signings? Either way, as great as Cross has been, she is better suited to not hold a title. Just let her run wild all over the building and do her thing. Been a highlight on NXT the past month or so. Ruby Riot is still new and gaining fan support. The feud with Cross is something worth building. I'd have that go until Summerslam weekend if possible. Cross and Riot in an epic street fight or something. Guaranteed to tear the house down. Long story short: Asuka is developing her heel act little by little before going to the main roster (has to be sometime in 2017, right?), and I see an easy victory on Saturday.
WINNER: Asuka
Jake Chambers: Is Asuka still a thing? I mean, are we still supposed to be fooled into thinking she's really good, or is it cool to jump off that bandwagon now? With the news that WWE is bringing in two of Stardom's top wrestlers you gotta wonder if they take the NXT Women's title off Asuka soon, because it's not like they're all gonna be feuding against each other, WWE isn't that fun. Of course they'll all be in a big Japanese faction of some kind. The problem is though, they made you think Asuka is so great for like a year now and she's gonna be the weakest of the three. On the other hand, Ruby Riot and Nikki Cross… who are they again?
WINNER: Asuka
Kevin Pantoja: Considering the way the match in Orlando went, Ember Moon has to be the one to dethrone Asuka right? I'd like it to happen in a singles match, so I'm not sure why they booked a four way in the first place. Nikki Cross has quickly become one of my favorite acts in NXT and Ruby Riot has been fun so far. I don't see either as champion right now though. Asuka should get called up soon, but not before Ember returns to take the title from her. Asuka retains in what should be a solid match. Expect Nikki and Ruby to attempt to kill each other though.
WINNER: Asuka
Mitch Nickelson: This is the match I'm most excited about on this card. I find all of these wrestlers highly engaging and I love every time they interact with each other. The chemistry is there and I'd say this is the best state of the NXT women's division since the Four Horsewomen era. It's a shame that Ember Moon isn't involved in this one. Asuka has resorted to more and more heelish tactics to continue her record-setting title reign but I think all of that is coming to an end. Nikki is a little more established on this roster so I'm calling that Ruby will walk out with the belt. She has more to gain and with her talent, she's somebody worth taking a chance on.
WINNER: Ruby Riot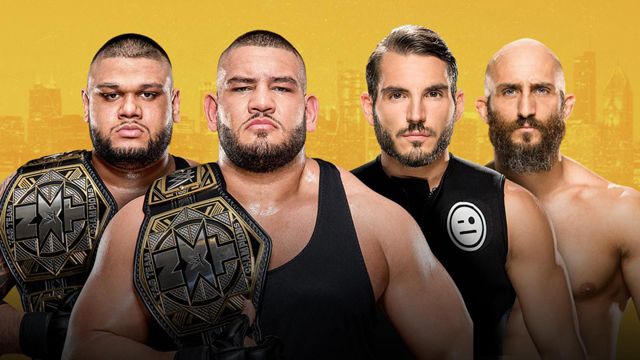 NXT Tag Team Title Ladder Match: Champions The Authors of Pain vs. DIY
Ken Hill: This is the match I'm really looking forward to, as it takes the AOP out of their comfort zone, yet at the same time adds a new potential level of brutality to their dynamic. #DIY always delivers and this should be no different. Ciampa's ankle sprain hopefully doesn't take too much away; he's reported to be in good shape regardless, and it doesn't change my prediction, as it gives #DIY a way to win back the belts without trying to pin the two behemoths, and leaves things open for a "final encounter" down the road.
WINNER: NEW CHAMPIONS #DIY
Steve Cook: Gargano & Ciampa have been on the losing end of things more often than not since their issues with Paul Ellering's boys have begun. This feels like a night where things change just a bit. I honestly have no idea at this point if ladder matches favor smaller or larger wrestlers, but I think Gargano & Ciampa have more ideas in their head that will lead to success. If this was a scaffold match I'd give Ellering the edge there, but I don't remember the Road Warriors having a ton of ladder matches.
WINNER: DIY
JUSTIN WATRY: Hmm, the two big giants have yet to be pinned or made to submit. Hmm, William Regal is making them defend their gold in a bout where the winner can be decided without a pin or submission. Hmm, this may be DIY's final shot at the belts. Hmm. Flip a coin here. The bout will surely feature a lot of high flying from the good guys and power moves by the heels…the outcome, though, is a mystery. Heads or tails, call it in the air!
WINNER: DIY
Jake Chambers: Can we just get a Ladder Match Title at this point, damn! Like, does every show need to have a ladder match on it? What is this, 2010? Or do I mean, 2000? The Ladder Match plague is never ending it seems! Just give me every match as a ladder match, or stop doing them altogether. What are the chances of that, right? I guess I'm the crazy one because I'd rather see solid wrestling derived from unique stories. Instead we'll just keep getting these random ladder matches that confuse my already thin suspension of disbelief on the whole concept anyways. C'mon, we know those like tin foil ladders don't hurt these massive dudes, so using it as a weapon is kind of dopey. And then if they jump or fall off one in a way that I haven't already seen in the past 20+ years it might look really dangerous, which in 2017 is now taboo to enjoy about pro-wrestling: the legit appearance of danger. So I gotta watch these non-stop, oxymoronic "safe" ladder matches, with the thinnest of logic behind why they even need to have the titles suspended above the ring in the first place. But just imagine the epic chants a cool NXT crowd can come up with from all the death-defying action we're gonna see.
WINNER: Authors of Pain
Kevin Pantoja: With the news of Tommaso Ciampa suffering an injury, this match is up in the air. However, whether healthy or injured, I don't think #DIY walks out with the titles. Though they are the second best tag team on the planet (only behind The Revival), they're like Sami Zayn. Great babyfaces who didn't need a long reign with the titles. They had their reign and that'll be it. The Authors of Pain have shown lots of improvement and have had some great matches. If this match still happens, expect it to be the highlight of the show.
WINNER: The Authors of Pain
Mitch Nickelson: I'm writing this knowing that Ciampa suffered some sort of injury very recently. Whether or not he's okay, I'm sticking with my original opinion that the Authors of Pain are retaining the titles. I assume they'll still have a match even if it's against a different team. Akam & Rezar are truly homegrown talent from the performance center and I think that will feed in to what I think is a lengthy title run. Perhaps when TM61 finally return they'll take the belts off AOP but no changes will happen anytime soon as far as I can see.
WINNER: Authors of Pain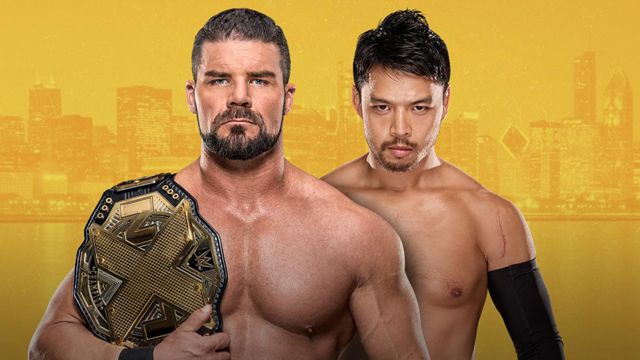 NXT Title Match: Champion Bobby Roode vs. Hideo Itami
Steve Cook: Itami has consistently gotten the better of Roode on television leading up to this match, which tells me that Roode is destined to get the upper hand tonight by hook or by crook. Probably by crook, but you gotta hold on to the title anyway you can. And it's not like I'm picking against the man with the Glorious theme song that the Nashville Predators have adopted during the Stanley Cup Playoffs. Anybody who pre-records a message for Predators fans is good with me.
WINNER: Bobby Roode
JUSTIN WATRY: About time we get to see a real GTS in Chicago! I kid, I kid. If you have been reading my Jay's Ways columns since March, you know what I think will happen this Saturday. Not only will Bobby Roode retain, but he will get some help. Not going to call my shot or anything – that can be read elsewhere (on another website). Let's just say it will be a miracle if Hideo Itami wins the belt this weekend. Good build for him in recent weeks but not meant to be. Roode has other big name opponents lined up for future Takeover live specials and more main events ahead of him in NXT. Itami will deliver the masterpiece we have been waiting for since his arrival – just no celebratory championship party at the end of the evening. He can go to sleep happy but without a victory…
WINNER: Bobby Roode
Jake Chambers: NXT has a serious opportunity to de-TNA-ify itself here by making Itami champion. But, oh, KENTA, whatever you and Marufjui did back in the day to bulk up so quickly, which also miraculously coincided with a string of muscle tears and blown joints, sure seems to be biting you in the ass now (no pun intended). If only you'd come up a few years later in the LeBron James world of magical health, then we wouldn't have to worry about one of the legit greatest wrestlers of all time basically risking career-ending injuries every time he gets in the ring. So, no, sadly I don't see Hideo Itami walking out with the NXT belt here, and I'm afraid that the TNA-era of NXT is about to transition into something even worse. I can't be the only one who fears that we're on the brink of Jimmy Jacobs and Steve Corino orchestrating a behind-the-scenes push to bring in Michael Bennett, Adam Cole and Kyle O'Riley to join Roderick Strong in a generic boots-and-tights re-imagining of the horrible SCUM-era of ROH? Ugh, remember when NXT used to be great? I blame the Full Sail fans for what's happened here. I don't even know why, but we should always remember to talk shit about those idiots any chance we get. Here's a new sing-song chant for you, to the tune of Drake's Hotline Bling: "NXT-Champ-Bobby-Roode / 'cause-you-morons-never-boo-ed". Thanks a lot!
WINNER: Bobby Roode
Kevin Pantoja: I am so ready for Hideo Itami to be NXT Champion. I've wanted it since 2015. Hell, I actually like Itami more than Shinsuke Nakamura. He's been one of my guys since 2006. Alas, it won't happen. Roode is the top heel in NXT. Itami has also gotten the better of him at every chance since returning a few weeks ago. Roode will win and then I don't know what they do with Itami next. He hasn't spent much time in NXT, due to injuries, but I don't see them giving him the title.
WINNER: Bobby Roode
Mitch Nickelson: I'm a little torn on this matchup because I think this could be the first of several matches between these two. Don't get me wrong, Roode could drop the title and head to a main roster show in the next week but I don't see any callups being that imminent. What I think will happen is Itami will win, but only by DQ. This will set up a return match and he can win it then if he wants to. I wonder if Itami gets some sort of beefed up entrance? That's a prerequisite anymore for NXT main eventers. I have no idea how that would happen for him but it feels like he'll need something theatrical.
WINNER: Hideo Itami (but no title change)
Ken Hill: This is the one that has me on the fence. On the one hand, Roode's NXT run has indeed been GLORIOUS, especially since winning the NXT Title, and you wouldn't want a inglorious hiccup in said reign just to give Itami a token run with the strap before he eventually makes his way to the RAW or SD roster. At the same time, though, it behooves Triple H and NXT to reward Itami with a title run after all the start-and-stop trouble and rehab he's gone through just to get to a point he really should've been at a year or two earlier. I have no doubt it will happen and Itami will get his due, but I just don't think it will be at Chicago.
WINNER: Bobby Roode
Join 411 tonight at 7:45PM ET for our live NXT Takeover: Chicago coverage!