411's TNA IMPACT Wrestling Report 1.03.13
January 3, 2013 | Posted by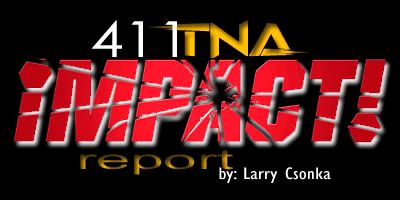 Championship Roll Call:
TNA WORLD CHAMPIONSHIP: Jeff Hardy
TNA X-DIVISION CHAMPIONSHIP: RVD
TNA TAG TEAM CHAMPIONSHIP: Chavo Guerrero and Hernandez
TNA KNOCKOUTS CHAMPIONSHIP: Tara
TNA KNOCKOUTS TAG TEAM CHAMPIONSHIP: Eric Young and ODB
TNA TELEVISION CHAMPIONSHIP: Devon
---
411's IMPACT WRESTLING REPORT 1.03.13 (Episode 443)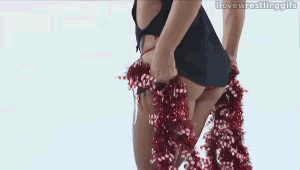 –Reminder, I do not rate matches that are under three minutes long…
-Opening video package.
-We are LIVE from Orlando!
-Jeremy Borash is in the ring, and is ready to award the TNA Wrestler of the Year for 2012. The finalists are Bully Ray, James Storm, Austin Aries, Bobby Roode and Jeff Hardy. Ands the winner, as voted by the fans is…Jeff Hardy. Roode and Aries were walking to the ring, arguing with each other that they had won, and were shocked at the announcement. Storm and Ray were good sports about it before they headed backstage. Jeff gets a trophy, which is in the ring, ad thanks the fans. He says he is the champion, but the award means just as much because it confirms he had a great 2012. Roode is pissed about this and cuts off Jeff, saying this is all a bunch of crap. When Roode was champion there was nothing more important to him than the title. Roode reminds us he was the longest reigning champion in the company's history, and the fact he lost is a bunch of crap. Aries says this is a fluke, says he averages over 4 stars a PPV match, and held the X-Division and world title and says he deserves it. Jeff says at Genesis, he faces Aries and Roode, with the title on the line. Aries attacks Jeff and chop blocks his knee. Roode then enters the beating, and they argue over who will beat down Jeff. Aries grabs the trophy, Roode holds Jeff, who moves and Roode eats the trophy. Twist of fate on Aries and Jeff stands tall.
-Backstage Storm discusses not winning the award and Daniels and Kaz enter. They mock him, including Daniels doing an impersonation of Storm. Storm says he will win the title in 2013, and then says that he will take them both down, and spits in Daniels' appletini.
James Storm vs. Kaz w/Daniels
After a distraction, Kaz attacks and here we go. He beats Storm down in the corner, but he fires back and lands mounted rights to Kaz. A clothesline follows, and then tosses Kaz to the floor. Plancha by Storm wipes out Kaz. Daniels distracts him, Storm then eats a clothesline by Kaz. Daniels lays in the boots on Storm on the floor, rolls him back in and Kaz covers for 2. Chinlock by Kaz, Storm with rights to escape, but Kaz takes him down and lands a leg drop. Slaps by Kaz, and Storm connects with the lung blower. Rights by Storm follows, off the ropes and a Russian leg sweep by Storm. Storm heads up top, and the elbow drop connects for 2. Daniels with the distraction and Kaz dropkicks Storm to the corner. TKO by Kaz, and a cover gets a close 2. Another lung blower by Storm nails Daniels with a kick, Kaz with the springboard into the superkick by Storm and that is all.
OFFICIAL RESULT: James Storm @ 4:00 via pin
RATING: **½
-Aces and 8s meet with Ken Anderson again. Ken says he is having fun, but they want a decision. Ken also says he enjoys the recruitment process. Doc wants an answer because Sting is coming back. Ken says if they are going to do this, they need to make sure they do not show Sting an ounce of fear. Devon is pleased, and says they shall see what Sting has to offer. Devon cannot find the bat he stole from Sting.
-Kenny King meets with Kid Kash backstage. King says he watched him on VHS. They discuss the X-Division tournament, which starts tonight. They plan on meeting in the finals.
-We see video of the Aces and 8s and their various attacks.
-Doc makes his way out to the ring alone. Doc grabs the mic and has his hammer and calls out Sting. He says for Sting to come out and join the party. Doc says it is 1.3.13, and Sting said he was a marked man. He doesn't feel like a marked man, and tells Sting to show himself. Doc then says this is bullshit, and that he is tired of waiting. Doc says Sting is wasting time, so get out here, and face the man that will cripple him once and for all. Doc says everyone wants Sting to get out here, so this is his final call. Sting, get your ass out here. A bat drops from the ceiling, and Doc asks where Sting is at, and claims he is not afraid. We go to a commercial…
-We are back from commercial and Brooke is asked if she had talked to her dad since the kiss with Bully Ray. She says we'll find out on TV as always.
X-Division Tournament Match: Christian York vs. Kid Kash
Kash attacks at the bell, as we have a battle of former ECW stars. York battles back, sends Kash to the floor, but Kash pulls him out ad then back in and hits a RANA on York on the floor. Chops by Kash, rolls York back in. Kash back with a kick, up top and misses a knee strike. Kash misses a clothesline, big boot by York and then a half nelson suplex. Dump suplex by Kash, up top and the moonsault eats knees. York sets, lays in the kicks and kinda blows a back handspring. Gets a kick to recovery, and covers for 2. Flatliner by York, and a cover gets 2. Small package by Kash gets 2. Looks for the money maker, counters and York hits the mood swing and that is all.
OFFICIAL RESULT: Christian York @ 4:00 via pin
RATING: *½
-King vs. Ion takes place next week. The winner of that faces York at Genesis for an X-Division title shot. The winner of that match faces RVD for the title that night.
-Chavo discusses the feud with Ryan and Morgan.
-Morgan comes out and says he wanted to beat down Hernandez, but he hurt his arm in the gym tossing around 700 pounds. But he'll be ready for Genesis, and tonight, Joey Ryan will whip Hernandez's ass.
Hernandez w/Chavo vs. Joey Ryan w/Matt Morgan
Ryan attacks before the bell, but Hernandez fights back and lands the back breaker. Morgan interferes, and Hernandez argues with him. Morgan's arm appears to be fine. Hernandez then kills Ryan with the pounce, Morgan in and levels Hernandez with the clothesline and we have a DQ
OFFICIAL RESULT: Hernandez @ 1:00 via DQ
RATING: NR
-Carbon footprint to Chavo, and Morgan and Ryan stand tall.
-Hulk Hogan walks.
-Kurt Angle tells Garett and Wes that tonight will be cake, and they can hang back tonight during the cage match. They want to help, and Joe gets pissed. Angle says they are being respectful, and Angle says they have it taken care of due to the cage stipulation. Angle says to Joe that he has not talked to Sting, but plans to unmask Aces and 8s. Joe says he is with him on that.
-Miss Tessmacher, Gail Kim, Tara and Mickie James all stretch backstage.
-We get a video package of the Brooke Hogan angle.
-Hulk Hogan makes his way to the ring. Hulk apologizes to the fans for pulling a disappearing act and not being here last week. But two weeks ago, he saw his daughter and Brooke making out and he had to go for a bit. Tonight he takes care of business, and tells Bully Ray and Brooke to come to the ring. They make their way out, and then Hulk says Ray has been saying he respects him. He has watches Ray talk old school and helping the younger guys, but he knew something was wring. There is a brother of the road code, and Ray should have admitted what was going on. Hulk then asks why? Ray says he is right, and that he should have come clean about he and Brooke. He says all of the heat is on him. Hulk says he knew who Ray was since day one, that he was no good. Hulk says Ray doesn't belong in this business, and then says if this was 20 years ago, they would have been to war, and one would have been gone. But since Ray broke the code, he will play by the new rules. Hulk then suspends Ray indefinitely without pay. He tells him to leave the ring. Ray asks why, and Hulk then says Brooke made her decision and tells her to get the hell out as well. Ray grabs Brooke's hand and they bail.
-We get a replay of the Hogan, Ray, Hogan angle we just watched.
-We get a video of Joseph Park training in OVW.
Miss Tessmacher and Mickie James vs. Tara w/Jesse and Gail Kim
Taryn Terrell is the referee. Kim and Tessmacher to begin as Kim lays the boots to her. Tessmacher back with the monkey flip, off the ropes and Tara knees her in the back. Kim takes her to the corner, tag to Tara and they double team her in the corner. Chops by Tara follows, off the ropes, blind tag by James and she is in and lands a knee to the face of Tara. Dropkick to Kim, and James and Tessmacher clear the ring. Tara ad Kim argue and James and Tessmacher slams them together on the floor. Back into the ring they go and as the ref tries to take control, Tara and Kim double team James. Tara works the Chinlock…
~commercial time~
We are back from the commercial break as Kim is in control over James. Tag to Tara, to the corner and Kim whips Tara in, James moves and then clotheslines Kim. James crawls and gets the tag to Tessmacher. Tessmacher is the old house of fire. Face full of stuff to Tara and then slams her to the mat. Goes for the asstastic but Jesse saves Tara. Kim sneaks in and attacks Tessmacher. Tara back in and chokes out Tessmacher. Hair mare follows, and then the side back breaker by Tara gets 2. Tara slams v to the boot of Kim, tags Kim in and she lays the boots to Tessmacher. James in for e save, but the ref stops her. Gut buster by Kim, and a cover for 2. Off the ropes and a clothesline by Kim, a cover gets 2. Kim chokes her out, to the corner, Kim misses the charge and flies to the floor. Tara distracts the ref, Kim pulls James to the floor to stop the tag and slides back in and slams Tessmacher to the mat. Slam by Kim, tag to Tara, slingshot leg drop connects and he covers for 2. Tara slams Tessmacher down again, standing moonsault eats knees from Tessmacher. To their feet, off the ropes and a facebuster by Tessmacher connects. Tags to Kim and James. Thesz press by James, rights follow. Dropkick to Tara. Back elbow to Kim, head scissors follows. A neck breaker to Kim also connects and a cover for 2 as Tara makes the save. Tessmacher in and spears Tara and Jesse pulls Tara to the floor. Tessmacher up top and wipes them out with the big cross body! In the ring, Kim misses a charge, DDT by James spikes Kim and that is all!
OFFICIAL RESULT: James and Tessmacher @ 13:00 via pin
RATING: **¾
-Doc is in the back and complaining to Aces and 8s about Angle. He says the remaining members need to stay masked, and the leader agrees.
-The cage match is next!
-ODB discusses what Aces and 8s have done. She says EY is still recovering at home, but she says he will walk back in here and she will be by his side.
-Roode and Aries argue with Hogan, and are pissed about the three way world title match. Hogan says the match will be under elimination rules. Next week it will be Roode and Aries vs. Hardy and a partner of his choice.
-Before the bell Doc attacks Angle and slams the cage door on his head. He locks the cage, leaving Joe alone in the cage with Devon and the Masked Man.
Steel Cage Match: Kurt Angle and Samoa Joe vs. Aces and 8s (Devon and a Masked Man
Doc continues to attack Angle on the floor as Joe fights for his life in the cage. Joe is all over both guys, enziguri to Devon and then lays the boots and chops to the Masked Man. Devon fights back, but avoids the Masked Man who lays out Devon by accident. Joe chokes out the Masked Man, face wash and Devon saves the Masked Man form the big boot in the corner. Angle is still down on the floor as Devon and the Masked Man beat down Joe. Joe tries to fight back, but Devon rakes the eyes and then they beat down Joe in a corner. Angle is up and tries to get into the cage, but Devon kicks the door back into his face to stop that.
~commercial time~
We are back from the commercial break as Joe tries to fight off both men. Boots by Joe, and off the second rope with the leg lariat to Devon. Overhead T-Bone suplex to the Masked Man follows. Angle tries to climb the cage, Doc stops him and they brawl. Angle takes him out and gets the key ad is in the ring. Angle runs wild with clotheslines. Rights to the Masked Man, back elbow and a dropkick off the second ropes connects. Angle goes to unmask the big buy, and Doc then slams the cage door into his face. The Masked Man and Devon attacks Joe, and Angle is busted open now. Corner splash by Devon follows, and then the side slam by the Masked Man. Devon up top, flying head butt to Angle misses and Angle rolls out of the way. Germans on Devon by Angle now, second connects and then the third. Release German for the Masked Man. Joe slams Devon onto the cage and then Angle does as well. They work over the Masked Man, Angle slam and that is all.
OFFICIAL RESULT: Angle and Joe @ 12:00 via pin
RATING: **½
-Doc hits the ring after the match and it is 3 on 2. More Aces and 8s members hit the ring and now Joe and Angle are getting the gang attack. Ken Anderson is on the floor waiting as the beat down continues. Sting finally makes his way to the ring, and starts to lay out guys with the bat. They make the mistake of doing the "ninja movie one at a time attack pattern," and Aces and 8s retreat as Sting clears out the ring. One man is left, the big masked dude, and Sting, Joe and Angle beat him down. Angle goes to unmask him and IT'S MIKE KNOX'S BEARD! Aces and 8s pull him to safety, but we now know who another member is.
-Thanks for reading.
-End scene….
UPDATED GENESIS CARD
* X-Division Tournament Match: Christian York vs. Winner of Zema Ion and Kenny King
* X-Division Title Match: RVD © vs. Tournament Winner
* TNA Tag Team Title Match: Chavo Guerrero and Hernandez © vs. Joey Ryan and Matt Morgan
* Three Way Dance For The TNA World Title (Elimination Rules): Jeff Hardy © vs. Austin Aries vs. Bobby Roode

WHAT DID YOU THINK ABOUT TONIGHT's TNA IMPACT?


Larry's Year-End Column Extravaganza Update
* Looking at EVOVLE-DGUSA on iPPV in 2012
* Looking at TNA on PPV in 2012
* Looking at WWE on PPV in 2012
* Looking at ROH on iPPV in 2012
* The Top 10 Things I Enjoyed About 2012
* The Top 10 PPV Performers of 2012
TWITTER
Your heart is free. Have the courage to follow it…TO CSONKA'S TWITTER!
http://www.twitter.com/411wrestling
http://www.twitter.com/411moviestv
http://www.twitter.com/411music
http://www.twitter.com/411games
http://www.twitter.com/411mma