411's TNA IMPACT Wrestling Report 6.07.12
June 7, 2012 | Posted by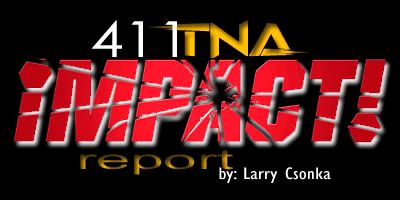 Championship Roll Call:
TNA WORLD CHAMPIONSHIP: Bobby Roode
TNA X-DIVISION CHAMPIONSHIP: Austin Aries
TNA TAG TEAM CHAMPIONSHIP: Daniels and Kazarian
TNA KNOCKOUTS CHAMPIONSHIP: Gail Kim
TNA KNOCKOUTS TAG TEAM CHAMPIONSHIP: Eric Young and ODB
TNA TELEVISION CHAMPIONSHIP: Devon
---
411's IMPACT WRESTLING REPORT 6.07.12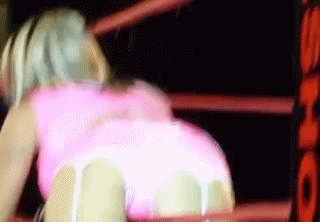 Let the Pigeons Loose…
–Reminder, I do not rate matches that are under three minutes long…
-Opening video package.
-We are LIVE in Orlando!
-Taz and Tenay welcome us to the show.
-Taz and Tenay discuss how Impact ended last week. We also see footage of Carter throwing a fit when Impact went off the air, yelling at the cameras to get out of her face. She went to the production truck and yells at David Sahadi, the director. She says he should be in control and he says he doesn't know. Dixie is insanely pissed during this.
-Dixie is in the ring now to address the situation, and looks as if she is about to cry. She thought all week about what to say, but she knows that people will be hurt. The one thing that is clear, is that she feels sorry for Daniels and Kazarian. They are filled with hate and ego, and wanted to hurt innocent people. She feels that she has to tell the truth tonight, and here come Daniels and Kazarian. Daniels takes the mic, and says he knows how hard this is for her. Daniels says he knows the truth and says he will help he tell it. Daniels says she made a mistake, and she has been hiding it, but she got found out. Daniels says she should tell the people she is a woman who wants what she wants, and the truth is that she had a hole in her heart that her husband Serge couldn't fill, but she found a replacement in AJ Styles. Dixie starts to slap Daniels as he questions her. He corners her and here is AJ to save the day. He chases them off and Carter sits on the mat crying. Carter's husband Serge hits the ring as well and looks at both AJ and Carter. He punches AJ (who takes a ridiculous bump) and bails. AJ whispers something to Dixie, and they leave the ring.
-We see what happened in the opening segment once again.
-Dixie and AJ have reportedly left the building.
-Backstage Joe and Aries have a confrontation backstage about the water fiasco last week. Aries leaves for his match and hands Joe his bottle of water.
Non-Title Match: Crimson vs. Austin Aries ©
And here we go. Aries with the go behind, Crimson with the arm drag to escape. Lock up, and leg kicks by Aries. Crimson rushes Aries to the corner, and beats him down. A whip by Crimson, catches Aries, but Aries escapes and back to the leg kicks. Rights and lefts by Aries in the corner, and then a dropkick to the knee of Crimson follows. Knee breaker follows and then a clothesline. Aries trips up Crimson and gets the slingshot splash for 2. Crimson catches Aries with knees, but then Aries counters red sky with the RANA. Corner dropkick follows by Aries. Brainbuster try, but Crimson tosses him to the floor. Aries back in as Crimson heads to the floor and Aries hits the heat-seeking missile. Back in the ring, Aries up top and Joe runs out and clips the legs of Aries. Joe then rolls Aries back in and Crimson covers for the win
OFFICIAL RESULT: Crimson @ 3:00 via pin
RATING: NR
-Crimson on the mic and says he beat everyone and that no one can beat him. He is our undefeated hero, and way better than that Goldberg guy. He is the most dominant man in pro wrestling. At Slammiversary he has an open challenge to anyone that wants to show up and lose.
-Brooke meets with the Knockouts to introduce herself. She puts over the Knockouts and wishes them good luck in tonight's match. She also says that she is trying to make them bigger stars, but the first chance goes to Velvet, who will be in the new Montgomery Gentry video. Mickie is not happy.
-Hogan walks, and talks about all of the issues in TNA right now, including JA and Dixie, Brooke signing and more.
-Hulk Hogan makes his way to the ring. Hogan says this is a party because this is the 10th anniversary of TNA. The party starts tonight and runs through Slammiversary and will go to next week's Impact. As a special surprise, next week, the world title will be defended, no matter who the champion is. That brings out Bobby Roode. He does not appear happy. Roode has an idea, he says Hogan should shut his mouth and show the champ some respect. Hogan has been disrespecting Roode, and ruined his celebration a few weeks back. And now, he has a match tonight, just days before his title match. Roode cuts off Hogan and then mentions he will have to defend next week. Hogan tries to talk, but Roode slaps the mic away and says he has Hogan figured out. Hogan is simply jealous of Roode, because even in Hogan's prime, he couldn't lace Roode's boots. Roode says he is a better man, wrestler and champion than Hogan ever was. He then tells Hogan to get back to his office, and says to get the hell out of his ring. Sting now arrives. Roode beats down Sting as he slides in, and as Roode looks to Hogan, Sting is up and starts to beat down Roode. Sting pulls up Roode's shirt and goes all hockey fight on him. Roode eventually bails and Sting stands tall.
-Joseph Park discusses his issues with Bully Ray and how it has now come to a wrestling match.
#1 Contender's Bout: Mickie James vs. Tara vs. Velvet Sky vs. Miss Tessmacher
And here we go with our #1 contender's match. They start brawling to being, and Tara and Sky take control. Tessmacher now helps Tara for a moment, but James and Sky battle back and clear the ring. James with a roll up for 2 as Gail Kim comes out to watch. We head to a commercial @ 2:00.
Back from commercial @ 6:00 and Tara has been taken down to the floor. Kim has joined commentary as Tessmacher rolls up James for 2. Tessmacher battles back and then eats an enziguri by James for 2. Jawbreaker by Tessmacher, and then a neck breaker and a cover for 2 as Sky breaks it up. Forearms by Tessmacher, off the ropes and Sky then sends her to the floor. Tara rolls up Sky for 2. Shoulder blocks by Tara in the corner, suplex and a cover for 2. Boston crab by Tara on Sky, James in with a dragon sleeper on Tara and Tessmacher grabs a headlock on James. They break, and Sky kicks Tara to the floor. James sends Tessmacher to the floor and then battle with Sky. Off the ropes and a sloppy head scissors by Sky. She then runs into a flapjack, and then Tara tosses James to the floor. Tara sets up Sky, heads up top, MISSES the moonsault. Tessmacher is back in now, and the partners face off. They trade shots and Tessmacher fires away with forearms, but Tara gets the spinning side slam and then the standing moonsault is stopped by Sky. DDT to Tara by Sky. James up top and the Thes press to Sky. Spinkick to Sky, and she talks trash, allowing Tessmacher to get her faceplant finish and that is all.
OFFICIAL RESULT: Brooke Tessmacher @ 11:00 via pin
RATING: **
-Bully Ray is here with the new legal documents for Joseph Park to sign tonight.
-Recap of what happened earlier tonight.
-Hogan is on the phone backstage. Hulk doesn't care about his drama with Dixie, and says to get back here for the main event. He also calls AJ a son of a bitch.
-Contract signing time for Bully Ray vs. Joseph Park. Ray is out and asks if we know who he is. He then allows Borash to announce Joseph Park. Park gets a mic and so does Ray. Ray rips up the TNA contract for their match and tosses it in the air. He says that was a standard wrestling contract for a standard match. They will not have a standard match, this is the new contract, this is a contract that will relive Ray of full liability, and has a hold harmless clause in it. If he breaks am arm or a knee, maybe even takes an eye out, he will not be held responsible, and this is what they will sign. Ray signs and gives it to Park. Park says that he has never been in a fight, and is not crazy enough to sign the contract. He then says Ray needs a doctor, and refuses to sign. Ray offers a handshake, and then spits on Park. Ray asks if he will sign now, calls him a coward and says to sign. Park says for 10-years Abyss gave his life to TNA. He spilled his blood and gave his body for the people of TNA. Ray is trying to ruin his legacy, and says if Ray wants a fight, he is on. Park says he is doing it for his brother Chris, you know, Abyss. Pyro hits and we see Abyss on the big screen. Abyss says to listen up. He says Joseph has been getting into things he never should be getting into. Abyss says he warned him, and now, now it is too late little brother. Joseph says he was doing it to help. Abyss says he never needed his help. He then says that Ray claimed he left him for dead, but he isn't dead. Abyss says they will find out how alive he is at Slammiversary. Joseph begs his brother not to leave, which allows Ray to attack Joseph and lay his out.
-Earlier in the day, Garett Bischoff offers to be in Devon's corner tonight when he faces Robbie E, due to the fact that Robbie T will be there. Devon accepts. Devon says to bring it, testify.
-Taz and Tenay discuss last week's Gutcheck challenge, and the dismissal of Joey Ryan. We get a video of Joey Ryan discussing the Gutcheck after the segment. He calls Taz a joke and say she has not been relevant in years. Al Snow comes up to him and says to stop talking. Ryan calls Snow and the who show pathetic, and Snow kicks him out.
TV Title Match: Devon © w/Garett Bischoff vs. Robbie E w/Robbie T
Robbie attacks at the bell and takes control right away. Takes Devon to the corner, shoulder blocks follow and then a knee to the gut. He chokes out Devon and we see Madison Rayne watching from the ramp, apparently her man is out there. Elbow by Robbie gets 2. Devon fights back with a spear, rights follow. Off the ropes and a shoulder block by Devon. Uranage follows and then the flying head butt connects. Robbie T trips up Devon and then Garett is over to get involved. In the ring Devon rolls up Robbie, and Robbie in and tries to turn it. The ref sees it, Garett in and turns it again and that allows Devon to get the win.
OFFICIAL RESULT: Devon @ 3:00 via
RATING: NR
-The Robbies attack after the match, but Devon and Garett clear the ring.
-Replays from events earlier in the night.
-Hogan is back in the ring. Hogan has an announcement about next week's Impact. Just as he tries to make the announcement again, Mr. Anderson arrives on the scene. He makes his way to the ring and grabs a mic. He says he wants the title shot next week, but Hogan says to calm down. Anderson says again he wants the title shot, and Hogan says he would love to finish his announcement. So, now that he has the chance, he calls out RVD. Hogan then says it is time for Jeff Hardy to come out. So he does. Now Anderson says one of these clowns better not get the title match. Hogan says that they have been looking for title shots for two months, and next week there will be a title match. Hogan is losing his voice. Hogan says at Slammiversary, RVD vs. Anderson vs. Hardy for the title shot. Hogan says he is done, as is his voice.
-AJ Styles is announced for his match, but doesn't come out.
Kurt Angle, AJ Styles and Sting vs. Bobby Roode, Daniels and Kazarian
So he faces have to battle 2 on 3. Angle and Sting get their submissions on the tag champions and they eventually make the ropes and escape to the floor, where Roode was taking a powder. We head to commercial @ 1:00.
Back from commercial @ 4:00 with Daniels working over Sting. The commentary keeps noting that AJ hasn't shown up. Sting tries to fight back on Daniels, elbows connect by Daniels with the snap mare and tag to Kaz. Slingshot elbows and leg drops by the tag champs gets then a 2 count. Forearms by Kaz, to the corner and as the ref is distracted, Roode chokes out Sting. Spin kick by Kaz on Sting gets 2. To the corner, and then Kaz teases Sting as he gets close to a tag. Tag to Roode now, lays the boots to Sting and then lands clubbing shots to the back. A knee drop follows and he then chokes out Sting. The champs work over Sting and then Sting fires back with rights. To the corner, Roode misses a dive and Sting MISSES the Stinger splash. Daniels stops a tag by distracting the ref, and Daniels knocks Angle to the floor. Gang beat down on Sting, and Roode now say she got him. Cross face on Sting by Roode, and here comes AJ. AJ hits the ring and starts to take out Daniels and Kaz. Roode grabs him, PELE to Roode. Angle in and takes out Kaz and AJ and Daniels battle on the floor. Angle sends Kaz to the floor. He follows and AJ and Daniels are back in. PELE to Daniels and he goes to the floor. AJ then hits a big dive onto Daniels, Kaz and Angle. Roode misses a belt shot on Sting, who then locks on the deathlock. Roode taps.
OFFICIAL RESULT: Kurt Angle, AJ Styles and Sting @ 10:00 via submission
RATING: **½
-Sting stands tall with the TNA World title.
-End scene.
UPDATED SLAMMIVERSARY CARD
* Crimson's Open Challenge
* Bully Ray vs. Joseph Park
* Devon & Garett Bischoff vs. Robbie E & Robbie T
* #1 Contender's Match: Jeff Hardy vs. RVD vs. Mr. Anderson
* TNA Knockouts Title Match: Gail Kim © vs. Brooke Tessmacher
* TNA X-Division Title Match: Austin Aries © vs. Samoa Joe
* TNA tag Team Title Bout: Daniels and Kazarian © vs. AJ Styles and Kurt Angle
* TNA World Title Match: Bobby Roode © vs. Sting

WHAT DID YOU THINK ABOUT TONIGHT's TNA IMPACT?



NEW PODCASTS:
The OCHO sports show returned on Saturday! Steve Cook and Trent Howell discussed the NBA Conference Finals, the NHL Stanley Cup Finals, the latest news from the land of baseball and the NFL, discussion of Terrell Owens, soccer and even…Kim Kardashian? Oh yes friends, enjoy! You can listen to the show here.

The 411 on Wrestling returned on Monday night! The show was hosted by Larry Csonka and Andy Critchell and featured discussion of the latest edition of WWE Raw, the Chikarasaurus Rex iPPV, all of the latest news in wrestling, your calls, questions and much more! You can listen to the show here.

Thoughts From the Man Cave returned on Tuesday. Samer Kadi joined the Man Cave to review The Ultimate Fighter Live Finale and preview this Friday's UFC on FX 4 card. We'll start by looking back at the Finale of this TUF season, discuss what Martin Kampmann did wrong in his win against Jake Ellenberger, why Joe Silva poorly booked the card, and whether or not Michael Chiesa can achieve the same success as Jonathan Brookins. Then a preview of UFC on FX 4, which features an awesome rematch that everyone has forgotten about and a bunch of other fights. You can listen to the show here.

Thoughts From the Man Cave was also back on Wednesday. Jeremy Lambert hosted once again as Steve Cook joined the show to talk about the 3rd annual News From Cooks Corner Hot 100. Steve will take you through his thought process when it came to the rankings and the feedback he's received thus far on the list. They'll rundown the top 10 and Jeremy will all out Steve on his biggest mistake on the list. Plus they chat about various news items in sports including the NBA Playoffs, Cincinnati Reds baseball, and the feud between Michelle Beadle and Erin Andrews. You can listen to the show here.

TWITTER

Your heart is free. Have the courage to follow it…TO CSONKA'S TWITTER!

http://www.twitter.com/411wrestling
http://www.twitter.com/411moviestv
http://www.twitter.com/411music
http://www.twitter.com/411games
http://www.twitter.com/411mma