411's TNA Impact Wrestling Report 6.20.13
June 20, 2013 | Posted by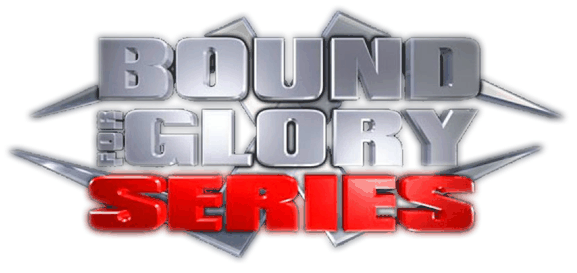 *****


A shot of Sting arriving backstage from earlier in the day is shown. He's in full mafia mode, in a suit and without the face paint.
—–
A video airs to hype the beginning of the Bound For Glory Series, highlighting the 12 participants involved this year.
—–
We go live to the Peoria Civic Center and pan the crowd as Mike Tenay welcomes the home audience. We cut to the ring where 10 of the 12 BFG Series participants are standing in the ring. GM Hulk Hogan makes his way out sans the burn glove and with a mic in his hand. Hogan stays at the entrance stage and welcomes everyone to the kick-off of the 2013 BFG Series. Hogan says it's "Open Fight Night" then introduces the other two participants in the BFG Series: Bobby Roode and Jeff Hardy. Both men join the other BFG Series participants in the ring. Hogan says every man will have their first BFG Series match tonight then announces that Hardy won the fan vote to have the right to call someone out first for Open Fight Night.
Before he can make his decision Austin Aries grabs a mic to interrupt. Aries says he'd love to be the man Hardy picks but he knows that he won't do it. Christopher Daniels takes the mic and tells Hardy he shouldn't call out either member of Bad Influence because he'd begin the BFG Series with the most demoralizing defeat of his career. Hardy finally makes his decision and calls Roode out, then tells the creatures to "mount up" before a brawl breaks out among all of the BFG Series participants. An actual match will happen…next!
—–
-Commercial Break-
—–
Tenay and Taz go over how one acculumates points (with a helpful graphic) and announce that each match will have a 15 minute time limit. The Aces & Eights theme hits, bringing out Mr. Anderson for the opening contest/Open Fight Night challenge. Anderson grabs a mic and calls out Joseph Park. Park makes his way out excited/nervous mode as usual.
—–
Match #1: Joseph Park Vs. Mr. Anderson in a BFG Series Match/Open Fight Night Challenge
Anderson grabs a side headlock and transitions into a hammerlock before slapping Park in the back of the head condescendingly. Anderson tells Park to grab a headlock and he does so, but Anderson reverses into his own easily. Anderson then sweeps the legs, taking Park down to the mat, and stops to pose for the crowd in celebration. Anderson gives Park another free headlock and slips out easily. Park all of a sudden fights back with some reversals of his own and takes Anderson down with a waistlock before slapping him in the back of the head a few times for revenge. Anderson angrily gets up and dropkicks Park's legs out from under him. Anderson stomps on Park's hand then works him over with rights in the corner as Tenay/Taz discuss BFG Series strategies. Anderson whips Park in the corner but misses a splash and Park rolls him up for the 1…2…kickout. Anderson fights back and takes Park out with a neckbreaker for the 1…2…kickout.
Anderson moves to the rear chinlock to wear Park down. Park gets to his feet and escapes but Anderson takes him down. Anderson goes for the Swanton but misses the top-rope move when Park rolls out of the way. Park mounts a comeback, dropping Anderson with a backdrop but he misses a corner splash. Anderson goes for the rolling senton but Park slides out and applies a Boston Crab. D.O.C. makes his way out to distract the referee and Park. This allows Anderson to roll Park up for the 1…2…kickout. Park goes back on the attack, slams Anderson, then heads to the second rope. Anderson distracts the ref, allowing D.O.C. to hit him with a cheap shot. Anderson grabs Park and finishes him off with the MIC CHECK for the 1…2…3.
Winner [via Pinfall]: Mr. Anderson (5:06)
MATCH THOUGHTS: Wow talk about starting the BFG Series off with a filler match. Total bore and for some reason it came off to me as lifeless. At least this matchup out of the way early?
—–
The other BFG Series participants are shown backstage getting ready for tonight. Another match happens in the series next!
—–
-Commercial Break-
The Aces & Eights are backstage, with Mr. Anderson gloating about his victory. Anderson says that he's going to be the next VP and D.O.C. protests this saying he's the one who saved Anderson. They argue a bit until Bully Ray breaks it up. He says they'll put the VP promotion to a vote then says they have someone else to deal with tonight: his "wife" Brooke Hogan.
—–
Jay Bradley is in the ring and calls out Austin Aries.
—–
Match #2: Austin Aries Vs. Jay Bradley in a BFG Series Match/Open Fight Night Challenge
Aries immediately sends Bradley to the floor and connects with a splash from the top rope. Aries rolls Bradley in and hits the springboard elbow. Bradley escapes the Last Chancery but Aries continues the attack and heads to the top. Bradley connects with a big boot, kicking Aries off the top and onto the floor. Bradley tosses Aries back in and connects with a knee to the sternum for a 1-count. Bradley hits the ropes and connects with three rapid-fire elbowdrops for a 2-count. Bradley works Aries over with elbows in the corner then tosses him to the canvas. Bradley measures Aries but misses a running big boot in the corner, trapping himself up on the top rope. Aries connects with a series of hamstring kicks, followed by a corner knee smash. Aries heads to the top again and takes Bradley down with a missile dropkick.
Bradley escapes to the corner and Aries goes for the corner dropkick. Bradley gets his boot up, sending Aries to the mat. Bradley goes for the BOOMSTICK but Aries catches him with a rolling forearm. Bradley fights back with a backbreaker and once again sets up for the BOOMSTICK. Aries ducks the lariat and connects with a crucifix bomb. Bradley bails to the corner and Aries hits the running dropkick followed by the BRAINBUSTER for the 1…2…3.
Winner [via Pinfall]: Austin Aries (3:39)
MATCH THOUGHTS: Despite the short length this was a very good match and the best match I've seen Jay Bradley have since joining TNA (I don't watch OVW so maybe he's doing amazing there and I just don't know it). Aries lifting Bradley up for the Brainbuster was an impressive physical feat and cool visual.
—–
A video plays hyping Sting's desire to organize a new Main Event Mafia.
—–
The backstage interviewer/cameraman catches up with Sting who says he's on his way to a sitdown meeting, hinting that the Mafia is about to grow.
—–
-Commercial Break-
—–
Sting is in the shadows talking to a mysterious person about joining the Main Event Mafia. A hand extends and Sting shakes it.
THOUGHTS: That was so cheesy but I loved it, especially the random hand coming out for the handshake. At the same time this is building the Main Event Mafia so most of me is against any of these segments.
—–
Chavo Guerrero Jr. gives Hernandez a pep talk backstage before he makes his way out for the next BFG Series match/Open Fight Night challenge. Hernandez grabs a mic and says there's one loudmouth in the BFG Series that pisses him off the most, calling out Christopher Daniels. Daniels makes his way out without his Bad Influence tag team partner.
—–
Match #3: Hernandez Vs. Christopher Daniels in a BFG Series Match/Open Fight Night Challenge
Daniels goes right at Hernandez, taking his legs out, but "SuperMex" fights back and splashes him in the corner before following up with a suplex. Hernandez goes for another suplex but Daniels slips out and elbows Hernandez repeatedly on the bridge of the nose. Daniels kicks Hernandez in the head, but Hernandez is barely affected and he drops Daniels face-first on the canvas. Hernandez follows up with a running clothesline followed by running chops to the chest. Hernandez gets sent to the apron and heads down the ramp. Hernandez gets the running head start and hits Air Mexico, running Daniels over. Daniels gets his boot up during a corner splash attempt and escapes a slam attempt. Hernandez pries Daniels off the rope and Daniels hits a low-blow, out of view from the ref. Daniels follows up with the BME (Best Moonsault Ever) for the 1…2…3!
Winner [via Pinfall]: Christopher Daniels (2:20)
MATCH THOUGHTS: I figured Chavo was going to interfere and cost Hernandez the match, so having Daniels win (mostly) clean was surprising…and very welcome. I hold out hope that Daniels will get at least one run as TNA World Champion so even though I'm sure he's not going to win the series I'm going to get my hopes up anyway.
—–
A shot of Brooke Hogan walking backstage is shown. Her "State of the Knockouts Division" speech is yet to come.
THOUGHTS: I hope her big announcement is the hiring of more Knockouts so it's not just the same five ladies over and over again.
—–
-Commercial Break-
—–
Frankie Kazarian is in the ring. He calls out Magnus for OFN.
—–
Match #4: Magnus Vs. Frankie Kazarian in a BFG Series Match/Open Fight Night Challenge
Kazarian tries to attack Magnus from behind but Magnus catches him and knocks him to the floor with a clothesline. Kazarian pulls Magnus out of the ring and rams his lower back into the apron. Kazarian rolls Magnus in and kicks him in the chest and back, then follows up with an elbowdrop for a 2-count. Kazarian immediately applies a cravate to wear Magnus down. Magnus gets to his feet and tries to fight out but eats a knee to the face. Kazarian follows up with a spinning neckbreaker and a Dragon Sleeper. Magnus escapes with a knee to the skull and drops Kazarian with a series of clotheslines followed the fake-out running clothesline. Kazarian ducks another clothesline and attempts a crossbody but Magnus catches him and connects with a suplex for the 1…2…Kazarian gets his foot on the rope.
Kazarian side steps a corner and splash and attempts a missile dropkick but Magnus catches the legs and applies a Texas Cloverleaf. After a brief struggle Kazarian taps, giving Magnus 10 points and the early lead in the BFG Series.
Winner [via Submission]: Magnus (2:55)
MATCH THOUGHTS: Another quick match, but entertaining nonetheless. Magnus choosing to win by submission was a nice touch. Hopefully he'll prove to be a big part of the BFG Series as he deserves the rub.
—–
Hulk Hogan is on the phone talking business when Bully Ray appears by him with a hammer. Hogan grabs him and puts him against a wall. He says it's time for them to finish this. Ray says he's not someone who hits a person in the back of the head with a hammer and tells Hogan he wants to speak to Brooke. Hogan says that Ray and Brooke are down, but Ray then asks him why she stopped him from hitting Ray with a hammer two weeks ago. Ray calls Hogan "Dad" then walks away.
THOUGHTS: Hogan going from "phone call" to "ready to fight" in two seconds flat was unintentionally hilarious. Besides that I got nothing out of this segment as both people seemed off and they were just pushing the same idea they've been hinting at for the past few weeks (Brooke still loving Bully). It added nothing and it was too goofy to take seriously.
—–
-Commercial Break-
—–
"State of the Knockouts Division" Address
Brooke Hogan makes her way out to address the Knockouts roster. Jeremy Borash opens the ropes for her as she enters and she makes her way to a podium stationed in one of the corners of the ring. Brooke says the Knockouts have come far over the past year and has the crowd applaud their efforts. Brooke calls out the Knockout roster. Knockouts Tag Team Champs Eric Young & ODB lead the way, followed by Gail Kim, Taryn Terrell, & Velvet Sky. Brooke then sarcastically introduces TNA Knockouts Champ Mickie James out next, mic in hand. James thanks Brooke for graciously allowing her to speak on the state of the Knockouts division. James says she's proud to represent the division in music videos, the red carpet, and a national commercial. James mocks Sky's knee problems and Brooke quickly interrupts to get to business.
Brooke talks to Young first and asks him if he remembers what they talked about. Young admits that he's not a woman so technically he and ODB were never tag team champs. He hands the belts over to Brooke then says it's national kissing day so he and ODB make out and roll out to the ramp. Young and ODB get up and run to the back as the crowd cheers.
Brooke gets things back on track and tells Velvet Sky that she's proud of her. Brooke says she knows she wanted her rematch but James interrupts and says Sky is still "hurt". Brooke says she spoke to Sky's doctor and announces that the rematch will happen next week. Kim grabs a mic and asks for her rematch. Brooke says that Kim will get her rematch against Taryn Terrell at their July Vegas show…in a LADDER MATCH. Brooke concludes the meeting and everyone leaves to Brooke's theme.
THOUGHTS: Outside of the Young/ODB stuff and the Ladder Match announcement this felt like a whole lot of dead air that went on way too long (also the Knockouts division is so depressingly tiny that I got sad once everyone made their way out). The Ladder Match is going to be awesome though.
—–
After some recaps of Sting entering the building earlier, Hulk Hogan catches up with Brooke Hogan backstage. Hogan kicks Brooke out of the arena in order to prevent any drama between her and Bully Ray.
—–
-Commercial Break-
—–
We see a shot of Jeff Hardy preparing for the main event backstage, then they hype the TNA "Evolve" fitness app.
—–
AJ Styles makes his way out for the next match in all of his brooding glory. Styles grabs a mic as the arena stays blue (blue blue, not sad blue). Styles says this isn't about Aces & Eights or TNA, it's about him becoming the next World Champion. Styles says he doesn't want to be champion for the fame or glory…he wants it for the money. Styles says everyone is looking for a hero but if there's one thing he's learned in the past 11 years it's that TNA is no place for a hero.
MATCH THOUGHTS: AJ Styles finally broke his silence it…was…hilarious. He even had the deeper voice thing going, almost like his version of the Batman drawl and his ending spiel about how TNA is no place for a hero was great both legitimately and for comedic value. I love brooding AJ Styles so much. It's so over the top.
—–
Match #5: Samoa Joe Vs. AJ Styles in a BFG Series Match
After some dodges and strike attempts, Joe backs Styles into the corner and hits a series of rights and lefts. Styles ducks a palm strike and applies a side headlock. Joe tries to whip Styles off but he hangs on to keep the hold applied. Styles brings Joe down to the mat and they roll around a bit before they get to their feet. Joe tries to escape with a back suplex but Styles counters with a headlock takedown. Joe immediately counters that with a head scissors but when the dust clears Styles is back in control, working Joe in the corner with chops and strikes. Joe reverses a corner Irish whip but runs right into a boot followed by a clothesline from Styles.
Styles follows up with a back suplex then kicks Joe right in the sternum. Styles dodges a corner splash but eats a kick to the head sending him to the floor. Joe gets a running head start and goes for a splash but Styles moves. Styles then goes for a splash of his own but Joe moves so he lands on the apron instead. Joe then kicks Styles' legs out, sending him crashing face-first into the apron to end the shootout. Joe is in control as we go to commercial.
-Commercial Break-
Joe connects with a running kneedrop for 2 as we come back from break. Styles fights back with a right hand of his own but runs right into a back elbow. Joe headbutts Styles then lays into him with a series of strikes. Joe hits the ropes for a running start but eats a dropkick, sending him out to the floor. Styles follows it up with a running baseball slide as Christy Hemme announces there are only five minutes left in the match.Styles rolls Joe back in and hits a springboard flying forearm for the 1…2…kickout. Styles goes for a suplex but Joe blocks it and goes for one of his own. Styles slides out and hits a running neckbreaker for the 1…2…kickout.
Joe fights back and catches Styles with a powerslam, immediately transitioning into a cross armbreaker. Styles breaks out of the hold by getting his foot on the bottom rope. Joe puts Styles on the top turnbuckle and sets up for the Muscle Buster but Styles fights out with a series of rights. Joe responds with a backhand and goes for a second-rope suplex but Styles ends up on top when they land. Styles is first to his feet and hits Joe with a series of strikes but turns into a right cross. Styles fights out of the corner and applies a CALF KILLER. Joe counters into a crossface into the REAR-NAKED CHOKE. Styles bridges out and covers Joe for the 1…2…kickout. There is one minute left. Joe and Styles trade strikes and fight one another until the time limit expires.
Winner: Time Limit Draw (15:00)
MATCH THOUGHTS: Oh man did that match feel like it would never end. They looked like they were working in slow motion up until the final few minutes when the striking war started going down. Very disappointing.
POST-MATCH: Styles and Joe continue to fight until finally separated. The crowd chants "Let them fight!" and they stare at one another. Joe asks for five more minutes but Styles just stalks off. Joe is left in the ring being disappointed.
—–
Bully Ray is on the phone with Brooke Hogan. He tells her to come back because he desperately wants to talk to her. He hangs up and goes to meet with The Aces & Eights. Ray tells Devon, D.O.C., & Knux to get on their bikes and make sure she gets here while the rest watch his back.
THOUGHTS: Can't you guys just talk some time during the other six days of the week?
—–
-Commercial Break-
—–
Hulk Hogan is backstage with X-Division Champion Chris Sabin, Kenny King, and Suicide. He says "social media" is all about their triple threat match next week (that we all just found out about right now) and says the winner will get the choice to challenge for the World Title on the July 18th edition of IMPACT Wrestling.
THOUGHTS: Someone should tell Hogan that social media can't buzz about a match that wasn't announced until 10 seconds ago. Okay segment as they build to the Destination X special. I actually would love to see Ray/Suicide for the World Title just because it'd be ridiculous.
—–
Bobby Roode makes his way out for the main event of the show. His opponent Jeff Hardy makes his way out and Roode meets him on the ramp. Hardy fights back and throws him into the ring to begin the match.
—–
Main Event: Jeff Hardy Vs. Bobby Roode in a BFG Series Match/Open Fight Night Challenge
Hardy takes it right to Roode for the beginning of the match until Roode fights back and applies a crossface to attempt a submission victory. Hardy extends the hand and grabs the bottom rope to get the rope break. Roode stomps on the fallen Hardy until the ref pushes him away. Roode goes back on the attack and slingshots Hardy neck-first into the middle rope, sending him flopping out to the floor. Roode goes to the outside and slams Hardy head-first into the apron then rolls him back in. Roode rolls back in himself and connects with a suplex, following it up with a kneedrop to the chest for a 2-count. Hardy gets to his feet but Roode keeps up the pressure, chopping him in the corner and sending him into the opposite side. Roode smashes Hardy in the corner as Tenay/Taz hype the TNA exercise App. Roode chops Hardy once more and whips him into the opposite corner. Roode runs into a back elbow then a pair of boots. Hardy climbs to the middle rope and hits a splash for the 1…2…kickout. Hardy floats over in the corner but Roode catches him. Hardy slides out and hits his legdrop/dropkick combo for a 2-count. Hardy feeds off the crowd for a bit but runs into a spinebuster by Roode for the 1…2…kickout.
Roode measures Hardy and goes for the Fisherman's suplex but Hardy slides out and connects with a TWIST OF FATE. Hardy tears the shirt off and heads to the top but Roode rolls out of the way and he misses the Swanton. Roode runs back at Hardy and reapplies the Crossface. Hardy bridges over and covers for 2, then hits another TWIST OF FATE for the 1…2…3.
Winner [via Pinfall]: Jeff Hardy (6:14)
MATCH THOUGHTS: An okay match but pretty disappointing since it was supposed to be the main event of the wrestling portion. Only one of the BFG Series match stuck out this week and it didn't even go four minutes. But it's the first week so not a big deal I guess.
—–
The mysterious interviewer catches up with Sting who says he has "family" business to attend to. He says the night is still young then walks off.
—–
-Commercial Break-
—–
Bully Ray Wants to Speak to Brooke Hogan/Sting's Main Event Mafia
TNA World Champion Bully Ray makes his way out to the ring to conclude the show. Ray says that 12 men are fighting for a shot at him in the BFG Series plus the triple threat match next week for the X-Division Title where the winner gets a shot at him. Ray says that's 15 people total gunning for him and he tells them that he will do anything and everything to keep his World Title. Ray tells them the last thing any of them would want is to face him. Ray then calls someone out for OFN, but not to fight (he's a lover, not a fighter): his "wife" Brooke Hogan. Her music doesn't hit and she doesn't make her way out. Ray asks her to come out once again but nothing happens.
Instead of her music, the music of the "Main Event Mafia" kicks up. Sting makes his way out to the ring as the crowd cheers. Sting grabs a mic and says he has gone back to his family. Ray tells the crowd to stop chanting Sting's name then tells him he knows nothing about family. Ray reminds Sting that he beat him "single-handedly" and that's why he'll never get a shot at the World Title again. Sting says he may not be able to challenge for the belt ever again but that doesn't mean he can't get retribution. Ray yells at Sting as Sting takes off his sport coat and tie. Ray calls for The Aces & Eights but they don't show up and Sting takes off his suit shirt, throwing it into Ray's face. Sting points to the Impact-Tron and The Aces & Eights are laid out. Ray turns around and eats a right to the face. Sting follows Ray to the ramp. Ray turns around and runs into Kurt Angle. Angle traps Ray in the ANKLE LOCK as Sting yells at Ray and we conclude this week's episode.
THOUGHTS: So the big reveal was the guy who's already been beating The Aces & Eights (at Sting's side no less) but now in a suit and under the name of their old stable that they broke up because they ended up feuding? Alright, fair enough. That did absolutely nothing for me but reforming The Main Event Mafia does nothing for me as a whole. Dead way to end the show for me. Cool if you thought otherwise.
*****
OVERALL SHOW THOUGHTS:
An alright episode of IMPACT that did a good job highlighting the BFG Series but also featured a ton of forgettable wrestling, one
horrible
segment (State of the Knockouts) and an ending storyline moment that left me cold. Definitely not a bad episode but it's one you can skip if you have it on DVR. You'll have missed nothing of importance if you do.
—–
When not covering iMPACT (almost) every Thursday for 411, Jon can be found writing about wrestling on his own site Pro Wrestling Update as well as in 140 characters or less on Twitter.