411's TNA IMPACT Wrestling Report 7.12.12
July 12, 2012 | Posted by
411's IMPACT WRESTLING REPORT 7.12.12
Championship Roll Call:
TNA WORLD CHAMPIONSHIP: Austin Aries
TNA X-DIVISION CHAMPIONSHIP: Zerma Ion
TNA TAG TEAM CHAMPIONSHIP: Daniels and Kazarian
TNA KNOCKOUTS CHAMPIONSHIP: Brooke Tessmacher
TNA KNOCKOUTS TAG TEAM CHAMPIONSHIP: Eric Young and ODB
TNA TELEVISION CHAMPIONSHIP: Devon
---
-Welcome!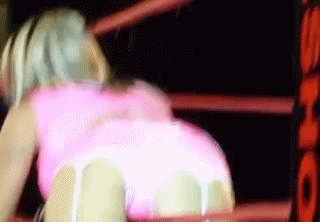 -Csonka's vacation comes to an end next week so my two week stint is over then. Rejoice. If you'd like, you can find me in the MMA zone here and follow me on Twitter here.
On tap for tonight:
-Fallout from Austin Aries' title win at Destination X.
-Bully Ray vs. Joe Park opens the show with Abyss banned from ringside.
-Gail Kim vs. Miss Tessmacher for the knockouts title.
-Kurt Angle vs. Mr. Anderson in the BFG Series.
–Show starts.
-Recap of Austin Aries winning the TNA heavyweight title from Bobby Roode at Destination X, the Bound for Glory series, and the Bully Ray-Joe Park feud. We go right into the Bully Ray vs. Joe Park match.
Anything Goes Match: Bully Ray vs. Joseph Park
Joe Park really needs to practice getting through those ring ropes. I wonder if he took time off from his law practice to train for this match. Park moves to the center of the ring and puts his dukes up. Ray dares him to take a shot. Joe swings and moves out of the way. Happens again. Bully Ray is showing some Anderson Silva-like movement. Ray strikes him and Park is in the corner. Ray slaps him and continues taunting. He spits in the lawyer's face. Mike Tenay is going over the deal where Direct TV dropped the Viacom channels, which includes Spike TV. Park finally hits Ray, but Ray retaliates and Park is down. Ray takes the time to Tweet mid-match. He moves to the outside and gets a trashcan filled with assorted weapons from under the ring. Ray picks up a steel chair. As he's about to hit Park, Joe hits a double leg and lands some ground and pound. Park picks up the chair. He has a crazy look in his eyes. Before he can get a shot off Ray attacks and knocks the big man to the canvas. Ray picks up a road sign and hits Park across the back with it. Now a trashcan lid across the back. Park is prone on his back. Ray goes for a splash but nobody is home. He Hulks up and lands lefts and rights. He charges at Ray and knocks him down. He charges again and is met with a boot to the face. Ray moves to the outside for more toys. He finds a conveniently placed bag of thumbtacks. The crowd tells Bully he sucks as he dramatically drops the tacks in the ring. He grabs the mic. Ray says he's going to do to Park what he should've done to Abyss awhile a go. He grabs a kendo stick and goes to hit Park but he's met with a low blow. Park takes the stick and nails Ray. He goes for the cover but Ray kicks out. Ray gets out and knocks Park down. Park gets up and hits a chokeslam on the tacks. He looks appalled at the thought of touching the tacks. Ray kicks out of a pin attempt. Ray finds his way over to a chain, wraps it around his knuckles, and cracks Park in the head. He gets the pin
Result: Ray via pin.
-Park is busted open. He sees his own blood and gets a crazy look in his eyes. Ray charges forward and is met with a BLACK HOLE SLAM. Park seems to come to and is shocked at his actions. The crowd is chanting "it was you." Park shakes his head to indicate it was not.
-Sting is shown in the back with the cards the mystery bandana guy handed to Hogan. He identifies it as the dead man's hand. Commercial.
-Recap of the Ray-Park post-match happenings. Bully Ray wants to know who the guy Park became after the match was.
BFG Series Match: Samoa Joe vs. Rob Van Dam
Joe charges and Van Dam takes him down into the middle turnbuckle. Van Dam looks for a surfboard but Joe gets to the ropes before he can secure it. They tie up and Joe pushes RVD into the corner. They exchange elbows and European uppercuts. Joe Irish whips RVD into the corner. He charges and RVD reverses. Joe hits Van Dam with a boot. Van Dam out of the ring. He's back in. RVD looks for kicks, Joe rolls for an ankle lock. He had a kneebar open but didn't take it. RVD gets to the ropes. Joe hits a slam then goes into the armbar. RVD makes it to the ropes again. Joe hits him with a knee. RVD with a right head kick. Joe on one knee and Van Dam comes off the ropes with a spinning kick. Joe on all fours and Van Dam lands rolling thunder. Pin attempt unsuccessful. Joe in the corner and RVD looks for a monkey flip but Joe reverses and slams Van Dam. Joe looks for a figure four. He tries to reposition in the ring and RVD gets a small cradle for the pin.
Result: RVD by pin.
Current BFG Series Standings:
1. Samoa Joe – 37
2. James Storm – 36
3.Jeff Hardy – 21
4. Kurt Angle – 20
5. Magnus – 14
5. RVD – 14
7. Mr. Anderson — 9 points
8. D'Angelo Dinero — 7 points
9. Christopher Daniels — 5 points
10. Bully Ray — 0 points
10. Robbie E — 0 points
-Claire Lynch arrives at the building. She's in her car smoking a cigarette while pregnant. Somebody should send her a pamphlet on the dangers of cigarette smoke inhalation to fetuses (fetusi?). She has nothing to say.
-Hogan is mad at the mystery bandana guy.group and says he and Sting are here and presumably ready.
-Kazarian and Christopher Daniels make their way to the ring. We get a recap of the Styles-Daniels match from the PPV on Sunday. Kazarian congratulates AJ Styles on his win at Destination X. He warns AJ that this isn't over, it's just the beginning. Daniels says Styles' actions on Sunday were reprehensible and he'll do anything to keep the truth from the world. He calls out Claire Lynch. For some reason she obliges and walks down to the ring. Daniels tells Claire he sympathizes with her situation. He tells Claire in those situations mistakes can be made and accidents can happen with his hand on her baby bump. AJ Styles has heard enough and comes down to the ring. He says the story was over weeks ago. Daniels says there's a part of the story AJ doesn't know. He says Claire needs to tell the world what she told him. Styles says she doesn't need to tell Daniels anything. They argue. Claire says Daniels is right. She says AJ IS THE FATHER of the baby. The crowd chants "Jerry," which is their stamp of approval for this angle. Commercial.
-AJ is walking in the back upset. He flips out at the fake TMZ guy and says he doesn't know if he's the father.
-Video package with Anderson talking about Angle. They show him warming up in the back.
-Recap of Jesse Sorensen coming out at Destination X with Zema Ion talking over the clips. They recap Ion's X-Division title win on the show. He says he'll cash checks, break necks, and keep championships. We see Dakota Darsow in the back saying Sorensen is his friend and Ion's taunting of Sorensen after winning the title really pissed him off. He says right now he doesn't have to worry about Jesse Sorensen, he has to worry about him. He makes his way to the ring.
Zema Ion vs. Dakota Darsow
Darsow nails Ion with a right hand as Ion taunts him about Sorenen's broken neck. Darsow is a house of fire pounding on Ion in the corner. He throws Ion into the corner and throws himself into him. Darsow hits a clothesline. Ion leaves the ring and walks away. Darsow catches him and brings him back into the ring. Ion tries to catch Darsow as he tries to get in the ring but Darsow hits a spear. Ion then hits a neck breaker over the ropes. Then Ion hits something I missed, I believe Taz said it was a face breaker, and gets the pin.
Result: Ion by pin.
-Ion armbars Darsow after the match. He gets on the mic and calls Sorensen a cripple. He says he's not just F'n pretty, he's pretty f'n dangerous.
-We'll hear from Austin Aries next.
-Aries makes his way to the ring with the TNA heavyweight title. He says you could say he's had an okay week. He woke up on Sunday and said it's a great day to be great and a great day to be the new world heavyweight champion. He says he proved everybody wrong and he proved nothing is impossible. Aries says it was a great moment for the professional wrestling industry. He asks the crowd to quiet down. He says wrestling runs in cycles with down periods and boom periods. He says for the last eight months there's been a buzz and energy about IMPACT Wrestling. He says it's ready for the next boom period, and he's ready to lead the next boom period. Those are some lofty goals. He says he got calls from celebrities, sports figures, and champions from other wrestling promotions congratulating him on his win. He notes the championship is only as important as the man who holds it, and says the TNA heavyweight title is the most prestigious and important title in the world. He says he's the best wrestler going today and IMPACT Wrestling is the best promotion going. Bobby Roode's music hits and he walks down to the ring. The crowd chants "loser" and he looks around at them. He looks upset. Roode enters the ring and Aries holds the title right in front of his face. He grabs a mic and breathes heavily into it. Roode finally speaks and says "this – all this…" and trails off. He's too angry to talk. His anger goes on for minutes with him unable to make his point. Finally, he says Aries' win was a fluke. Aries has three words for Roode: "new world champ." Roode is irate going up the ramp, screaming and slapping himself in the head and whatnot.
-Sting tells Hogan backstage he's 150%. He says something is telling him it's time to go "old school." Devon enters and says Garett Bischoff and himself have their backs. Hogan says thanks, but they have this.
-Kurt Angle talks about his match with Ken Anderson. He says he'd like to submit Anderson to get 10 points but he thinks Anderson is ready for that. Angle says if he can beat Anderson he can win the title. They show Angle warming up backstage.
-They recap Madison Rayne kissing Earl Hebner. We get a video of her talking about him. She says he's intelligent, it's not uncommon for a younger women for an older man, and they have a lot in common.
-Brooke Hogan comes out for the knockouts title match.
Knockouts Championship Match: Miss Tessmacher vs. Gail Kim
Tessmacher attacks Kim before the bell. That should be a disqualification. Clotheslines from Tessmacher. Dropkick from Tessmacher. The announcers are asking Brooke Hogan questions about her life, such as what it was like growing up with Hulk Hogan as a dad. Riveting stuff. Kim throws Tessmacher into the corner. Gail works on the arm of Tessmacher. Tessmacher starts to make a comeback with punches to the gut but Kim puts a stop to that. Kim with a slam. Brooke says Tessmacher has a lot of juice. I hope that wasn't a veiled steroid accusation. Kim with a near fall. Gail Kim with a hammerlock into cattle mutilation. Kim lets it go and Tessmacher goes for a pin and doesn't get it. Back standing Tessmacher is making a bit of a comeback. She hits a face buster. She charges at Kim, misses, and Kim rolls her up for a pin but only gets 2. Kim bounces Tessmacher's head off the turnbuckle and puts the champ on the top rope. They battle for position. Tessmacher pushes Kim off the rope and hits a flying elbow for the pin.
Result: Miss Tessmacher via pin.
-Kurt Angle and Mr. Anderson are shown walking to the ring for their BFG series match.
-Recap of the Styles-Daniels-Lynch-Kazarian angle from earlier. Claire says she has proof AJ is the father. She says she hopes he'll do the right thing. I really hope they bring Maury Povich in for this angle.
-Magnus says he's going to win the Bound for Glory Series. He takes on James Storm at a live event Saturday in Memphis in the series.
BFG Series Match: Kurt Angle vs. Mr. Anderson
Angle shoots for a single leg and Anderson defends. They tie up and Anderson pushes Angle to the corner. They break. Another tie up and Angle drags Anderson down. Anderson gets up. He now has Angle down and has a hold of his arm. Angle gets back up and has Anderson in the corner. He stomps Anderson to the ground. Angle comes in and Anderson reverses. Anderson attempts an irish whip to the other corner but Angle reverses. Dropkick from Anderson and goes for a pin but nothing there. Both up and Angle hits a belly to belly suplex. Angle stops Anderson before we go to commercial.
We're back and Angle knees Anderson in the midsection. Pin attempt but nothing there. Another commercial break.
Back again and Anderson hits a suplex and both are down now. Tenay is really pushing this Direct TV thing hard. Back up, Anderson hits a neck breaker. Anderson misses a punch and Angle hits a trio of German suplexes. Angle looks for the Angle slam but Anderson reverses. He picks Angle up in fireman's carry position and does a front flip landing on top of Angle. Angle kicks out of a pin attempt. He goes for the mic check and doesn't get it. Angle slam and Kennedy kicks out of a pin. Kurt looks for the ankle lock and has it. The referee should stop this win. Anderson is clearly in pain and we all remember what happened to Scotty Too Hotty. Angle moves back to the center of the ring. Anderson rolls out and gets up – perhaps running on pure adrenaline because his ankle is miraculously healed – and hits a mic check. He goes for a pin and Angle kicks out. Anderson now feeling the effects of the ankle lock and Angle hits the Angle slam again. Pin 1-2-3.
Result: Kurt Angle via pin.
Current BFG Series Standings:
1. Samoa Joe – 37
2. James Storm – 36
3. Kurt Angle – 27
4.Jeff Hardy – 21
5. Magnus – 14
5. RVD – 14
7. Mr. Anderson — 9 points
8. D'Angelo Dinero — 7 points
9. Christopher Daniels — 5 points
10. Bully Ray — 0 points
10. Robbie E — 0 points
-Bobby Roode enters the room where Hogan and Sting have apparently been talking for a really long time and ignoring the wrestling show going on.
-Hogan tells Roode he can have his rematch at Hardcore Justice. Roode says he's not waiting for Hardcore Justice. Hogan says next week is Open Fight Night, so he should call Aries out and prove he's better. It would be a non-title match, but Roode says he will.
-Sting makes his way to the ring with a baseball bat. On the mic, he says it's great to be in the Impact Zone. He tells Hogan to come out to back him up against the mystery bandana/mask dudes. Oh no. Hogan's music plays but he doesn't come out! Something must have gone awry. The music stops playing and Sting, showing no concern whatsoever that his friend hasn't come out when he knows there are masked attackers coming to meet them, just tells him to come out again. Music plays again and no Hogan. Sting now showing some concern. Crowd chanting for Hogan. His music plays again. Still no Hogan. Cameras backstage catch at least four mystery men leaving Hogan's dressing room as Brooke yells at them. Hogan is on the ground, leg hurt and some blood on his face. Sting starts walking up the ramp and about eight masked people attack him. Somebody needs to help the Stinger. Fade to black.
NULL