411's Wrestler of the Week 4.30.13: Year Nine, Week 3
April 30, 2013 | Posted by
Welcome to YEAR NINE, WEEK THREE of 411's Wrestler of the Week. A quick overview of the rules to kick things off for us as a reminder…
Each writer chooses FIVE wrestlers from any promotion and each wrestler gets a point total attached to that ranking. It looks a little like this…
1st – 5
2nd – 4
3rd – 3
4th – 2
5th – 1
Then we tally up the votes and the official 411 Wrestler of the Week is crowned. But wait, there's more! Each week the top SIX vote getters get a points value for their ranking which looks something like this…
1st – 15
2nd – 12
3rd – 9
4th – 6
5th – 3
6th – 1
…and they go towards the 411 Wrestler of the Year award to be announced each year around WrestleMania. This will be posted every Monday (the voting week runs Monday through Sunday). Let's see who wins this week…
---
Larry Csonka
1) KENTA and Yoshihiro Takayama
In the semifinals defeated Takeshi Morishima & Mohammed Yone, and then in the finals defeated Kensuke Sasaski & Katshuhiko Nakajima to win the 2013 edition of the Global Tag League Tournament.
2) The Shield: On Monday's Raw, the Shield defeated The Brothers of Destruction 2k13 in a six-man tag. Between the really good match and the hot crowd, and that honestly may have been my favorite TV match this year. They followed things up with the Ambrose vs. Taker match on Smackdown, and while Ambrose may have lost that singles battle, the Shield won the war by taking out the Deadman. Believe in the Shield.
3) Trent Baretta: Trent Baretta defeated EVOLVE Champion AR Fox in a non-title match at the April 26th FIP show in a GREAT match. Baretta was very impressive, and may be getting a title shot due to that performance.
4) Fandango
5) Seiya Sanada
MP Schroeder
1) Undertaker:
Can there be any argument that this man IS wrestling? At the age of 48, the Deadman made his return to action on both Raw and Smackdown (after a 2 1/2 year absence) to put over the Shield. Such selflessness must be commended!
2) The Shield: These young guns certainly made their presence felt on WWE programming this week with a win over Team Hell No and the Undertaker as well as destroying Ryback.
3) AJ Lee: Took a wicked superkick but still came out on top of the Diva's Battle Royale to provide a nice buildup to her eventual match with Kaitlyn.
4) Chris Jericho
5) SCUM
Ryan Byers
1) The Undertaker
Watching his two rare televised matches this week, I was simply blown away by just how much better the Undertaker is than the vast majority of the current WWE roster. His presence, his movement in the ring, his timing . . . it's sad that they don't make wrestlers like this anymore, because, based on the crowd reaction and the television ratings, I'm not the only one who really enjoyed seeing him back.
2) Dean Ambrose: I think there are very few legitimate instances where a wrestler can be elevated by losing to somebody, but that's exactly what happened to Ambrose this week as a result of his going toe-to-toe with the Undertaker, to say nothing of his being the Shield member to get the pinfall in the six man tag on Monday night.
3) Seiya Sanada: Sanada, the rising young star of All Japan, clinched himself a spot in the final four of the Champion Carnival and had a thirty minute draw with Go Shiozaki in the tournament that leads me to strongly suspect that he'll be a finalist in this Monday's last match of the Carnival.
4) KENTA & Yoshihiro Takayama
5) Mikey Nicholls & Shane Haste
Jack McGee
1) The Shield
Simply a spectacular week for the Shield, first defeating Kane, Bryan and Taker on Raw, and then following that up with the beat down of the Undertaker on Smackdown to close out the show. It was a great week for these three guys, who have been booked very well overall.
2) The Undertaker: And the Shield doesn't get over like they did this week with out the great work of the Undertaker.
3) KENTA and Yoshihiro Takayama: Won the 2013 edition of the Global Tag League Tournament.
4) Dolph Ziggler
5) Ryback
James Wright
1) Dean Ambrose
To me these rankings are all about who made the biggest move in their career each week, so progression and success is relative to the individual. That being said can there be anything bigger than getting a singles match with the Undertaker at this point in his career? Sure he lost, but Ambrose must have a pretty bright future to be allowed one-on-one in the ring with the Phenom.
2) Seth Rollins & Roman Reigns: Maybe not as big of a deal as facing the Deadman one-on-one, but still it is a pretty big deal that the team managed to get a pinfall victory over a team featuring the Undertaker, who can stop them now?
3) Undertaker: Proving he can still go more than once a year and putting over three young guys while doing so, a different type of achievement, but an achievement nevertheless.
4) Wade Barrett
5) Dolph Ziggler
TJ Hawke
1) The Shield
While Dean Ambrose did tap out clean to an aging part-timer that will likely never return the favor, the stable still managed to leave the WWE legend laid out. The segment came off great, and I think the Shield were greatly elevated by this.
2) KENTA & Yoshihiro Takayama: Won the 2013 edition of the Global Tag League Tournament.
3) Mikey Nicholls & Shane Haste: Earned a GHC Tag Title match.
4) The Undertaker
5) Seiya Sanada
Jeremy Thomas
1) The Shield
The Shield continues to look fantastic as they're now standing toe-to-toe with the Undertaker. That WWE hasn't botched this yet is impressive and at this point even when they do lose as a team, they probably won't be losing much standing.
2) The Undertaker: Worked two matches this week and did some great work in helping put the Shield over.
3) Mark Henry: Henry's killing everyone these days, destroying four guys on Main Event and winning on Smackdown. Sheamus and Orton may have gotten the last laugh there but he didn't look too bad considering these are two of the top guys on Smackdown.
4) Seiya Sanada
5) Sting
---
THE WINNERS~!
Special Mention…Mikey Nicholls & Shane Haste – 4 Votes
Fifth Place…Seiya Sanada – 7 Votes
Fourth Place…KENTA & Yoshihiro Takayama – 14 Votes
Third Place…The Undertaker – 27 Votes

Did a lot to get the Shield over this week.
Second Place…Seth Rollins and Roman Reigns – 27 Votes

Defeated the Undertaker on Raw and then helped to take him out on Smackdown…
Wrestler of the Week…
Dean Ambrose – 32 Votes
Part of the winning team on Monday, and while he lost on Smackdown to the Undertaker, getting a high profile singles match against (especially on TV) did a lot for Ambrose's stock.
Year-End Standings~!
And here are the standings after week three…
Dolph Ziggler – 15pts.
Kofi Kingston – 15pts.
Dean Ambrose – 15pts.
Ryback – 13pts
Seth Rollins – 12pts
Roman Reigns – 12pts
Bully Ray – 12pts.
Brock Lesnar – 9pts
Wade Barrett – 9pts.
The Undertaker – 9pts
AJ Styles – 6pts.
Fandango – 6pts.
KENTA – 6pts.
Yoshihiro Takayama – 6pts.
John Morrison – 3pts.
Jack Swagger – 3pts.
Hernandez – 3pts.
Chavo Guerrero – 3pts.
Seita Sanada – 3pts.
Mickie James – 1pt
Alberto Del Rio – 1pt
Mikey Nicholls- 1pt
Shane Haste – 1pt
Voting began 4.16.13
Year-End Rankings Key:

WWE, Raw, SmackDown and NXT-Contracted Wrestlers are represented in BLUE.

TNA Contracted Wrestlers are represented in GREEN.

ROH Contracted Wrestlers are represented in RED.

US Independent Wrestlers are represented in MAROON.

Japanese Contracted Wrestlers are represented in BLACK.

Mexican Contracted Wrestlers are represented in MAGENTA.

Other International Wrestlers are represented in INDIGO.
---
**PREVIOUS WINNERS**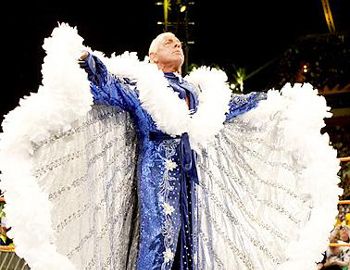 Year One Winner: Ric Flair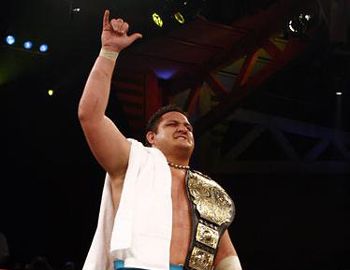 Year Two Winner: Samoa Joe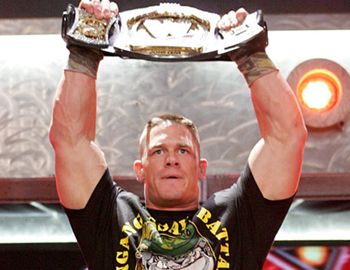 Year Three Winner: John Cena

Year Four Winner: Chris Jericho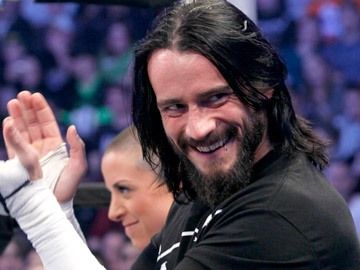 Year Five Winner: CM Punk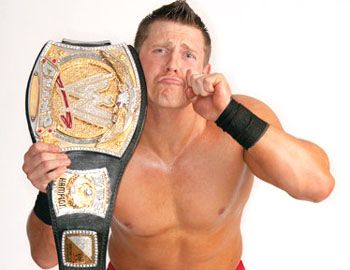 Year Six Winner: The Miz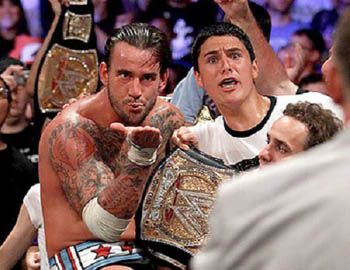 Year Seven Winner: CM Punk

Year Eight Winner: CM Punk