411's Wrestler of the Week – Rollins Takes WOTY
March 31, 2015 | Posted by
Welcome to YEAR TEN, WEEK 51 of 411's Wrestler of the Week. A quick overview of the rules to kick things off for us as a reminder…
Each writer chooses FIVE wrestlers (although ties and tag teams are allowed) from any promotion and each wrestler gets a point total attached to that ranking. It looks a little like this…
1st – 5
2nd – 4
3rd – 3
4th – 2
5th – 1
Then we tally up the votes and the official 411 Wrestler of the Week is crowned. But wait, there's more! Each week the top SIX vote getters get a points value for their ranking which looks something like this…
1st – 15
2nd – 12
3rd – 9
4th – 6
5th – 3
6th – 1
…and they go towards the 411 Wrestler of the Year award to be announced each year around WrestleMania. This will be posted every Tuesday (the voting week runs Monday through Sunday). Let's see who wins this week…
Larry Csonka
1) Seth Rollins:
Seth Rollins may have lost early on the card to Randy Orton (in a good match) but he walked out of WrestleMania 31 as the WWE World Champion. He becomes he first man to cash in the MITB at WrestleMania, making history on the biggest stage in wrestling.
2) Timothy Thatcher: Timothy Thatcher has an excellent weekend during the WWNLive events. He has two of the very best matches of the weekend, and also has become one of the true star that the WWNLive group has produced. The guy is awesome and you should make sure to check out his work if you have the chance.
3) Drew Galloway: Defeated Johnny Gargano and now holds the Evolve and DGUSA Titles.
4) Brock Lesnar and Roman Reigns
5) John Cena & Daniel Bryan
Robert S. Leighty Jr
1) Seth Rollins:
Cashed in at the perfect time to win the WWE World Heavyweight Title.
2) Daniel Bryan: Wins the IC Title for the first time in a brutal ladder match.
3) John Cena: Your new US Champion
4) The Big Show
5) Brock Lesnar
Alex Crowder
1) Seth Rollins:
This WrestleMania was feeling okay and nothing more until the strong finish. The Roman Reigns and Brock Lesnar match was better than people expected I think. I would not call it a masterpiece or anything, but decent work. Seth Rollins came out and suddenly excitement came over me again. I felt deflated with a lot of the results, but this one brought me back. Seth Rollins winning the world title was awesome. I have been on the Seth Rollins bandwagon for awhile, so it was awesome to see him win the big one. Seth Rollins hopefully will continue his hot streak and become a new main event fixture (and that is desperately needed at this point).
2) Daniel Bryan: This will probably be undone by tomorrow night. Still, the IC Title felt like it meant something again for one match. The backstage interactions afterwards made it feel meaningful. I cannot say the same for Cena's victory, which seemed more like an afterthought to Cena. Bryan looked stoked to win the title and it felt important.
3) Randy Orton: Orton had what I thought was an underrated match with Rollins. This match entertained me for the most part. I would not call it great, but it was solid and easy to watch. Also, Orton beat the current world champion, Seth Rollins; this likely means that Orton gets a title shot in the near future. So Orton won a number 1 contender match in a way and also the crowd enjoyed face Orton. Orton has been on a down run as of late, so I feel this victory along with his recent return have rejuvenated the character.
4) Kotaro Suzuki
5) Brock Lesnar
Jeremy Thomas
1) Seth Rollins:
Going into WrestleMania we had two obvious outcomes, neither of which seemed like the best of plans. Whether Roman Reigns is ready or not, the perception among the WWE fanbase was that he wasn't. Meanwhile if Brock Lesnar retained, that meant the title continued to be off TV. Which is why it was so glorious that Seth Rollins swooped in to turn the result of the main event into something we were okay with at best to something to be truly excited for. Kudos to Rollins and here's to a successful first run with the belt.
2) Daniel Bryan: Daniel Bryan won the second best match of the night and took home the Intercontinental Title. Not only will this (hopefully) put new focus on the secondary title if the backstage segment is any indication, it makes Bryan a WWE Triple Crown champion (the US Title has never counted in WWE Triple Crown determination). I know that doesn't mean much to a lot of people but it's still significant. And that WWE thinks Bryan can elevate the title is as much faith as putting him in the main event would have been.
3) Roman Reigns/Brock Lesnar: While Rollins came out the big winner, I think a ton of credit needs to go to Brock Lesnar and Roman Reigns, both of whom delivered one hell of a brutal, well-booked and hard-hitting match. Reigns maniacally smiling through his beating was intriguing and he delivered on his front, while Lesnar of course looked like a beast. This is exactly what Reigns needed to show that he could be ready and both men nicely held up their ends in the match.
4) John Cena
5) Kotaro Suzuki
Kevin Pantoja
1) Seth Rollins:
Could there be any other top choice? I was pleasantly surprised by how wise the booking was for the Roman Reigns/Brock Lesnar match but the best possible outcome happened. Seth Rollins, the most consistently good performer in the company during 2014, finally cashed in Money in the Bank and won the WWE World Heavyweight Title. During the Evolution/Shield feud, he was excellent and since turning heel, he has been untouchable. The guy gave us the most interesting result of the main event and came off looking brilliant. Let's also not forget that he had a damn good match with Randy Orton earlier in the show and took quite possibly the best RKO in history. Here's to hoping Seth gets a great run with the belt.
2) Daniel Bryan: One of the best matches on the card last night was the opening Intercontinental Title ladder match. Granted, I felt that Dean Ambrose needed this win more than anyone, but it was Daniel Bryan who captured the title. It's fitting actually since it's the only title he hasn't held and allows him to join the elusive Triple Crown group. They tried hard to make it seem like a big deal and even had legendary former IC Champions congratulate him later in the show. I feel like Bryan can be booked well with the title, hopefully on a Nakamura level. Regardless, it was another win in a line of successful moments for Bryan.
3) Roman Reigns/Brock Lesnar: Yea, I'm cheating with my third pick and I don't care. I can't separate these two. Brock Lesnar looked like an absolute monster last night and Roman Reigns was booked perfectly. Instead of being in a cheesy role where he was given too much to do, he took a beating from Brock and liked it, while also busting Brock open and hitting him hard. It was well executed and helped Reigns earn my respect at least. Plus, now he doesn't get the title and can chase it, which is even better. Both men gave it their all and deserve a ton of credit for killing it.
4) John Cena
5) Drew Galloway
Mike Hammerlock
1) Seth Rollins:
It really was his year. After the YES! moment to end WM30, it would have felt anticlimactic if either Brock Lesnar or Roman Reigns had won at WM31. The win wouldn't have like it was up to the moment. Rollins cashing in and walking out as the champ was the perfect way to inject the mania into WrestleMania. It's a shining example of how you earn your WrestleMania moment. The second Rollins stepped out, everything made sense. It was his story all along and the fans were ecstatic to see the conclusion. All kinds of credit to Brock Lesnar for tossing around Roman Reigns like a rag doll. A couple of weeks back Kota Ibushi had a 19-minute match against an inflatable doll. Lesnar pulled off a similar trick with Reigns.
2) Prince Puma: If his Lucha Underground defense against Cage had been at WrestleMania, tongues wouldn't be able to stop wagging about how awesome he is. LU put on a big show for the week of WrestleMania with Alberto El Patron defending his AAA belt against Texano Jr. too, but Puma closed and stole the show. Also, as Ricochet, he was all over the Evolve and WWN shows this weekend, doing cool Pumachet stuff.
3) Drew Galloway: United the Evolve and Dragon Gate USA belts. That's a big deal in the Indies. Post-WWE life seems to be agreeing with him. Chris Hero and Timothy Thatcher did some high quality work too. Meanwhile, in the WWE, Daniel Bryan won the IC ladder match, though I thought the other guys drove the action more than he did (shout out to Luke Harper). Lower votes to HHH and Big Show. Trips carried Sting during their match and got a win very people saw coming (brag moment – I was the only 411 writer to pick Mr. H). Big Show finally had the dominating battle royal performance you'd expect a giant of a man to have. Been a long time coming.
4) Triple H
5) Big Show
Mike Chin
1) Seth Rollins:
Some folks dared to dream it, but few believed it might happen–Rollins cashed in his Money in the Bank briefcase to insert himself into the closing moments of the WrestleMania main event to end the show on a positively electric note and walk out of 'Mania the champ–not only a great moment for him but the happiest outcome for a flawed main event scenario. Add onto that an excellent bout with Randy Orton earlier in the night and no one could really touch Rollins coming out of the biggest show of the year.
2) Brock Lesnar: Brock Lesnar signing a new three-year deal with WWE was huge news for wrestling and MMA fans alike, broadcast to the world via ESPN. The news opened possibilities and added drama for the outcome of the WrestleMania main event. He turned in yet another great performance in the ring and, better yet, WWE protected him when he lost the title without taking the pin.
3) Roman Reigns: Putting up a reasonable fight against Brock Lesnar and not winning the title at 'Mania may have been the best steps WWE could have taken toward getting over Roman Reigns as a main event face. Time will tell if he can capitalize, but with Daniel Bryan and John Cena seemingly detouring to the lands of their respective secondary titles, Reigns joins Randy Orton as the two faces with legit claims to start chasing Rollins in a revised main event landscape.
4) Randy Orton
5) Triple H
Greg DeMarco
1) Seth Rollins
In a moment that immediately vaulted into my personal Top 3 WrestleMania moments, Mr. Money In The Bank became Mr. World Heavyweight Champion at WrestleMania 31. Seth Rollins will always be the first ever WrestleMania cash in, and it tied together 10 months of storytelling in an amazing way. He's this generation's Edge, and shows that the future is great hands.
2) Roman Reigns: Even in losing, Roman Reigns showed the ability to do something he hasn't shown before: tell a story in the ring. The build became "I Can and I Will" and you can actually see the moment during the match where Roman Reigns believes that it's true. I don't care what anyone says, Roman is a legit star and will join Rollins at the top of the card for years to come.
3) The Undertaker, Brock Lesnar, Triple H, Sting & The Rock: The part timers rose to the occasion at WrestleMania. Sting and 'Taker both surprised me in their matches and made me believe they could pull off a WrestleMania 32 showdown, Triple H pulled double duty and made the Ronda Rousey segment special, The Rock for once didn't make it about The Rock, and Brock Lesnar appeared to be playing "Brock Lesnar" and it made the main event something to behold.
4) Daniel Bryan
5) John Cena & Rusev (tie)
---
THE WINNERS~!
* Special Mention…Drew Galloway – 7 Votes
* Fifth Place…John Cena – 9 Votes
* Fourth Place…Roman Reigns – 15 Votes
* Third Place…Brock Lesnar – 17 Votes
Suplex. City. Bitch.
* Second Place…Daniel Bryan – 19 Votes
Won a ladder match against six other men at WrestleMania to win the IC Title.
* And 411's Wrestler of the Week is…
*
*
*
*
*
*
*
*
*
*

Seth Rollins – 40 Votes
Rollins made history by cashing in his MITB at WrestleMania to become the NEW WWE World Champion!
The FINAL Standings For Year 10~!
1. Seth Rollins – 193pts.
2. Dolph Ziggler – 119pts.
3. Roman Reigns – 116pts.
4. AJ Styles – 104pts.
5. Dean Ambrose – 98pts.
6. Bobby Lashley – 90pts.
7. Rusev – 82pts.
8. Brock Lesnar – 79pts.
9. John Cena – 69pts.
10. Daniel Bryan – 64pts.
.
.
.
.
.
Eric Young – 58pts.
Kazuchika Okada – 54pts
Kyle O'Reilly – 53pts.
Hiroshi Tanahashi – 45pts
Bobby Fish – 45pts.
Ricochet/Prince Puma – 40pts
BxB Hulk – 38pts
Bray Wyatt – 35pts
Kevin Owens – 27pts.
Cesaro – 27pts.
Adrian Neville – 26pts.
Davey Richards – 26pts.
Eddie Edwards – 26pts.
Jay Briscoe – 24pts.
Jey Uso – 24pts.
Jimmy Uso – 24pts.
Hideo Itami – 24pts.
Kota Ibushi – 23pts.
Minoru Suzuki – 21pts
Bobby Roode – 21pts.
Bad News Barrett – 21pts.
Sting – 21pts.
Randy Orton – 20pts.
Alberto El Patron – 19pts.
Finn Balor – 18pts.
Sami Zayn – 18pts.
Luke Harper – 18pts.
Charlotte – 18pts.
Adam Cole – 18pts.
YAMATO – 18pts
Tyson Kidd – 18pts.
AJ Lee – 16pts.
Batista – 16pts.
Jeff Hardy – 16pts.
Tomohiro Ishii – 16pts
Kurt Angle – 16pts
Akira Tozawa – 15pts
Atlantis – 15pts.
Paige – 15pts.
Takao Omori – 15pts
Sheamus – 15pts.
Johnny Gargano – 15pts.
Sasha Banks – 15pts.
Johnny Mundo – 15pts.
Samoa Joe – 14pts.
Cage – 13pts
Icarus – 13pts.
Bully Ray – 13pts.
Fenix – 13pts.
Ryback – 12pts.
The Rock – 12pts.
Chris Jericho – 12pts.
Michael Elgin – 12pts.
Austin Aries – 12pts.
Shinsuke Nakamura – 12pts.
Stardust (Cody Rhodes) – 11pts.
KUSHIDA – 10pts.
Rockstar Spud – 10pts.
Taryn Terrell – 10pts.
Bad Luck Fale – 9pts
Jay Lethal – 9pts.
CM Punk – 9pts.
Havok – 9pts.
Ultimo Guerrero – 9pts.
Triple H – 9pts.
Yuji Nagata – 9pts
Yujiro Takahashi – 9pts
Masayuki Kono – 9pts
KAI – 9pts
Goldust – 8pts.
Alicia Fox – 7pts.
Devon – 7pts.
Matt Hardy Hardy – 7pts.
Shelton Benjamin – 6pts.
Ethan Carter III – 6pts.
MVP – 6pts.
Gail Kim – 6pts.
Takao Omori – 6pts.
Jun Akiyama – 6pts.
Masato Tanaka – 6pts.
Takashi Sugiura – 6pts.
Suwama – 6pts.
Biff Busick – 6pts.
Erick Rowan – 6pts.
Damien Sandow – 6pts.
Stephanie McMahon – 6pts.
Kalisto – 6pts.
Rich Swann – 6pts.
Tomoaki Honma – 6pts
Toru Yano – 6pts
Mil Muertes – 4pts.
Shane Hatse – 3pts.
Mikey Nicolls – 3pts.
Go Shiozaki – 3pts.
King Cuerno – 3pts.
Kenny Omega – 3pts.
Cyber Kong – 3pts.
Joe Doering – 3pts.
Hirooki Goto – 3pts.
Katsuyori Shibata – 3pts
T-Hawk – 3pts.
EITA – 3pts.
Taichi – 3pts.
Mark Henry – 3pts.
Tyler Breeze – 3pts.
Adam Rose – 3pts.
Jack Swagger – 3pts.
Sin Cara – 3pts.
Mitsuya Nagai – 3pts.
Takeshi Minamino – 3pts.
The Miz – 2pt
Wesley Blake – 2pt
Bubby Murphy – 2pt
Naomichi Marufuji – 2pt
Dasher Hatfield – 2pts.
Mr. Touchdown – 2pts.
Drew Galloway – 2pt.
Kane – 1pt
Brie Bella – 1pt
Uhaa Nation – 1pt
Sanada – 1pt
Bram – 1pt
Alex Shelley – 1pt
Isami Kodaka – 1pt
Kazuyuki Fujita – 1pt
Vickie Guerrero – 1pt
Caleb Konley – 1pt
Jimmy Susumu – 1pt
Jimmy Kagetora – 1pt
Kaz Hayashi – 1pt
Shuji Kondo – 1pt
HARASHIMA – 1pt
Kataro Suzuki – 1pt
---
* Voting began 4.15.14
* Year-End Rankings Key:
WWE Contracted Wrestlers are represented in BLUE.
TNA Contracted Wrestlers are represented in GREEN.
ROH Contracted Wrestlers are represented in RED.
US Independent Wrestlers are represented in MAROON.
Japanese Contracted Wrestlers are represented in BLACK.
Mexican/Lucha Underground Contracted Wrestlers are represented in MAGENTA.
Other International Wrestlers are represented in INDIGO.
---
**PREVIOUS WINNERS**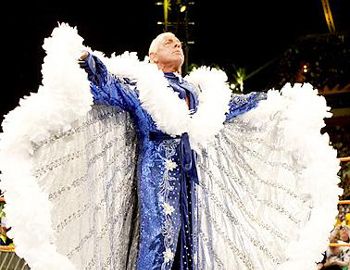 Year One Winner: Ric Flair (2005-2006) (Shortened year, starting September 2005)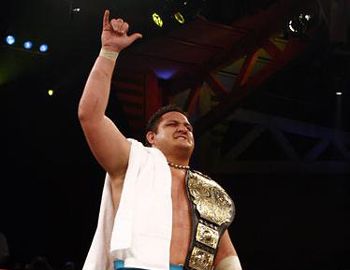 Year Two Winner: Samoa Joe (2006-2007)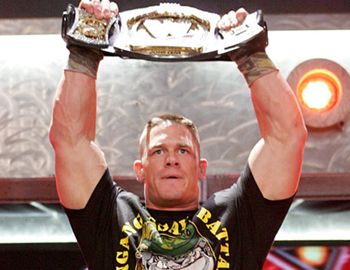 Year Three Winner: John Cena (2007-2008)

Year Four Winner: Chris Jericho (2008-2009)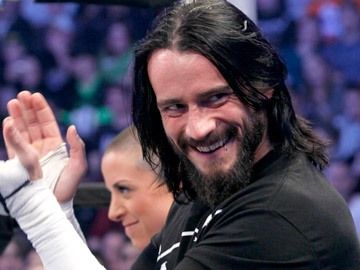 Year Five Winner: CM Punk (2009-2010)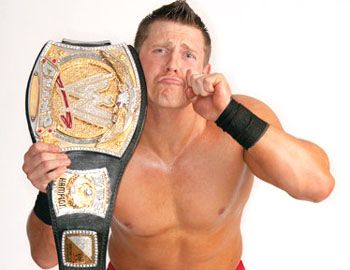 Year Six Winner: The Miz (2010-2011)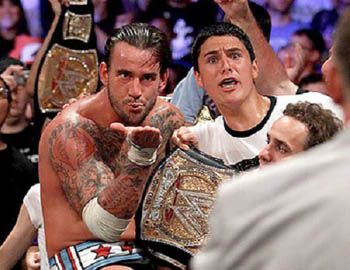 Year Seven Winner: CM Punk (2011-2012)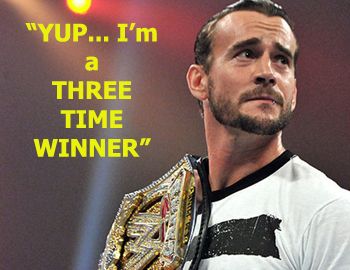 Year Eight Winner: CM Punk (2012-2013)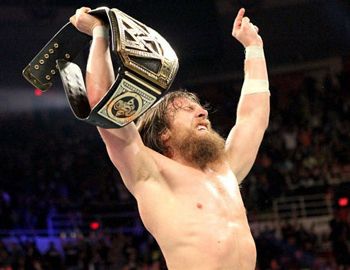 Year Nine Winner: Daniel Bryan (2013-2014)

Year Ten Winner: Seth Rollins (2014-2015)