411's WWE Elimination Chamber Preview
February 25, 2018 | Posted by
411's WWE Elimination Chamber Preview
~THE STAFF~
* 411 reviewer, Mr.
Kevin Pantoja
.
* 411 contributor, Mr.
Jake Chambers
.
* 411 columnist, Mr.
Steve Cook
.
* 411 contributor, Mr.
Ken Hill
.
* 411 columnist, Mr.
Justin Watry
.
---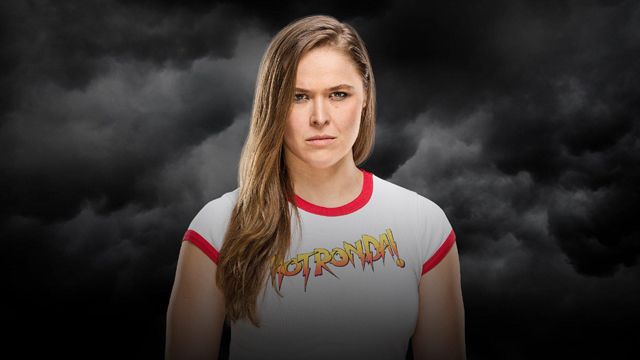 What will happen at Ronda Rousey's official Raw contract signing?
Ken Hill
: The majority of commenters and analysts I've read up on seem to feel that simply inserting Rousey into the RAW Women's Title picture or setting up a crossover match with Charlotte would be too lowball for Rousey's in-ring debut at WM 34, and I would be wont to agree with them. Not to put a douse on Asuka, Charlotte or any of WWE's top female wrestlers, but a high-profile signing like Ronda needs a high-profile rivalry to kickoff her tenure in WWE and, unfortunately, there's little more top shelf media potential than a feud with two of WWE's top figure heads in Stephanie and Triple H. I imagine Stephanie either will be on hand to oversee Ronda's contract signing or interrupt the proceedings to "congratulate" her; either way, Steph would bring up their past encounter at WM 31, leading to harsh words being exchanged and a potential brawl to kick off their feud.
Kevin Pantoja: I honestly don't think much is going to come of this. Part of me expected someone to interrupt, but I get the sense they might save that for one of Ronda Rousey's Raw appearances. At most, I could see a lower card woman interrupting and getting wrecked, but even that is doubtful to me.
Steve Cook: Kurt Angle & Stephanie McMahon come out. Kurt stumbles through some WWE Universe jargon before introducing Hot Ronda. Ronda signs the contract. She & Stephanie talk some junk because apparently that's what people want to see. Ronda puts her in an armbar. The crowd cheers. Stephanie talks for the first hour of Raw the next night.
JUSTIN WATRY: I can tell you what will NOT happen. Ronda Rousey is not going to challenge for the RAW Women's Championship at WrestleMania 34. Nothing really makes sense there. With Asuka, Alexa Bliss, or whoever. That can wait for another big event. Summerslam? Really, WWE has two options, and I am sure the decision has already been made a long time ago. Either we get some kind of Smackdown interruption (Charlotte, Shane McMahon, or Daniel Bryan) which leads to Ronda Rousey heading over to the blue brand for their title. OR we get the much discussed Stephanie McMahon showdown, leading to the rumored mixed tag team match three years in the making. Personally, I am torn. Rousey vs. Charlotte is what I want to see. However, does anybody really see Ms. Rowdy going to Smackdown LIVE? No offense…but no. On the other hand, money is king. Team up Rousey with Braun Strowman, Kurt Angle, or even The Rock to take on Steph and Triple H, and you have a goldmine. That scenario protects Rousey, gives a huge spotlight to whomever her partner is. Plus, it kinda ties up any loose ends from Survivor Series 2017. My gut says we get the mixed tag thing dominating Raw television for the next month. My heard though would love a little Smackdown swerve and Charlotte showdown. We'll see. I am ALL IN on this Rousey signing, so it is cool to know there is some genuine intrigue to how this all plays out Sunday night. In Las Vegas no less…uh oh…
Jake Chambers: We'd never see it in the UFC, but what is the one MMA dream match that only the WWE could give us? Rousey vs. Brock, of course. If they put that match together – the Reality-Era "Battle of the Sexes" – it might draw bigger than Mayweather/McGregor, so you know somebody backstage has got to be floating the idea. Why not hint towards it a bit on the night of her "contract signing"? It is a RAW PPV and the main event is a match that is set to determine who will face Lesnar next, so him and Heyman should be in the building and good for an impromptu interruption. I think Heyman will come out and try to convince Rousey to be a "Paul Heyman Gal" and in the process will re-spark the drama between Rousey and the McMahon-Helmsleys from WrestleMania 31, thus setting up the WrestleMania 34 "dream match" we've all been wildly anticipating since that hot segment (hard eye roll).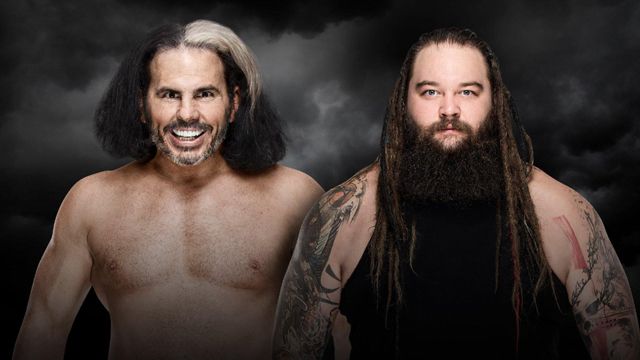 Matt Hardy vs. Bray Wyatt
Ken Hill
: Any true excitement I had for this feud has long since gone by the wayside, as it's readily apparent that Vince and company have come close to, if not already have, given up on the concept of "The Eater of Worlds versus The Woken Wonder." That they already gave away the match in a do-nothing 5-minute exhibition on RAW's 25th should be an indicator more about Vince merely wanting the "Broken Universe" gimmick out of Impact Wrestling's hands than truly having any vaunted interest in the concept. Rumors of Jeff Hardy returning in the "Brother Nero" role are sounding less like a twist to the so-called "Great War" and more like an adrenaline shot to a feud that's on its incessantly giggling deathbed. Frankly, the real twist would be if Jeff and Matt ended up
aligning
with Bray to form a New Wyatt Family post-WrestleMania 34, much like they did early in their careers by siding with Gangrel to form The New Brood. For the sake of a prediction, though, I'll go with the "Woken" One, as Bray's won one already, and WWE "creative" is not one to stray from their 50-50 booking for undercard feuds.
WINNER: Matt Hardy
Kevin Pantoja: This feud has been a disaster. It's just been two guys talking in circles and doing nothing to make me want to see the match. Plus, Bray already basically squashed Matt in a few minutes at Raw 25. I'm gonna say Bray wins here to gain some momentum before doing a lot of nothing at WrestleMania. Maybe he'll be a battle royal favorite.
WINNER: Bray Wyatt
Steve Cook: I don't really have anything to say about this. If I was more clever I'd come up with a haiku. Maybe I'd do a rap. Or maybe I'd just go off on some inane tangent that has nothing to do with the match. I got nothing, though. Bray Wyatt hasn't been interesting in almost a year, and Matt Hardy's Woken character isn't really working for me in this environment. I thought one of the reasons the Broken Matt character worked in Impact Wrestling was because he was so different from everything else they were doing. Here, they're feuding him with the other weird guy, they're both coming off like maniacs & nobody really stands out. I guess Bray wins, I don't much care either way.
WINNER: Bray Wyatt
JUSTIN WATRY: Ugh. Didn't care for the BROKEN character in Impact Wrestling. Certainly don't care for the WOKEN character in WWE. My main fear is that Jeff Hardy gets dragged into this disaster. Hopefully not. Bring him back as the main event star that he is. If Vince McMahon really wants to give Matt Hardy a chance, he will need to bring in the drone, Reby, and go the distance with the gimmick. It isn't my cup of tea. However, what is airing now won't cut it. Sorry. Bray Wyatt was WWE Champion one year ago, and now he is feuding with Matt Hardy. Superstar Shakeup for the win! I will be at the March 5th edition of Raw. My fingers are crossed for very little of these two and lots of Ronda Rousey!
WINNER: Matt Hardy
Jake Chambers: Well, we've been sitting on Matt Hardy and his shit-dumb "Broken/Woken" gimmick in the WWE for almost a year now, and are all those fans who claimed this was gonna be a sure-fire hit now willing to admit defeat? Or are we still going to hold on like there is some phantom awesome-ness to all that schtick that's going mysteriously emerge if we just keep letting it go on and on… you know, like what WWE has done with Bray Wyatt for 5+ years. This WILL suck.
WINNER: NJPW World (every Bray Wyatt or Matt Hardy appearance on WWE programming results in 10 new subscriptions to that incredible streaming service… this is a statistical fact)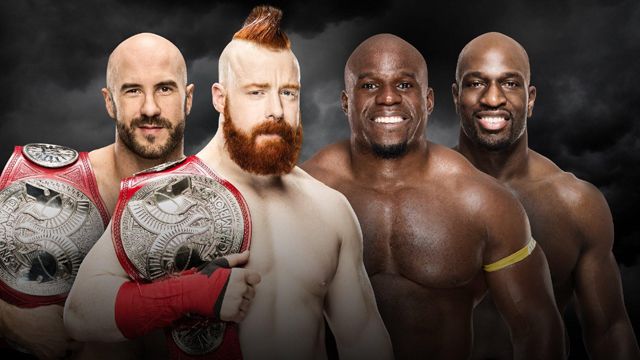 Raw Tag Team Championship Match: The Bar vs. Titus O'Neil and Apollo
Ken Hill
: With Jason Jordan on the injured list and Rollins squarely focused on regaining his singles cred, Sheamus and Cesaro seemingly stand alone atop RAW's struggling tag team division, with Titus WORLDWIIIIDE as the next contenders to the red-and-silver straps, the latter team having picked up three straight wins over the former, including a clean-as-a-whistle non-title win this past Monday, setting up their opportunity at Elimination Chamber. While Titus and Apollo have picked up momentum both on-screen and in the media limelight, it seems to serve as little more than building up a credible opponent for The Bar now that their perpetual opponents in the Shield/Champions Club/Non-Champions Club have either gone by the wayside or focused their efforts elsewhere. While a win for Titus Worldwide would be an interesting scenario, RAW and WWE are going to want their top-tier teams to represent at WM 34 and right now, that's The Bar.
WINNER: The Bar
Kevin Pantoja: I feel like we've seen this match a bunch in recent weeks. Luckily, their last match for the titles was actually quite good. I can't imagine The Bar dropping the titles to Titus Worldwide, but I'm expecting a fun little match. I'd be okay with a title chance, as Apollo and Titus have been very entertaining in recent months. However, I've got The Bar going into Mania with the titles.
WINNER: The Bar
Steve Cook: Titus & Apollo try really hard. Apollo finally seems to be finding his way. Titus is a good guy. Let's be honest though: these guys are as legitimate as #1 contenders for the tag team championship as *insert your least favorite gasbag politician here, they're all pretty awful* is at being a public servant. Sheamus & Cesaro finally get a win over these guys when it counts because champions only win title matches & lose all of their non-title matches.
WINNER: The Bar
JUSTIN WATRY: Worldwide! Titus O'Neil has loads of potential, is a great spokesman for WWE, is filled with charisma and looks to be taking advantage of his air time. That being said, every single time he has been given a chance to shine, he has blown it. That is on him. I am glad to see the guy still doing well – more so outside of the squared circle. Apollo should be doing more but has found himself some personality being paired with Titus. Excellent in the ring but kinda bland otherwise. That is why this pairing works. Dana Brooke, don't forget about her. Like Titus, so once the bell rings but very fun backstage and in promos. With all of that being said, you have to go with The Bar here. This close to Mania, the belts need to stay put. If there is an 'upset' during this pay-per-view though, look no further. Not like Sheamus and Cesaro aren't 475 time tag champs or anything…
WINNER: The Bar
Jake Chambers: Ah c'mon, just give the Elimination Chamber match 15 more minutes and keep this garbage off the PPV, please! I mean, that Gauntlet Match was almost two hours of pure in-ring action on Monday, so make the Elimination Chamber an epic coda. No one wants to see this waste of time tag team match. Oh – and PS – Cesaro and Sheamus SHOULD be in the Elimination Chamber!
WINNER: 45-minute Time Limit Draw like the American Wolves vs. Bryan Danielson & Tyler Black main event from ROH Epic Encounter II… can you imagine?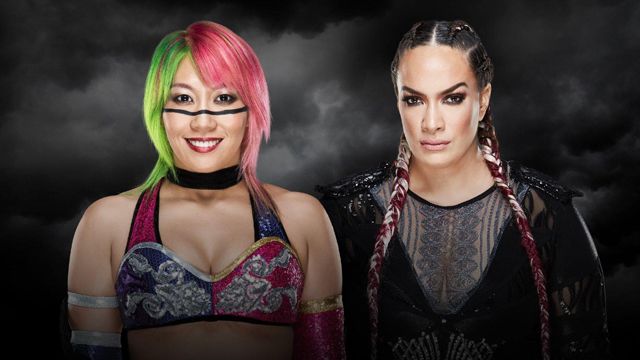 Asuka vs. Nia Jax (Jax gets added to Raw Women's Title Match at WrestleMania if she wins)
Ken Hill
: Is there really any doubt to this? Despite Nia's recent attempt in getting one-up on Asuka, it doesn't erase the fact that Asuka has essentially owned Nia in every one of their previous in-ring encounters, and this Sunday won't be any different. I can certainly understand the notion of inserting Nia into the title feud, what with her previous history with Alexa, so the solution here is to simply have Nia beat Alexa in a non-title match before WM 34, setting up the triple threat anyway. Then there's the odd notion of Asuka not having officially declared which Women's Champion she wants (thanks to Ronda's interruption at RR 2018), which means Asuka could still wipe the floor with Nia, swerve and declare herself the next challenger to the Smackdown Women's Championship, which would most probably have Charlotte as the titleholder, and leave the RAW Women's Title open for another contender
WINNER: Asuka
Kevin Pantoja: Nobody would be dumb enough to waste Asuka's years of build on a loss to Nia Jax at Elimination Chamber, right? I mean, it's even worse than building up Charlotte's Pay-Per-View streak, only to lose in unceremonious fashion at Fastlane last year. Since there's no talk of a pin or submission, some believe Nia wins via DQ or countout, but that seems shitty to me. Asuka for the win.
WINNER: Asuka
Steve Cook: There is some precedent for streaks ending at Raw's pre-WrestleMania PPV extravaganza. Charlotte Flair's PPV streak ended at last year's FastLane event at the hands of Bayley. It was pretty short-sighted & took away from Bayley's victory at WrestleMania, which should have been one of those Moments they love so much. I don't see them making the same mistake again. I think Asuka's streak has gone on way too long, but ending it in this match isn't the right move.
WINNER: Asuka
JUSTIN WATRY: Asuka wins or I riot. Seriously. It is an absolute joke that WWE is even teasing us with the inclusion of Nia Jax to the RAW Women's Title picture come WM34. Please no, for the love of all that is good. Nobody is ready for that!
WINNER: Asuka
Jake Chambers: The stipulation here is what now? Is there even a RAW Women's Title Match at WrestleMania scheduled yet? And if so, is Asuka in it? If Nia Jax wins but Asuka chooses to challenge Charlotte, does Jax get to be in that match? Or does she get to challenge one-on-one for the RAW Title? And what does Asuka get for beating Jax? Damn, even that WWE UK Title makes more sense than this stipulation. I'll tell you what makes less sense that ANY of it though, and that's Nia Jax losing… like ever. Sure, sure, pro-wrestling often makes larger wrestlers lose to smaller wrestlers, and it can happen in MMA and boxing too, but c'mon… we're talking about a significantly bigger wrestler going up against women who are mostly pretty small and weak by comparison. The day Bayley guillotined Jax to win their NXT Title match was the beginning of the end for Jax, and she's never been dominant again. On the main roster they've achieved the illusion of her being a threat by basically keeping her out of any match of real consequence for years, but this time is different. If there was ever a moment to recapture the "eye test" realism of the Women's division then Nia Jax MUST win here.
WINNER: Nia Jax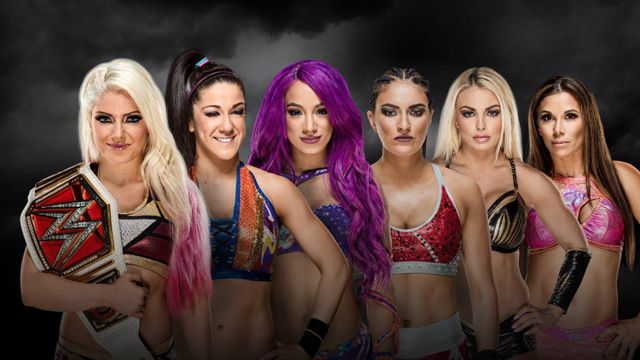 Raw Women's Championship Women's Elimination Chamber Match: Bayley vs. Mandy Rose vs. Mickie James vs. Sonya Deville vs. Sasha Banks vs. Alexa Bliss
Ken Hill
: With WWE finally getting around to building up the Sasha-Bayley feud, it wouldn't really surprise me to see either come away with the championship and then have the other turn heel out of bitterness and jealousy. At the same time, though, WWE could yield the same result through the two women having a simple miscommunication resulting in one or both of their eliminations and Alexa coming away with having retained her title. "Herstory-making" obsession aside, there are a few directions this first-time match could go in; when that kind of situation arises, I tend to go with the simpler route, which in this case is Alexa winning by the skin of her teeth and going on to face either Asuka, Nia or both, depending on what happens with Asuka's choice of champion in the coming weeks towards WM 34.
WINNER: Alexa Bliss
Kevin Pantoja: Like the women's Money in the Bank and Royal Rumble, this could either be a good first outing or a disaster. For the most part, MITB succeeded (even with the dumb booking after) and the Rumble was great. This one is tougher, as it's a tricky match to book, especially with unproven entities like Mandy Rose and Sonya Deville. I suspect we get something good and Alexa Bliss will find a way to retain. At this point, not having her as champion going into Mania would be dumb.
WINNER: Alexa Bliss
Steve Cook: I think I would enjoy Alexa's title reign a lot more if she got to defend the championship more often. How in the world is this her first title defense on television/PPV in nearly four months? When you're taking that kind of time off between defenses the length of the reign doesn't mean jack. At least she'll get to defend the belt on this evening in a match that will MAKE HISTORY, and she'll make history by winning. The one person I'd give a little bit of a chance to here is Sasha Banks, and that's purely because she & Asuka had a kickass match on Raw a couple of weeks back & I'd like to see a rematch.
WINNER: Alexa Bliss
@JustinWatry: My only hesitation is that WWE half heartedly gave us Asuka/Alexa Bliss on Raw last month. Felt like that was the Mania title bout, didn't it? For them to just give that away without a care in the world weeks ago, that tipped me off that maybe we will get some kind of surprise here. I know reports are hinting at Alexa/Nia with Asuka facing Charlotte…but I don't like that idea much either. Perhaps Charlotte/Becky Lynch is the direction? Who knows? WWE will probably convince me otherwise come mid-March when everything shakes out. Until then, I am a bit cautious. As for the Elimination Chamber structure, kudos to WWE for getting to a time when it isn't even a big deal that this is another 'first' for the women's division. They now main event television shows and PPV events so regularly it does not even matter anymore. That is a good thing and shows how far the revolution has come. The Royal Rumble worked for them, and I am sure this will too.
WINNER: Alexa Bliss
Jake Chambers: Is this finally the last #firstever forced women's gimmick match? Let's just get this out of the way and maybe finally have a #firstever awesome women's singles match on PPV, or is that asking too much? You can really tell the WWE is putting as much lifeless effort into this "historic" moment as you'll get from the crowd when Mickie James or Sonya Deville is eliminated from the match. Well, I'm gonna go with Bayley here. She didn't win the #firstever women's Royal Rumble like I'd predicted, but if I just keep picking Bayley she's got to win something, right? I know this because you all chanted "You Deserve It" to her on her first night on RAW. And that chant has NEVER been proven wrong.
WINNER: Bayley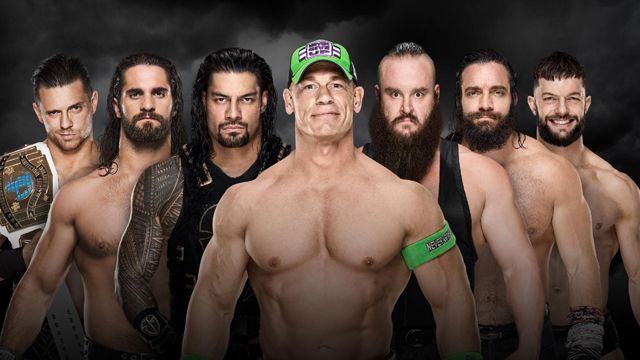 Universal Championship #1 Contenders Men's Elimination Chamber Match: The Miz (enters first) vs. John Cena vs. Braun Strowman vs. Roman Reigns vs. Seth Rollins vs. Finn Balor vs. Elias (enters last)
Ken Hill
: Rollins looked like a beast toppling two of WWE's golden boys, Elias got a clean win over Cena and pinned said beasty Rollins in the Gauntlet match, Cena's a desperate, dangerous man unsure of his spot at Mania for what seems like the first time, although his cryptic statements concerning Taker indicate he'll be plenty occupied come WM 34, and Balor's keyed in on regaining the championship he never lost. Miz, despite entering first, still has big-time momentum from his back-to-back victories over Reigns, Strowman's remained the ever vigilant, country-singing, big bass-swinging, hands-giving Monster Among Men, and Roman has lost twice to Miz, was the first man out in the Gauntlet match, and was preordained by Vince Almighty the previous year to face Brock Lesnar at WM 34. Gee, I wonder who's winning?
WINNER: Roman Reigns
Kevin Pantoja: Come on. We've known this for a year. To be fair, I'm not complaining. I think Roman Reigns is a great choice for champion, as he's constantly putting on good to great matches. It's better than his 2015-2016 push, because he's not the focal point of TV the way he was back then. It should come down to Braun Strowman and Roman Reigns, with Reigns getting a win back over Braun for the first time in about a year.
WINNER: Roman Reigns
Steve Cook: As I discussed at length on Wednesday, the result here has been set in stone since last year's WrestleMania. Brock Lesnar was going to hold the Universal Championship for a year, then drop it to Roman Reigns. Brock's held up his end of the bargain, now it's time for the Big Dog to hold up his. Personally, I will be rooting for Braun Strowman to run over everyone in his path & shock the world by advancing to WrestleMania. But it's gonna be Roman.
WINNER: Roman Reigns
Justin Watry: How funny would it be if John Cena started the Chamber with The Miz? You know, the irony and all. No, I think the way the Gauntlet Match went last night is pretty much how Sunday plays out only with a different ending. John Cena will do very little but add his name and star power to the setting. Elias will get a moment but ultimately be gone by the time the big stuff happens. In between, this will be the Seth Rollins and Finn Balor show. For all the work those two will put in, the endgame is fairly obvious. Braun Strowman is the FINAL BOSS to Roman Reigns and his quest back to the main event of WrestleMania. The two rivals locking up one more time for a shot at Brock Lesnar and the Universal Championship on the grandest stage. A fitting end to their yearlong story line and a nice payoff too. Strowman destroys everybody…but falls to the Roman empire. A rematch from WrestleMania 31: Brock vs. Reigns! The march to New Orleans is on…
WINNER: Roman Reigns
Jake Chambers: We are all in our own Elimination Chamber. A complex cage with nonsensical rules that we step into of our own free will and go through the motions towards a pre-determined end. I sit at my crappy desk, born of a humble carpenter and elementary school teacher, destined to be one or the other – a builder or an instructor. Call me The Miz, Elias, Seth Rollins, or Finn Balor – just another hard worker ordained by a caste system to never truly be at the elite level (comparatively speaking). I was not taught by the finest scholars and I am not the one who buys the most luxurious of furniture, and will never be the one who will reach the top of the pyramid and hold the single championship for all above my head. I can write about it, only. And that I do with aplomb, and have for many years because I've been inspired by one man. He who fought, crawled and freestyled his way to the top of an industry like a funky grub worm who killed a lion with dance to become king of the jungle. An underdog story for a champion who was not born into it, never had the look, and who so many vocal detractors wanted to fail. He's not a Roman Reigns or Braun Strowman, handpicked for their exemplary genetic stock to be the next legend with the succession-like reasoning of a royal family. I'm of course talking about the one man you should NEVER bet against on PPV, the one man who never backs down, never gives up, and the one man who inspires me to push on through the frivolity of my Elimination Chamber. So if you are like me, as I can only assume you are, then I urge you to try and feel the adrenaline rush syncopation when he once again proves everybody wrong: the ultimate underdog, the real phenom, the greatest wrestler alive…
WINNER: John Cena
JOIN 411 TONIGHT FOR OUR LIVE COVERAGE OF THE SHOW