411's WWE Main Event Report 10.10.12
October 10, 2012 | Posted by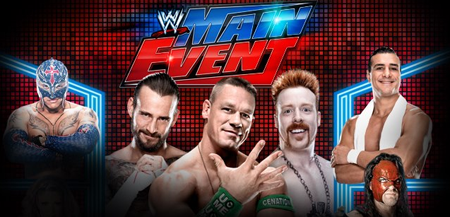 WWE Championship Roll Call:
WWE Champion: CM Punk
World Champion: Sheamus
IC Champion: The Miz
US Champion: Antonio Cesaro
Unified Diva's Champion: Eve
WWE World Tag Team Champions: Daniel Bryan and Kane
WWE MAIN EVENT 10.10.12 (Episode 2)
-Michael Cole and The Miz are in the ring to kickoff the show. Miz tells us how great he is, and is apparently wearing a crushed velvet smoking jacket. They then discuss the Orton vs. Show rematch that will take place tonight.
-We get a video package, showing off the career of the Big Show. He's not here to entertain or to make you happy, he's a giant and he destroys.
-Josh Matthews tries to get a word with Show. Show beat Orton on Smackdown and tonight he has to prove he is the most dominant and destructive force in the whole company. He then tells Josh he can break his jaw if he wants to, and it would happen so fast that he wouldn't even know it. He also adds that Josh would be eating through a straw if he hit him. Run for your life son!
-In the ring, Miz discusses what it is like to get hit by Show's punch. Cole says Orton has a plan, and we go to a video package for Orton.
-Matt Striker is with Orton backstage. Orton says he will not make excuses; he will deal with Del Rio soon. But as for Big Show, he is not ashamed to lose to him, but he doesn't like it. Lightning may not strike twice, but a viper can…
The Big Show vs. Randy Orton
Orton attacks at the bell and lays in the rights and boots to Show. To the corner they go, head butt by Show and that slows down Orton. Orton fights back with rights, mounted rights in the corner, and then uppercuts. Shot to the ribs by Show, working on the previously injured ribs. To the corner and chops by Show connect. Orton tries to fight back, but Show with another shot to the ribs of Orton. A slam follows, and then an elbow drop by Show gets 2. Orton again fires back with rights, off the ropes and Orton runs into a shoulder block. Orton rolls to the floor, Show follows. More chops by Show, picks up Orton, but Orton slides away and slams Show to the steel post…
~commercial time~
We are back from a commercial and Show is working over Orton with rights, targeting the ribs of Orton. Show stands on the ribs of Orton, and then laughs at him. Show allows Orton to stand, and then takes another shot at the ribs. Orton now with rights, head butt follows. Off the ropes and runs into a bear hug. Show remains focused on the ribs here, and Orton is finally able to escape. He manages to low bridge Show and send him to the floor…
~commercial time~
We are back from commercial again, this time with Orton working over Show on the floor. Back into the ring they go and Orton beats Show down and them stomps him. The high knee drop follows, and Show kicks out at 2. Show fires back with shots to the ribs, and looks to take control back. Show stands on Orton's ribs once again, and then Show works A CLAW HOLD to the ribs. Orton manages to fight out, off the ropes and runs into a side slam, Show covers for 2. Show back to the claw hold on the ribs, Orton gets back to his feet, lands some elbows and escapes. Clotheslines by Show, corner charge lands and as he comes off the ropes, Orton gets a desperation dropkick. Orton covers for 2, and rolls to the floor. Show follows, but gets tripped into the steel steps. Orton back in the ring, kicks Show in the face as he tries to enter, and then drapes Show over the top rope for the hangman's DDT! Orton covers and gets 2. Orton now drops to the mat and looks for the RKO. RKO CONNECTS but Show rolls to the floor. Orton to the floor, stalks Show and looks for another RKO, but Show slams him ribs first into the apron. Back into the ring they go, and Show drops elbows to the ribs of Orton. Modified camel clutch by Orton, he colossal clutch as it were, and he then breaks it. Another elbow drop by Show, and then another. A third connects and back to the colossal clutch. Orton fights, gets to his feet, but eats a chokeslam and that is all.
OFFICIAL RESULT: The Big Show @ 21:00 via pin
RATING: ***
-Striker tries to interview Show, but gets cut off. Show says boo him all you want, but in two weeks at Hell in a Cell, he will knock Sheamus out, and will become the world's largest champion.
-Trainers check on Orton in the ring.
-Sheamus is here, and he says that when Show caught his kick on Monday, he was shocked. Show may be his biggest challenge ever, but that is what he came to WWE for. If he beats Show, it will be a sweet victory.
-Cole and Miz hype Hell n a Cell in two weeks.
-Kofi Kingston makes his way to the ring, and the Miz is less than enthused about his arrival. He will face Michael McGillicutty.
Kofi Kingston vs. Michael McGillicutty
Joined in progress as Kofi covers for 2. McGillicutty battles back as Cole and Miz discuss the Larry King segment from Monday's Raw. McGillicutty lays the boots to Kofi and then gets a sweet backdrop suplex for 2. We then see replays from Monday a the match is ignored further. The camera then goes to Cole and Miz for a bit, we then see Kofi nails a RANA and then chops to McGillicutty. A dropkick follows, then a clothesline and finally the boom drop. Kofi sets, trouble in paradise misses, but he then gets the S.O.S for the win.
OFFICIAL RESULT: Kofi Kingston @ 2:30 via pin
RATING: NR
-The Miz heads to the ring to have a word with Kofi. He hands Kofi a mic, and then says Kofi had a nice win there. Miz then gets annoyed when Kofi says he had a fun match. Miz goes into his "must see" stuff and does weird voices. He then runs Kofi down for devaluing everything, and Miz says he is a WrestleMania Hall of Famer, and calls Kofi a hippy drummer or some shit. He then says Kofi cheat shotted him on Monday and adds that Kofi will never be on his level. Kofi says he can accomplish what Miz has, and says maybe he wants Miz to think that, because he may have a dagger hidden behind his smile. He then challenges Miz to a match for next week on Main Event, and Miz accepts. Kofi says he wants the title on the line, and Miz laughs and Kofi mocks him for laughing. Kofi says he was an IC Champion, but if Miz doesn't put the title on the line, he will be admitting that Kofi was a better champion than he is. Miz agrees to put the title on the line, and Kofi adds that it, "sounds like fun."
Miz tries to cheap shot Kofi, who ducks and lands trouble in paradise on the Miz. He then poses with the IC Title.
-End scene.
WHAT DID YOU THINK ABOUT TONIGHT's WWE MAIN EVENT?
TWITTER
Your heart is free. Have the courage to follow it…TO CSONKA'S TWITTER!
http://www.twitter.com/411wrestling
http://www.twitter.com/411moviestv
http://www.twitter.com/411music
http://www.twitter.com/411games
http://www.twitter.com/411mma