411's WWE Main Event Report 4.24.13
April 24, 2013 | Posted by
Michael Benjamin here with another Main Event report! Tonight, Mark Henry runs a gauntlet and probably looks like a badass while doing so! Want the results? Just scroll down. As always, that's the Benjamin guarantee after all.
SHOW… ON.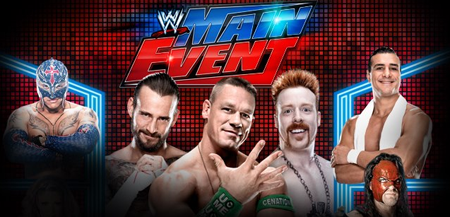 WWE Championship Roll Call:
WWE Champion: John Cena
World Champion: Dolph Ziggler
IC Champion: Wade Barrett
US Champion: Kofi Kingston
Unified Diva's Champion: Kaitlyn
WWE World Tag Team Champions: Daniel Bryan and Kane
WWE MAIN EVENT 4.24.13
– Then. Now. Foreverrrrrrrrrrr.
– This Main Event intro could really use some updating. Everybody is in old gear and Daniel Bryan's beard is like four months shorter.
– Michael Cole welcomes us to Main Event. His broadcast colleague, JBL, is in the ring. JBL says that he's STILL a wrestling God. Here in London tonight, JBL is going to make sure the show starts off with a bang. We get replays of Mark Henry's backstage attacks on Sheamus in the prior weeks before JBL introduces the World's Strongest Man himself.
– Henry makes his way down to the ring with a mic in hand. JBL says that he's seen Sheamus in absolute wars but he's never seen Sheamus beat down like we just saw in the replays. Mark Henry says that Sheamus said it doesn't matter if you're big and bad. JBL says "because that's what you do" multiple times and Henry takes offense. He thinks JBL is making fun of him but JBL promises that isn't the case. He follows up by asking Henry if he wants to be in action tonight. Henry says that he'll take on TWO WWE superstars to prove a point. JBL mentions that Big Show is awesome and Henry asks if JBL thinks Big Show is more impressive than him before saying he'll take on THREE WWE superstars. The crowd is chanting "we want four." JBL says that three would be incredible, but why not make history? He proposes Mark takes on four men in a gauntlet match and that Mark could do it right now. Mark tells JBL to get out of the ring because he's going to take on four! I'm intrigued.
-Commercial Break-
Gauntlet Match #1: Mark Henry vs. Jimmy Uso
Here we go! Mark takes Jimmy down with a clothesline and shoves him into a corner. He gives Jimmy a big boot before delivering a World's Strongest Slam. That's going to be it.
OFFICIAL RESULT: Mark Henry @ 0:58 via pinfall
RATING: SQUASH
Gauntlet Match #2: Mark Henry vs. Jey Uso
In comes Jey Uso, who is knocked down with a huge right hand from Henry. Mark delivers more clubbering blows before locking in a nerve hold. Henry talks some shit and lets go of the hold before booting Jey in the ribs. He chokes Jey out with his foot on the bottom rope. Jey tries fighting back with shoulder thrusts to the gut but that's a no go. Mark goes for the World's Strongest Slam but Jey floats over and hits a superkick! He hits a butt to the face in the corner and gets a two count! Jey tries to lift him up but Mark shoves him off. Jey makes it to his feet, turns around, and gets hit with the World's Strongest Slam! It's over.
OFFICIAL RESULT: Mark Henry @ 2.33 via pinfall
RATING: SQUASH
-Commercial Break-
Gauntlet Match #3 Mark Henry vs. Santino Marella
Santino looks a bit frightened on his way to the ring. Santino delivers some air kicks to Henry. He tries lifting Henry up to no avail. Henry knees him in the stomach and delivers a headbutt to Santino. He puts Santino in a sitting position and kicks him in the back twice. He stands on Santino while holding the ropes and taking advantage of the five count. He lifts Santino up and delivers a stiff right to the face. ONE… TWO… NO! Henry shoves him in the corner and whips him into the adjacent corner. He stomps a methodical mudhole into Santino before whipping him into another corner. A boring chant ensues. Santino fights back with a flurry of punches! He goes for a hip toss but gets clotheslined! Santino gets to his feet in the corner and Mark charges at him! Santino hits the Cobra but Mark kicks out! World's Strongest Slam! It's over.
OFFICIAL RESULT: Mark Henry @ 3:53 via pinfall
RATING: 1/2*
-Commercial Break-
Gauntlet Match #4: Mark Henry vs. The Great Khali (w/ Hornswoggle and Natalya)
Didn't we see these guys go back and forth already? Well, here we go again. They stare each other down to start. The crowd is chanting for Khali. They lock up and break up with no victor. Henry gives Khali some strikes but Khali strikes him back. He locks Mark into the corner and delivers an overhand chop. He corners Mark across the ring and delivers a few boots before hitting another overhand chop. The crowd is loving it. I'm not so much. Khali goes for a big boot in the corner but Henry moves out of the way and Khali gets his leg stuck on the top rope. Henry kicks him in the hamstring and begins working over the leg with some elbows, kicks, and leg locks. Henry boots Khali in the face and goes for a splash! Khali moves out of the way and both men make it to their feet! Henry charges at Khali in the corner but gets hit with a big boot. Khali delivers two overhand chops and goes for a cover but only gets two. Khali attempts a Punjabi Plunge and Henry reverses with a World's Strongest Slam. ONE… TWO… Khali gets his foot on the rope! Henry delivers a few blows into the corner before the ref breaks it up. Khali fights out with an elbow to the face followed by another overhand chop. Henry rolls out of the ring and takes a count out loss. That's pretty lame. They've already ran the angle of Henry walking away from Khali. He should have went over here. Henry is going to be on PPV and Khali never will again.
OFFICIAL RESULT: The Great Khali @ 5:08 via count out
RATING: *
– We get a recap of Triple H accepting Brock Lesnar's challenge delivered by Paul Heyman. Does ANYBODY want to see this match a third time? I'll take Lesnar vs. ANYBODY ELSE at this point.
-Commercial Break-
– We're back! Matt Striker is on top of the ramp and he introduces Zeb Colter, who comes out to no theme music. Matt asks Zeb how Jack feels about being in a triple threat match instead of a singles match. Zeb says that Jack is just like America and he will prevail. Alberto weaseled his way into this match and Dolph's reign reminds him of Thomas Paine who left the UK because of good sense. He wonders what type of man dyes his hair bleach blonde. He says that the only people who do that have peculiar and questionable morals. The WWE needs a better champion. We'll witness this on Smackdown when Alberto wrestles Swagger in a no DQ match. Swagger comes out and says "we the people" a shit load of times. What an exclusive!
– Next up, we get a recap of the Ryback/Foley interview. Ryback did a good job, but you could tell he repeated some lines while trying to remember the script. Again, there was no reason to turn Ryback heel yet when he has so much mileage left as a face.
-Commercial Break-
– We tune in towards the end of the amazing six man tag on Raw. I'd peg it at ***3/4 if I was reviewing the show. It was a great TV match. It was the third best TV match of the year by my rankings, behind Alberto/Ziggler and Cena/Punk. Swagger vs Alberto from last Friday was the same rating but didn't feel as special.
OVERALL: This was an awful episode of Main Event. None of the Henry matches were good and the rest was recaps and a boring Colter interview that hyped Swagger's Smackdown match. Don't go out of your way for this. 3/10
As always, thank you for reading and be sure to check out my first YouChoose review on May 1st! You get to choose what I review next so be sure to read!