411's WWE Main Event Report 6.17.14
June 17, 2014 | Posted by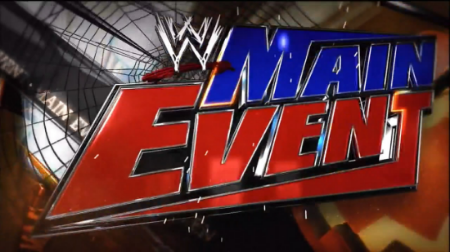 WWE MAIN EVENT 6.17.14
We begin the show with Seth Rollins making his way to the ring. The cameramen are sure to pan in on the "you sold out" signs. The crowd greets him with boos. You sold out chants erupt throughout the arena. He says guys you don't know what I came out here to say. Seth came out to congratulate his former business partner Roman Reigns. He outfoxed Vickie Guerrero and won the qualifying battle royal. Seth tells him to enjoy the small victory because he was not supposed to be in the match. When you cross the authority there are repercussions. Seth says he will see them this Monday and everything will not be calm or cool like Roman Reigns expects. Roman Reigns is a raging volcano that should keep us up at night due to his anger problems. Only Seth Rollins can control Roman Reigns. He is the only one who can manipulate or harness the anger of Roman Reigns and Dean Ambrose. Dean Ambrose is a lunatic who is bound to end up in a straight jacket without Seth. Only Seth Rollins can control them because he was the leader of the greatest group in WWE history, The Shield. Two weeks ago, the crowd interrupts with "you sold out" chants. Seth Rollins showed he is still in control as the betrayal is replayed.
Seth Rollins never gets tired of seeing that. Now, he says it is time for something more important. The field is already set for Money in the Bank but Seth Rollins has a surprise. Daniel Bryan chants as Seth announces that there will be a second Money in the Bank match for a World Title shot. Seth asks us to guess who the first entrant is. Seth Rollins is the first entrant. Dean Ambrose with a new theme (sounds sort of like the hook of one of the Power Rangers themes during the intro) and look interrupts. Dean tells Seth not to worry about Money in the Bank in ten days. He tells him to worry about the next ten minutes.
Dean charges Seth and pounds away on him. Kane's music hits allowing Seth Rollins to gain the advantage. Dean starts to fight back and dropkicks Kane off the apron. Then, Dean back body drops Seth onto Kane. Both men charge the ring as Dean retreats for now.
-commercial break
The Ravishing Russian Lana greets us when returning from commercial. She says you Americans seem upset with the Russian Mount Rushmore. Putin will lead not only Russia but the United States as well. Putin will lead us into world superiority and domination. Rusev is given the mic. Rusev says resistance is futile since he is the super athlete. Loud USA chants.
Rusev with Lana vs. Santino Marella
Rusev pushes Santino before the match begins. Rusev blocks his strikes and lays him out with a brutal side kick. Lana commands the crush of Santino and Rusev obliges. The accolade is applied almost immediately. He refuses to break for the referee, but does so after Lana demands it.
OFFICIAL RESULT Rusev: @ 1:00 via pin
MATCH THOUGHTS: This was exactly what it needed to be. Rusev should dominate Santino with ease.
The Wyatts are backstage. Luke Harper says sometimes he sees things that aren't there and sometimes he hears things that are not said. The only way to make them go away is to make them feel like he does. The Usos time is up because the Wyatts want what the Usos have. Tick..tock. Bray Wyatt begins talking and says it is time for the dirty ones to soil the world. Sheamus and the Usos are pawns. Bray Wyatt says at Money in the Bank we will be standing tall and rejoicing.
They recap the Cameron and Paige segment from Raw. Cameron seems very displeased each time the cameras pan to her.
Non-Title Match: Naomi with Cameron vs. the Divas Champion: Paige
They start with a lockup and Paige gets a go behind grabbing a roll up for 2. They continue to trade pinfalls in a quick sequence until Paige ends it with a kick. She then puts Naomi in what looks like a Cravate variant. They trade monkey-flips and go for the double dropkick. Both kip-up to their feet. Both women continue to attack and Paige keeps the momentum with a lariat. Paige contorts Naomi's body in an abdominal stretch. Paige yells for Naomi to tap. Naomi starts to fight out, but that causes her to fall deeper into it. Naomi hiptosses out after a struggle catching Paige in an O'Connor Roll for a close count, and she follows that with an innovative modified surfboard stretch; which, Naomi turns into a bridging pin after Paige struggles for a bit. 1..2..kickout. Paige struggles to fight out before both hit heads. Naomi is caught in the ropes as Paige unleashes a multitude of knees. Naomi connects with a high kick and athletic crossbody on Paige. Paige reverses that into a pin. Paige goes for the Paige-Turner but Naomi reverses eventually hitting The Final Cut. 1..2..3.
OFFICIAL RESULT: Naomi @ 7:00 via pin
MATCH THOUGHTS: That was actually pretty good and difficult to recap due to the reversals (it was fast paced, so I missed some of the reversals). Naomi and Paige could have a great match with more time. Paige keeps up with Naomi's athleticism unlike most her opponents making for solid chemistry between the two. I hope to see more between these two in the future; preferably, a match between the two that lasts 10 minutes or more.
Paige offers a hand-shake to Naomi but Cameron attacks. Paige destroys Cameron with a body slam and strikes. Naomi does not help Cameron at all. Paige smirks to Naomi and they touch hands.
They recap the John Cena and Kane match from Raw.
Renee Young is backstage with Sheamus and the World Tag Team Champions, the Usos. Sheamus says he was sitting home for six months before the Royal Rumble. He says hairy men talking about sheep and changing society were taking over. Sheamus knew their paths would cross. Sheamus is itching for a fight with Bray Wyatt. The Usos are Uso crazy and the Wyatts are still picking that ladder from their mouth. The flying Usos will defend their championship. Sheamus says he's bringing the luck of the Irish and a few Brogue Kicks. Dueling Brogue and Uso chants started by the Usos and Sheamus.
-commercial break
They recap Dean Ambrose brawling with Seth Rollins and Kane earlier tonight. Dean Ambrose will face Kane this week on Smackdown.
The Wyatt Family(Bray Wyatt, Luke Harper, and Erick Rowan) vs. Sheamus and The Usos(Jimmy Uso and Jey Uso)
The Wyatts are out first. Sheamus makes his way to the ring next. The Usos are the last to make their way to the ring. Sheamus and Bray Wyatt start things off. They both talk trash and Wyatt tags in Rowan who is thrown over the top. Luke Harper comes in pounding on Sheamus. They trade elbows and Sheamus gets the advantage. Luke Harper regains the momentum with throat thrusts. Back elbow from Sheamus is followed by some headbutts. Sheamus gets a knee but Harper throat thrusts him to the apron. Sheamus comes back in with a slingshot shoulder-block. 1..2..kickout. Luke continues to pound him down tagging in Rowan. Sheamus hits the rolling fireman's carry on Rowan and tags in one of the Usos. Jimmy jumps over Rowan and hits several kicks before tagging in Jey who hits a Stinger Splash. Jey clamps on a chinlock grounding Rowan. Rowan fights out with a snapmare and shoulderblock. Rowan recovers while Jey is down. Luke is tagged back in and drops a knee. Harper follows with vicious chops and an elbow grinded to Jey's face. Jey fights out with a kick and roll-up. Jey tags in Jimmy who is kneed by Harper. Luke misses a lariat and is hit with a cross body. A bunch of kicks connect against Harper's jaw, and he refuses to go down. Jimmy is tagged back in but the cravate is fought out of. They continue to tag leading to Harper making a tag.
-commercial break
We return as Luke has the advantage and immediately tags in Bray. Brays hits a 360 spin lariat on Jey on the outside of the ring. Bray corners him and pounds away taunting his opponents. Bray with a corner splash. Luke is tagged back in. Harper connects with a forearm to the head along with an elbow drop. A few kicks to the head from Luke. Bray taunts Jey who is grounded. Harper pushes him into the corner and catches him with Michinoku Driver II. 1..2..kickout. Rowan now is tagged in. Rowan covers Jey for a close count. Erick hits a nice pump handle backbreaker. 1..2..kickout. Rowan misses a splash. Rowan misses the corner shoulder thrust. Jey recovers as Sheamus gets the hot tag. Sheamus is on fire and hits Luke with clotheslines and a knee. Ten beats is reversed into a jawbreaker, but Sheamus gets a powerslam to regain the momentum. Erick attacks Sheamus during the Brogue Kick taunt distracting him. Sheamus finally hits ten beats on Rowan before Harper attacks Sheamus who opts for a tag. Jimmy is in hitting a superkick and crossbody. 1..2..kickout. The Uso taunt and the corner hip attack on Harper. 1..2..kickout. Jimmy is distracted by Rowan. Jimmy superkicks both out and Bray is tagged in. The Flying Uso hits on Erick Rowan but Bray catches the next attempt with Sister Abigail. 1..2..3.
OFFICIAL RESULT: The Wyatt Family @ 12:00 via pinfall
MATCH THOUGHTS: This was what you would expect. The Usos and The Wyatt Family seem to be constantly featured in good matches together. This was another great effort from these six men. I really look forward to seeing these two teams face off. Sheamus and Bray also seem to be having a good little mini-feud.
FINAL THOUGHTS: This was a great hour of wrestling this week. Seth Rollins announced the second Money in the Bank match. Dean Ambrose was his usual crazy. Naomi and Paige showed that women can pull off good reversals. The six-man tag was the usual which is a compliment. Great show this week and thanks to any who read the recap.