411's WWE Money in The Bank Preview
June 18, 2017 | Posted by
~THE STAFF~
* 411 contributor, Mr.
Ken Hill
.
* 411 reviewer & columnist, Mr.
Kevin Pantoja
.
* 411 contributor, Mr.
Paul Leazar
.
* 411 legend, Mr.
Steve Cook
.
* Back in 1969, a young fortune teller predicted the birth of a man named Chris Jericho, and that young fortune teller (on another website) predicted that Jericho would create a wrestling match that would change the industry, and that young fortune teller was Mr.
Justin Watry
.
* 411 contributor, Mr.
Len Archibald
.
* 411 columnist, Mr.
Jake Chambers
.
DUE TO THE KIKCOFF MATCH BEING ADDED SO LATE, THE STAFF DID NOT MAKE PREDICTIONS FOR IT.
Smackdown Women's Championship Match: Champion Naomi vs. Lana
Ken Hill
:
Lana's crowd pop is rather unnerving,
never has a title shot been less deserving.
Naomi she'll crush,
with a ravishing touch,
the shocker among the usual swerving.
WINNER: Lana
Kevin Pantoja: Considering Jinder Mahal won the goddamn WWE Title, nothing's easy to predict on Smackdown. Technically, Lana shouldn't have a chance here. She's wrestled one televised match in her career and that was a multi-person tag at WrestleMania last year. Naomi's never been quite good enough to be champion in my eyes, but I guess she's the better choice now. I could see WWE pulling the surprise result like they did at Backlash, but I think Naomi retains. The Smackdown Women's Title has been traded too often already.
WINNER: Naomi
Paul Leazar: I look up and down this show, and I see a lot of opportunities for the WWE to keep following up on what they started with putting the WWE Title on Jinder. Giving people chances, and creating new stories to boot in the process of doing so. How interesting would it be to put the championship on Lana? I'm still unsure of just how great a wrestler she's gonna be, but as far as her character goes, I think it'd be interesting to see her with the title, and just see how the rest of the division reacts to her. I'm going to take the chance here on Lana, and say she manages to win this one. Maybe with some help from Handsome Rusev?
WINNER: Lana
Steve Cook: There's an alternate universe somewhere where Money in the Bank ends with Rusev & Lana holding the WWE Championship & SmackDown Women's Championship in front of a giant Bulgarian flag. I don't know if that's better or worse than what we'll get, but it would have been interesting. Naomi's been doing good work lately and shouldn't get displaced until the inevitable MITB cash-in. Lana's best chance plays into this idea…if the show starts with the women's MITB match, the winner of that could interfere here and cost Naomi the title because they think Lana will be easier to beat. Well, I just talked myself into it.
WINNER: Lana
JUSTIN WATRY: Maybe the toughest bout on the show to predict. Since Naomi won the Smackdown Live Women's Title in Orlando (must be that mysterious hometown curse I keep reading about) near the end of WrestleMania 33, the blue brand has not had much of anything for the division. The Superstar Shakeup rightfully sent over Charlotte, which was the right move and something I predicted in advance. The only problem is Alexa Bliss left…and Tamina Snuka returned from injury. Tough to do much in the title scene. Thus, Lana is back in the fold and instantly getting a chance to become champion. Normally, I'd say this should be a quick win for Naomi, and the titleholder retains without issue. Except Jinder Mahal is WWE Champion. There are no rules anymore. Lana has barely had a match in WWE, and I believe she gets a title this Sunday. Strange? Yes. Welcome to the land of opportunity, where everybody and I mean EVERYBODY is getting a chance.
WINNER: Lana
LEN ARCHIBALD: What a strange build for this match, huh? The fighting champion Naomi put herself in a corner by being a fighting champion and got suckered into babyface trope #237: being goaded into defending their title because they are a fighting champion. Lana has just arrived like some form of apparition, not really playing up the dancing gimmick she was teased to have…just deciding to drop Sitout Spinebusters on bitches in a fucking evening gown(?!?!?) and has been granted a Women's Title match in what I believe is her first one on one match. There is precedent for Lana to win: Paige defeated AJ on her first match on RAW, Carlito won his first U.S. Title from John Cena in his first match – so it can happen here. I don't think so as Naomi will prove to be a little more experienced, but I have this strange feeling that the Ravishing Rick Ru….uh…Ravishing Russian may hold up a little better in the ring that most expect.
WINNER: And STILL Smackdown Women's Champion, Naomi
Jake Chambers: These are truly dark times for the WWE. There's so many projects and initiatives revolving around these brands, yet none of them seem to be leading to anything interesting, and certainly THIS match cannot be the result anyone was hoping for from the "Diva's Revolution", was it? At this point, wouldn't it have just been better to see Eva Marie vs. Lana in this spot, I mean, if the WWE is not going to commit to actual women's wrestling then just give us the bikini model catfights again. This middle ground stuff is silly and insulting. It doesn't feel like Naomi is one of the best female competitors in the world representing an entire "division" in the ring, and certainly we all know why the wet dream of every pre-teen boy in the audience, Lana, is on the show. This is not a slow roll-out to a strong women's division, this is what happens when the people behind the scenes really don't care.
WINNER: Lana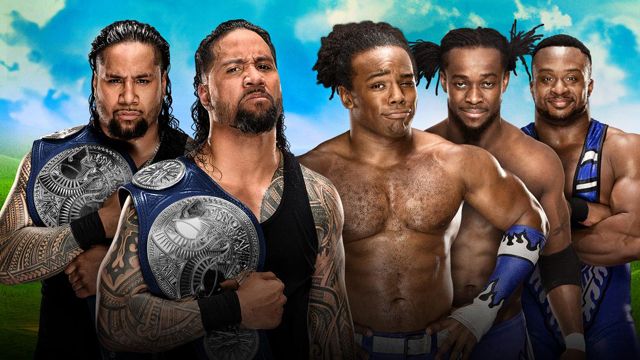 Smackdown Tag Team Championship Match: Champions The Usos vs. The New Day
Ken…ny Hill
:
New Day "pops" onto the Smackdown scene,
while Usos have swept the tag division clean.
The trio won't rise quite yet,
shenanigans I bet,
as there's more in this feud to be seen.
WINNER: The Usos
Kevin Pantoja: The Usos have been great in their new heel personas, while The New Day can help make the tag team division relevant. Since their arrival on Smackdown, the division has been featured much more heavily, which is a good thing. I don't want to see the Usos' reign end and I don't think it does here. I say either they retain by cheating or The New Day wins via DQ or something. I'm gonna go with a cheap Usos win to set up a rematch in July and maybe a multi-team match at SummerSlam.
WINNER: The Usos
Paul Leazar: Well, at we know the match will be good. These two teams have lots of experience working against each other. The feud hasn't been much so far, so I don't have a ton interest in this one outside of what kind of match these guys are gonna have. I'm sure this won't be the end of things here between these two teams, and I'd say that it's gonna be The Usos who retain here because the story really wouldn't gain all that much by having The New Day immediately capture the titles on their return.
WINNERS: The Usos
Steve Cook: I find New Day a lot more interesting and entertaining than the Usos, so I would be perfectly happy if they won the titles here. I get the feeling they won't, and this is the start of the issue between these two teams that will eventually result in a happy ending…but not today. Day 1 will be H for Jimmy & Jey.
WINNER: The Usos
JUSTIN WATRY: Yester Day are the same trio they were on the red brand. Their New Orleans themed entrance got them crickets on Tuesday night from the live crowd. Pretty bad when even sucking up to the party town gets them nothing. The act had a big refresh heading over to Smackdown, yet it has resulted in nothing so far. Same jokes. Same guys. Same routine. Same jokes that fly way over my head half the time none of it makes any sense. Makes me long for the days of saying Bootyos every other line. The Usos keep their belts and can face Hype Bros next. Or that American Alpha team…remember them?
WINNER: The Usos
LEN ARCHIBALD: What I believed was going to be a lock up win for The New Day has been usurped based on the performance of the Usos. I think they have finally found a style and characters that clearly define who they are as heels, and have found themselves one of the most entertaining aspects of not just Smackdown, but all of WWE IMO. "The Penitentiary" catchphrase is a darker, yet apt bizzaro world version of the Smackdown Hotel that works and who suddenly gave these guys promo skills? Promo skills that, dare I say it…have been more enjoyable than the New Day's silliness. The Usos have carried this feud in my mind…but yeah, I still think this is a lock up win to crown new Tag Champs.
WINNER: And NEW Smackdown Tag Team Champions, The NEW DAY
Jake Chambers: The New Day, ouch, what the fuck happened to them? I suppose it should be no surprise they fell off so fast after losing the Tag Titles and ending their "historic" title reign, you know, since they barely did anything the whole time they were champions anyways. Their "success" I suppose is more evidence of how genuinely useless tag team wrestling is in the WWE, more than an indictment of the talent of the New Day – all they wanted was good personalities, not good wrestling. However, seeing the New Day back is more uncomfortable proof of how the WWE still seemingly only wants to present African American characters, such as Naomi, Rich Swann, R-Truth, the Titus Brand, and especially the New Day, as people who like to dance and act silly. The only real "badass" black wrestler today is Finn Balor's blackface Demon King gimmick, and let's face it, it's only a matter of time before he's doing the Running Man on his way to the ring as well. Those two rich kid Uso brothers, now multi-millionaire adults, are about as genuine of rapping street-style underdogs as Steph Curry and Klay Thompson, but gotta make tweener heels somehow I guess.
WINNER: The Usos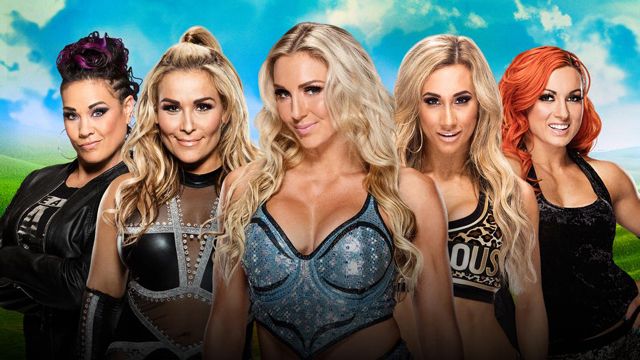 Money in the Bank Ladder Match: Becky Lynch vs. Charlotte Flair vs. Natalya vs. Tamina vs. Carmella
Ken Hill
:
Another of the ladies' history-makers,
These five purported division shakers.
In Carmella I'm vested,
the champ she's twice bested,
when backed by the chinless faker.
WINNER: Carmella
Kevin Pantoja: Tamina is absolute trash and it's scary how uninteresting Natalya is. That leaves best female babyface Becky Lynch, best female heel (not named Alexa Bliss) Carmella and lady big dog herself, Charlotte. The best play would be for Carmella to win. She's done very well in recent months and is so good at playing the heel. Her partnership with James Ellsworth has worked way better than it ever should have. Plus, a heel with the briefcase has always been the better play. The briefcase on Becky just wouldn't seem right. That being said, I never bet against the female Roman Reigns. She didn't get to the best woman to hold the Raw and Smackdown titles, so I can imagine how much the WWE wants her to hold this accolade.
WINNER: Charlotte
Paul Leazar: This match has the potential to be really great, or just an absolute train wreck. I also think they've done a pretty solid of job of keeping this match open because I don't think their has been somebody who looks a cut above. However, it's the WWE, and if history means anything to you, these 1st's have a tendency to go Charlotte's way. I'm sure the match will start out with The Welcoming Committee working together until they've beat on Becky and Charlotte enough to turn on each other. Also, it'll probably be worth keeping an eye on Ellsworth at ringside too. I'll pick Charlotte to win, but it's really anybody's game in this one.
WINNER: Charlotte Flair
Steve Cook: I ended up picking Carmella in my column on the Women's Ladder Match RIGHT HERE at 411mania.com *thumbs up*, but in the time since then I've had my opinion swayed elsewhere. Specifically, towards the lady that wins every major match in the post-Divas WWE women's wrestling history. The fact is that it's foolish to pick against Charlotte. She's the chosen one of management, and quite frankly, they chose right in this instance. Charlotte threatening Naomi or Lana with the eventual cash-in would be a good bit of business.
WINNER: Charlotte Flair
@JustinWatry: Tamina Snuka won't win. Natalya won't win. Becky Lynch won't win, but I certainly wouldn't mind her victory leading to a heel turn down the road. Carmella is likely going to win…but I refuse to give her my prediction for the sole fact that it would mean more James Ellsworth. More him being on my TV screen. Him carrying around the briefcase. Him being a clown. Him…under a contract with WWE. Carmella fits the mold if they want a heel to cash in. My vote? Charlotte. Let Ms. Flair make history (or herstory) once again and add another layer to her ever growing legacy. Tease a clean cash-in only to lead her back down the bad route of going after a vulnerable champ. Dominant and arrogant Charlotte is best, especially if Asuka is heading to the blue brand at the end of 2017. Woo!
WINNER: Charlotte
LEN ARCHIBALD: THIS MATCH, DOE. This match right here is personally my main event. I'm all about equality so I am expecting an equal amount of carnage that the men put themselves through. I expect Charlotte to moonsault off a ladder. I expect Becky Lynch to rip someone off the ladder into a Dis-arm-Her. I expect Tamina to make snarling faces pushing the ladder with two competitors crashing into the ropes. I expect Natalya to attempt some form of Sharpshooter on some weird angle off a ladder. I expect Carmella to…not do much, but Ellsworth will be there to act as the villainous sidekick. I know the safe money lies in Carmella winning, with her annoying everyone in sight that she is Mrs. Money in the Bank, but I feel (maybe hope) something a little more sinister is at work. A cash in on Naomi from a face who decided that the only way she can win the title is to gain revenge on the Smackdown Women's roster for turning their back on her so many times and dared to forget she was the first champion in the first place.
WINNER: Becky Lynch
Jake Chambers: The line-up for this match illustrates just how much WWE's initiative to create a women's "division" is in fact NOT a division. If you're just throwing every female wrestler you've got into the match then this is an exhibition not a division. The men's version of this match on the card features the top contenders for the belt, not every wrestler in the "division", and even the Royal Rumble generally has some semblance of quality control for entrants. Why would Becky or Charlotte even need a briefcase for a surprise title shot when they're the only competitors likely to be getting title shots in the future anyways? Then you've got the Welcoming Committee members, none of whom should have the title in 2017 but are forced into this match because there's no other women left. The whole thing is dopey, and all so three people can lay around the ring like they were hit with sledgehammers half the time while the other two Irish whip each other into those feather-light ladder gimmicks? What a bore. But, yay, history!
WINNER: Carmella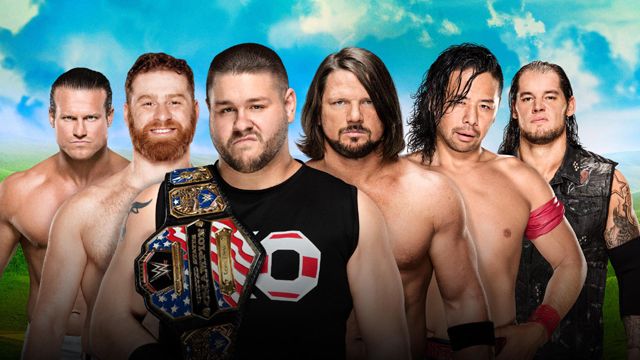 Money in the Bank Ladder Match: AJ Styles vs. Baron Corbin vs. Dolph Ziggler vs. Sami Zayn vs. Shinsuke Nakamura vs. Kevin Owens
Ken Hill
:
Former champs Owens and AJ don't need
the briefcase in order to succeed.
Ziggy won't raise many eyes,
Shin's intro would ruin the surprise.
In Corbin, is the top heel we need.
WINNER: Baron Corbin
Kevin Pantoja: A tough one to call. Dolph Ziggler shouldn't be anywhere near the WWE Title at this point, but again, Jinder has it, so who knows anymore? Everyone else feels like fair game. Sami Zayn could use it to help complete his redemption story after losing so much, but he's beaten Corbin so often lately, that might be enough for now. Kevin Owens has the US Title and seems to still be feuding with AJ Styles, so I don't think either wins it. That leaves Shinsuke Nakamura and Baron Corbin. Similar to Carmella, I think Corbin with the briefcase is the better route, but I could see them giving it to Nakamura. Maybe Nakamura loses and still gets a high profile SummerSlam match. In the end, I say Big Banter takes it.
WINNER: Baron Corbin
Paul Leazar: Once again, the WWE has done a good job of making it feel like anybody could walk away with the briefcase here. I feel like if apply a bit of logic here, it becomes a bit easier to pick out. I don't think AJ Styles really needs the briefcase. Don't get me wrong, I'd love it if he'd won, but he doesn't need it. AJ is pretty much set as one of, if not the, top guy on Smackdown. Dolph Ziggler and Sami Zayn feel like the long shots here. Dolph hasn't really been doing much of anything (which for WWE, could mean he's a front runner.), and Sami has been playing the underdog against Baron. For sure, the odds are still against him here, but it doesn't feel so much like he's going to be the one walking away with the case. Shinsuke has been coming on strong since his debut, and I wouldn't be shocked if they gave him the briefcase, but it feels like they want to save his first title match for a bigger stage then just a "cash in" moment. Kevin Owens also seems to be locked into a feud with him right now, and while winning the case would give him a good bit of momentum, I don't feel like that is the way they're gonna go right now. Baron Corbin, however, has been losing constantly, which fits the bill for Money in the Bank winners, and has a ton to gain from winning the case, and getting the cheap cash in for some good heat. Corbin winning the case makes the most sense to me at this point, and thus, he's my pick to win it.
WINNER: Baron Corbin
Steve Cook: I ended up rating Nakamura as the man most likely to win in my column on the Men's Ladder Match RIGHT HERE at 411mania.com *thumbs up*, and I see no reason to change my mind in the days since I wrote the column. Styles & Owens don't really need it. Ziggler's been there and done that. Zayn would be intriguing from a fan interest standpoint, but I'm not sure they pull the trigger on him right now and maybe it's for the best long-term if they don't. Baron Corbin is missing something to me right now and maybe the briefcase is what puts him over the top. But I'm assuming that there won't be a babyface champion after MITB, so having Corbin chase Jinder Mahal doesn't seem like the best of ideas. Nak is already booked against Jinder for some live events in July, so it's time to start building reason for dislike there.
WINNER: Shinsuke Nakamura
Justin Watry: I'd actually close the pay-per-view with this cluster, considering I think Jinder Mahal will retain the WWE Title in a solid but unspectacular match. Like most multi-person bouts, the best way to predict a winner is via process of elimination. Okay, Dolph Ziggler is out. Shinsuke Nakamura is out, even though Randy Orton also posed with the briefcase before the 2013 event, and he won. Expect others to mention the ending of Smackdown Live to mean he will automatically lose – another internet fallacy. You know, like Samoa Joe winning on Raw before Extreme Rules. Anyways, I don't think Nakamura will win, but it has nothing to do with how a show ends. AJ Styles is out. Kevin Owens out. However, he may look goo carrying around a briefcase for months on end waiting for Chris Jericho to return. Like I said in my preview column weeks ago, it all comes down to Sami Zayn and Baron Corbin. One is heavily favored and rumored; the other is always SO close but also so, so, so far away. Personally, my bet is on Corbin to add on top of his Andre The Giant Memorial Battle Royal resume. For the sake of watching live Sunday night and having a rooting interest, I will be cheering on Sami Zayn…
WINNER: Sami Zayn
LEN ARCHIBALD: The build for this match has been forgettable at best and lazy at worst. Even the way Kevin Owens was inserted was out of left field. "We have 5 competitors" "But what about me?" "Okay, you're in too". Nakamura's popularity is continuing to rise, he does not to need the briefcase. Ditto for AJ, who just needs to be placed in a one-on-one encounter to win anything. He will do something to scare the shit out of people. Dolph Ziggler….HAHAHAHAHA. I think Sami Zayn still has unfinished business with Baron Corbin, which leaves the Lone Wolf and The Face of America, Kevin Owens. Having Owens as US champ win MITB would be ballsy and would be an awesome dick move for KO to declare himself "Mr. Money in the Bank, The Face of America, Kevin Owens"…which has a great ring to it. At the end of the day, though, this match is Baron Corbin's to lose. He's been playing heel trope #549: Heel that always loses before winning MITB and I don't see that trope breaking anytime soon.
WINNER: Baron Corbin
Jake Chambers: Remember just one month ago when wrestling fans and critics online were tripping over themselves to repeat the same tagline about how Nakamura was going to be a "special attraction", and that somehow justified the horrible way he was introduced onto the Smackdown roster? Well, not sure what kind of a special attraction he is now since he's wrestled on every Smackdown episode since, particularly in those ever-so NOT special thrown together tag team match TV main events, and is now entered into this annual snorefest spot spectacle. Brock Lesnar he's not. I can see him winning this though, I mean, why not? He's an "artist", whatever that's supposed to mean. And good on Kevin Owens for completely devaluing whatever cache was still left in the US Title by being in this stupid match. And talk about burying 2016's "Best Wrestler in the World" AJ Styles in a match he's unlikely to win for a shot at a title he's probably never getting again. With Okada having multiple 6-star matches and leading a revolution in pro-wrestling worldwide, I hope AJ and Nakamura are reflecting on their recent career decisions as they're no-selling multiple superkicks from Owens and Ziggler then spending five minutes laying around ringside because they got bumped by tin ladder, all while being leap-frogged to the victory by the kind of guy the WWE is legitimately interested in long term.
WINNER: Baron Corbin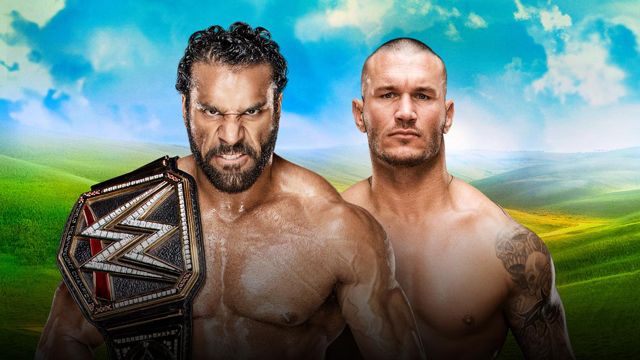 WWE Championship Match: Champion Jinder Mahal vs. Randy Orton
Ken Hill
:
Booking logic shifts into reverse,
with WWE's handy "hometown curse."
Mahal wins for certain,
perhaps Randy's final curtain.
Losing at home, what could be worse?
WINNER: Jinder Mahal
Kevin Pantoja: This feud has sucked. Randy Orton's 2017, other than the matches with AJ Styles and Luke Harper, has been pretty terrible. The match with Jinder at Backlash wasn't very good and I expect more of the same this time. The promos from both men since then have been lackluster and I just can't bring myself to care. Jinder retains because he has a better nickname.
WINNER: The Maharaja
Paul Leazar: Surprisingly, Jinder has been given a pretty fair shake so far as champion. They've him to one segment, and he's not forced to carry the show, but you can't say he hasn't improved as far as the character goes. He's promo material might be quite repetitive, but his poise and presence have improved greatly. A lot of the package for Jinder rests on the smoke and mirrors though, and I'm expecting a ton of that here. Does Randy overcome this? I hope not. I'd like to see Jinder get some more time in the sun, and see if they can grow the character anymore past what they've got for him right now. I've got Jinder to retain here, and hopefully, we can see him grow some more.
WINNER: Jinder Mahal
Steve Cook: Even though Rich Swann broke the hometown curse at Extreme Rules, I still don't like the Viper's chances here. The Jinder Experiment looks like it'll at least go on until SummerSlam. They've given him a cool entrance, at least. I'm sorry folks it's not that I mean to hinder Jinder, but I can't really act like I'm excited about a match with him & Randy Orton. Let's just hope they don't go to a time limit draw because somebody saw the New Japan show and thought it would be funny.
WINNER: Jinder Mahal
JUSTIN WATRY: Jinder Mahal will defeat Randy Orton to retain the WWE Championship. For the company to go this far with the guy, they can't go back now. It would be like The Undertaker quickly dethroning JBL of the gold in summer 2004. Whether the experiment works or not (so far not), you need more than a month to tell the entire story. Having this take place in St, Louis makes it a bit more interesting. What legends will be there for Mr. RKO? Does his father get involved? Is a new actress playing his wife going to attend? Can't imagine this is all leading to another Orton heel turn. However, something is going on here. Too many mentions of St. Louis for there NOT to be any controversy. Mahal wins in screwjob fashion, fans boo, and we see if television ratings get any lower before John Cena comes back. Then the true battleground begins.
WINNER: Jinder Mahal
LEN ARCHIBALD: This match honestly puts a smile on my face. Not because I am expecting some five star classic. Not because I feel the Maharaja has been a great heel champ (I don't) or that Randy Orton will make some sort of grand return to form (he won't), but because of the atmosphere around this whole build. This WWE Title feud has been pure anarchy and no one knows what to make of it. And I LOVE anarchy. There are trolls and bandwagon jumpers who think Mahal is the second coming of Muhammad Hassan, those who want Mahal far away from the title because of his…uh…enhanced physique. There are those who want Orton to lose simply because he has been an unmotivated sloth for the past few years. There are those who want Orton to win because it will take the title off Mahal. And there are those who want an asteroid to hit St. Louis and disintegrate the both of them. The tears from all have been delicious and has been the most smarky fun I have had since the HHH Reign of Terror in 2003. The main question is will the experiment end and WWE resets itself as it falls back into the status quo? …Wait. Orton is from St. Louis? Yeah. This is pretty easy to call…
WINNER: And STILL WWE Champion, Jinder "Don't Hinder the Hardbody of the Maharaja" Mahal
Jake Chambers: Let me get this straight, this is NOT a Punjabi Prison Match? This was the perfect opportunity to bring back that wacky gimmick. Instead we're getting a straight rematch… WWE creative is really working overtime on this one. And such a great story they've built around it too… ugh! Is there any chance we can get Cena back as a surprise at the last minute to somehow save this show? Unlikely, huh… oh well. Anyone else watching the new episode of Twin Peaks Sunday night instead of this crap live?
WINNER: Jinder Mahal
JOIN 411 TONIGHT AT 7PM ET FOR OUR LIVE WWE MONEY IN THE BANK COVERAGE!