411's WWE Saturday Morning Slam Report 10.06.12
October 6, 2012 | Posted by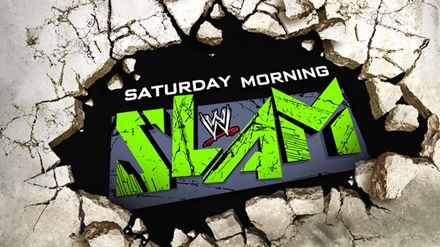 WWE Saturday Morning Slam 10.06.12 (Episode 7)
-Scott Stamford welcomes us to the show for a run down of what we'll see today.
-Your announcers are Josh Mathews and Santino Marella.
Rey Mysterio vs. Michael McGillicutty
Lock up to begin, McGillicutty takes Rey to the corner and then pats him on top of the head, like a little brother. McGillicutty then drops to his knees to that he can make this a fair fight. Rey is not amused, and they lock up again. Side headlock by McGillicutty, off the ropes, shoulder block by McGillicutty, followed by some celebrating. Shoulder block again, off the ropes and Rey moves, which upsets McGillicutty. McGillicutty shoves Rey, who returns with a kick. Knee by McGillicutty, and then sides Rey under the ropes, and he crashes to the floor. McGillicutty is proud of himself and celebrates.
~commercial time~
Back from commercial and McGillicutty works a bear hug on the mat. Rey works to his feet, stomps on the feet of McGillicutty to escape, but then runs into a side back breaker. McGillicutty covers for 2. McGillicutty talks trash, calls Rey small, and hits what I assume is another side back breaker, as they cut to the crowd as an obvious edit. Standing bear hug by McGillicutty, slams Rey to the corner and sets him up top. Kicks by Rey in return, up top and hits the Thesz press. Head scissors by Rey, avoids a charge, up top and McGillicutty grabs up Rey on his shoulders, countered and Rey covers for 2. Knee to the gut by McGillicutty, off the ropes and gets tripped up, 619 by Rey is stopped and McGillicutty then gets kicked in the legs and does the Hennig flip sell. 619 then hits, Rey up top and gets the splash and that is all.
OFFICIAL RESULT: Rey Mysterio @ 9:30 via pin
-The Saturday Morning Spotlight is on Santino Marella. We get some footage of Santino and the Cobra.
-We then discuss colorful characters in the WWE, and focus on Daniel Bryan. Daniel is asked if he dreams of hamburgers and the answer is no. He is asked if he ever made a mistake and he says no again. When asked if he has tasted defeat, he says that even when he loses, he wins his match. He lets us know that he is not a fan of video game, or unicorns. Bryan is also a man of science, and shuns magic. He is a fan of ice cream, especially when made with almond milk. He doesn't need a tag team partner; because he can do all things better by himself. When asked his he resembled a goat, he stormed off yelling, "NO! NO! NO! NO! NO!"
-We are back and Mick Foley says that he debuted Mr. Socko fourteen years ago, which leads us to the video vault segment, which is Mankind and Mr. Sock visiting Mr. McMahon in the hospital.
-We now have a debate segment: The Cobra or Mr. Socko?
* The Miz: Mr. Socko
* Alicia Fox: The Cobra
* R Truth and Little Jimmy debate things
* Dolph Ziggler: Mr. Socko
* R Truth and Little Jimmy eventually think it is a toss up
-Santino says that people don't run in fear from silly socks, but they do run from cobras. Mick says that Mr. Socko is the better of the ridiculous gimmicks.
-Next week we will find out about the man behind the WWE Music.
-Santino mentions that the debate should be called a draw, and also adds that the cobra is more devastating.
-End scene.
WHAT DID YOU THINK ABOUT WWE SATURDAY MORNING SLAM?


TWITTER
Your heart is free. Have the courage to follow it…TO CSONKA'S TWITTER!
http://www.twitter.com/411wrestling
http://www.twitter.com/411moviestv
http://www.twitter.com/411music
http://www.twitter.com/411games
http://www.twitter.com/411mma