411's WWE Saturday Morning Slam Report 10.27.12
October 27, 2012 | Posted by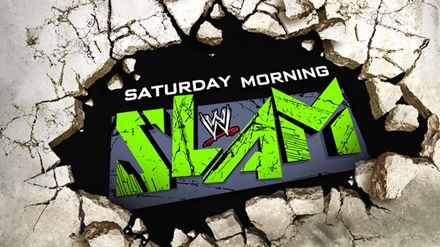 WWE Saturday Morning Slam 10.27.12 (Episode 10)
-Scott Stamford welcomes us to the show for a run down of what we'll see today.
-Your announcers are Josh Mathews and The Miz.
Brodus Clay vs. Epico
Lock up to begin, go behind by Epico and Clay dances and wiggles out. Epico is pissed about this, and Clay dances with his a bit and works arm drags, and then a body slam. Epico rolls to the floor and talks with Primo. They try to make a plan, Epico tries to sneak into the ring and Clay tosses Primo back to the floor. Catches Epico, and gets a toss suplex. Off the ropes, big splash and that is all.
OFFICIAL RESULT: Brodus Clay @ 2:15 via pin
– Kane says that we might know him as the angriest and most vengeful monster in WWE history, but notes that there were many others that also fit the bill…
* The Boogey Man was a nightmare come true, because you never knew when he would strike.
* Papa Shango, because he had powers from beyond and used black magic. In the end, he was consumed by the darkness and was sent to parts unknown.
* Of course the Undertaker get a mention, because he has been doing this for more than two decades. Kane says Taker's ultimate legacy is his undefeated streak at Wrestlemania.
* Finally Kane discusses himself. He has destroyed all who have stood in his way and says that anger management will not stop him from unleashing his terror on the WWE.
-Kaitlyn discusses making a Halloween costume. She make a costume that makes her appear as Mrs. Trent the Penguin.
-We get the Third Degree where Superstars tell us what their favorite Halloween costume is…
* R-Truth – Superman
* AJ Lee – a strong female video game character
* The Miz – himself, because he's awesome
* Ted DiBiase – a cowboy
*Brodus Clay – part of the two man horse costume
* Alicia Fox – Pocahontas
Non-Title Match: Antonio Cesaro © vs. Derrick Bateman
Lock up to begin, and Cesaro backs off and poses. Lock up again, to the corner, and Bateman backs off and poses while saying USA. Off the ropes, CRISS CROSS~! Bateman trips up Cesaro, roll up for 2.Backslide by Bateman for 2. Bateman works the arm, countered and the double nerve pinch by Cesaro. Bateman escapes, but Cesaro right back to the hold. Bateman escapes drop toehold and Bateman gets the double nerve pinch. Cesaro escapes, poses and gets slammed to the mat. Cesaro rolls to the floor, and yells at the crowd for mocking him…
~commercial break~
Back to action as Cesaro works the standing tow hold. Bateman escapes, but Cesaro gets the gut wrench suplex and covers for 2. Cesaro back to a version of the ankle lock, grounding Bateman. Bateman escapes, and then gets the arm drag. Flapjack follows and Bateman covers for 2. Double leg by Cesaro, and into the giant swing, which lasted a good 30 seconds or so. Cesaro sets, charges but Bateman pulls down the ropes and Cesaro flies to the floor. Bateman off the ropes and hit a suicide dive onto Cesaro. The ref counts as Bateman rolls Cesaro back into the ring. Bateman now heads up top, flies and MISSES the cross body. Cesaro grabs him, neutralizer connects and that is all.
OFFICIAL RESULT: Antonio Cesaro @ 9:41 via pin
-End scene.
WHAT DID YOU THINK ABOUT WWE SATURDAY MORNING SLAM?


TWITTER
Your heart is free. Have the courage to follow it…TO CSONKA'S TWITTER!
http://www.twitter.com/411wrestling
http://www.twitter.com/411moviestv
http://www.twitter.com/411music
http://www.twitter.com/411games
http://www.twitter.com/411mma