411's WWE Saturday Morning Slam Report 9.29.12
September 29, 2012 | Posted by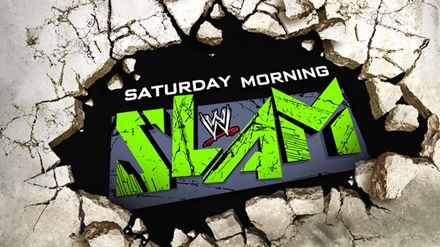 WWE Saturday Morning Slam 9.29.12 (Episode 6)
-Scott Stamford welcomes us to the show for a run down of what we'll see today.
-Josh Matthews and The Miz are the commentary team.
Santino Marella vs. Heath Slater
Santino with some wackiness to begin, and chases Slater with his cobra hand. Slater runs away and then decides to shove Santino. Santino chases again with the cobra, as the crowd chants for it, and then they hit the ropes and collide. Air guitar by Slater, countered by the air trombone by Slater. They then steal each other's taunts, Santino then breaks out some air flute. Slater does air drums, while Santino responds with air piano. Air harmonica in return by Slater, and then I believe some air fiddle by Santino. The wackiness continues, and then Santino gets a hip toss, sending Slater to the floor. Slater cries to Miz as Miz mocks him for his poor air musicianship.
~commercial time~
We are back from the commercial break and Slater takes control, does some air guitar and then lands a knee drop. Body scissors applied, but Santino counters and gets a cover for 2. To the corner and Santino hits chest first. Odd edit there, likely a headshot, and we go to Slater covering for 2. Slater works a bear hug; Santino escapes that and then misses a corner charge and Slater covers for 2. Slater back to the body scissors, Santino counters by TICKLING Slater! That devious bastard. Slater air guitars a bit, and locks in another body scissors. Santino escapes, fires back and then gets the hip toss and saluting head butt. The cobra misses three times; they battle over it, cobra shot to the knee of Slater. Roll up by Santino gets the win.
OFFICIAL RESULT: Santino @ 12:30 via pin
-Today's theme is Family Health and Fitness Day, and Cody Rhodes joins us to break down the top five "Vanity Superstars."
5. The Narcissist Lex Luger
4. The Model Rick Martel
3. Ravishing Rick Rude
2. Shawn Michaels
1. Dashing Cody Rhodes.
-The WWE stars discuss sports that they excelled in.
* John Cena talks about how he played football.
* Daniel Bryan says that he did not have a favorite high school sport because he did everything.
* Kofi Kingston was a defensive back in football.
* Bryan says that he played baseball, football, basketball, and soccer….
* Beth Phoenix says that she played tennis.
* Daniel continues with wrestling, track and field, and the pole vault….
* Kaitlyn says that she played soccer for thirteen years.
* Daniel Bryan continues to give the list of the sports he played and it includes pretty every Olympic sport.
* Dolph Ziggler says that he has been wrestling since he was five years old.
* Beth Phoenix has this week's Pop Quiz. Which WWE Superstar won the first Iron Man Match: Steve Austin, Shawn Michaels, or Bret Hart.
– We go to the Video Vault for a sports montage, featuring Simon Dean and the Simon System, The Goon, Abe 'Knuckleball' Schwartz and the man that truly did it all, Mr. Perfect.
-The answer to the Pop Quiz is Shawn Michaels.
-John Cena closes with heath tips. Start your day with breakfast because it ensures that you have the energy to continue through the day. You also have to stay active to burn calories and to strengthen muscles. Finally, get a good night sleep.
-End scene.
TWITTER
Your heart is free. Have the courage to follow it…TO CSONKA'S TWITTER!
http://www.twitter.com/411wrestling
http://www.twitter.com/411moviestv
http://www.twitter.com/411music
http://www.twitter.com/411games
http://www.twitter.com/411mma