411's WWE Smackdown Report 10.26.12
October 26, 2012 | Posted by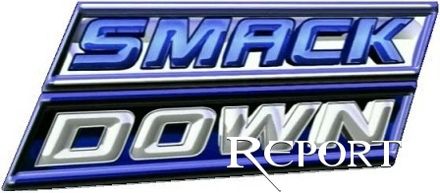 Welcome to 411's LIVE WWE Smackdown Report 10.26.12
Championship Roll Call:
WWE Champion: CM Punk
World Champion: Sheamus
US Champion: Antonio Cesaro
IC Champion: Kofi Kingston
Unified Diva's Champion: Eve
WWE World Tag Team Champions: Kane & Daniel Bryan
---
–Reminder, I do not rate matches that are under three minutes long…
-JBL and Josh Matthews are the announce team. As they start to hype Sunday's HIAC PPV, Randy Orton made his way to the ring. Orton spoke about Del Rio attacking him, and then called him a failure for losing repeatedly to Sheamus. He promised to give him a brutal beating at HIAC. Alberto Del Rio then cut him off, calling Orton stupid. He once again stated that he was the new apex predator, and that he would do things on his own time. Del Rio, who was dressed to compete, said that Orton's time was up. But when Orton challenged him to come to the ring, Del Rio said it wasn't time, and that he would se him Sunday. Wade Barrett then ambushed Orton and laid him out. Barrett left up the ramp, proud of what he had done, while Orton tried to compose himself in the ring.
-In the back, Teddy Long spoke with Del Rio, and stated that he was the one behind Barrett's attack on Orton. As Del Rio denied it, Barrett walked in and asked him if that was he was looking for. Long was outraged, and then signed an Orton vs. Barrett match for later tonight.
-Sandow and Bryan are on commentary.
Kane vs. Cody Rhodes
Rhodes tries to use his speed and run away, but Kane takes him to the corner and beats him down. A corner clothesline follows, a short-armed clothesline follows and Kane covers for 2. Kane up top, flying clothesline follows and connects for Kane. Rhodes tries to fight back, eats an uppercut and then Rhodes counters a side slam, and gets a running boot to the face. Springboard dropkick by Rhodes gets 2. Rhodes up top, connects with the missile dropkick and covers for 2. Rights by Rhodes, dropdown uppercut connects, and then they trade rights. Basement dropkick to the knee of Kane, and a Russian leg sweep follows, and Rhodes covers for 2. Kane fires back with rights, grabs Rhodes ad hits the chokeslam and that will be all.
OFFICIAL RESULT: Kane @ 3:00 via pin
RATING: **
-Booker T met with the Big Show backstage, and asked him to be a professional when they had the big main event interview tonight with Sheamus. Show said he proved what he needed to Monday by chokeslamming Sheamus, and that there will be no issues later, because Sheamus is afraid of him. Show then promised that tonight Booker T will get the hype, and then on Sunday, he will get a new world champion.
The Miz vs. Yoshi Tatsu
Lock up to begin, and Miz works a side headlock. Off the ropes and a shoulder block by Miz. Big kick to the face by Miz, and then lays the boots to Yoshi. Basement dropkick by Miz sends Yoshi to the floor. Miz follows, and then slams Yoshi on the floor. Miz slams Yoshi to the apron, and then tosses him back into the ring. Miz lays him on the apron and then hits the knee lift. Back in the ring, and Miz lays in cross face shots to Yoshi. Miz with another kick to the face, and then works a chinlock. Knee by Miz, Yoshi counters into a cross boy for 2. Back elbow connects, kicks follow and Yoshi with the knees in the corner to Miz. Miz fires back with a back elbow, and then a DDT. Skull crushing finale connects, and that is all.
OFFICIAL RESULT: The Miz @ 3:30 via pin
RATING: **
-We get various video recaps, Punk and Ryback from Monday, then Heyman from Main Event, and then the diva drama from Monday.
-Booker T met with Eve, Aksana, Kaitlyn and Layla. Aksana said Eve did contact her to take out Kaitlyn last month. They all argued, and then Long concluded that this exposed Eve as the boldfaced liar she is. Booker said if it was true she couldn't work for him. Eve said her crime was being too trusting. She leaves her iPad around all the time, and that Long was the one to send the message from her iPad to set her up. Booker then made a Diva's Title match between Eve ©, Kaitlyn and Layla for the PPV.
Randy Orton vs. Wade Barrett
And here we go. Orton on the attack early, tosses Barrett to the floor and follows up with a clothesline. Orton tosses Barrett back in, and starts to stomp away on Barrett. Boot to the gut, and then uppercuts follow for Orton. To the corner and Orton then applies a side headlock, and works Barrett down to a knee. Barrett with elbows to escape, but Orton with the backdrop suplex and cover for 2. Barrett battles back, a whip to the corner and Orton lands a clothesline, and then the knee drop and covers for 2. Suplex by Orton and another cover for 2. Barrett bails to the floor, Orton follows but Barrett lays the boots to him, and then slams him to the apron. Back into the ring they go, Orton tries for the hangman's DDT, but Barrett escapes, sends him to the apron and then lands a sidekick to send Orton to the floor. Barrett slams Orton gut first to the announcer's table…
~commercial time~
We are back from a commercial as Barrett is in control with a chinlock. Orton tries to fight back, but Barrett takes him back down and then chokes out Orton in the ropes. Clinch and knees by Barrett, and then a boot to the face sends Orton to the apron. Barrett pulls Orton back in and covers for 2. Barrett sends Orton to the corner and ten connects with the side back breaker for 2. Barrett now works a modified camel clutch, Orton works to his feet once again, and then runs into a boot to the face by Barrett, which gets 2. Rights to the ribs of Orton, and then a short-armed clothesline by Barrett connects, and he covers for 2. Barrett up top, cut off by Orton, who delivers rights to Barrett. Orton up top now with Barrett, and connects with the superplex and a cover gets 2. Clotheslines by Orton, snap slam connects as well. To the corner, boot by Orton and then he runs into the black hole slam, and Barrett covers for 2. Barrett looks for the souvenir, countered by Orton with the back breaker. Orton now looks for and gets the hangman's DDT. Orton looks for the RKO now, and here comes Del Rio to distract him from the entranceway. Barrett up, they trade rights, Del Ro on the apron, and that allows Barrett to level Orton with the souvenir elbow and that is all!
OFFICIAL RESULT: Wade Barrett @ 15:00 via pin
RATING: ***
-After the match, Del Rio attacked Orton and laid the boots to him. Orton would battle back and Del Rio them bailed, and they then stared at each other, DRAMA!
Kaitlyn and Layla vs. Eve and Aksana
Layla and Aksana to begin. Lock up, to the ropes and Aksana breaks. Knee to the gut follows, off the ropes and Layla with an arm drag and counter into a cover for 2. To the corner, tag to Kaitlyn, and she about kills Aksana with a shoulder block for 2. Side back breaker follows, and Kaitlyn attacks Eve. That allows Aksana to clothesline her to the mat and then beat her down a bit. Kicks to the gut by Aksana, tag to Eve, who then snap mares down Kaitlyn, and kicks her in the face and covers, ref hesitates to count, SHOOT REFEREEING. Eve then chokes out Kaitlyn in the ropes, knees to the gut and then slams Kaitlyn down by the hair. Kaitlyn counters the senton with knees to the back. She kicks Eve away, and gets a rolls up for 2. Back elbow by Kaitlyn, shoulder block follows. She tosses Aksana in the ring, clotheslines Aksana, and then one for Eve. Kaitlyn holds Eve, Layla in but Eve ducks ad Layla kicks Kaitlyn in the face. Eve tosses Layla to the floor, and then Eve covers Kaitlyn for the win.
OFFICIAL RESULT: Eve and Aksana @ 3:20 via pin
RATING: *½
-Recap of the AJ angle from Raw, as well as TWEETS from Vickie and Cena.
-Booker T met with Sheamus and asked that there be no drama tonight during the big main event interview. Sheamus said that while he respected Booker he couldn't promise anything.
-Kane meets with Daniel Bryan. Kane said he won his match so he wasn't the weak link. He then said if Bryan loses his match there'd be no doubt who the Tag Team Champions were. Bryan's music then played and he went to walk through the curtain. Kane said no pressure and smacked Bryan's ass, which caused Bryan to yell NO as he walked out through the curtain.
-Kane and Cody Rhodes (with ice pack) join the commentary team.
-Damien Sandow cut a promo, bashing those that chant YES and NO. He also stated that he was better looking and also had a better beard than Bryan. HOW DARE HE!
Daniel Bryan vs. Damien Sandow
Bryan attacks at the bell and lays in the rights and kicks to Sandow. Bryan chases him to the floor, back into the ring and Sandow with a shot to the gut of Bryan. Sandow sends Bryan to the corner, and hits a clothesline. Bryan battles back with some kicks, gets a dropkick off the ropes and covers for 2. Bryan works the arm of Sandow…
~commercial time~
We are back from the commercial and Sandow is in control, laying the boots to Bryan. Russian leg sweep by Sandow, elbow with a fancy name connects as well and he covers for 2. Clubbing shots to the chest by Sandow, and now he works a headlock. Bryan fights back, off the ropes and a back elbow by Sandow. Bryan fights back again, counter and gets the running kick to Sandow. Charging dropkick in the corner by Bryan connects, and Bryan covers for 2. Kicks to the chest by Bryan, Sandow back with a boot and charges Bryan, but is sent to the floor. Suicide dive by Bryan connects, and he ten shoves Cody down. That allows Sandow to clothesline Bryan, and now Kane is up and chases down Sandow. Coy then tosses Bryan into the post, rolls him into the ring, and Sandow in and hits the necktie neck breaker for the pin.
OFFICIAL RESULT: Damien Sandow @ 8:00 via pin
RATING: **½
-CARTWHEEL OF VICTORY by Sandow!
-Main event interview time. Josh Matthews was in the ring with a bunch of security for the main event. Sheamus and Show came to the ring, and then security cut the ring in half, corner to corner. Big Show said his KO Punch was stronger than the Rock Bottom, Stone Cold Stunner, the AA and of course, scientifically the Brogue kick.
Sheamus then said to have a lethal punch, you actually had to hit someone with it. Show said at Hell in the Cell Sheamus would fail trying to hit the Brogue kick like last time, we then saw footage of Show catching the kick and dumping Sheamus over the top rope and to the floor. Show then said Sheamus didn't have what it takes to kick him in the head, let alone beat him.
Sheamus then got excited as he discussed the challenge of fighting Show. He idolized him as a kid, but now says Show is a mountain that he can conquer. Sheamus said he would chop Show down to size before brogue kicking him if he had to. Hell, he would his 5, 6, 7, or 10 brogue kicks if that's what it would take. He said they were 48 hours from Hell in a Cell and the talking was over and that the time for fighting was now. Sheamus then charged the security to go after Show, and then Show and Sheamus both attacked all of the security Sheamus dumped his last guy and prepared for the Brogue kick but Show ducked under the bottom rope. Sheamus gave one last security guard the brogue kick and stared down Show…
-End Scene.
WHAT DID YOU THINK ABOUT TONIGHT's WWE SMACKDOWN?
TWITTER
Your heart is free. Have the courage to follow it…TO CSONKA'S TWITTER!
http://www.twitter.com/411wrestling
http://www.twitter.com/411moviestv
http://www.twitter.com/411music
http://www.twitter.com/411games
http://www.twitter.com/411mma