411's WWE Smackdown Report 4.19.13
April 20, 2013 | Posted by
It's Michael Benjamin and I'm back with another Smackdown Report! I'm making things crazy too. Sit down before I tell you this… I'm rating non-match segments on the 1-10 scale. If you seized up from excitement, read the rest when you're better. It's an extra two seconds to type and you'll get a better feeling of my opinion on a segment.
(I just wanted to take a second to apologize for this being late. Unforseeable circumstances left me unable to get it posted until now.)
SHOW… ON!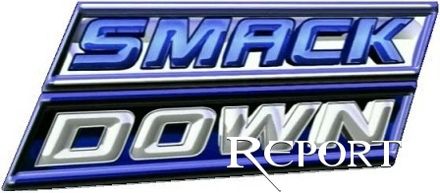 Championship Roll Call:
WWE Champion: John Cena
World Champion: Dolph Ziggler
US Champion: Kofi Kingston
IC Champion: Wade Barrett
Diva's Champion: Kaitlyn
WWE World Tag Team Champions: Kane & Daniel Bryan
---
WWE Smackdown Report 4.19.13
Then. Now. FOREVERRRRR .
– We're kicking things off with Fandango! I wonder if his wrestling timing hurts or hinders his dance timing. Fandango is wrapping his arms around Lillian Garcia now. He says that she's looking excellent tonight before inquiring if she's ever dipped or Fandangoed before. Apparently it feels really good. He pulls her in for a dip and with his face to hers, he says "Lillian, that was terrible" before dropping her to the ground to a bunch of canned heat. He attempts to teach Lillian a thing or two about breathing in the A's before Santino interrupts.
– Santino puts Fandangoing over before introducing his dance partner, The Cobra. The music begins and Santino does an awful dance before Fandango charges at him to end it. Santino tosses him to the outside as we head to our first commercial break. This was an awful opening segment. 2/10
–
–Commercial Break–
Fandango vs. Santino Marella
Fandango corners Santino Marella to start things off. FACE TO THE TURNBUCKLE! Down goes Santino. Santino mocks him with some dance moves before taking a boot to the face by Fandango. Fandango hits him with a few more before ambushing Santino with a flurry of face strikes. Well, it appears as if the crowd has decided that chanting "you can't wrestle" at the guy is more entertaining. Fandango locks in a side head lock and Santino can't find his way out. Santino hits a big hip toss followed by a Cobra attempt! COBRA BLOCKED! Roll of the dice! THREE! WWE had a chance to do something special with Fandango and it's pretty much dead in the water as soon as they got their hands on it. WWE doesn't even know how to let something go viral on its own.
OFFICIAL RESULT: Fandango @ 3:35 aired via pinfall
RATING: 3/4*
– Backstage, Booker T tells Teddy Long that things are different now. Him and Teddy argue amongst themselves before Big Show enters the room and thanks Teddy Long for actually giving him a tag team partner tonight. He says that Teddy Long had the foresight to actually protect a top star. Teddy Long follows Show out saying "Show, hold up." This is actually some pretty deep character development for a WWE angle. Booker T has broken Teddy Long down to the point that he'll take positive reinforcement where ever he can find it. This has been a slow burn and it'll be interesting to see which disposition each man leaves this angle with. Either way, good segment. 7.5/10
Champion vs. Champion: Wade Barrett (IC) vs. Kofi Kingston (US)
These matches are absolutely worthless now. How many Champ vs. Champ matches have they booked this year alone? Barrett and Kofi lock up to start things off. JBL is putting over Gabriel's Main Event performance. It was sloppy as hell, but alright. RANA by Kingston! TWO! Kingston immediately grabs a headlock to maintain control. Barrett stomps his way out, ducks two leap frogs, and gets hit with a nice kick to the face. High Russian leg sweep by Kingston followed by a straight kick to the face and a splash off of the second rope! Barrett fights out of an ARM BAR but Kofi makes it to the top rope! Barrett delivers a huge kick to the face that sends Kofi to the mat! Good looking spot. Barrett follows him to the outside and delivers a plethora of kidney punches before tossing him into the announce table and back in the ring. ONE… TWO… NO~! Barrett spilled Diet Coke on Cole's lap during that spot. He's going to be in the dog house! ROLL UP BY BARRETT! Kick out by Kingston at TWO! Kofi kicks out of another pinfall attempt, following a nice elbow drop off of the middle rope. Josh Matthews is mentioning "Wildcat" Kofi Kingston while telling us that his career turned around then. EHHHH, okay Josh. Kofi dodges two clotheslines and jumps to Barrett's back. Barrett catches him with a Samoan Drop! Kofi grabs a hold of Barrett and gets a roll up victory! Fine for what it was. Their midcard just isn't exciting me at all right now.
OFFICIAL RESULT: Kofi Kingston @ 5:35 via roll-up
RATING: *3/4
–Commercial Break–
– We get a video package of the Sheamus and Mark Henry feud. Lots of capable big men in 2013. I like it. There's nothing wrong with a hoss or two.
– Renee Young catches up with Mark Henry backstage. She asks him why he's done what he has done to Sheamus. He says because he can, and it's what he does. Sheamus comes out of nowhere and spears him into the set. I love the simplicity they've been using for Mark Henry's push. Simple and effective segment. 6/10
– We get a replay of the Ziggler/Swagger/Del Rio situation. I'm not rating video packages. They'd all be a ten because production can make things seem SO legit. Unfortunately, Ziggler seems out of place in the feud and I hope they make him appear to be a peg over Swagger and Del Rio in the coming weeks.
– Alberto Del Rio makes his way down to the ring as we head for break.
–Commercial Break–
Jack Swagger (w/ Zeb Colter) vs. Alberto Del Rio (w/ Ricardo Rodriguez)
They circle to start and Swagger picks the leg of Del Rio after a feeling out process. ADR recovers and the two men exchange rear waistlocks. Swagger locks in a side headlock but gets launched into the ropes. Swagger drags Alberto Del Rio to the outside and attempts to bust his leg over the ring post before ADR fights back and rolls him back into the ring. Swagger hits a nice suplex and doesn't cover. Both men make it to their feet and Del Rio climbs to the top! Swagger takes advantage of the opening, and hyper-extends the left leg of ADR before he tossing him to the mat (BIG THUD) as we head for commercial.
–Commercial Break–
Swagger is being relentless on ADR's leg as we return from break, with an awesome chop block that basically takes Alberto out of his boots. ADR gets a roll up! ONE… TWO… No! ADR jumps back up and takes a huge clothesline. Swagger's really starting to look comfortable in there now. He used to seem awkward and a step off beat. He's taken care of all of those problems. Swagger's ripping the bandage off of ADR's leg. Swagger dodges a kick and delivers a huge Doctor Bomb FOR TWO~! Del Rio tries to lock in a standing variation of the cross arm breaker but Swagger kicks his hands away. ADR's starting to make a comeback! Clotheslines! He follows through with the kidney shots into a backstabber! TWO AND A HALF~! ADR LOCKS IN THE CROSS ARM BREAKER! Swagger reverses that into the Patriot Lock! Del Rio makes it to the ropes! ADR kicks Jack in the bad arm and buys himself some time. Alberto is holding himself up with the ropes. He goes for the Cross Arm Breaker again but Swagger throws him through the ropes and Alberto hits the barricade hard. Alberto barely makes it back in! Swagger turns around and gets nailed with a huge kick! 1… 2… NO! ADR is signaling for Cross Arm Breaker! Swagger gets out of the way and locks in the Patriot Lock! Del Rio rolls through and finally gets the Cross Arm Breaker! Swagger gets on top of Del Rio while in the hold and goes for the cover. 2.999999999999! ADR rolls Swagger up again, and this time he gets the win! This was a great match. They worked it smart and the finishing sequence was great.
OFFICIAL RESULT: Alberto Del Rio @ 16:35 aired via pinfall
RATING: ***3/4
–Commercial Break–
RAW REBOUND We get a recap of the Ryback/Cena stuff on Monday. It seems as if most of you didn't like the Ryback promo too much but I thought it was well worded and intelligently structured. The interview is way better with all of the extra production touches as well.
– The Shield pop up on the Tron. Rollins says that Ryback knows how injustice feels and he wanted Cena to feel it too. While looking on as The Shield beat down Cena, his eyes filled with fear, just like the Undertaker's did. *BOOOOO* BELIEVE IN THE SHIELD. Great promo hyping up the six man on Monday. 8/10
–Commercial Break–
– They air a clip of Rosa and The Colons stealing Natalya, Khali, and Hornswoggles parking spot. So there must be a match. What the hell was this for? 1/10
Great Khali, Natalya and Hornswoggle vs. Primo, Epico, and Rosa Mendez
The girls start off the match. Natalya takes a slap to the face! Rosa locks in the headlock! Rosa lifts her up and goes for a suplex before Natalya can reverse with one of her own. The girls tag out! Khali and Epico are in! He corners Epico and gives him the Punjabi Chop! Primo ends up in the corner as well and we get dual chops. Rosa wants to get tagged in but Hornswoggle pulls her off. She chases Hornswoggle around a ringpost only to catch a boot by Natalya as Horny runs under her. Back in the ring, Khali delivers the PUNJABI PLUNGE to Primo and picks up a W for his team. This was a fine match. Nothing was bad and the women put on a decent little wrestling segment into their portion of the match.
OFFICIAL RESULT: Great Khali, Natalya and Hornswoggle @ 3:01 aired via pinfall
RATING: *
– They replay the CM Punk walk off segment on Raw. So, is that it for Punk right now?
–Commercial Break–
– They replay Heyman's challenge for a steel cage match between Brock Lesnar and Triple H.
– Randy Orton and Sheamus make their way down to the ring as we head to the main event!
–Commercial Break–
Mark Henry and Big Show vs. Sheamus and Randy Orton
Mark Henry and Big Show on the same team is kind of a beautiful thing. I'm excited for this. Sheamus is starting the match off with Mark Henry. They talk some smack from across the ring before Henry decides he wants no part of Sheamus. In comes Show! Some brawling to start and Big Show ends up on the receiving end of A CLUBBERING~! Sheamus goes upstairs and Big Show dodges an axe handle. Sheamus takes a punch to the face and tags in Orton. Big Show remains in control with a side slam on Orton. In comes Henry with a flurry of headbutts to Orton. Orton crawls for Sheamus but Mark tugs him away. BEAR HUG! Will Orton succumb to the lethal bear hug? Mark rams him into his teams corner and in comes Big Show again. It's pretty entertaining to see these guys dominated.Orton tries to get back into the match with some rights. Show no sells those and grabs Orton's neck for a chokeslam but Orton hits him with a huge DDT! IN COMES SHEAMUS! He knocks Show down twice before ramming him into a corner. He goes upstairs and knocks Show down with a shoulder block. WHITE NOISE! He's setting up for the Brogue! Henry's on the apron and interrupts! Big Show hits a spear and both men are down for the count as we head to break!
–Commercial Break–
Big Show is in control of Sheamus as we come back from break. Big Show hits a scoop slam on Sheamus and tags in Henry to pick him apart. He locks in the nerve hold and Sheamus manages to make it to his feet! Henry KICKS SHEAMUS IN THE HEAD and tags Show back in. Big Show gives Sheamus an overhand chop and Big Show locks in a nerve hold on the left trap of Sheamus. Mark Henry and Big Show are working over the traps! They both go for a clothesline and you know how that ends, double tag. Orton comes out with a bevy of strikes. He gets Mark Henry down to his knees and delivers the DDT. Mark Henry tries to get involved again but Orton doesn't let it distract him. Orton gives Big Show a DDT OFF THE TOP ROPE! Henry steps into the ring but Sheamus spears him through the ropes! Orton walks into a chokeslam and it's over! This was a well worked main event tag match.
OFFICIAL RESULT: Big Show and Mark Henry @ 12:58 via pinfall
RATING: **3/4
OVERALL: This was a good episode of Smackdown. Swagger and Del Rio wrestled a hell of a match and the main event was better than I was expecting it to be. Mark Henry and Big Show made an extremely entertaining team. All off the bad stuff was minimal. More Smackdowns like this please. 7/10
411 ON TWITTER~!
http://www.twitter.com/411wrestling
http://www.twitter.com/411moviestv
http://www.twitter.com/411music
http://www.twitter.com/411games
http://www.twitter.com/411mma