411's WWE Survivor Series Preview
November 19, 2017 | Posted by
~THE STAFF~
* 411 reviewer, Mr.
Jake St-Pierre
.
* 411 reviewer, Mr.
Kevin Pantoja
.
* 411 columnist, Mr.
Justin Watry
.
* 411 columnist, Mr.
Brandon Ewing
.
* 411 columnist, Mr.
Steve Cook
.
* 411 contributor, Mr.
Jake Chambers
.
* 411 contributor, Mr.
Mitch Nickelson
.
* 411 contributor, Mr.
Ken Hill
.
---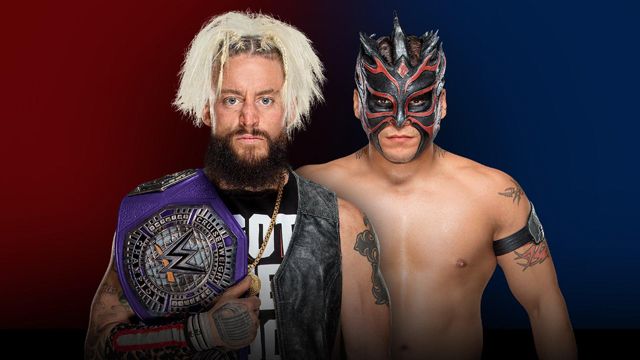 WWE Cruiserweight Championship Kickoff Show Match: Champion Enzo Amore vs. Kalisto
Ken Hill
:
When being a broken record,
Enzo sure can take the cake.
This feud's overdue for a finish,
time to move on for the frosted flake.
This match is just the latest to show that WWE really has no idea what to do with the CW Division, particularly with the addition of Enzo and Kalisto, as this feud was already exhausted coming out of TLC. What exactly was wrong with a CW Survivor Series elimination match again?
WINNER: Enzo Amore
Mitch Nickelson: Enzo Amore is a skilled talker who brings interest to the Cruiserweight Division. Passing the title off to Kalisto, even though he is better in the ring, would be a mistake. Kalisto is well enough in the role of temporary challenger but he'd be a big step down as the main focus of a division that already struggles to get people to pay attention. This outcome seems like the safest pick of the night.
WINNER: Enzo Amore
Jake Chambers: Imagine a world where Kalisto is the Cruiserweight Champion and Enzo is no longer on 205 Live. Now imagine that ratings for 205 Live following this change. Finally, imagine never seeing the Cruiserweight Division, the purple belt or that dumb ass show again. That's how important Enzo is to the WWE's half-assed plan to make an entire show out of those lightweight losers.
WINNER: Enzo
Jake St-Pierre: Enzo is a serviceable heel champion, but it's for a brand in 205 Live that really has nothing going for it in terms of long term prospects. A lot of talent flows through it and they have something to do, but it's booked and positioned so horribly that everyone in it is a lesser star for simply being a part of it. Kalisto is one of those wrestlers, although it's not like he had much in the way of upward mobility on the main roster either. And it doesn't help that he's filler until someone can come up with a less-dead star to beat Enzo, so there's your result pretty plainly. Hard to care about it in a vacuum either since Enzo's matches have a pretty pronounced ceiling, but they'll agent it to the point where it will be acceptable.
WINNER: ENZO AMORE
JUSTIN WATRY: No explanation needed.
WINNER: Enzo
Kevin Pantoja: It's almost impossible to get excited for anything in the cruiserweight division since Neville left. Enzo Amore works in the role he's been given and it'll be fun to see him dethroned. However, we've already seen Kalisto beat him, only to lose it right back. The outcome of this match means nothing to me. Enzo retains and eventually drops it to someone more interesting.
WINNER: Enzo Amore
Brandon Ewing: Enzo has became the talk of the 205 Live roster in recent weeks. Since joining the roster, the division has been given a boost and has been taken more seriously, overall. Kalisto is a great wrestler. He may not be able to cut a promo (see his botches on YouTube, per example) but the talent is there. I personally see him as a young Rey Mysterio during his early days. As for the match, this feud has gone back & forth, with Kalisto capturing the title, then Enzo winning it back. Now we have the "rubber match" and I feel that Enzo will retain and end the feud. Neville is rumored to be returning soon. If and when that happens, there's an easy feud for Neville to walk back in to with Enzo over the Cruiserweight title.
WINNER: Enzo Amore
Steve Cook: Kalisto went over pretty strong on 205 Live. Dude got to have a couple of birthday cakes & destroy Enzo with one of them. That tells me the Zo Train will be in full effect on Sunday & Enzo will retain the championship.
WINNER: Enzo Amore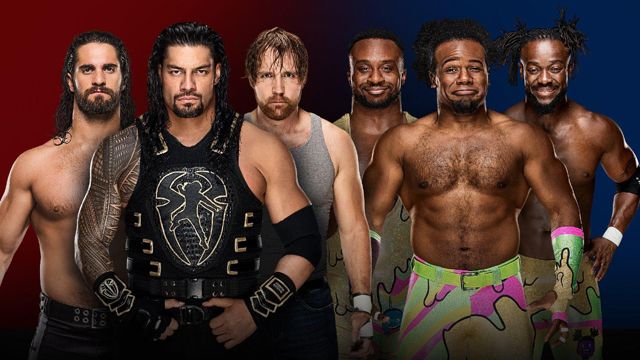 The New Day vs. The Shield
Mitch Nickelson
: The New Day is the team that's together for the long haul. They really should get the win here because The Shield at this point are just biding their time until Roman breaks off to build for whatever big singles match he has at WrestleMania. However, the stable that is a temporary reunion comprises the bigger collection of star power, so that's my reasoning for why they will probably score the win. Is this a Tornado Tag rules match? It really should be.
WINNER: The Shield
Jake Chambers: Let's do some WWE math. Rollins & Ambrose – 3-time WrestleMania main event-ing superstar Roman Reigns + old, rusty Kurt Angle = winners in a handicap match over giant, super-strong Braun Strowman, un-kill-able monster and former multi-time world champion Kane, Intercontinental Champion, and former world champion The Miz, and former tag champions The Bar, (which includes former multi-time world champion Sheamus) > full strength The Shield (all former world champions) vs. one former jobber + one former bodyguard + career mid-card purgatory guy, who all just lost a Hell in a Cell match to the Usos. I mean, what's the threat here supposed to be? At TLC, Rollins and Ambrose stepped into the ring with two chairs and basically took out that entire super team by themselves. I'm not sure there's one member of the New Day that is on the level of even the weakest member of the 5-man TLC team. I'm assuming they make this match an even fight, but I guess hoping for some kind of month-by-month logic is too much to ask?
WINNER: The Shield
Steve Cook: It's hard to see the Shield losing to any trio right now, and I don't think they get their first loss of this run put on them so quickly. New Day will be over with the crowd however many times they lose, so they'll be fine.
WINNER: The Shield
Jake St-Pierre: Had they not ever-so-slightly taken away the gravitas of this match by sticking The Shield's proper reunion on RAW, I'd be heaping even more praise onto this match than I'm about to. I only say that because I want to get the negativity out of the way before I tell you how damn excited I am to see this. Everyone knows how magical a unit The Shield can be, and just how great they are in trios matches. They have an entire year and a half in 2013-2014 to show and prove. It's beating a dead horse. And I'm pretty sure everyone's on the New Day train, especially after they had the main roster Match of the Year against The Usos at Hell in a Cell. So common sense would tell you that when you put those two moving parts together, something great is in store. This bout also has the advantage of having a very simple build, something WWE seems maddeningly unable to do anymore. The New Day cost The Shield their belts, so The Shield wants to kick their ass. There's a reason for these two teams to fight, and given the talent that all six men possess, the subsequent fight should be a wonderful affair. As for the result? It's pretty easy to predict, I think. Beating The Shield at this stage risks cheapening their reunion right out of the gate, while New Day losing to three top guys is hardly going to hurt them… especially if they have a barnburner before the loss. So The Shield it is.
WINNER: THE SHIELD
Kevin Pantoja: This should be fantastic. The Shield was the best thing in WWE from 2013-2014. New Day was arguably the best thing in WWE in 2015-2016. For most of 2017, they didn't do anything of note. Then, the Usos feud happened and rejuvenated them. The returning Shield are probably looking to put on one hell of a performance, while New Day is on quite the roll. That should make for one of the more exciting matches in recent memory. It's going to be a magnificent battle, but a predictable result. The Shield will win because losing this quickly into their return is kind of damaging, while New Day won't be hurt by it.
WINNER: The Shield
JUSTIN WATRY: The first of many Raw vs. Smackdown LIVE matches. The easiest one to predict though. Let's be honest. The Shield reuniting at Survivor Series makes for a much better story than them returning last Monday night. I can't believe WWE was unable to wait six more days. Now in the history books, it will say the group debuted at Survivor Series and reunited…six days before Survivor Series 2017. At least with the originally planned TLC bout in October, it still had historical value because of their first official match back in December 2012. Long story short, The New Day are still yawn inducing, and I don't see many backers of them anymore after I had been the long person beating that drum for months on end. As usual, I was ahead of the curve, and the three are beyond stale. The Shield win because they should. Believe that.
WINNER: The Shield
Brandon Ewing: Not really a lot to say about this one to be honest. This was put together last second and has a lot of potential to be a show stealer so let's see what happens. I pick The Shield to win this contest.
WINNER: The Shield
The New Day vs. The Shield
Ken Hill:
Triumvirates clash,
which one's the greatest trio?
"New Day"…for Shield.
Not a lot of doubt for this one. Recent match with Miz and The Bar aside, this is the first time you have the full-fledged Shield in action on WWE television in 3 years and New Day's up high enough on the "popular tag team" hierarchy that they can afford a loss here. Doesn't mean it won't be a crazy fun kind of match that could be one of the potential show-stealers of the the night, just don't be surprised with its likely outcome.
WINNER: The Shield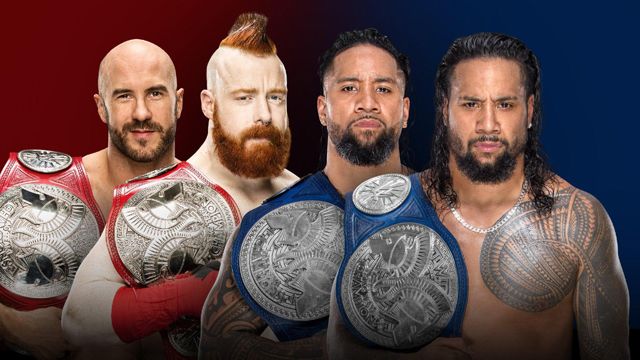 Sheamus & Cesaro vs. The Usos
Ken Hill
:
The Bar raised their level once more,
and top RAW as three-time champs
Now they look to repeat history,
and topple the Usos' prison camp.
While I've mentioned before that Ambrose and Rollins versus The Usos would've been just as action-packed and thrilling, I do agree with the consensus that The Shield never really NEEDED the tag titles for the long term, as it was more as a means to signify their reunion, and it was a smart move to shift the titles back over to Cesaro and Sheamus. On top of that, these two teams finished out the Tag Team Elimination match from last year's RAW vs Smackdown encounter, so it's nice to have a continuation of sorts with this match here. Jey Uso's leg "injury" at the hands of Gable and Benjamin is an underlying factor here, and I see it coming into play to give RAW's tag champs the win.
WINNER: Cesaro and Sheamus
Mitch Nickelson : I was briefly bummed when the previously advertised Usos vs. Ambrose & Rollins match fell through. But then I realized that subbing in Sheamus & Cesaro will be just as amazing. These four will tear the roof off. I'm not sure who gets the win and since nobody's belts are on the line, it's hard to remember why the outcome really matters. I like the Usos and their battle rap approach to their characters, so I'll give them nod solely for that reason.
WINNER: The Usos
Jake Chambers: It's all about Sheamus. Now THAT's an orange guy who should be President of a country… or a planet! I will always predict Sheamus to win, just like I always bet on black, always pick heads, and never lose at rock, paper, scissors with good old rock!
WINNER: Sheamus & Cesaro
Steve Cook: The Bar have gelled into a well-oiled machine, but no tag team in WWE has the continuity of the Usos. They'll be looking to prove themselves in the class of other tag teams that have held WWE tag titles four times & will be on their A game.
WINNER: The Usos
Jake St-Pierre: One of the more undersold matches on the card, but it has tons of potential when you think about it. It's hard to find two more rock-solid teams in the company, and I think they'll be able to gather up enough intensity to make this a worthwhile midcard encounter. The result is a toss-up really as neither team is going to be harmed to any real degree by doing the job, although The Usos getting a clean win over two hosses like The Bar would be a nice little boost for their kayfabe confidence. The crowd might be a little confused given The Usos are tweeners at best going against two full-fledged heels in Sheamus and Cesaro, but I think there's more than enough talent here to make that pretty insignificant. We know that The Usos can play the babyface team to a tee, so I don't see much reason for concern. Let's just say Sheamus and Cesaro win and call it a day but either result is possible.
WINNER: SHEAMUS & CESARO
Kevin Pantoja: In a year with the Revival on the shelf, these have been the two best main roster tag teams. I'd even go as far to say the Usos have been the best tag team in all of wrestling this year (Authors of Pain and British Strong Style are in the conversation). These teams were the final two in the giant Survivor Series match last year and it was a lot of fun. With both units being heel, it could cause problems, but the Usos have kind of been rolling as tweeners and I think the fans will get behind them. This could honestly go either way, but I'm gonna pick the Usos for the Smackdown victory.
WINNER: The Usos
Justin Watry: I love the Survivor Series 2017 card changes. Last minute, throw together, panic, whatever. Who cares? WWE got it right in the end, and that is what matters. Better than sticking with garbage 'just because.' They corrected course and have one heck of a lineup for Sunday. The Usos are my prediction. Not really sure because of the heel vs. heel dynamic. Does it truly mean anything five seconds after the battle concludes? Probably not. Cesaro and Sheamus will carry on as usual on Monday, and The Usos will keep fighting pairs on Tuesdays. For these fifteen minutes though, we should be in store for a heck of a clash. Team Blue gets one, to tie up the interbrand series.
WINNER: The Usos
Brandon Ewing: This is going to be a fight! Sheamus and Cesaro are as tough as they come and have shown they can beat just about anybody on the WWE roster. The Usos have dramatically improved over the past year and continue to get better as they go along. This is a tough one, but I will give the nod to Smackdown on this one with The Usos.
WINNER: The Usos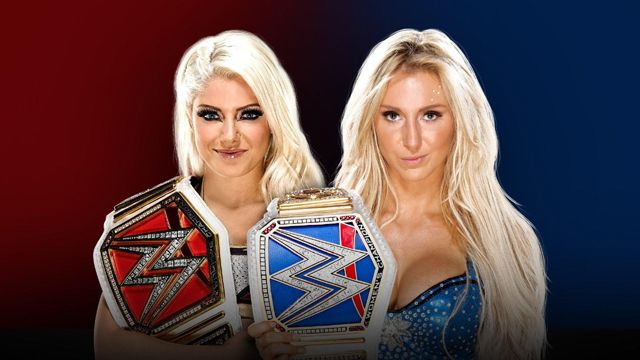 Alexa Bliss vs. Charlotte
Ken Hill
:
Goddess versus Queen, the clash
of WWE's top-tier, premier female athletes.
Charlotte to vanquish the five-foot harlot,
victory to make her emotional week complete.
When the Alexa vs Natalya match was signed, I immediately felt it'd be one of the matches to be altered leading into Survivor Series, along with Miz vs Corbin, as both were "heel vs heel" match-ups and didn't strike me as matches the crowd would be too enthused to cheer either side for (with the possible exception of Miz). While Miz vs Corbin remains, I'm not surprised to see Charlotte take the Smackdown title in what was a very emotional win in her hometown on Smackdown's go-home show. It creates a far better dichotomy with arguably two of WWE's top female performers of the last couple years facing off, and I think they keep the momentum of Charlotte's hometown win going with a victory over Alexa here.
WINNER: Charlotte Flair
Mitch Nickelson : It's crazy how many big matches on this card changed just in the past week or so. I'm not complaining about Charlotte vs. Bliss, but I bet Natalya is a little bummed that she won't be on the card. My thinking is that WWE saw the success of the Ric Flair 30 for 30 and are simply riding that wave. So not only do I think Charlotte will win against Alexa but I also think that her daddy will show up briefly for another heartwarming moment to celebrate with his baby girl.
WINNER: Charlotte
Steve Cook: I wrote about this! It's a pretty interesting first-time matchup between two women that have dominated whatever show they've been on. I think Charlotte can get a lot out of Alexa & have one of Bliss's matches since being called up, though I'm not sure it'll happen on the first try. As for the result, I don't see a category where Alexa has a definite advantage, and Charlotte is on too much of a roll to trip up here.
WINNER: Charlotte Flair
Jake St-Pierre: Both Smackdown and RAW's women's divisions are so lazily booked and put-together that it's difficult to be anything resembling excited for the matches… but I'll be damned if Charlotte's segment on the latest Smackdown didn't make her a total superstar in my eyes and boost this Title v. Title match dramatically. Alexa is a wonderful character with great charisma, but she really doesn't have much to offer in the ring. Charlotte isn't exactly the most consistent worker either, but she's really hit her stride as a babyface lately and that could make for some very solid chemistry as a result. I think people really buy into her and after the go-home Smackdown, I don't know if there's a city in the world that would boo her. Alexa is one of the best heels in the entire company, so I think there's something here. It's also a good time to give her a clean loss as heels like Alexa generally don't need to be kept strong, and beating Charlotte after that incredible moment with her father just seems wrong.
WINNER: CHARLOTTE
Kevin Pantoja: Is the world going to implode? It's Alexa Bliss, who continually wins major feuds, where the babyfaces come off looking bad against LADY BIG DOG. It's tough to see either woman losing because of how they're typically booked. If anyone could run through Alexa and come out looking strong, it's Charlotte. I fully expect her to win for Smackdown here, being the only one allowed to come out on top against Alexa. At least, until Asuka.
WINNER: Charlotte
@JustinWatry: Sorry Natalya, you may follow me on Twitter, but that title reign was pretty pointless. Like Jinder Mahal, WWE was smart to recognize the issue and move on. Rushed or not, it was the correct decision. Being in North Carolina and coming off the Ric Flair 30 For 30 ESPN special was just the icing on the cake. Charlotte won the Smackdown LIVE Women's Title in her hometown (breaking one of those beloved unwritten rules that don't exist), and the division is on the right track again. One move is all it took. Raw has it right as is. Alexa Bliss holds the belt…until Asuka kicks her head off in 30 seconds. Fine by me. For the brand vs. brand battle, Smackdown wins here. Woo!!!
WINNER: Charlotte
Brandon Ewing: Charlotte winning the Smackdown Live Women's Championship changed the card dramatically and created an interesting matchup that we will see here. Like she said, before there was a Goddess there was a Queen on the RAW Women's roster. Charlotte has the momentum in her favor. Alexa Bliss has to contend with that and then some. I think this will be too much for her and Charlotte will continue to ride this wave of momentum into a victory over Alexa Bliss for Team Smackdown.
WINNER: Charlotte Flair
Jake Chambers: Charlotte had her moment the other night, another Flair family weep-fest – a trait neither of them used to reach the peaks of their respective careers. So I believe it's now time to recognize some wrestlers who don't cry, and Alexa Bliss is the cruel and cocky epitome of everything that used to make the Flairs fun.
WINNER: Alexa Bliss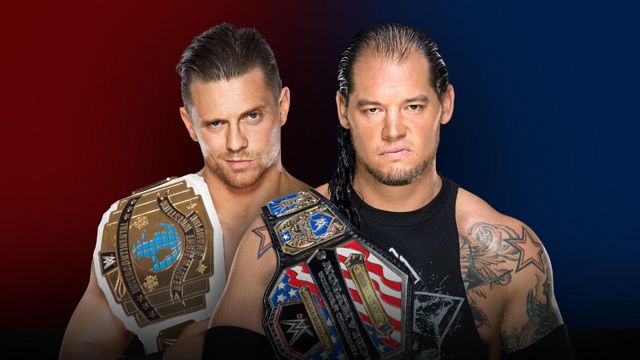 The Miz vs. Baron Corbin
Ken Hill:
A "heel vs heel" match with intrigue,
and a heated social media exchange.
I'd be all for Miz, but this Survivor Series biz
leads to a pick that's not all that strange.
I can only assume that it's because of the efforts of these two to build their rivalry up on social media that this match didn't get switched up like the Alexa vs Natalya match did (well, that and Natalya simply doesn't click well with either Alexa or the audience). Miz has done well to defend himself and the honor of his wife against someone in Corbin who he finds to be a "bathroom break" and the latest "generic big man" to step in-between the WWE ropes; Miz has effectively put himself in more of a tweener role to dilute the boredom stigma of a "heel vs heel" match, which only goes to show just how multi-faceted a performer he is at this stage of his career. That being said, for my best-of-7 format to work here, Corbin has to win, doubly so since he's been struggling with Sin Cara the last few weeks and needs a more solid win to boost his standing as US Champ.
WINNER: Baron Corbin
Mitch Nickelson : It's weird to have a heel vs. heel matchup. It's also weird that Baron Corbin is the one WWE hopes that the fans will one day get behind even though Miz will get the overwhelming crowd support here. I don't think this will be technical masterpiece but I do think I'll have fun watching this. Hopefully Curtis Axel gets a huge pop when he and Bo Dallas inevitably get involved. The Miz will lose because he's here to make others look good.
WINNER: Baron Corbin
Jake St-Pierre: Listen, I like The Miz and I can tolerate Baron Corbin more than some seem to. If you put them with the right opponents, they can have good matches. Especially Miz. But this is the exact opposite situation either man needs to put in on this big a stage. It's shortsighted and self-destructive booking from a company that needs all the stars it can get. First of all, heel vs. heel matches are almost always pointless. And given the two heels in this match are The Miz (who nobody wants to cheer) and Baron Corbin (who nobody even reacts to at all)… why did this idea even leave the cutting room floor? It's not going to be good, the crowd is going to find the nearest concession stand while it's going on, and the build is practically non-existent aside from Miz saying the F WORD~! in a Twitter promo. There is just no upside to this match and hopefully it's over in due time. Luckily, WWE is such that they make sure nothing matters in the long term, so we'll probably just forget about it 24 hours later and go on with it.
WINNER: BARON CORBIN
Kevin Pantoja: This is one of those matches where I like both guys, but can't get excited about the pairing. They're just not ideal opponents for one another. Corbin is at his best when he's the bully heel, but Miz's one weaknessis playing some kind of sympathetic babyface. The promo stuff has been fun, at least. Normally, I'd pick Miz to win here, but I'm thinking Raw wins the entire show 4-3. I have them winning four matches in my head, so Smackdown will get this one.
WINNER: Baron Corbin
Justin Watry: As fun as the social media jabs have been, I am no idea what to expect here. Another heel vs. heel matchup, one where both could probably lose and be okay. In a previous column, I gave the nod to the blue brand. Now, I am thinking The Miz. Honestly, does it matter? Flip a coin. Since the other bouts are going to Raw, let's say Corbin overcomes The Miz, Curtis Axel, and Bo Dallas. Somehow.
WINNER: Baron Corbin
Brandon Ewing: This is as personal as they come. Everyone knows about the personal pot-shots they've given each other on Twitter and TV alike. This is going to be a decent match that has good storytelling heading into the bout. I'm going to go with Baron Corbin on this one.
WINNER: Baron Corbin
Steve Cook: I will give them credit for not taking the IC title off of Miz or the US title off of Corbin so we could have a fun little face vs. heel match. As it is, I'd expect Miz to be the heavy favorite in the eyes of the crowd. He's earned their respect. Corbin's still got to earn his. I expect Miz to use his superior intellect & his friends to get the duke.
WINNER: The Miz
Jake Chambers: From this point forward, The Miz can lose every match he's ever going to be in again, and he'll still be the best guy working in professional wrestling.
WINNER: Baron Corbin
Survivor Series Elimination Match: Alicia Fox (Captain), Nia Jax, Sasha Banks, Asuka and Bayley vs. Becky Lynch (Captain), Carmella, Tamina, Naomi, and ???
Ken Hill
:
"Crazy as a" Fox leads RAW,
while Becky leads Team Blue.
No doubt Asuka will run roughshod,
but Paige will reclaim her house, too.
We were all admittedly expectant to see Paige thrown into the last qualifying match on RAW, only for Bayley to come out on top, clean as a whistle. Now, with Charlotte out of the loop due to having won the Women's Title and Nattie not immediately being inserted in her place, it leaves a slot open for the Smackdown side and rumors once again bustling about Paige returning, this time at Survivor Series. With all the other positive changes made to the PPV, what's one more?
Regardless of whether Paige actually returns here or not, I'm going with Team Blue, as Asuka getting involved in the triple threat this past Monday leads me to believe that Dana will get involved on Sunday, causing Asuka to get DQ'ed/counted out, leading to Dana to be Asuka's next victim…err, opponent.
WINNER: Team Smackdown (Becky and *possibly* Paige survive)
Mitch Nickelson : Paige, Nikki Bella, or whomever will be in that last Smackdown spot. Either one of the two obvious picks will be well enough for me, I'll be happy to see them back. I'm probably the only morbid person that at least wanted to see the train wreck that would've been a transgendered James Ellsworth, but since he's no longer a WWE employee he's definitely not in that last spot. The only person that I really want to see dominate here is Asuka, so that makes Raw my pick by default.
WINNER: Team Raw
Jake Chambers: I don't think putting Chyna on the Smackdown team would still give them much of chance in this one. And certainly it can't be the 90-pound Paige, who's gonna tip the scales, so to speak.
WINNER: RAW
Steve Cook: The mystery partner could make all the difference here, but I have to give Raw the edge simply because Asuka is on the team and she shouldn't be dropping decisions in matches like this one. You could still say she's undefeated in singles matches so it doesn't matter, but I'd make her the sole survivor and establish her as the next challenger to Alexa Bliss.
WINNER: Team Raw
Jake St-Pierre: Remember what I said about the women's division in the Charlotte match? I mean, I don't expect you to because I'm kind of an idiot, but it applies here. The entire build has been centered around Alicia Fox, who's terrible even in the 50,000th rendition of her CRAZY~! push, and the rest of it has centered around an admittedly entertaining mini-feud between Becky Lynch and James Ellsworth. I don't expect the match to be all that entertaining nor cohesive, and the only interesting part of it – that being Asuka – has been downplayed to the point of insignificance. Sasha Banks and maybe Becky Lynch are the only two women in this match who haven't been completely destroyed by the writing team or their own lack of interesting qualities and I think the heat for this match will suffer greatly as a result. I just have nothing nice to say about this match, really. Team RAW winning is probably the right move with Asuka just murderizing everybody on Smackdown, but I'm not holding my breath.
WINNER: TEAM RAW
Kevin Pantoja: With Smackdown's final spot open, I want to say they win. Maybe Paige makes her return and having her lose here wouldn't be ideal. Plus, I'm always gonna want to pick a team captained by the great Becky Lynch or one led by Alicia Fox. The difference is Asuka. Sure, last year the unbeaten Nia Jax tapped out in a Survivor Series match, but having both Asuka and Nia lose would be strange booking. For that reason, and the possibility that Natalya is the fifth member and not Paige, I'm gonna pick Raw. Asuka and Nia being the most likely survivors and Bayley being the most likely to get eliminated like a jobber.
WINNER: Team Raw
@JustinWatry: Which team is Asuka on? Alright, they win. Screw a DQ or countout elimination. Just have her come in at the end and decimate the five girls from Smackdown LIVE. Paige, Nattie, Bellas, someone from NXT – nobody is ready for Asuka!
WINNER: Asuka
Brandon Ewing: With the change on the Smackdown end with Charlotte winning their Women's championship. Logically, you would think Natalya would take the 5th spot but WWE is playing up this being a mystery partner. Could be Nattie. Could be Nikki Bella. Could be Paige. Who knows! Nevertheless, whomever takes the 5th spot will drastically change the dynamic of the matchup. RAW has a solid team that cannot be taken lightly, especially when you have Asuka on your side. Nevertheless, I'm going to go with Team RAW. Strength in numbers. Plus, ya know, ASUKA! WWE will not let her lose anytime soon, especially under Survivor Series rules.
WINNER: Alicia Fox, Nia Jax, Sasha Banks, Asuka and Bayley
Survivor Series Elimination Match: Kurt Angle (Captain), Braun Strowman, Finn Balor, Samoa Joe & Triple H vs. Shane McMahon (Captain), Randy Orton, Shinsuke Nakamura, Bobby Roode and John Cena
Mitch Nickelson
: As long as this isn't too much about McMahon family drama then this should be good. There are a bunch of cool faceoffs that I'd like to see happen in this match but if I'm being honest most of them involve Braun Strowman. Finn Balor would be a fun one to see in a last man surviving on his team kind of rally. And I just now thought of this but the entrances on this will be ridiculous. The time it takes for the first guy's music to hit until the last wrestler enters the ring will be longer than half of the matches on this card.
WINNER: Team Smackdown
Jake Chambers: I have no idea. Honestly. As much as I've cursed the WWE this year for letting me down, becoming boring, predictable and dull, this is one hell of a match on paper. Aside from the generally fun Braun and the perplexing inclusion of Bobby Roode, these are some of my all-time favorite performers, and WWE so rarely gives you this many potential dream matches in a year, let alone one epic segment. As to who I'll predict will win, well, you never bet against my man John Cena on PPV, not even in his prime against string-puller Triple H. But whereas time can diminish you physically, it only seems to have strengthened HHH's power, so his last-minute inclusion in the match should signal a win. But nepotism "trumps" all, and Shane McMahon can win any match in the WWE universe with the snap of his omniscient fingers, and that guy desperately needs a new PPV win on his resume.
WINNER: Smackdown
Steve Cook: Raw is full of egos & combustible elements. Balor & Joe don't get along. Angle & Triple H certainly have their issues. And Braun Strowman is a monster that probably can't be trusted. SmackDown's team also has folks who have had competitive differences, but except in the case of Cena vs. Orton & Orton vs. Shane, it's never really gotten personal. They're also issues that have been settled years ago. It should be a fun match, we'll see who all interferes, and I think we may see a sign of who Cena will be working with at WrestleMania. I think we either have everybody in the world interfere, or nobody does to make it a shocking swerve.
WINNER: Team Smackdown
Jake St-Pierre: As illogical, ridiculous, and downright stupid as a lot of the buildup to this match has been, it's all had a certain charm to it. It sort of feels like an angle Vince Russo would book, but in a way where you don't want to punch him in the face afterwards like I usually do. Anything Braun Strowman is attached to these days tends to be good by association anyways, right? But in all seriousness, I think I'd call myself excited to see the match. There's starpower all over the place, for one. There are several different interactions I'm interested to see, like Braun Strowman and Nakamura, Triple H and Nakamura, and Kurt Angle and… well, Nakamura. Plus, seeing Triple H tie up with his mini-me Bobby Roode is going to be a fun ride too. I don't mean that ironically either. I'd be a little more excited for Kurt Angle if his second match back wasn't directly tied in with Stephanie McMahon, but it's not like I'm not used to her detracting from a wrestling product. This match should at least be handled with care and have a lot of intriguing twists and turns, complemented by some solid wrestling by the match's workhorses. We could definitely see some feuds being started, and I'm definitely interested in seeing if Samoa Joe and Finn Balor go anywhere after this as I've greatly enjoyed the old-school nature of their involvement. So despite some of the classic WWE idiocy involved with this match, there's also tons and tons to look forward to. I'm rooting for Team RAW to pick up the duke here, only because I'm a couple more Stephanie McMahon browbeatings away from cutting the cord. And really, it makes booking sense for them to win anyway.
WINNER: TEAM RAW
JUSTIN WATRY: What a stacked lineup. You can hate WWE story lines. You can love them. Seriously, just stop and look at the names involved here. The live crowd in Houston is going to be jacked up. It is mind boggling to me that some of these stars are in the same bout this weekend. Randy Orton as the young gun on his team is just hilarious. Shane McMahon in the ring again with Kurt Angle? Shinsuke Nakamura and Bobby Roode in such a big spot? John Cena coming back for the blue brand will be opposite Angle and Triple H? Much less, Finn Balor, Samoa Joe, and Braun Strowman? Incredible stuff. My guess is something goes down with the Jason Jordan thing, and then HHH has to 'save the day' for Raw. That can then lead to the Kurt Angle in ring comeback tour up to and concluding at WWE WrestleMania 34 in New Orleans against Triple H.
WINNER: RAW
Kevin Pantoja: Last year's Raw vs. Smackdown match was all kinds of awesome. This one probably won't be as good, but I'd be happy to be wrong. Team Cena vs. Team Authority back in 2014 had no right to be as good as it turned out to be, and this looks much better than that on paper. Shane is gonna try to kill himself, as always, while Triple H and Kurt Angle will put on their best efforts. Orton is usually at his best in Survivor Series matches, while guys like Cena, Finn, Joe and Braun are going to give us fun combinations. I'm thinking Raw wins because of Kevin Owens and Sami Zayn. With them not being booked, but being in a key storyline, I'm gonna say they interfere to cost Smackdown the match. Their selfishness will most likely set up some kind of tag against Shane and someone at the next PPV. Part of me could see Angle and HHH costing themselves the match, but I think there will be a slower burn for the expected Mania match.
WINNER: Team Raw
Brandon Ewing: Adding Triple H to the match was a smart idea, in theory. Honestly, anyone was better than having Jason Jordan. Nothing against the guy but he's just not ready yet for that spot. Triple H is a still a draw, or better yet, an attraction. Both sides are solid and this is very tough to choose. I think this will be an incredible Survivor Series match that will start to plant some seeds for some feuds heading into the Road to WrestleMania starting in January. I'm going to go with Team Smackdown. RAW has too many egos that will flare and cost them the match in my view. Smackdown is more unified and has a lot to prove with this one victory.
WINNER: Shane McMahon, Randy Orton, Shinsuke Nakamura, Bobby Roode & John Cena
Ken Hill:
On the Screwjob's 20th anniversary,
plenty of Impact and Attitude to be had.
A reversal of history screws over Shane,
a different Angle leaves RAW looking bad.
WWE just can't help themselves around Survivor Series time, can they? In just this one match, you have the potential for two "screwjob"-type scenarios on either brand; on RAW's side, with Jordan being forcibly replaced by Triple H and Kurt doing little to nothing to stand up in support of his "son", there would be no surprise to see Jordan get involved and cause Triple H and possibly Kurt to be eliminated, leading to Jason's long-rumored heel turn. On the Smackdown side, you have Owens and Zayn as embittered members of the Smackdown roster whom lost out on opportunities to represent the blue brand due to dubious circumstances, in their mind, and both maintain a personal grudge with the Smackdown commish Shane McMahon. It wouldn't be out of place to see them get involved and attempt to cost Shane-O as a "reversal of fate" with two Canadians screwing a McMahon.
Considering how much these two scenarios have been built up and hinted at throughout the approach to Survivor Series, it all looks less and less like an "if" and more and more like a "when and in what order they go down." In my mind, I see these two situations going down early to midway through the match, leaving the remainder of the two teams to duke it out. If there's anyone who stands to gain from a victory here, it would be BRAUN. Big Show ran roughshod in his Survivor Series debut, so if you're looking to (re)establish Strowman as WWE's go-to wrestling monster, why not have Strowman do the same here?
WINNER: Team RAW (Strowman is the sole survivor)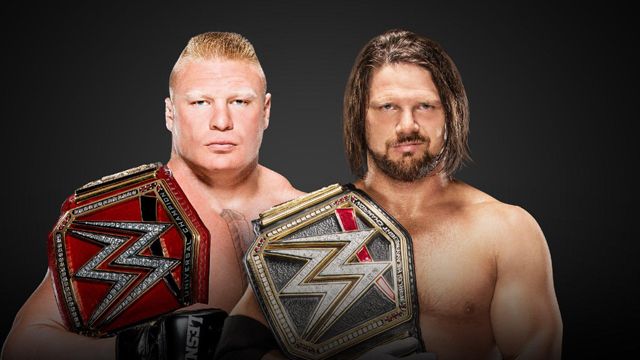 Brock Lesnar vs. AJ Styles
Ken Hill
:
We tired of make-believe Maharajas,
Jinder didn't budge the ratings needle.
Lacking merch, his promos made us lurch,
and proved a worse draw than JBL or Diesel.
Now a Phenomenal change has occurred,
Styles reigns again and faces the Beast.
A dream match in IWGP or wrestling at large,
but Brock's still a no-doubter, to say the least.
WINNER: Brock Lesnar
Mitch Nickelson : This seems pretty straightforward. Brock is the baddest dude in WWE and AJ Styles can make both of them look great even if he loses. I figure that Jinder Mahal will be feuding with AJ post Survivor Series, so he and the Singh brothers will cost Styles the match. I can only hope that he doesn't recapture the WWE Title when they finally fight again with it on the line. This will probably not be an off the charts match but it should at least be better than AJ vs. Jinder, which isn't a knock on AJ vs. Jinder. That was a good match but Styles has had a million that were better.
WINNER: Brock Lesnar
Jake St-Pierre: WWE made its best decision all year by putting AJ Styles in this match, and it really turned this from a "meh" card to one of the most exciting events of the year. Jinder Mahal tanked Smackdown's product when he got the belt and never actually improved, and it was going to be a tall order for Brock to actually get something out of him. This way, we not only get a SIGNIFICANT upgrade in name value, but we get a totally fresh match in both name and style for a somewhat stagnant Brock Lesnar. He's been largely wrestling guys up and around his size for the past two or three years and while a majority of those matches have been great, it's going to be nice to see him break from the mold a bit. I am slightly concerned given the nature of Brock's 2017 output (sub-10 minute matches, rather simple layouts) but for some reason, I don't quite see this match folding out like that. It'll be a different psychology, making for a different style of match. Brock Lesnar isn't going to wrestle AJ Styles like he would Samoa Joe, for instance. So despite the cynic in me (kind of a recurring gag, isn't it?) faintly having reservations, the other 99% of me is incredibly excited to see this match. It has some hefty competition for Match of the Night, but if both men come out of the gates at their best, I think this will top the pile. It is a bit difficult to believe that AJ Styles is going to be the one to dethrone Brock, so either Brock gets the win with an F5 or Jinder Mahal fucks AJ out of it by interfering. I'll let that fester in your mind while you read the other blurbs.
WINNER: BROCK LESNAR
Kevin Pantoja: Putting the title on AJ Styles was one of the best moves WWE did all year. Even if AJ had a lackluster summer, he's still the best the company has. I'd love if AJ Styles were to win this match. But it's Brock Lesnar and Aj's name is not Roman Reigns. Nobody's beating Brock until Reigns eventually does it. So, I'm going into this hoping for AJ to get the best out of Brock. I enjoyed Brock/Joe, though it could've been better. Even if Brock is bringing minimal effort to this match, Styles is good enough to get greatness out of him. That's what I'm expecting.
WINNER: Brock Lesnar
Justin Watry: No doubts here. I picked Brock Lesnar in April. I picked in July. I picked Brock Lesnar in August. I picked Brock Lesnar in September, and I am picking Brock Lesnar in November. For all the people whining and crying about him leaving television for the rest of 2017 after Summerslam…sure are quiet suddenly. The Beast has actually appeared MORE than ideal for a special attraction WWE Universal Champion, and he is more than deserving of another contract. Will that happen? Time will tell. He doesn't care about the brand battles, but Brock wins it for Raw here. On the flip side, AJ Styles is popular and great inside the squared circle. He can lose and not skip a beat. All it will take is one episode of Smackdown LIVE beating up Jinder Mahal, and the fans will forget Survivor Series. No problem. Personally, I hope there is no outside interference as this could legitimately be called a dream match. Best to keep it clean. My gut says Jinder costs AJ the bout unfortunately. Please just let these two slug it out for 10 minutes and end after an F-5 reversed from an AJ flying forearm. No reason for any funny business.
WINNER: Brock Lesnar
Brandon Ewing: This is going to be a tough one to pick. I think at the end of the day, unfortunately for AJ Styles, you gotta have Brock Lesnar looking as strong as possible between now and WrestleMania. AJ Styles has busted his a$$ and proved why he deserves to be the WWE Champion. I think Brock Lesnar will dominate most of the match. AJ will put together a solid comeback. Ultimately, Lesnar would get the upper hand and capitalize on a key mistake by AJ to turn the match around and finish AJ Styles off to get the victory.
WINNER: Brock Lesnar
Steve Cook: I'd like to come up with a scenario where AJ gets the win, but it's just not feasible in my mind. Brock is too big, too strong, and they're saving his loss for the biggest possible moment. Theoretically that would be a match like this one, but I don't think that's what the WWE brass has in mind. Styles will get a strong showing, but at the end of the day his job is doing his best to have Brock's best match since 2004.
WINNER: Brock Lesnar
Jake Chambers: AJ Styles is about to put his mythical "best wrestler in the world" reputation on the line. Kind of easy to look good when you're in there with John Cena and Roman Reigns, but Styles sure ain't done much of note in 2017 against Kevin Owens and Baron Corbin. Even his Balor match was meh – hell, there were better matches in the UK Title tournament than that one. So how's he gonna pull a decent match out of a massive, lazy-ass, who defeated multiple super-heavyweights this year in less than 10 minutes each, with only one F5? AJ Styles has sure been serving up a lot of glasses of mind-altering Kool Aid to his online followers the past couple years, but he better have a whole fucking jug ready for when steps in the ring with 2017 Brock Lesnar.
WINNER: Brock Lesnar
JOIN 411 TODAY AT 5 PM ET FOR OUR LIVE WWE SURVIVOR SERIES COVERAGE