411's WWE WrestleMania 33 Preview (Part II)
April 2, 2017 | Posted by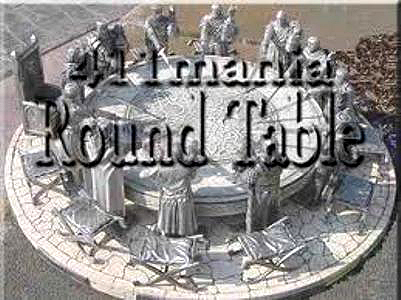 ~THE STAFF~
* Writer of the Magnificent Seven, Mr.
Mike Chin
.
* 411 reviewer, Mr.
Kevin Pantoja
.
* 411 contributor, Mr.
Ken Hill
.
* Ask 411 guru, Mr.
Mathew Sforcina
.
* 411 contributor, Mr.
Mike Hammerlock
.
* 411 contributor, Mr.
Andrew Hughes
.
* The Nostradamus of wrestling writers, Mr.
Justin Watry
.
* 411 contributor, Mr.
Jake Chambers
.
* 411 contributor, Mr.
Mitch Nickelson
.
* 411 contributor, Mr.
Michael Weyer
.
---
Be sure to check out PART ONE of our preview if you haven't already.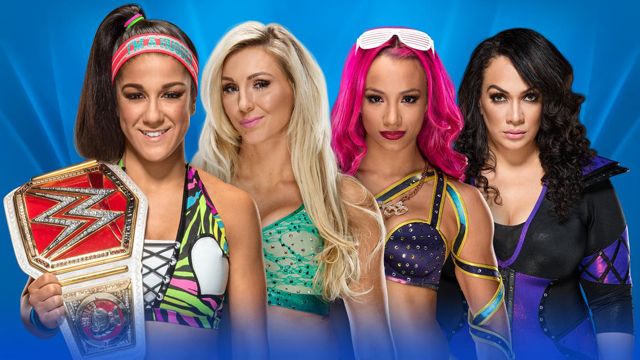 Raw Women's Championship Elimination Match: Champion Bayley vs. Sasha Banks vs. Charlotte Flair vs. Nia Jax
Mike Chin
: Since this match was rumored, I've had a theory that it's a women's re-imagining of the WrestleMania 2000 main event, with Nia Jax cast in The Big Show's monster role; Bayley as teddy-bear Mick Foley; Sasha Banks as the charismatic crowd favorite a la The Rock; and Charlotte Flair as the heel, who may not be walking in the champ like Triple H did, but is nonetheless the preeminent face of her division. While my heart wants to pick Banks to win, as either a crowning moment for her face act, or perhaps better yet as her official heel turn, I have a feeling WWE is leaving this match earmarked for Flair to give her another big moment and to add another title reign to her resume.
WINNER: Charlotte Flair
Kevin Pantoja: A year or two ago, if someone told me I wouldn't give a shit about a WrestleMania match involving Sasha Banks and Bayley, I would've thought you were on drugs. Leave it to Raw though to completely fumble this. Babyface Sasha Banks has been a mistake and Charlotte has been totally boring but Bayley is the real issue. Her story is so easy to tell but instead of doing it, they gave her a title win on Raw (which we'd seen with Sasha already) and then spent the next few weeks having her lose and get called a paper champion. The right thing to do would be to have her win and solidify that she's not a paper champion. Nia winning would be okay with me. However, even though she lost last month and it doesn't make sense for her to win, I don't bet against Charlotte. I expect more painfully awful stuff from her.
WINNER: Charlotte
Ken Hill: Well, Bayley won the tag match this past Monday so she's not winning. Jax laid out everyone following said match, so she will likely be ganged up on to be the first eliminated, and Charlotte's words will ultimately foreshadow Sasha's long-awaited heel turn to cost Bayley the title, either to Sasha herself or Charlotte for a 5th title reign, setting up a post-Mania feud between Sasha and Bayley any way you look at it.
WINNER: Sasha Banks
Mathew Sforcina: What the hell happened to Bayley?
I've been thinking that practically daily.
The WWE Machine,
Took a wonderful queen
And made her a jerk, just bright gaily.
I get why Flair had to lose,
To try and make it hard to choose,
"The outcome's in doubt,
I can't figure it out,"
That's what they want for my views.
But by creating some doubt,
They've basically laid the match out.
Nia's out weirdly,
Sasha's next, clearly,
And we're left with a big runabout.
WINNER, and NEW Raw Women's Champion: Charlotte Flair (Count-Out beatdown, Bayley-To-Belly, Figure 8)
Mike Hammerlock: I'm fine as long as Nia Jax doesn't win this. I suppose in this match the others can bounce off of her and use her like a jungle gym. Sad thing is she probably keeps this from topping last year's Charlotte-Sasha-Becky match as the best women's tilt in WrestleMania history. Charlotte doesn't have her PPV win streak anymore, which is a bit of a shame. It would make losing here feel bigger, and it's a little less prestigious if she wins on Sunday. The Internet assumption is Sasha turns on Bailey to win the belt. That seems viable. They could really shock us with Bailey turning on Sasha. SWERVE! I'll guess that doesn't happen, largely because this whole event feels like the culmination of a long march to various inevitable conclusions.
WINNER: Sasha Banks
Andrew Hughes: The build-up to this match has made Bayley look like an absolute fool of a champion and Charlotte constantly referring to her as a "paper champion" has badly hurt her credibility. The story has too many moving parts, with Dana Brooke's face turn coming seemingly out of nowhere and Bayley's initial title win being completely under whelming. There has been a nice tease for a Sasha Banks heel turn and I think we will see it happen after this match. In terms of the elimination order, I think its fairly obvious Nia Jax will be eliminated fairly quickly. Jax is still very green and might not be ready for an extended WrestleMania match. The other three will likely ground the powerhouse and get her out of the way. As for who is eliminated next, it could be a toss-up between Banks and Charlotte. Either way, the final two will have plenty of time to work and ultimately Bayley will prevail. Every woman beating her in the lead-up to the match will lead to an emotional victory for everyone's favorite hugger.
WINNER: Bayley
JUSTIN WATRY: What a mess. I have not been a fan of this rumored fatal four way since the beginning doesn't help that the Mania program lists it still as a triple threat bout. Not like that would have been much better. Here is how I see it all shaking out. Nia Jax is eliminated first. Then Charlotte, Sasha Banks, and Bayley have a full blow triple threat match with lots of time. The finish is Banks and Bayley teaming up to defeat Charlotte, and then immediately after the pin fall, Sasha rolls up Bayley using the tights. Fans boo, heel turn is complete, and Banks/Bayley begin a story line. Sounds good to me.
WINNER: Sasha Banks
Jake Chambers: How does Nia Jax not win every match she's in? I mean, she's huge… is that, like, not okay to say? And I'm not trying to fat shame anyone here, I'm just saying, she's gotta be like at least twice the weight of Sasha or Bayley, who already look like they need to hold onto a railing when it's windy. What kind of suspension of disbelief are we talking about here, Nia Jax would destroy these three in any realistic scenario. She needs a one-year Yokozuna-like title reign to just legitimize that fact that she's even in this "division".
WINNER: Nia Jax
Mitch Nickelson: I feel like Bayley or Charlotte are the best options here. There's no longer a PPV streak to factor in but I still think Charlotte is the favorite. She's the best performer out of this group and is the best wrestler to carry this title into the post-WrestleMania season.
WINNER: Charlotte
Michael Weyer: I love Bayley but her reign has been a letdown. It's partly the booking and also how the focus is still on Charlotte and Sasha which is a shame as Bayley is damn great in the ring. Jax shouldn't be part of this as just those three should be enough to put on a total classic battle. It'll be a top one to be sure, plenty of action and tempting to say Sasha turns heel to win. But I see it instead she pins Bayley and then gets beaten by Charlotte as she reigns once more as champion. With enough time, it can be good but tricky how it works out.
WINNER and NEW RAW Women's Champion: Charlotte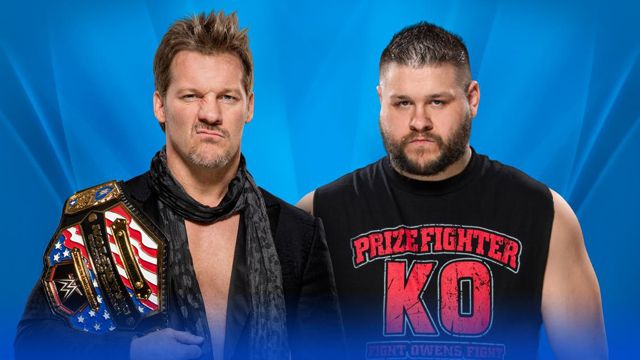 WWE United States Championship Match: Champion Chris Jericho vs. Kevin Owens
Mike Chin
: This match really ought to be for the Universal Championship, and with the Universal Championship on the line, I'd even vote for it to be the main event. After all, this story has truly been built over the better part of a year, it features two of the best workers in the business, and featured one of the hottest Raw segments all year in the Festival of Friendship. With the US Championship on the line, and without the spotlight of the main event, I see no reason not to have Kevin Owens go over here to shore up his upper card spot, especially with the likelihood of Jericho leaving to tour with his band in the months ahead.
WINNER: Kevin Owens
Kevin Pantoja: Similar to the IC Title match, I'm happy we're getting a legitimate match for this title. Not just that, but it has actual build and should be the culmination of a long story. That's all I ask for going into Mania. Chris Jericho's odd at Mania because, for as great as he is, he's mostly had good but not great (except HBK at WM XIX) matches there. The ones with Christian, Triple H, AJ Styles, etc. all cap out at good to me. He loves Kevin Owens though, so I think he'll bring his A game. Owens should win this one.
WINNER: Kevin Owens
Ken Hill: Much like HHH-Flair in 2005 when Ric was IC Champion, Jericho's US Title at times feels like little more than a backdrop to the personal rivalry cultivated between himself and Owens; Owens of course wants it, but only as a means of getting revenge for Jericho's revenge. They could just as easily not have the title involved, and it would still be one the matches on the card that I look forward too. I expect Owens to up that revenge ante by taking the US Title, possibly through some Samoa Joe-ference.
WINNER: Kevin Owens
Mathew Sforcina: Now this one had better be good,
I hope that that's understood.
We're relying on these guys,
The show lives or dies,
On this match, or at least it should.
Love that has turned into hate,
A tale from Shakespeare, straight.
They're both in great form,
The barn they will storm,
So yeah, this will be first-rate.
Although we all think we know,
The way that this match will go,
I think Y2J,
Might last one more day,
And lose to someone next show.
WINNER, and STILL United States Champion: Chris Jericho (Codebreaker out of Pop Up Powerbomb)
Mike Hammerlock: It's the most professionally built and executed feud on this card. Chris Jericho is kind of genius. The entire arc he's been on with Owens and the List is an example of old school feuding at its best. Owens is a fantastic asshole. He's a perfect foil for turning Jericho back to the face side of the street. Hopefully they book this as a brutal, personal battle that steals the show. It has that potential. As the wronged party, Jericho should get the win. Justice demands it. Could wind up being his signature Mania moment.
WINNER: Chris Jericho
Andrew Hughes: This has been by far the best-built feud on the card and is a serious candidate to be the match of the night. The friendship between Kevin Owens and Chris Jericho dominated Raw for the better part of the last six months and was consistently the most entertaining parts of the show. Chris Jericho has had one of the best years of his career since being drafted to Raw, getting the crowd to eat up any catchphrase he came up with. Unfortunately, his constant interference led to Kevin Owens coming off as a weak champion who needed help to retain the belt. After the best friends broke up, Jericho cost KO the title which I feel was the best way to transition the belt to Goldberg. Kevin Owens will get his revenge and claim the United States Championship but more importantly, these two will put on an absolute classic.
WINNER: Kevin Owens
Justin Watry: Just like the IC Title match, this one is pretty straightforward. Owens is the younger/fresher heel, and Jericho is the veteran titleholder. Since the breakup, I have loved the feud. Before that, not so much. I'm glad it is getting a finale at WrestleMania. Worthy of its spot on the card for sure. Long-term story telling needs to have the right outcome. Hopefully, Jericho learned from WM32 and knows what is best for business this time around.
WINNER: Kevin Owens
Jake Chambers: No way Chris Jericho loses this match, because the cerebral Kevin Owens has one fatal flaw in his arsenal of chess moves and strategic defenses: surprising music! Despite knowing that Jericho was going to interfere in his WWE Universal Title match against Goldberg at Fastlane, as soon that "Break the Walls Down" came on (at the most obvious time too), Owens couldn't help but turn around (basically happened to him on RAW this week too). The dude is easily distracted. So if Jericho's smart, he'll just have the sound guy hit some music about 10 minutes into this one (you know, like that same way everyone is somehow able to cue their music and entrance video when they've making a surprise attack), and Owens will have to turn around. Easy roll-up, done.
WINNER: Chris Jericho
Mitch Nickelson: I'm pretty torn on this one because it seems the most logical that Chris Jericho, who's rumored to be a taking a WWE absence soon after WrestleMania, should lose to Kevin Owens. However, Chris Jericho is hard to predict in these types of matchups. He has a tendency to win when it doesn't make a ton of sense, like last year against A.J. Styles. Still, this is one of the better-built stories that's had many months of build so I expect a good payoff regardless of who gets the victory.
WINNER: Kevin Owens
Michael Weyer: This SHOULD be for the Universal title but of course, WWE had to ruin that. Still, expect possible match of the show here as these two had brilliant chemistry as partners so looking forward to them as enemies. It'll be fantastic to watch, great battles, high spots, huge brawling and more. It's really tough to pick a winner here but clearly, Jericho has the most to gain with a win although Owens with the belt would be logical too. I'll flip a coin and pick Owens but either way, we're all winners with this.
WINNER and NEW US Champion: Kevin Owens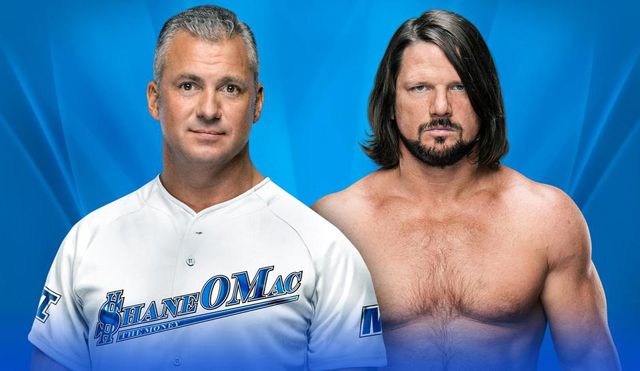 Shane McMahon vs. AJ Styles
Mike Chin
: I'm very much in the camp that wishes AJ Styles were either in the WWE Championship mix or booked opposite a better in-ring talent to tear the house down at 'Mania. Things are what they are, though, and Shane-O-Mac does at least attract attention. If there's any justice at all in the WWE Universe, Styles wins this match and wins it decisively. Hopefully Shane delivers a fun high spot or two to justify his placement in the match, and hopefully WWE intends to get Styles back in the title picture by summer.
WINNER: AJ Styles
Kevin Pantoja: Like many others, I wanted something more for AJ Styles. Personally, I'd have saved Styles/Cena III for WrestleMania. My main concern is that Shane McMahon is at his best when he's working a crazy match and does a big spot. With this being a traditional match, I can't see Shane getting to shine. One thing helps him. He'll be in there with the best wrestler in the world. If anyone can help Shane McMahon to a good traditional contest, it's AJ Styles. Also, he needs to win.
WINNER: AJ Styles
Ken Hill: Another match we were all dreading at one point or another; the funny thing about this match is that it's not even a true yin-yang flip-flop from Vince's Mania feuds with the likes of Hogan, HBK and Bret. Shane, through good intentions or not, did keep Styles from main eventing WM 33 and Styles is rightfully upset, but going to disproportionate means to express his anger. They've done an effective job at making Styles justifiably upset over losing out on a Mania event, but still showing very heel tendencies in getting to the Smackdown commissioner through his brutal assaults, both physically and verbally, pointing out that Shane does not have a very good track record against high-profile opponents, even when "pushing them to another level." That all being said, the result SHOULD be the same as any McMahon-Mania encounter: The wrestler wins. Styles reminded everyone that he is indeed still owed a one-on-one WWE Title opportunity, so there should be no reason he doesn't keep the momentum going into his eventual rematch.
WINNER: AJ Styles
Mathew Sforcina: This will turn to a street fight,
I hope I do have that right.
Coz Shane throwing bones,
Instead of microphones,
Keeps me awake all damn night.
AJ can pull out four stars,
From anyone from here to red Mars.
I wish he'd done better
Than SD's match setter,
To run broomstick seminars.
As for who gets the hand up,
To pay off this OK buildup,
Shane will be drubbed,
Or should I say Clubbed,
And the draft gets a gimme layup.
WINNER: AJ Styles (Magic Killer through a table into a Spiral Tap)
Mike Hammerlock: AJ is truly excellent and Shane surely will do some stupid spots, but this ranks up there with last year's Shane vs. Undertaker clash on the list of "Matches I Never Wanted to See." AJ better win and I'm not paying money to watch 47-year-old Shane McMahon wrestle. Like, I just can't make myself care about this. It's a nothing match with no stakes. Worst of all, it's part of an epidemic of part-time wrestlers in the prime slots on this card.
WINNER: AJ Styles
Andrew Hughes: If this match is anything but an extended squash match where AJ Styles beats the ever living hell out of Shane McMahon the WWE runs the risk of weakening AJ Styles, and by proxy, the rest of the Smackdown roster. Its one thing for Shane McMahon to mount a flurry of offense against the Undertaker, who appears once a year and is over 50 years old. But if Shane is able to take it to the man that has carried the Smackdown Live roster for the past 8 months then what does that say about the rest of the roster? Dean Ambrose couldn't get one over on AJ and John Cena was only recently able to defeat the Phenomenal One. Styles needs to win and do so convincingly.
WINNER: AJ Styles
@JustinWatry: Okay, so AJ Styles vs. Shane McMahon is a normal match? No hardcore rules? No roller coaster on a pole match? No stage diving falls anywhere? Alrighty then. I DID have this as my prediction to steal the show but only under the assumption it would be a brawl. If it stays inside the squared circle, um, good luck fellas! If not for the Universal Title Match, I'd say this would probably be the shortest match of the evening. Styles wins easily and re-enters the WWE Title picture after Mania. Don't get all antsy folks; this is just a pit stop for much bigger things. I do find it funny that SOME fans were just loving the James Ellsworth garbage months ago but are now upset AJ Styles is being 'wasted' here. Please, do tell me more…
WINNER: AJ Styles
Jake Chambers: Someone explain to me again how Shane lost that match to the Undertaker last year, a loss that was supposed to force him out of the WWE forever, and yet is here one year later, "Commissioner" of an entire brand and set to fight one of the most popular and best wrestlers of his generation? And poised to win too! Because, yeah, TNA's AJ Styles is really about to defeat the son of Vince McMahon at a WrestleMania… lol!
WINNER: Shane McMahon
Mitch Nickelson: When this matchup first made the rounds among the rumor mills it was scoffed at. Why would WWE waste their best performer of the past year? Sure, there are some better matchups but I personally have never been super down on this one. Styles can have a great match with anybody, so that's a huge plus. Shane McMahon is a crazy coot who does big things on big stages like this, so that's another plus. I think these two have big ideas planned and will give us a memorable match.
WINNER: A.J. Styles
Michael Weyer: I love AJ Styles, have for years. I loved how he had the belt and hoped he would keep it on until Mania and was annoyed he didn't. Him and Shane has been set up okay but just not sold on it. I'm sure Shane gets his usual crazy spots and sure Styles will match with his own high-flying and skills. I can see AJ getting the win as Shane can actually give guys the rub but wish it was a much better showcase for the Phenomenal One to get his Mania moment.
WINNER: AJ Styles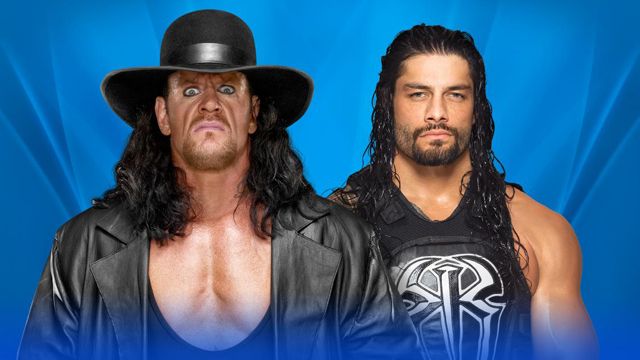 Undertaker vs. Roman Reigns
Mike Chin
: For the record, I disagree with Brock Lesnar having ended The Undertaker's undefeated streak at WrestleMania. Despite how effective it was in kick starting Lesnar's super-monster push, and despite enjoying the follow up feud between the two in summer 2015, I would have been content to see The Streak retire with The Dead Man. The positive side of The Streak being no more is that, it did reintroduce doubt. From WrestleMania 22 to WrestleMania 30, I didn't
really
think there was any chance of The Phenom losing at WrestleMania. But at WrestleMania 31,
might
he have put over budding top mystical heel Bray Wyatt? It wasn't ridiculous to think so. And coming off of Shane McMahon's electric return to WWE,
could
he get the best of The Undertaker to seize an on-air authority role? Call me a sucker, but I really thought he might. So now we have Roman Reigns challenging The Dead Man, and if I were to liken it to any other Undertaker match at 'Mania it would Randy Orton hunting the Streak in 2005. Like Orton was, Reigns is already a main event player with a less than celebrated run on top to his name. Like Orton was, Reigns is a presumptive main event mainstay for the next decade. And like what happened with Orton, the confidence and guile with which Reigns has approached The Undertaker is giving him the platform for some of the most compelling character work of his career. If this is The Undertaker's last match, I think he'd want to go out on his back, and there are few better ways of wrapping up than putting over Reigns huge.
However
, I suspect we're still not seeing the last of The Dead Man, and we are still going to see one of those rumored bouts against John Cena or Braun Strowman in the years head. As such, I see WWE keeping The Undertaker as
the man
at WrestleMania, not to mention reserving Lesnar's reputation as The Conqueror–the only guy to ever beat The Phenom at the biggest show of the year.
WINNER: The Undertaker
Kevin Pantoja: I've been kind of over the Undertaker for a while. Especially once the streak ended. This match doesn't intrigue me at all. I don't know what their plan is. If they want Undertaker to pass the torch, they better be ready for Reigns to celebrate to a ton of heat. I'd have Undertaker win, since Reigns won't be hurt by it and if they want to turn him heel or something, have him kick Undertaker in the dick or something. Either way, like Charlotte, I never bet against the Big Dog.
WINNER: Big Dog Gotta Eat
Ken Hill: The booking on this one's been so-so; people have done far worse to earn Taker's ire than simply eliminating him from the Rumble and claiming that it's their yard now. It feels less like "Old Man Logan facing off with a younger, stronger and faster clone" and more like "Old Man Taker telling that punk kid Roman to get out of his gawd-dang yard, boy." This one isn't so hard to call in the sense of who will win, but rather how WWE goes about it. By Trips' logic, stemming from his recent article about Roman "already being heel" in our eyes, simply having Reigns go over Taker would be enough to garner true heat from the fans, yet realistically it will only make the fans hate him more. Admittedly, Reigns' past couple promos have had shades of a heel's cockiness and assuredness, so there may be a smidgen of truth to the Game's words, but what will the endgame be for Reigns if Taker doesn't "get him over" like Daddy Vince intends to?
WINNER: Roman Reigns
Mathew Sforcina: There once was a man they call Reigns,
The WWE took great pains,
To try to get him over,
Over and over,
Over and over and over and over and over and over and over and over and over and over and over and over and over and over and over and over and over and over and over and over and over and over and over and over and over and over and over and over and over and over and over and over and over and over and over and over and over and over and over and over and over and over and over and over and over and over and over and over and over and over and over and over and over and over and over and over and over and over and over and over and over and over and over and over and over and over and over and over and over and over and over and over and over and over and over and over and over and over and over and over and over and over and over and over and over and over and over and over and over and over and over and over and over and over and over and over and over and over and over and over and over and over and over and over and over and over and over and over and over and over and over and over and over and over and over and over and over and over and over and over and over and
(Editor's Note: Skipping ahead a few dozen pages…)
over and over and…
Oh, sorry, let me try that again.
There once was a guy they call Roman,
Who was a mediocre showman.
But by golly, with some work,
Not helped by that smirk,
He got to be the one chosen.
Taker is not doing well,
I think that's what we all tell.
As a man of the company,
He gets to accompany,
Us all, as we all go to hell.
The result won't be what we yearn,
WWE just refuses to learn.
He'll go over strong,
But don't get me wrong,
This WILL be a Roman heel turn.
WINNER: Roman Reigns (Superman Punch X4)
Mike Hammerlock: This might feel like it matters if only the Streak were still intact. It's not and I'm not sure Roman Reigns gets any kind of rub from a win here. The only real reason to do this match is to have Reigns pull an official heel turn. The stadium is going to bury him from his entrance, through the whole match, and then double hard when he wins. It's going to go over as the least popular thing ever done by the least popular guy ever. Sadly, I have no faith the WWE will leverage that. Instead, I expect it's going to be another "whatever" win for Reigns' inexplicably stagnant character.
WINNER: Roman Reigns
Andrew Hughes: The crowd reaction to this match will not be matched by any other on the card. The Orlando crowd will mercilessly boo Roman Reigns and ecstatically cheer the Undertaker and will be clinging to every move the two execute on each other. Many, including Randy Orton, have said this match should go on last and if this is Undertaker's last match I would have to agree. Either way this is the perfect opportunity for the Undertaker to pass the torch to Roman Reigns, thus making the WWE ring HIS yard. I believe Undertaker will go out on his sword and eat the pin to Reigns.
Winner: Roman Reigns
JUSTIN WATRY: My argument for weeks now has been that Roman Reigns vs. The Undertaker is the true main event. Nice that Randy Orton agrees. Pretty amazing when the guy who won the Royal Rumble and is challenging for the WWE Championship is saying a different match should go on last. As shocking as it may read on paper, he is right. Reigns vs. Taker has the makings of a classic. Electric crowd reaction and a memorable finish as well. I wrote about this earlier in the week, but deep down, we all know what the ending needs to be. Heck, if any of us were 'fantasy booking' are own company, guess what? It'd be the same thing. Roman Reigns defeats The Undertaker. Believe THAT!
WINNER: Roman Reigns
Jake Chambers: Just when you thought there couldn't be enough thrown together dumb matches that no one wants to see on this card, here comes that old man from the Metallica "Unforgiven" video against that great wrestler everyone irrationally hates. They couldn't just let Undertaker chokeslam like The Great Khali into a casket for one last WrestleMania moment? They really need to try and prop him up in there against a young, athletic opponent? Forget the betting odds, what's the over/under on rest hold time for this one? Ugh.
WINNER: Roman Reigns
Mitch Nickelson: This is the hardest match for me to call on this card. I know there are reports that this could be Taker's last match (like every year) as well as Reigns already being pegged for next year's Mania main event. Let's face it, this is still The Undertaker we're talking about. It's always foolish to bet against him at WrestleMania, so I'm very uneasy in going in the other direction. Roman needs this win to launch a mega heel run. WWE won't give us the much needed heel tweak but I do think the Mania win is happening.
WINNER: Roman Reigns
Michael Weyer: They're not that crazy, right? Surely WWE knows how a Taker win at Mania is important? That fans hated the Streak being broken? That this could be Taker's final match and he has to win? That the pops have been totally for Taker in the build? That the fans HATE Roman and the mega-push? That Roman winning would incite a mass revolt and even walkout? They have to understand all that…right?
WINNER: The Undertaker. Right?
Non-Sanctioned Match: Triple H vs. Seth Rollins
Mike Chin
: Look, I get that a heel winning a super high-profile match can build heat and make it mean even more when he finally does get his comeuppance. I can understand, though I still don't agree with, Triple H retaining the title at WrestleMania 2000, and his subsequent 'Mania wins over Booker T and over Sting. To me, Seth Rollins rates behind only AJ Styles and Sami Zayn (and, OK, maybe Samoa Joe) for best in-ring worker in WWE today, and has the charisma to lead the pack. In this still-early stage of his career, and just coming back from injury, he has absolutely no business jobbing to Triple H. Oh, and speaking of Samoa Joe, here's hoping he gets a run-in–and, better yet, a run-in that's counteracted by Finn Balor. I'll cut myself off here, before I kick my fantasy (over-)booking into hyper-drive.
WINNER: Seth Rollins
Kevin Pantoja: This had potential to be the best built match on the show but Seth Rollins' injury hurt things. Also, having it drawn out since August with little to no traction and Triple H never explaining why he gave up on Seth (who had only lost to Dean Ambrose and Finn Balor up to that point) means it doesn't have the juice it should. If Seth is healthy, the non-sanctioned aspect could make this the best match on the card. It's Triple H, who seems to go over on odd number Manias when he shouldn't (see Sting at 31, Lesnar at 29, Orton at 25, Booker at 19), so he could win but I believe Seth takes it.
WINNER: Seth Rollins
Ken Hill: The build-up here has been solid. It started out feeling like a rags to riches story in Rollins, a humble child turned into snobby brat, then suddenly being ousted from Daddy H's fortune, and slowly transitioned into a story where said brat realized the error of his ways as a rich kid and is now looking to redeem himself in the eyes of those he left for fame and fortune, and himself. The notion of redemption, I feel, is a much better fit for Rollins rather than straight-up revenge. That being said, the promo work from Trips and Rollins has been solid, and the "non-sanctioned" stipulation should give this match the smoke and mirrors it needs to cover up Rollins' leg injury. All in all, it should be a great match if pulled off right. Much like Styles v. Shane, the only proper payoff here is Rollins pulling off the win, and more than likely will get the "SummerSlam '02" treatment from Trips afterwards to have him sit out for the rest of his rest and rehab time.
WINNER: Seth FREAKIN' Rollins
Mathew Sforcina: This seems like a really bad joke,
Seth's chances of making it broke,
Every time he gets close,
There's a reality dose,
Now he needs mirrors and smoke.
I'm not sure just what we will get,
I wouldn't want to make a bet.
I think something taped,
The bare minimum scraped,
With tears, blood, and some sweat.
The match proper will be Summerslam,
Once they get out of this jam.
Something big but not ending,
Interference, depending,
If they think they can run that cheap scam.
WINNER: Triple H (K-Joe Interference)
Mike Hammerlock: Young guys beating old guys should be a bit of theme on this card. It works a little better here because HHH still can go and he's been ever-present on WWE programming in recent years. There's a three-year story behind him and Rollins. I also love the non-sanctioned stipulation. Hopefully we get shades of HHH vs. HBK at SummerSlam 2002. Rollins gets to storm back into WrestleMania with some gusto after missing last year's event. I've become a firm believer it's hard for a WWE full-timer to sustain momentum if he misses Mania. It puts you on the back burner. Rollins should be able to use this as a springboard to a big next year.
WINNER: Seth Rollins
Andrew Hughes: Seth Rollins' injury in February cast doubt on whether this match would end up happening. Luckily the injury wasn't serious enough to prevent Rollins from competing though one wonders exactly what condition Rollins is in after another leg injury. The Non-Sanctioned stipulation will probably mean plenty of weapon-usage as Rollins probably won't be flying around to prevent any further injury. The build to this match has been in the making ever since Triple H pedigreed Seth and handed the Universal title over to Kevin Owens last August. The Game has been tremendous on the microphone in the past few weeks and Rollins' character has matured with him seeing the error in his ways. I expect Samoa Joe to get involved at some point but I ultimately expect Rollins to pull off the victory to finally wrap up this story.
Winner: Seth Rollins
JUSTIN WATRY: WWE has been wanting to do this matchup for two years. Good on them for finally getting around to it. The last minute injury to Seth Rollins was unfortunate but may have been a blessing in disguise. He seems ready to go and actually may have gained MORE fan support than usual because of it. May work out well for him. Triple H is hardly even a part-timer anymore, so unless the company wants Samoa Joe to help him win or some other BS ending, I think we all agree Rollins should win. WWE can still do the Joe/Rollins thing, even without a cheap HHH victory. The Non-Sanctioned stipulation gives me hesitation that maybe this will be more of a ten-minute fight than a real bell-to-bell bout. We'll see.
WINNER: Seth Rollins
Jake Chambers: Why was that famous SummerSlam Street Fight between HHH and HBK "Unsanctioned", but this match is "Non-sanctioned"? Is anybody else asking these hard questions? Is this like the difference between a Kennel from Hell Match and a Dog Pound from Hell Match? Why would Seth Rollins sign that "Hold Harmless Agreement" anyways? He can't wait like 6 months to get his revenge when he's healthy? Seems to make little sense… but, oh, right, this is the WWE, stuff isn't supposed to make sense anymore. Got it. So, of course, the guy with the serious injury is gonna beat the really healthy guy then, right?
WINNER: Seth Rollins
Mitch Nickelson: I have high hopes for this one. Being a non-sanctioned match, this should be fun. Sledgehammers and fights throughout the arena will be the deal, as well as likely interference from the usual subjects. In the end, Seth winning is the right call and I don't see any other outcome.
WINNER: Seth Rollins
Michael Weyer: Another "oy" match for the show. It's not that they don't have great chemistry and sure this will become a fantastic brawl. But it just doesn't seem that important in the long run. Rollins does need to get back on top and this seems a good way to do it but HHH can be rough in the ring. Still, he brings his A-game to Mania so this could be a surprise and making it a total war can help it out. I'll give it to Rollins here and hopefully it means more down the line to give him more of a push later.
WINNER: Seth Rollins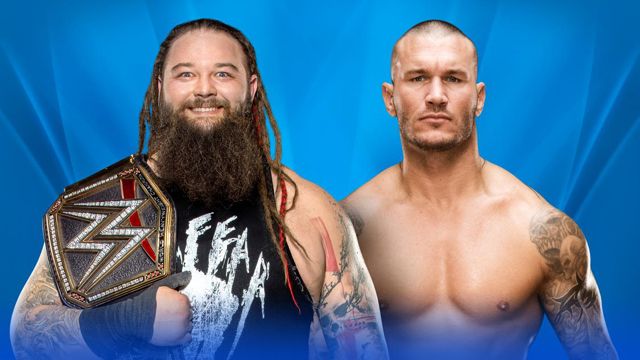 WWE Championship Match: Champion Bray Wyatt vs. Randy Orton
Mike Chin
: There are all sorts of interesting possibilities embedded in the DNA of this match. Luke Harper could help Wyatt retain. Or Wyatt could shock the world with a dominant performance and make this title run into a legit reign of terror moving forward. Or Harper could go super-duper-rogue, team up with Orton and facilitate a stunner of a double-turn as Wyatt makes good on the face turn critics have pondered for years, and Orton can return to his more natural assignment as a heel. Part of the fun of having two world championships in play is that it does free up WWE to do something experimental with one of its top titles. More realistically, though? Orton vanquishes the big bad and wins this match straight up.
WINNER: Randy Orton
Kevin Pantoja: I really wish they never went the "I was never truly in the Wyatt Family" route with Randy Orton. It was, hands down, the most interesting he's been in ages. They should've just had the WWE Title come between them. A torn Orton who wants to remain loyal but also wants the title would've made for excellent television. Anyway, Bray should retain and continue to be solidified now that he has the title. This is the WWE though. I see Orton winning and Bray falling back into his role of doing lots of nothing until stepping up to job to a bigger star.
WINNER: Randy Orton
Ken Hill: I like how at one point, AJ Styles pointed out the absurdity of Orton committing a televised act of arson by setting fire to Bray's homestead, and then suddenly laying claim to the #1 Contendership status he previously relinquished. Just goes to show even the tried and true "suspension of disbelief" can't account for EVERYTHING in wrestling today. Anyway, the storyline since then has gone pretty off-kilter, even by standards concerning the Wyatts. We've had Bray bathing in what was purportedly Sister Abigial's ashes, being emboldened with "her power", forcing a "blessing" on Randy, after which Orton once again desecrated her grave by ramming the scepter-looking marker into the ground where she once laid. That's a sentence I can hardly believe I just wrote, and I've been following WWE's highs and lows for 16 years. With all that said, since it's highly doubtful that this will be going on last (That honor most likely going to RAW's big title match), there's room for some outside shenanigans, with either a returning Erick Rowan getting involved for Bray, or Harper looking to reassert his independence from Bray, only to have it backfire and cost Randall, keeping Orton in the championship loop with a tainted loss and also getting Harper into the title mix as many are expecting him to post-Mania.
WINNER: Bray Wyatt
Mathew Sforcina: Well then there's this weirdo V jock,
A Viper who killed a pseudo-Flock.
If you want to pin blame,
For this match being lame,
You should go ahead and point towards Brock.
Randy got stitches and care,
(At least he didn't have much hair),
So he gets the belt,
To make up for the welt,
And thus we will all be quite square.
WINNER, and NEW WWE Champion: Randy Orton ("RKO Outta Nowhere! (R, C, TM)" counter to Sister Abigail)
Mike Hammerlock: I keep waiting for them to realize Bray is the face here, but to no avail. Instead, they seem to want people to cheer Orton one-upping Bray's madness. That doesn't seem to be working. It's outrageous, but I'm guessing a lot of fans are ambivalent about the outcome here. Maybe the dug up corpse of Sister Abigail will be re-animated, not that it would make the face-heel dynamic any clearer. Meanwhile, Bray hasn't defended his title since Valentine's Day (at least in a television match, because pictures or it doesn't count). It's like he gets into interesting situations and then they don't quite know what to do with him. In the end, I expect Orton to win his 13th title.
WINNER: Randy Orton
Andrew Hughes: Randy Orton joining the Wyatts was always a decoy (though I would have enjoyed an extended run with RKO as a member of the family) to lead to this match. Orton's Royal Rumble win was a bit unexpected but after he did the writing was on the wall for Bray Wyatt to become champion at the Elimination Chamber. The initial confusion as to who the number one contender would be did elevate Luke Harper to main event status but ultimately was also just a decoy for Orton turning on Wyatt. The story isn't exactly unpredictable in hindsight but that's not a bad thing. There was never a conclusive winner to this feud so WrestleMania may provide us with clarity as to who the better man is. I believe Bray Wyatt will use sorcery or Luke Harper and Erik Rowan will rejoin him but I just can't see Wyatt losing the belt this soon.
WINNER: Bray Wyatt
@JustinWatry: The current match on top of the WWE's official WrestleMania website. The bright side is Bray Wyatt may actually headline WM as WWE Champion. The down side? Bray Wyatt vs. Randy Orton may actually go on last. That didn't go so well last year and really doesn't feel like it would work here either. There are plenty of other options. The Rumble winner has gone on last in 2016, 2015, 2014, and 2013, so recent history is in Orton's favor. Right or wrong, I hope WWE reverts back to 2010, 2011, and 2012 and places it elsewhere. Coming out of the Elimination Chamber, my Mania pick was going to be Bray Wyatt. Now? Why bother? Randy Orton completes his plan to get to the gold and faces off versus AJ Styles next. Those two in a main event feud is exactly what Smackdown LIVE thrives on. Bray Wyatt can go back to his family and worrying about Sister Abigail.
WINNER: Randy Orton
Jake Chambers: You know, when Orton burned down Wyatt's shack I was surprisingly interested in this match. You could see it coming a mile away, but something about the execution was cool, I guess because it felt like a See No Evil sequel or something (yes, I think that's cool). And then Wyatt rubbed all those ashes on his body and face like a cannibal, and I thought, "Whoa, this it going somewhere, Wyatt is gonna be like a demon monster now." But I guess Finn Balor is the only blackface character WWE Standards and Practices was going to allow, because then this week on Smackdown, this supposedly newly powered Bray Wyatt came out for a match with Luke Harper, looked exactly the same, and proceeded to have his ass kicked by his former flunky. Momentum, this match has not.
WINNER: Randy Orton
Mitch Nickelson: I was really this digging this feud for a while but it's waned on my interest recently. I'm happy that Bray got this WWE Title run but it really is a couple of years past when it should've happened. He's been Dean Ambrose'd in that regard. Randy has the greater star power and since he's the challenging babyface, I'll give him the nod.
WINNER: Randy Orton
Michael Weyer: My dream is Bray has a dominant performance to crush Orton and set himself up as a true monster heel champion. Sadly, WWE has a way of ruining your dreams. It's also interesting to imagine Harper turning on Wyatt and letting Orton rule and Wyatt a face. But I'll go with conventional wisdom to say Orton gets the title. Which can be annoying as Bray is doing a great job and would have loved seeing him retain but that's how it works.
WINNER and NEW WWE Champion: Randy Orton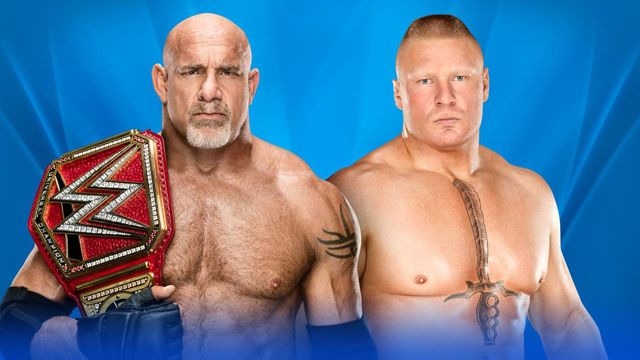 WWE Universal Championship Match: Champion Bill Goldberg vs. Brock Lesnar
Jake Chambers
: Why would somebody be so angry before watching a scripted wrestling match? I really need some serious introspection about either my own fragile emotions or why I continue on with this hobby I've pretty much devoted a lifetime of spare time to. I just can't grasp the logic for this match, how it's cool in any way, and why I would want to spend like 8 hours watching WrestleMania only to have it end with this. I just want to see something fun, some awesome wrestling – am I crazy? Why is this here? Goldberg is the "Universal" Champion – what? Suplex City, clap clap clapclapclap – huh? What am I doing with my life? Honestly? This can't be all there is? Why, I ask, why, why, why?
WINNER: NO ONE!
Mike Chin: While it's not the first time the idea was expressed, I remember listening to a podcast (I think it was with Michael Hayes, but it may well have been someone else who has contributed to creative), discussing why The Undertaker vs. Sting and similar dream matches were foolish to book. Because while such matches are fun for fans to speculate about, there's no right way to book the actual match. Nobody would want to see either guy lose to the other, not to mention that neither is in a position to cover for the other's limitations at this stage of his career. It's along similar lines that I feel WWE has booked itself into a corner with Brock Lesnar vs. Goldberg. Goldberg got the better of Lesnar decisively at Survivor Series, and wiped the floor with him in the Royal Rumble match, too. Add onto that their suck-fest at WrestleMania 20, in which Goldberg also picked up the clean win, and what on earth does he have left to prove? The only remotely satisfying outcome, then, is for Lesnar to get his win back in their final confrontation. Think about that. The only satisfying conclusion is for the heel monster to win at the biggest show of the year. Add onto that that Goldberg-Lesnar all but has to be main event. Given the star power of the men involved and the insertion of the Universal Championship, the only other remotely viable option is Orton-Wyatt, which has neither the marquee value, nor the promise of a great match to justify that placement. So, we're left with a main event match in which the best-case scenario is for the heel to win. Add onto that that there's minimal chance the match will be all that good–I'd suggest the best WWE can hope for is a match like Lesnar-Cena at SummerSlam 2014, but even then, a big part of why the match was as entertaining as it was the shock value because WWE hadn't done anything like it before (not to mention that Cena took his sixteen-suplex beating in a way fifty year old Goldberg can't be expected to). Here's hoping WWE and/or Goldberg have something up their sleeve and can somehow prove me wrong, but I don't have high hopes for this one, nor for the end of this WrestleMania.
WINNER: Brock Lesnar
Ken Hill: Well, it's happening, one way or another. Kobe Bryant joke aside, this is the spectacle WWE wanted for WM 33 and is getting. The question will be, will they actually attempt to put together a semblance of a match to give it some gravitas and put the ghosts of WM 20 to rest (Closing Mania with a squash is a VERY dangerous booking idea) or will it simply be a reversal of fortune in which Lesnar tanks the spear and jackhammer, and merely wipes out Goldberg with a surplus of suplexes and a F-5 within five minutes? Either way, Goldberg has made it clear that even trying to get back into the same ring shape he was in before has taken its toll on him, and one can't help but assume that WM 33 will be his last (semi) full-time appearance, and Lesnar will undoubtedly be the "beast" to beat on RAW in the near future.
WINNER: Brock Lesnar
Mathew Sforcina: The reason I wrote all these ditties,
Was not to show off my witties,
But because I'm so bored,
Of what we're toward,
Yet more trips to Suplex Bloody Cities.
The concept I don't really hate,
It's just that it's just not that great,
When there's better guys there,
To be champ, to be fair,
I'm just not Pro-Brock, so we're straight.
I hope this match draws the eyes,
That WWE's profit hits the skies.
Because some good should now come,
A buyrate that is plum,
Else this has all been a waste, otherwise.
Bill can go be a dad,
His comeback now done as a fad.
While Brock goes away,
The belt cannot stay,
And this whole thing is just really sad.
WINNER, and NEW WWE Universal Champion: Brock Lesnar (F5 9:30 into a match 9:15 too long)
Mike Hammerlock: At the very top of my "Matches I Never Wanted to See" list is the Lesnar-Goldberg WrestleMania sequel. Their WM20 clash was an abomination. This match isn't even worth crapping on. Hopefully it's short.
WINNER: Brock Lesnar
Andrew Hughes: For me personally, I believe they could have made this event even bigger if they had Goldberg and Lesnar both square off against current stars (perhaps Brock vs. Strowman/Joe and Goldberg vs. Reigns) but I digress. Clearly the plan all along was for Goldberg to come back, shock Lesnar and become his Achilles heel, get one last run with the gold and finally be conquered at WrestleMania by Brock. Goldberg has barely been touched so far in his return but he should be taking a trip to Suplex City Sunday night. This match will definitely eclipse their second meeting and will hopefully deliver more than their first meeting back at WrestleMania XX 13 years ago. Brock will once again conquer and Goldberg will likely disappear for a while until WWE once again offers him big money to return.
WINNER: Brock Lesnar
Justin Watry: I picked Brock Lesnar over Bill Goldberg at Survivor Series in November and was wrong. I picked Lesnar to eliminate Goldberg at the Royal Rumble and was wrong again. Silly me, I am going with Lesnar getting the best of DA MAN one more time on Sunday night. He has to win, right? The final time these two face off; it has to happen. The Universal Title is just an added ingredient to cap off a 13-year story line that is finally culminating. Where RAW and the championship goes after that is anybody's guess. Finn Balor? Braun Strowman? Roman Reigns? BILL GOLDBERG? Who knows? All I know is I will be in Orlando, Florida for WrestleMania 33, and it is going to be the ultimate thrill ride…
WINNER: Brock Lesnar
Kevin Pantoja: Fuck this. I'm not watching this match.
WINNER: Brock Lesnar but I don't care
Mitch Nickelson: I think that the hardest call here will be whether or not this match goes beyond 6 minutes. Brock Lesnar will win but you've got to wonder if there are any tricks up their sleeves. Maybe there will be a pre-match brawl that goes into the crowd or crashes through a table? Just because this won't be a technical masterpiece doesn't mean it can't be fun. I think Bill will do another match (or two) in 2017, but he's not doing those as Universal Champion. Brock's got a Mania 34 match with Roman to build for and he's taking that title with him.
WINNER: Brock Lesnar
Michael Weyer: And here we go. The main event few really wanted to see. I get it, Goldberg headlining Mania, a one-time dream but it's not as the man is on top is a 50 year old clearly past his prime. That we're getting this instead of, say, AJ vs Owens or something more interesting is just appalling and a reason this Mania isn't getting as much love for fans. I'll say Brock wins but to have two almost part-timers facing off at the biggest show of the year speaks volumes of how poor WWE can be despite their talent.
WINNER and NEW Universal Champion: Brock Lesnar
Make sure to join 411 today at 5PM ET for our LIVE WrestleMania 33 coverage.