Ask 411 Wrestling 01.16.13: Flair-Piper Feud, Andre vs. Studd, Outsiders, and More!
January 16, 2013 | Posted by
Welcome, ladies and gentlemen, to Ask 411 Wrestling. My name is Ryan Byers, and I am here in my next-to-last week of a multi-week fill-in for your regular correspondent, Mathew Sforcina. So, if you've got any questions that you would like to see me specifically answer as opposed to Mat, be sure to shoot them to [email protected] in the next couple of days . . . otherwise you'll miss your opportunity until the next time that Sforcina decides that he wants to take a vacation.
And, now, let's hit the BANNER~!
And what's a good banner without a good Twitter?
http://www.twitter.com/411mania
http://www.twitter.com/411wrestling
http://www.twitter.com/411moviestv
http://www.twitter.com/411music
http://www.twitter.com/411games
http://www.twitter.com/411mma
Backtalking
Honestly, the feedback/corrections were pretty sparse last week. I'll take that to mean either that I'm doing everything perfectly . . . or that I'm doing everything in a manner so boring that nobody wants to talk about it.
I will note that, in response to my answer to a question about why the Honky Tonk Man and Hulk Hogan ever feuded when they were the Intercontinental and WWF Champions, Steven Ferrari noted that they did have on house show match against each other, a 1988 Intercontinental Title match at the Meadowlands that Hogan won by disqualification off of the interference of Jimmy Hart.
Your Turn, Smart Guy
Last week's question was . . .
I am a ten year veteran of professional wrestling, and, during my career, most of my major rivals were twice my size. I never wrestled for the WWF/WWE, but I am credited with inventing a finishing maneuver that was used by one of its most popular wrestlers of the 2000's, and it was even named after me. Subsequent to my retirement from professional wrestling, I married one of my former coworkers, and I began hosting a radio show. Who am I?
Nobody got this one. The answer to the question is Megumi Kudo. Kudo, the "Queen of the Deathmatch" in Frontier Marital Arts Wrestling (FMW), had her most famous matches against much larger opponents like Combat Toyoda and Shark Tsuchiya. She married fellow FMW wrestler Bad Boy HIDO after her retirement, and she also became the host of a radio show in Japan. As far as the WWF finisher is concerned, she is credited with inventing the "Kudome Valentine," which was renamed the "Vertebreaker" and used in the United States by Shane Helms, a.k.a. the Hurricane.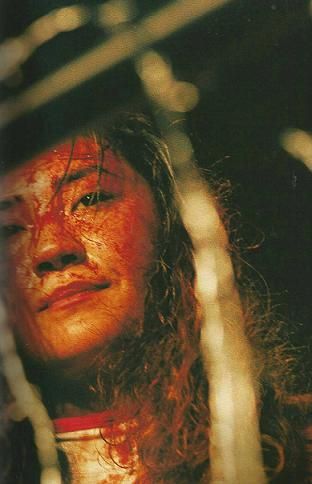 Let's see if we can get an answer to this week's question . . .
I am a former ECW star, and, in another company that I wrestled for, I was given a ring name that was a takeoff on a popular media outlet of the day. I never wrestled in the WWF, but I have a cousin who did. My most famous rival is Steve Austin, and I am credited for ending at least one man's career. Who am I?
Questions, Questions, Who's Got the Questions?
Long-time reader and questioner Laszlo has two unrelated inquiries:
I'm watching a comp tape of a Flair/Piper feud from 1981. In the first match I saw, Ric Flair loses the US title to TV Champ Roddy Piper on January 27th (according to the title histories site). During this match Flair is a strong babyface and Piper a strong heel. Later that year, he defended the NWA World Title against Piper and the roles were reversed (Flair heel, Piper babyface). Was this a matter of the two playing different roles depending on the territory or did both do a switch in '81? If so, what were the details around the switches?
Having not seen the two matches in question to verify what they are and when exactly they took place, I'm actually coming up with a bit of a blank on this one.
Here's what I do know: The January 27, 1981 United States Title match definitely took place, Flair was definitely a babyface going in, and Piper was definitely a heel. In fact, Piper won the match and the title via use of a foreign object, and there were television angles after the match in which Piper continued to taunt Flair, including offering to give him the Television Title as a bit of a consolation prize for the loss. That match took place in Raleigh, North Carolina, which was part of Jim Crockett, Jr.'s Mid-Atlantic territory.
Here's where the problem comes in: To my knowledge, neither Piper nor Flair turned in the Mid-Atlantic territory in 1981. Piper became a face in the late summer of 1982, playing off a situation in which he was stabbed by an angry fan. Flair became a heel that year in his series of NWA Title defenses against the likes of Wahoo McDaniel and Jack Brisco. It could be that the NWA Title match on your compilation actually comes from 1982 and not 1981, as, in '82, Flair did defend the strap against Piper on September 6 in Greenville, SC (Flair loses by DQ); on October 17 in Charlotte (Flair loses by DQ again); November 23 in Raleigh, NC (Flair wins by DQ); and December 9 in Norfolk, VA (Flair wins by DQ again). All of those matches almost definitely would have been after the turns of both men.
There were two Piper/Flair NWA World Heavyweight Title matches in 1981. One of them was on October 20 in Kingsport, Tennessee, which Flair won, and the other was on November 2 in Greenville, which Piper lost via disqualification. Greenville would have undisputedly been part of Mid-Atlantic, where Flair was still a face. I have not been able to confirm 100% what territory promoted the Kingsport show. It could have been Mid-Atlantic, OR it could have been Southern Championship Wrestling, a territory that was owned and operated by Flair and Blackjack Mulligan and had its office out of Knoxville. At first I thought that Flair could've been a heel and Piper a face in this Knoxville-based territory around the time, but that seems unlikely given that cards from Knoxville from around the same period featured Flair against Ivan Koloff (clearly a heel) and that Flair and Windham were cooperating with Jim Crockett in their promotion, so the two territories likely would've run the same basic storylines.
So, essentially, there are three options here: Either the match you're watching occurred in 1982 and NOT 1981 . . . or you've completely stumped me and identified a match I can't locate any record of . . . or I'm off on my understanding of the timeline of the Flair/Piper turns.
If you're reading and think that you can clarify any of this, feel free to drop a line down in the Disqus comments section at the end of the column.
Also on this comp was an upcoming Maple Leaf Wrestling promo for Maple Leaf Gardens. The card had a strange mix of Crockett (Flair, Piper, Wahoo McDaniel) and WW(W)F (Mr. Fuji, Bruno Sammartino Jr.) guys. Did Maple Leaf Wrestling work regularly with both the McMahon's and Crockett pre-1985 to round out its cards? I also thought that they dealt with the Shiek's territory which was AWA, right?
The Toronto-based promotion that ran out of the Maple Leaf Gardens was affiliated with Jim Crockett Promotions from the late 1970's through 1983, when promoter Frank Tunney passed away and left the business to his son and nephew, Jack and Eddie Tunney. Jack and Eddie switched their affiliation from Crockett to the World Wrestling Federation, which is the reason that Jack Tunney got his role as kayfabe president of the World Wrestling Federation, which he held for roughly a decade.
To my knowledge, there was never any mixing of WWF and Crockett talent on Maple Leaf Wrestling shows. I think that you just happened to catch a promo for a show in which some wrestlers who are traditionally affiliated with the McMahons were out on their own. You mention Bruno Sammartino, Jr. (a.k.a. David Sammartino) and Mr. Fuji. If the promo is from 1981, as is the case with the prior match you asked about, then Sammartino and Fuji were actually NOT with the WWWF/WWF at the time. David Sammartino didn't really go full-time with the Fed until 1984 and, in 1981; he bounced back and forth between several territories, including the WWF, Georgia Championship Wrestling, and Jim Crockett Promotions. He also would've had a particularly good in with the Toronto promotion, as Bruno was always very close with Frank Tunney, as he credits Frank with giving him a place to work during a period of time when he was "blackballed" from the rest of the professional wrestling industry. Also, Mr. Fuji, though he is closely associated with the WWF and was a tag champ there throughout the 1970s and had a long managerial run in the 1980s and 1990s, actually took a few breaks from the promotion, one of which was from approximately 1979 through 1981. He would've come through Toronto during that swing.
So, this isn't a matter of WWF and JCP talent comingling as much as it is some "WWF guys" not actually being WWF guys at the time.
Also, the Sheik's territory was not the AWA. The original Sheik (Ed Farhat) definitely worked for the Tunneys in Toronto, and they cooperated with his promotion out of Detroit, which is commonly referred to as Big Time Wrestling. It is true, however, that the Tunney promotion in Toronto did for a period of time recognize the AWA World Heavyweight Title (as in Verne Gagne's AWA) as its world heavyweight championship, and Nick Bockwinkel defended the title in Toronto several times in the late 1970s. This overlapped with the period during which the Sheik was a top drawing card for the Tunneys.
Two weeks ago, we started to tackle a question from reader Jake S. in which he asked for an update on the post-Tough Enough lives of every TE contestant ever. Because of the time and space it would take to answer the question, I decided to break the response up over several weeks. Two weeks ago, I covered the first two seasons of the original series. Last week, I took a look at the last season of the original series and the "Million Dollar Tough Enough" that existed as a part of Smackdown.
This week, we FINALLY wrap up the answer to this mondo question by covering the alumni of the 2011 version of Tough Enough, which aired on the USA Network. In a departure from the previous versions of the show, this time around WWE and USA focused on casting individuals who had experience as independent wrestlers as opposed to the mostly-untrained individuals previously used. As a result, this week we'll focus not only on what the former cast members have done since Tough Enough but also what they did before.
Tough Enough (2011)
Andy Leavine: "Big" Andy Leavine was the eventual winner of Tough Enough, though many fans questioned that decision. Some didn't like the fact that he won because others on the show were more compelling characters. Others didn't like the fact that Leavine won because Tough Enough has historically been a show about earning a WWE contract and Leavine already had a WWE contract before he was cast as part of Tough Enough. Seriously. Leavine was originally a football player, having a collegiate career at a low-level Division I school before very briefly being a part of the Miami Dolphins franchise. Rather than continuing with non-NFL professional football, Leavine signed a developmental deal with WWE in 2010 and began training in Florida Championship Wrestling before ultimately becoming part of the Tough Enough cast. Once he won Tough Enough, he went back to doing exactly what he was doing before winning Tough Enough, i.e. wrestling in FCW. However, he didn't show much in the way of progress, and he was fired by WWE in April 2012, with his only appearance on a main WWE program being the episode of Raw during which he was announced as the TE winner before being humiliated by Vince McMahon and Steve Austin. Since leaving WWE, Leavine has actually continued on in professional wrestling, mostly for one of the two major wrestling promotions in Puerto Rico, the World Wrestling Council. He has been a main event level performer there, capturing the WWC Universal Heavyweight Title and holding it for several months.
Luke Robinson: Robinson, who many had tagged as the surefire winner of the show in its later weeks, was originally an independent wrestler from Maine. He performed there and in several other independent groups for several years, most notably for a group called NWA On Fire, where he was known as the "Golden Boy" Bobby Robinson. Since Tough Enough wrapped up, Robinson has continued to perform on independents in the northeast, including several matches for the New York/Connecticut based Northeast Wrestling, which, despite not getting a lot of play amongst internet fans, is actually one of the top drawing indies in the country due to its fairly liberal use of former WWE stars. In NEW, Robinson has had several matches against those big names, including two bouts with Jerry Lawler, one with Tommy Dreamer, and one with Goldust. It will be interesting to see whether Robinson ever receives (or even wants) another shot with WWE, as he was fairly critical of the company for selecting Andy over him in a series of post-Tough Enough interviews.
Jeremiah Riggs: Riggs was one of the least experienced male cast members of this season of Tough Enough, but his drive and personality allowed him to make it to the final three. Before being cast on the show, Riggs had done some professional wrestling training with "Dirty" Dutch Mantel but didn't have an independent career to speak of. Prior to wrestling, he had spent several years in the United States military and, after leaving the military, established a career as a mixed marital arts fighter. He had a 7-5 professional fight record before being cast for TE, mostly on independent shows, though his biggest win was a unanimous decision on a 2010 Strikeforce Challengers card. He also had a shot at being part of the cast of the seventh season of UFC's Ultimate Fighter reality show, taped in 2007, but he lost a preliminary fight for a spot in the cast. That was not his only pre-Tough Enough reality show appearance. He was also involved in the 2010 VH1 series Daisy of Love, a dating show where he competed to win a relationship with the titular Daisy while he himself was known as the "Big Rig." After Tough Enough, Riggs did have a couple more MMA fights, specifically two losses for the Bellator promotion, bringing his overall pro record to 7-7. Riggs has not fought since May 2012, but he remains associated with an MMA management group called the MMA Monster Factory, and comments on his Twitter account indicate that he is looking for a fight in early 2013.
Christina Crawford: Like Andy Leavine, Christina Crawford was actually under a WWE contract before this season of Tough Enough started. She had been in Florida Championship Wrestling since June 2010 after being recruited out of a dancing career, probably in large part because she is the sister of current WWE performer Alicia Fox. After being cut from Tough Enough, she went back to training and wrestling in FCW under her developmental deal. She made a handful of appearances for NXT after Florida Championship Wrestling was rebranded with that name, though she was ultimately cut during the summer of 2012. She has had a few independent wrestling appearances since her release, including matches for the Wild Samoans' WXW and the aforementioned NEW, where she has done battle with fellow Tough Enough/WWE developmental alumnus Ivelisse Vélez (more on her later). Aside from sporadically wrestling, it is not clear what Crawford is doing with her life.
A.J. Kirsch: Kirsch has been wrestling pretty regularly since 2005, most notably with northern California's All Po Wrestling. (If for no other reason, fans will remember APW as the promotion credited for spawning Tony Jones and Michael Modest in the documentary Beyond the Mat.) Since Tough Enough, Kirsch has gone back to the west coast independent scene and still wrestles fairly regularly for APW. He has now had several matches either competing or teaming with fellow cast member Eric Watts, playing off of their involvement in the show. In one of the most interesting matches of Kirsch's post-Tough Enough career, he and partner Alex Shelley received a shot at New Japan Pro Wrestling's IWPG Jr. Heavyweight Tag Team Titles on an August 2012 show for the Sacramento Wrestling Federation that featured some visiting talent from NJPW. Kirsch and Shelley were defeated by the champions, Alex Kozlov and Rocky Romero.
Martin Casaus: Casaus was primarily known as Tristan Gallo on the independent scene prior to Tough Enough, competing on shows in Utah, Nevada, and California and beginning his career in 2004. His biggest matches were for NWA Wrestling Showcase and NWA Championship Wrestling from Hollywood, the attempt by Adam Pearce and Dave Marquez to start up a national television outlet for the long-irrelevant National Wrestling Alliance. On those NWA shows, Casaus/Gallo had opportunities to wrestle the Young Bucks, Lance Cade, Trevor Murdoch, and indy star Phil Shatter, who went on to become TNA's Gunner. Since Tough Enough, Casaus has started competing under his real name and has largely returned to the same indies that he was working for before (though not the larger NWA-related groups), including at least one match against Tough Enough runner-up Luke Robinson.
Ivelisse Vélez: Vélez was born and raised in Puerto Rico, and she also began her pro wrestling career there as a teenager in 2004, wrestling matches for both of its major promotions, the World Wrestling Council and IWA Puerto Rico. There, she was known as "Sexy Juliet." In 2008, she relocated to the United States, specifically the Chicago area, where she started wrestling on the independents and transitioned from being known as "Sexy Juliet" to "Juliet the Huntress." From there, she was snapped up as part of the Tough Enough cast, though an injury took her out of the competition. Very shortly after she healed up, she signed a WWE developmental contract and began competing in FCW (later NXT) under the new name of Sofia Cortez. However, in August 2012, at the same time as fellow Tough Enough alumnus Christina Crawford, Vélez was cut from her WWE deal. Of all of the Tough Enough 5 alumni, she is the one who has probably gone on to wrestle for the most prominent non-WWE promotion, as, after her release, she started appearing on AAA shows in Mexico as part of the Perros del Mal stable/sub-promotion. She still competes there (under her real name), in addition to on U.S. independents, most notably on the all-women's SHINE iPPV shows that are affiliated with SHIMMER.
Eric Watts: Eric Watts – no relation to the infamously over-pushed son of Bill Watts – was wrestling on southern California independents as early as 2007, where he used the name of Jason Watts. Though wrestling on the lower level independents of the area, he would periodically have run-ins with SoCal mainstays like the Young Bucks, Joey Ryan, and TJ Perkins. Like most of his Tough Enough comrades, what he did after Tough Enough was exactly what he was doing before Tough Enough. He went back to the SoCal indy scene, though he did receive a particularly noteworthy match when he got a shot at the NWA World Heavyweight Title against Adam Pearce on an episode of Championship Wrestling from Hollywood. As noted above, Watts has also been in the ring several times with AJ Kirsch in the post-Tough Enough world.
Ryan Howe: Howe was given the charming nickname of "Skidmarks" by Bill DeMott during Tough Enough. (Recently, we all learned that a silly nickname is the least of your concerns when training with DeMott.) Howe, originally from Indiana, was trained by Tracy Smothers before Tough Enough and got his biggest independent wrestling exposure with Ohio Valley Wrestling. Since Tough Enough, he has mostly returned to OVW. Given that has home promotion now has a developmental agreement with TNA, it will be interesting to see if Howe is able to work his way into a contract with that promotion.
Rima Fakih: In a bit of what might be referred to as "stunt casting," Fakih, who was the winner of the 2010 Miss USA beauty pageant, was placed on the show as one of the few competitors with no prior professional wrestling experience. She was an early cut, though arguably not as early as she should have been, and she has had no ties to wrestling since the series came to a close. What is she doing with herself these days? According to her official website, she is pursuing a career in television.
Mickael Zaki: I have found records that state that Michael Zaki's wrestling career began in 2009 and, though I have no reason to doubt that, I can't locate any more detailed records about where he wrestled or trained prior to Tough Enough. However, after Tough Enough, he has mainly been on the Florida independent scene with a company called Florida Underground Wrestling. While there, he has had a handful of matches against Ryan Howe.
Michelle Deighton: During Tough Enough, Deighton claimed to have eleven years of pro wrestling experience, which was complete and utter B.S. Granted, there is footage out there of her wrestling a match in 2004 for a small independent group in Indiana (see below), but there is no indication that she had more than a handful of matches or that she in any way was continuously involved in wrestling for the decade prior to her Tough Enough appearances. What she was known for as opposed to wrestling was appearing on reality television shows, as she was part of the 2005 season of America's Next Top Model and then married reality TV contagion and pro wrestling hanger-on Johnny Fairplay. Subsequent to Tough Enough, she has done nothing of note.
Matt Capiccioni: Poor Matt Cross really got the internet's collective panties in a twist as a result of his Tough Enough appearance. Cross originally gained "fame" in the late 1990s as a backyard wrestler named M-Dogg 20, whose exploits were circulated on bootleg video tapes across the country. He, along with friend and backyard wrestling partner Josh Prohibition, got some legitimate training and started to break out in east coast independents like ECWA and CZW in 2001 and 2002. Throughout the early 2000s, he would continue to compete for most of the larger independents of the day, including XPW, PWG, and Jersey All Pro. In 2005, he received his first Japanese tour thanks to Big Japan Wrestling and, in 2006; he finally began competing for Ring of Honor, for the first time regularly using the ring name of Matt Cross. The same year, he got his first somewhat national exposure in the United States, as he was cast as the tag team partner of Teddy Hart for MTV's Wrestling Society X project. 2008 saw Cross tour with Japan's Pro Wrestling NOAH, where he put on a mask and was known as "The Raptor," receiving singles matches with Bryan Danielson and Naomichi Marfuji, in addition to regularly teaming with Nigel McGuinness. In 2009, he got more international exposure, wrestling on the four-day "Hulkamania" tour of Australia in a series of matches against Shannon Moore. While working for Hulk Hogan, Cross adopted the name "Spartan 3000" along with a look and gimmick inspired by the movie 300. It was also in 2009 that Cross ended his relationship with Ring of Honor, and he worked for fairly nondescript indy groups between then and Tough Enough, which is what he has also continued to do after Tough Enough.
Ariane Andrew: Believe it or not, Ariane Andrew, the girl who made Steve Austin have a meltdown by proclaiming that her favorite professional wrestling match involved Melina and Alicia Fox, is the only Tough Enough 5 alumnus currently employed by WWE and the only one who ever had a somewhat significant role on WWE television. She is currently Cameron of Brodus Clay's Funkadactyls. She had no pre-Tough Enough wrestling experience but got a developmental deal as soon as she was done with the show, hanging around Florida Championship wrestling for about six months before receiving her call-up as one of Clay's dancers . . . and then she got a pretty embarrassing DUI.
It is interesting to note that Austin Aries submitted materials to apply for Tough Enough 5 but was not selected. This lead to him somewhat infamously pitching a fit and considering retirement from professional wrestling before ultimately turning things around and re-signing with TNA.
AND THAT FINALLY DOES IT. Every Tough Enough alumnus ever, plus some folks who aren't technically TE alumni but have connections to the show. Mathew Sforcina: YOU. ARE. WELCOME.
HBK's Smile (if that IS his real name) wants to talk about 1980s tag teams with three questions:
1) When Tully and Arn left the NWA for the WWF, why did the match where they lost the Tag Team Titles have such a screwy finish? One would think bookers would have put The Midnight Express over strong, and that Tully and Arn would have been professional enough to do their job properly.
I think the answer is that the Midnight Express, though they were certainly the team that was meant to be cheered for the purposes of the feud with the Horsemen, weren't yet meant to be out-and-out babyfaces yet. The promotion did what it had to do to transition the belts on to Lane and Eaton but didn't want them to be good guys, and any shenanigans in the finish were a way of reminding us of that. Basically, it was the Midnight Express staying true to their roots. The full turn by the MX didn't come until the brutal match in which they flip-flopped roles with the Road Warriors.
2) According to wikipedia, Adrian Adonis and Jesse Ventura were awarded the AWA Tag Team Titles because co-champion Verne Gagne couldn't defend because he was vacationing in Europe. Was this the kayfabe reason? If not, what explanation was given to the fanbase? If so, how could this not greatly devalue the titles? And on a side note, other than the Fingerpoke of Doom or non-wrestling titleholders (e.g; David Arquette), is there an example of a title change that did greater damage to a title's credibility?
I hate wrestling articles on Wikipedia.
That being said, you are correct, the story about the tag title defense being booked while Verne Gagne was out of the country on vacation, thereby necessitating a forfeit, is the kayfabe explanation for the title change. (This is one of the reasons for my aforementioned dislike of how Wikipedia treats wrestling – they spend too much time covering something that is a work as though it were a shoot, something that no legitimate "encyclopedia" would or should actually do.) The actual explanation as to why the title change played out is it did is that Gagne was the booker of the promotion, and he wanted Ventura and Adonis to be the tag champs, but he didn't want to have to put a loss on his record. So, he just concocted a story that didn't really make any sense about how he was tied up at the time he had to put the titles on the line.
I was not around at the time to get a sense of how much, if at all, this devalued the championships. However, based on the reading that I have done, it sounds as though it didn't hurt them too horribly much. There are a couple of possible reasons for this. The first is that things like this didn't happen with much regularity at the time, so one odd title change when the belts were otherwise kept strong wouldn't have hurt badly. The second is that Ventura and Adonis were a really great act so, if they were booked strongly, they would've managed to get themselves and the belts over in spite of the lame means in which they got the belts in the first place.
As far as the second half of the question is concerned, if you want an example of a title change that really hurt a championship's credibility, I would suggest that you take a look at Lex Luger becoming the WCW World Heavyweight Champion in 1991, winning the vacant title over Barry Windham. This was the title change that had to occur as a result of Ric Flair bolting from the company, and fans HATED it. They hated it in large part because they still wanted to see Flair around, but they hated it even more because Luger was such a step down in terms of ability and charisma. WCW as a promotion and its championship were down in the dumps as a result of that until Hulk Hogan showed up to breathe new life into the company in 1994.
3) Obviously, Mr. Fuji was thrown into the WrestleMania V Tag Team match between Demolition and the Powers of Pain to take the fall, something that almost everyone watching at time knew would happen. But why was this deemed necessary? The match served as the blowoff of the feud; there were no televised rematches, and Demolition segued into two overlapping feuds with the Brain Busters and Twin Towers while the Powers didn't do anything noteworthy until being split up soon after. Why not have one of the Powers just take the pinfall?
I think I answered this question (from a different person) when I was filling in for Mat once before.
I actually DON'T think that Fuji was thrown into the match to take the fall to allow the Powers of Pain to save face. Fuji was put into the match because the entire feud started when Fuji turned on Demolition to side with the Powers of Pain. The match and the feud weren't just about Demolition getting revenge on the Barbarian and the Warlord and beating up the Barbarian and the Warlord. The feud was about Demolition getting revenge on and beating up Mr. Fuji. This was not an uncommon way to book managers back in the day, as they would be the real antagonists to the faces as opposed to the people they were managing, who were largely just there as the manager's muscle. The blowoff to the feud between the wrestlers would then focus on the face wrestler getting revenge on the manager. Usually this would happen in a stipulation match where the face would get five minutes alone with the manager if the heel lost, but, in this case, it took the form of Fuji being a direct participant in the match.
Muta Mark (I am really beginning to doubt the authenticity of these names) has a series of four questions for me to tackle:
1. Is there is any truth to the rumor that Dan Severn was going to pull a shoot at the Royal Rumble 1999?
Severn apparently did do an RF Video shoot interview in which he claimed that a mixed marital arts company offered him an obscene sum of money to go into business for himself and legitimately win the 1999 Royal Rumble.
However, he turned them down. I would imagine that he never even seriously considered it. Why? Because there is no chance in hell that Dan Severn, or virtually any other man on the planet for that matter, could legitimately win a one-on-twenty-nine fight. If he was going to legitimately attempt to get everybody up and over the top rope, he was going to fail. Without cooperation, dumping somebody over the top, whether you're a shooter or not, would be virtually impossible, particularly if they're dead-weighting you or otherwise attempting to impede your efforts. (And I'm talking about people of average weight, not superheavyweights like Mabel who were entered in the match.) Even if he was going to try to take everybody out without traditionally eliminating them, there is too much that could go wrong, especially because the first thing that the bookers would do once they realized what was going on would be to send three or four tough guys out to the ring at the same time to take care of business. I don't care how great a shooter you are, chances are very slim that you're going to survive being attacked by several large men simultaneously, especially if they're looking to win at all costs without following the Unified Rules of Mixed Martial Arts.
2. Also, what were the plans for Dan Severn coming in? I have a feeling Vince wanted to give him a good push. Feud with Shamrock is a no-brainer, but maybe an Austin feud? But in saying that, round that time didn't they want Dr. Death Steve Williams to be feuding with Austin? Plus you had Taker and Kane feuding with Austin. But, then again, it was during the Russo era of booking. Anyway, going off tracks a bit there, what were the plans for Severn?
At the time he was brought in, Dan Severn was the NWA World Heavyweight Champion, and the original plan for the NWA "invasion" of the WWF was for it to be a somewhat major angle, similar to the nWo invading WCW. (No, seriously, that was the plan.) If that plan came to fruition, chances are good that Severn, as the NWA Champ, probably would have been feuding with the Fed's top guys, including Steve Austin. However, the NWA invasion flopped, in part because Severn didn't wrestle a style and didn't have a personality that really clicked with WWF fans and in part because Jim Cornette, who was the proponent of the angle and one of its key pieces of talent, was falling out of favor politically due to his clashes with Vince Russo.
3.Was The Jackyl (Cyrus from ECW) meant to be part of the Undertaker's Ministry when it first formed? I saw the YouTube video of Jackyl recruiting Faarooq and Bradshaw, so I thought he had to be. Or was the Acolytes tag team just originally meant for the Jackyl to manage himself before them plans were scrapped?
It was the latter. The Acolytes and the Jackyl were originally going to be a group independent of the Ministry, and they were moved over to the Undertaker's stable once the Jackyl and the WWF parted ways.
4. And, quickly if you can, please tell us the story of Tom Magee!
I can tell it quickly because there really isn't much of a story to tell. Tom Magee was a former weightlifter who also had some experience in martial arts and gymnastics. Eventually he decided to go into professional wrestling and was trained initially by the Hart family in Calgary. He had a really impressive physique and was remarkably agile for a man of his size, being able to perform backflips and other gymnastic maneuvers. However, absolutely none of this translated into him being a worthwhile professional wrestler. He did get some early buzz, because he worked his first match against Riki Choshu in February 1986 and his first tryout match for the World Wrestling Federation in October 1986 against Bret Hart.
Word is that, after the Bret Hart match, Vince McMahon fell in love with Magee and wanted to give him a major push, perhaps even building the company around him once Hulk Hogan was no longer able to go. However, there was one thing that Vince failed to account for: Tom Magee was never really that good of a professional wrestler. In fact, he was laughably bad. Yes, he looked good against Choshu and Hart, but they were both world class professional wrestlers capable of dragging a good match out of the green grappler, and Bret had the additional advantage of having previously worked with Magee while he was training up in Calgary. So, while he looked like the next big thing against them, he looked completely clueless when he continued to tour with the WWF throughout 1987. In 1988, he tried to do a tour with All Japan Pro Wrestling, but he just never improved, and in fact had one of the most legendarily bad matches in all of Japanese wrestling history when he faced Hiroshi Wajima on April 21 of that year:
Magee came back to the WWF one more time after 1989 and had a series of matches with Tim Horner (who was a pretty good hand in his own right), but things never clicked and he quietly bowed out of the sport.
Will loves to love the ladies:
A recent question regarding Triple H and Chyna's on-screen relationship got me thinking. They were ambiguously separated around 1999-2000 and we all know Triple H and Stephanie began dating in real life which in turn created bad blood between Triple H and Chyna. However, I remember a program afterwards where Triple H sought out relationship advice from Chyna, which pissed Eddie off, etc. I even remember Chyna DDTing Stephanie during an episode of Smackdown. My question is why did Triple H, Stephanie, and Chyna work together despite all these on-goings? Was there no conflict at this point?
I'm sure that it was less than comfortable for at least one of the parties involved, but the fact of the matter is that people in all walks of life and in all different careers are, from time to time, asked or required to work alongside certain people who they don't have the best track record with. They do it anyway, because they're either big enough people to be professionals or because they don't think that they have a choice from a financial standpoint. I'm sure that one of those two things was happening here.
Mijo Hernandez wants to make himself a superstar:
When WCW Wrestlers went to the WWF they became superstars, for example Kevin Nash, Scott Hall, Undertaker, Stone Cold, etc. But when WWF wrestlers went to WCW, they were not as big of big superstars. Did WCW know how to make a superstar, or did they just hope they were big enough superstars?
It's unquestionable that part of WCW's business model during the Monday Night War involved cashing in on the popularity of WWF stars from a different era that fans weren't quite yet tired of watching, such as Hulk Hogan and Randy Savage. It is also true that several people who jumped ship from WCW to the WWF became big players in wrestling when they were previously midcard at best in WCW.
However, I don't think that it's fair to say that WCW did not know how to make a superstar. They actually made several. Prior to the war, WCW was where guys like Vader and Sting were first established and, though some people refuse to admit it now, during the Monday Night War, WCW turned guys like Diamond Dallas Page and Goldberg into two of the most popular wrestlers in the country without the benefit of them having any prior WWF exposure. So, I don't think WCW had no idea how to make a star. It's just that, during the Monday Night War, they typically didn't have to do it. However, when called upon to do so, they did create some new stars of their own.
Greg is the one true giant:
I just watched Royal Rumble 1989, and was wondering what was going on at this time with Big John Studd. He seemed in line for a major run after rejecting Heenan and winning the Rumble, so why did he get relegated to referee at WM5? Did he get hurt? Was there an original plan for something greater? Was the Rumble win a "thank you" to crown the end of a long career?
Studd had left the WWF late 1986 and came back just in time to compete in and win the 1989 Royal Rumble. While he was gone from the company, it seems that he actually didn't wrestle anywhere, and instead he focused on a variety of television and movie projects. I've not read this anywhere, but I assume that the brief departure was due to the fact that he wanted to try something outside of wrestling, and he probably wanted to try something outside of wrestling because of mounting injuries. (He had been wrestling since the early 1970's, mostly on a WWWF schedule.)
As far as his comeback is concerned, it was almost certainly intended to be longer and more impactful than it actually was, as he was gone from the company by June after returning in January. As far as his Wrestlemania V position is concerned, I don't think that it's as big of a downgrade from Royal Rumble winner as you're playing it up to be. First of all, this was only the second Royal Rumble, so winning the match had significantly less prestige than it does these days. Sure, winning a thirty man match was still a big deal, but it wasn't something that was seen as immediately advancing a wrestler into the WWF Title mix as it would become in later years. Instead, it was just the perfect setup to remind the fans that Studd was a force to be reckoned with, setting him up for the program that he ultimately received with Andre the Giant, flip-flopping the heel/face roles that they'd had when they did battle with each other a few years earlier.
You also have to keep in mind that, at the time, pro wrestling storylines moved much more slowly than they do now and, furthermore, pay per view was still relatively young and house shows were a far more important revenue stream. You didn't want to give away Andre/Studd for the first time in years on Wrestlemania. You wanted to save it for the house shows, where it could make more money than on pay per view. The guest referee spot was the perfect way to have the two wrestlers interact without giving the match away.
So, I think that the original plan was exactly the plan that we saw implemented. Studd just left earlier than first planned, meaning we didn't see a television or pay per view blowoff for the Studd/Andre feud, which normally would have been run for several months on house shows before it was considered "used up" and perfect fodder for a PPV or a Saturday Night's Main Event.
If you're curious as to why Studd left, I was able to locate a March 1, 1990 article in the Pittsburgh Post-Gazette, in which Studd was interviewed about a part-time wrestling comeback he was making for a group called NAWA. In that article, he indicated that the end of his WWF career was due to a financial dispute, though he did not give any more details.
Amado has a question that involves homosexuality:
On several occasions during the Attitude Era, Jim Ross made not so veiled comments about Pat Patterson's sexual orientation while announcing. On one occasion, "The Stooges" hit the ring and JR states, "Here comes Patterson, who's always bringing up the rear." On another, Patterson is on the way to the ring and Ross says, "The parade must be over." How in the world was Ross allowed to get away with this? I love his work, but that's always bothered me. In addition, was Patterson ok with these remarks?
I consider myself a big gay rights advocate, I've got numerous gay friends, and on more than one occasion I've been accused of being too politically correct, but I think you're making too much out of these comments. Ross was just identifying, in a thinly veiled manner, that Patterson was gay. He wasn't necessarily saying anything negative about Patterson being gay or gay people in general. Granted, Patterson being gay didn't really have anything to do with his character at the time and you can argue that J.R.'s comments were a way of playing on fans' existing homophobia to get more heel heat on the Stooge, but I don't think that was the spirit in which the comments were intended nor the way in which they were taken by most.
Did the comments bother Patterson? He's not gone on record about them to my knowledge, but I would be amazed if he was bothered. Patter has been a huge cog backstage in the WWWF/WWF/WWE for literally DECADES, from his time as a wrestler to an announcer to a booker to a trainer to thousands of other roles. He really was one of Vince McMahon, Jr.'s most trusted business associates, part of the true "inner circle" and even the freakin' godfather of Stephanie McMahon. If he had a problem with anything that was said on the television show, he would have had the stroke to get it stopped, if not the stroke to get the person involved fired. Plus, as a gay man born in the early 1940's, I'm sure that he's had to put up with much worse.
Former 411 writer Dino Zucconi has a question:
It's your old friend, Dino! Well, at least, your old colleague! I mean… I periodically wrote about being a mark once upon a time.
Anyways, me and a buddy were talking about El Generico signing with WWE, and I made a joke that he should keep his look, but be called "Generic John Anderson," which led to my buddy saying that masked wrestlers always have gimmick names, and never regular names. I said it wouldn't be impossible for a masked wrestler to have a normal name, and used Johnny B Badd's brief masked period after Maxx Payne shot him in the face with the Badd Blaster as proof. That obviously didn't suffice for him.
Now, we know gimmick names can be used for painted, masked, and regular wrestlers. We also know that regular names can be used for guys with face paint and no paint. So, while not impossible, my question to you is: Has there ever been a masked wrestler who didn't use a gimmick name?
There have been several over the years, but, you're right, they're definitely in the minority. A few examples that I can think of would include:
1) Depending on what you would want to count as a "gimmick name," the former WWF jobber to the stars Aldo Montoya might count. Granted, "Aldo Montoya" was not his real name. His real name was P.J. Polaco, and he was the same guy that played Justin Credible. However, Aldo Montoya was definitely meant to sound like a "real name" as opposed to more gimmicky names like Mortis or Villano III.
2) During his WWF run, the Patriot was openly acknowledged as being a man named Del Wilkes, which, again, may count depending on the distinction you want to draw between real names and gimmick names. He was mainly referred to by his gimmick name but, in storyline, he also had a commonly known "real name."
3) Similar to the Patriot, Gregory/Shane Helms was acknowledged as being the real name/secret identity of the Hurricane when he was a masked wrestler in the WWF. You could say the same about Mick Foley and the Mankind character after the first several months of his run. The original Tiger Mask, Satoru Sayama, currently does something similar on the Japanese independent scene, though his real name was not widely known during his original run with the masked character.
4) You might also consider the Killer Bees, B. Brian Blair and Jim Brunzell. They were always known by their real names and would wear masks so that they could do the old "switcheroo" gimmick during their bouts. They didn't wear the masks full time, though, so you might not count them. Pat Patterson and Billy Graham actually did a similar gimmick in the 1970s in Roy Shire's San Francisco territory, but they wore their masks not for the purpose of switching but rather so that they could load them with foreign objects and headbutt opponents.
My Damn Opinion
It's time to play the "what if" game, this time with Matt:
How do you think the late 90's would have run its course if the WWF had been able to keep Diesel (Nash) and Razor (Hall). Would WCW have tried to lure an HBK or made Bret an offer sooner or some other WWF name to go to their side? Do you think Razor would have gotten a run with the WWF title? Would DX have been basically the kliq, except on screen? Could NWO have been created and existed with anyone else joining a heel Hogan? Would WCW have folded WAY sooner?
If Nash and Hall didn't jump ship, I think that wrestling history would have turned out almost exactly the same way that it did. WCW launched Nitro before Hall and Nash were on board, meaning that Eric Bischoff had come up with his Turner-backed gameplan of aggressively going after the WWF and laying out tons of money for whatever stars they could get their hands on. If it weren't Nash and Hall, WCW would have lured somebody else away to plant the seeds of the nWo angle . . . and the nWo angle didn't need Hall or Nash to draw. It just needed the initial overtures of a WWF invasion, which could've been done with almost any upper card WWF guys. Beyond that, the real draw was Hogan and his heel turn, and Nash and Hall were secondary.
I also don't think that Nash and Hall would have done all that much in assisting the WWF in the war against WCW. If they were going to be major draws in the WWF, they would have been prior to the Monday Night War, but they never were.
Conor asks for evaluation of two different pieces of talent:
Regarding Bam Bam Bigelow (r.i.p.) in 1995, man you have to feel bad for the poor guy, jobs to a football player at Mania 11 and is promised a main event run which happened at that god awful King of the Ring event, then he's pushed further down the card because of the Clique and is jobbed to Goldust at Survivor Series before being shown the door. My question is if it wasn't for the politics, do you think Bam Bam could of made it to the top? Surely he couldn't have been any worse than Diesel and is generally regarded as being one of the best big men ever, maybe not the GREATEST in the ring but when he had someone who could really go, like those surprisingly good matches with Tatanka of all people, he could really take it up a notch.
Yeah, I think that if Bigelow was pushed properly, he could have done at least as well as the main eventers that the company had during 1994 and 1995. He proved in New Japan and even in the WWF in 1993 against Bret Hart that he could work main event quality matches. I think a big part of the problem with him in 1995, apart from any political machinations by Michaels and company, is that he was horribly miscast as a babyface. The guy had a look that made him much better suited to be a heel, and he wrestled better in that role as well. If I were booking and didn't have to put up with the Clique bungling my storylines, I would still have him lose to L.T. at Wrestlemania but use that as a catalyst for him to "snap" afterwards, adopting an even more hardened persona and running through several top babyfaces en route to a WWF Title program. Heel Bigelow against face Michaels during that period could have ruled, and it's one of those potentially great matches that we never got for whatever reason.
Regarding the Smoking Gunns, how would you rate them on your top tag teams list? Every time I tuned in to Raw or a pay per view, they always seemed to have the belts and made challenging for the belts meaningful, so they definitely deserve a mention in a list of great tag teams
They were a solid enough tag team from a performance standpoint, but I have trouble ranking them among the all-time greats just because, for most of their run in the WWF, the tag division was incredibly pathetic. The Gunns felt like they were champions because there really weren't any better options, as at first there only competition was various combinations of the Million Dollar Corporation and the Headshrinkers. Later on, the entire division consisted of the Gunns, the Bodydonnas, the Godwinns, and the New Rockers, which isn't exactly a stellar group. If Billy and Bart had better competition or if more emphasis was placed on the belts during that time, they might be able to sneak on to my list of all-time greats, but, as things stand, they're just sort of an historical footnote.
Tony wants to close us out by talking ring names:
Just wondering if you think Dolph Ziggler has a name so razor sharp that it can cut glass. Do you think that when he was thinking of a name that he closed his eyes and saw his name in blue neon lights. that it was so bright and sharp that the sign just blew up because the name was so powerful.
Plus, do you think that he told Vince McMahon about his name while they were in a hot tub and Vince told him that the angels brought Dolph Ziggler to him?
Actually, my thoughts are quite the opposite. I don't care for Dolph Ziggler's name. I think that it is too cartoonish and gimmicky and does not sound like a name that a main event professional wrestler would have. I would strongly recommend that WWE come up with a way of changing it before giving him a major run with a singles championship.
Also, he was not brought to Vince McMahon by angels. He was recruited out of amateur wrestling after his career at Kent State University.
That's it for this week's Ask 411. If you can't get enough of Ryan, follow him on Twitter here.