Botched! 4.15.17: Jinder Concusses Finn, Charlotte vs Nia, More
April 15, 2017 | Posted by
Hi, hello & welcome to the professional wrestling column that nobody wants to be included in, Botched! The Superstar Shakeup went down this week, and a few of them got shaken up in more ways than one. Let's take a look at five shakeups that weren't on purpose…
1. Jinder Stiffs The Heck out of Finn
I've been seeing an online movement getting behind Jinder Mahal as of late. He's gotten into the best cosmetic shape of his life and he's bringing the stiffness in the ring, so people say that he deserves more of a push. He moved to SmackDown Live this week so maybe he'll get a chance there, but before he did that he got a match with Finn Balor that didn't go all too well for the returning Demon King.
At 1:10 in the video Jinder delivers a right elbow to a running Balor that waylaid the dude and ended up giving him a concussion. To me, a person that believes that wrestlers should try to protect their opponents, the logic of pushing somebody because they gave another wrestler a concussion escapes me. I applaud Jinder's work ethic, but he's gotta cool his jets in the ring a touch here. Wrestlers say you can lay your stuff in without killing people, and I take their word for it. Jinder needs to find that balance where he won't kill people with his hard effort.
I did have to wonder if there was something to TJ Hawke's tweet suggesting that Balor leaned into Jinder's punch to avoid a feud with Bray Wyatt.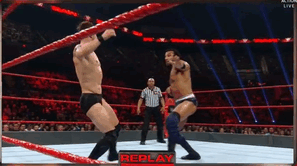 Yeah, that's not good. Hope Balor's back in the ring at 100% soon.
2 & 3. Nia Breaks Charlotte's Face, Charlotte Returns The Favor
As it turns out, the Charlotte Flair vs. Nia Jax match on Monday's edition of Raw will be a one-time only match instead of the start of a feud. Charlotte got sent to SmackDown Live on Tuesday, and considering how Monday's match went I think both she & Nia were very happy about it.
The fun starts 15 seconds into the video when Nia decided to deliver a shoulderbreaker to Charlotte. Pretty standard move, except when Charlotte's head gets driven into Nia's knee instead of her shoulder. Haven't seen that one before. Charlotte responded at 1:42 in the video with something I've seen a bit more often, a knee to Nia's head on a moonsault to the floor. I guess that makes them even, though it's more likely that Nia just lost her in the lights and couldn't make the catch.
Charlotte will be happy to be on SmackDown and avoid more of this, and Nia will be glad to throw around people that don't do moonsaults off the top rope onto the floor.
4. Xavier Almost Goes Coast To Coast
The New Day got one last match with the Revival on Raw before moving over to SmackDown Live, and as they should have, they put over the new team. Hopefully Xavier Woods, Big E & the eventually returning Kofi Kingston will find plenty of things to do on blue brand, they've not been doing a whole lot on Raw lately.
Perhaps that's why Xavier Woods didn't get as good a jump as he thought he would?
At 1:20 in Xavier goes for an elbow drop from the top rope. Nice idea, except for the fact that Scott Dawson was all the way across the ring. Xavier got pretty close to sticking the landing, but as Michael Cole pointed out: "he didn't quite get all of that one". On the bright side, pretty much everything was on point, especially that Shatter Machine to end the match.
I blame Shane McMahon and his penchant for going Coast to Coast…now everybody thinks they can do it.
5. Mojo nearly kills Lil' Naitch
Life's gotta be tough if you're a referee. No matter what you're refereeing, you're the most distrusted man at all times. Fans think they're smarter than you & know what is a foul and what isn't. In wrestling, you get the added bonus of having wrestlers beat you up from time to time. Sometimes they'll nearly take you out without even trying, as Mojo Rawley almost did to Charles Robinson on this week's SmackDown.
At 1:10 of the video Mojo decides he's going to hit the ropes where Robinson is standing, whether Robinson likes it or not! Y'know, Mojo kind of does his own thing from time to time and nobody really knows what to expect. Except that it'll be HYPED!
Thanks for reading! If you see (or hear) anything wrong in the world of wrestling, let me know via Twitter or e-mail at [email protected] Have a good weekend!