Botched!: Balor or Bullet, Sin Cara's Exposure, More
April 21, 2018 | Posted by
Hi, hello & welcome to the column that nobody in the world of professional wrestling wants to be in: Botched! It was a busy week in the world of wrestling with tons of things being shaken up. Here's some things that shook out the wrong way!
1. What Club is Finn in these days?: Finn Balor is a popular man that leads a popular club. What's it called again?
@grimstoyshow @deanhowell16 @Unstable1047 Last Night on #RAW I cannot Believe @WWEGraves accidentally said 'Bullet Club' On National TV instead of 'Balor Club' (The hell with it. @FinnBalor is Balor Club and Bullet Club #4life) pic.twitter.com/tJWc3qE4oJ

— Christopher K. Smith (@cksmith08) April 17, 2018
Who can blame Corey Graves? We've all got Bullet Club on the brain thanks to the stellar leadership of Cody.
2. Bayley slips on the ropes : Bayley & Sasha Banks had a big showdown on Raw Monday night. I was pretty excited for it, as they've been teasing this feud for a long time & they had some pretty great matches in their NXT days. Unfortunately, Bayley had a mishap within the thirty seconds that hurt the flow of things.
Sasha vs Bayley , estipulacion mejor de 3 Botches #ShakeUPCL pic.twitter.com/R4WC8wdCUs

— #TeamToniStorm (@MarkBass33) April 17, 2018
Not a great way to start the match off. Sasha did her best to save it by immediately going on offense, but they had to work awhile to get the fans back into it. Then they got jumped by the Riott Squad. Rough night.
3. Iiconics Entrance Graphic Flub: It's great to see Billie Kay & Peyton Royce on SmackDown Live, no doubt about it. There's just one thing that's a bit off. It might only be annoying to me, but it can easily be fixed too.
This has happened the last two weeks. Billie appears on the left while Peyton appears on the right. Their names are on the opposite side of where they're standing. Let's be real, not everybody watches NXT & knows Billie & Peyton. It would be easy for a casual viewer to mix them up if they're regularly appearing next to the wrong name.
I know how weird it is that I notice things like this when Billie & Peyton are out there.
4. We saw a little too much of Sin Cara
We haven't seen too much of Sin Cara on the main WWE shows lately. I assume he's on Main Event all the time or something. He made a SmackDown appearance this week to get killed by Samoa Joe. He did that, and he also got to show the world a different side of himself.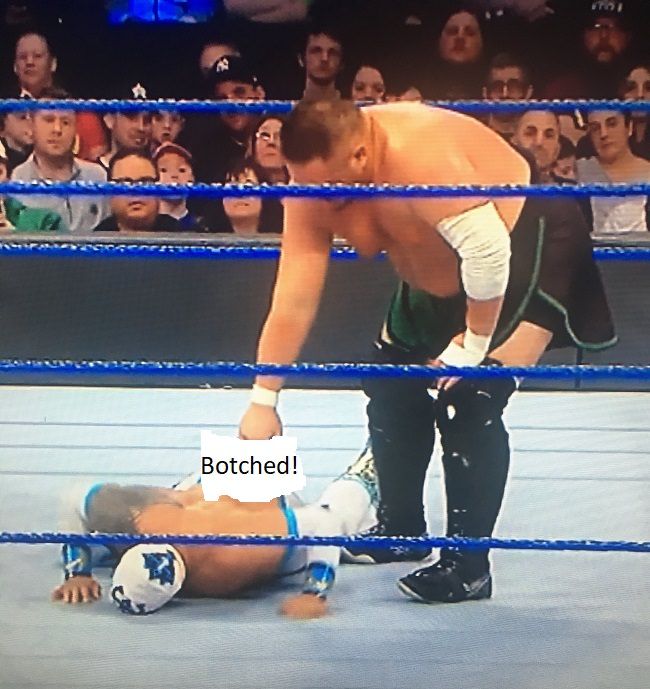 Hopefully, in the future, Mr. Cara will keep more than just his face covered.
5. EC3 mixes up his 80s pop singers: EC3 is pretty great. If you don't know, ask him & he'll tell you all about it. WWE NXT tweeted about it, & EC3 decided to respond.
"Simply the Best"
-Bonnie Taylor (and later covered by Tina Turner.)#nx3 https://t.co/j7PIujWp70

— ecIII (@therealec3) April 19, 2018
Only problem is that it was Bonnie Tyler, not Bonnie Taylor. I think Larry Csonka dated a "Bonnie Taylor" in high school. Also, if I felt like being even pickier, I would point out the song is titled "The Best" & not "Simply The Best". Everybody makes that mistake though.
Thanks for reading! If you see (or hear) anything wrong in the world of wrestling, let me know via Twitter or e-mail at [email protected] My Twitter feed is also great for Nashville Predators takes. Have a good weekend!