Botched 4.8.17: Undertaker's Last, Goldberg's Son's First
April 8, 2017 | Posted by
Welcome back to the column that nobody in the world of professional wrestling wants to be mentioned in, Botched! It was the busiest week of the year in the world of wrestling, hence there were the most chances to make mistakes. Let's take a look at five of them…
Nigel forgets where he's working
Nigel McGuinness has spent most of his wrestling career working for Ring of Honor, but recently made his way to WWE as a commentator. He's been doing pretty well so far, but sometimes it's tough to forget where you came from, as Nigel found out after Alestier Black finished off Andrade Cien Almas:
These things happen. I hate to imagine the kinds of verbiage Nigel was hearing through his headset after that, though.
Who Would Stop Gronk From Doing Anything?
We should have known who was winning the Andre the Giant Memorial Battle Royal when we saw Rob Gronkowski & his boys at ringside. He & Mojo Rawley are super-tight and having Gronk get involved to help Mojo eventually get the win sounds like one of those things that can be describe as a WrestleMania Moment.
Even if it happened during the Kickoff Show. Let's be real, it's all the same at this point.
But not everybody thought it was super obvious that once Jinder Mahal was dumb enough to get Gronk's attention that the New England Patriots tight end would jump the rail and lay some type of smack down on the man. One security guard was doing her job and attempted to keep this from happening.
You gotta give her credit, she was more effective against Gronk than a lot of would-be defenders in the NFL.
The Tombstone That Wasn't
Roman Reigns & Undertaker main evented WrestleMania 33 in a match I described on the Twitter machine as "not much going on and sad at the same time". They tried their best, but Undertaker just didn't have anything to offer. There were a number of bad decisions during the match, but the worst was when Roman tried to Tombstone the Undertaker. It didn't go well.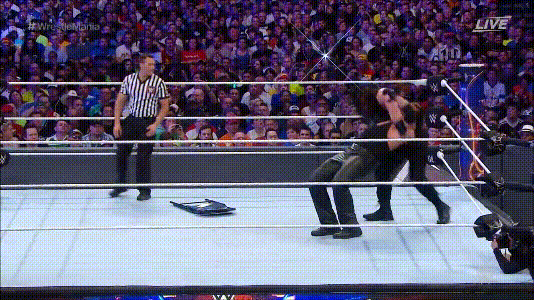 It wasn't a great note to go out on, but I suspect that 99.9% of wrestling fans won't remember a whole lot about Undertaker's last match other than it was his last match. If anybody deserves a comfortable retirement from the ring, it's him.
Goldberg's Son Makes His Debut
Goldberg didn't appear on the Raw after WrestleMania. No, he waited until the show ended to come out and address the crowd. The fans in attendance hadn't been very supportive when Goldberg was mentioned earlier in the evening, but he managed to turn them in his favor by shooting from the hip. We all know that the reason behind Goldberg's return was that he wanted his son to see him wrestle. Goldberg invited his son into the ring Monday night, and he committed the first botch of his career.
It's good to get it out of the way as early as possible. Everybody laughed it off and the kid got a tremendous reaction from the crowd. Good for the Goldbergs. Wrestling bringing family together instead of tearing it apart is always nice to see.
Alexa can cheat better than this
Alexa Bliss has had a very productive year on SmackDown Live, no doubt about it. I get the feeling she might not be there much longer, especially since she submitted to Naomi's new finisher two times in the past week. Not the best of weeks for the Wicked Witch of WWE, even her attempts at cheating were a bit off.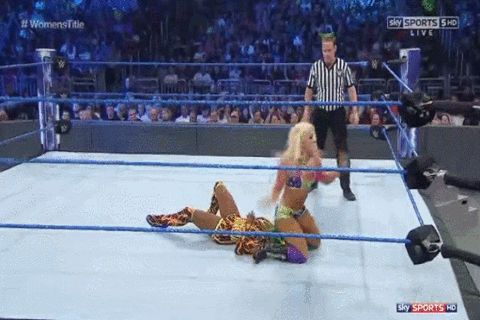 I mean, grabbing the ropes right in front of the referee with Naomi out of position? You're better than that, Alexa. Prove me right when you're wrestling on Monday nights.
Thanks for reading! If you see (or hear) anything wrong in the world of wrestling, let me know via Twitter or e-mail at [email protected] Have a good weekend!