Csonka Looks at The Impact Departures of Jarrett, Spud, Terrell, & More
November 6, 2017 | Posted by
Welcome back to column time with Larry! I am back again after a busy few days, because Impact Wrestling has once again made some big time roster changes and they need to be discussed. In 2017 tracking the arrivals and departures may as well be a full time job. I have done my best to track things here, here and, here. Anyway, I hope that you enjoy today's column, and feel free to share your thoughts. It's wrestling, we love it and will disagree. The only rules are "have a take, be respectful of other's opinions and don't be a dick."
Every Referee Under Contract: This is no joke, every referee under a contract or working regularly with Impact Wrestling has departed the company. This is a combination of the company not offering secure deals and the change to using more taped content (which is in the plans) and the cost cutting measure of using more local talent for these positions. The move allows them to drop guaranteed pay and also to save on flying them in paying for hotel rooms. On the surface, this may not mean much to some, but dropping the entire officiating crew is actually a major move. The talent are used to working with the refs, the refs are familiar with the production of the show and the cues for time and other things during the match. Making the move ahead of the year's biggest show and a week of TV tapings is a gamble. Word is that Impact reportedly offered several referees paydays that were "greatly reduced" compared to what they usually get. When the Hebners asked for their releases, everyone else followed suit. I assume while in Canada, they will use a crew of guys that Scott D'Amore regularly works with for BCW.
MJ Jenkins: Jenkins was signed back in April. She only had limited performances for the company, XPLOSION, Impact and One Night Only PPV (about 5 appearances in total). She had a good look, as well as a good attitude as she bussed herself on her own dime to work the lack knockouts PPV. She has passion and drive, but was clearly a project with her lack of experience. If Impact was going to stay based in the US for sure, Jenkins likely would have been kept as she couldn't have been making much money. But considering she was barely used and lacked experience, she was simply expendable.
Marshe Rockett: Marshe Rockett signed with the company in 2016, and only worked around 15 matches for the company from October 2016 to March of 2017. Rockett was a guy that they talked up a lot, but never did a damn thing with. He was never presented as anything special. He was always placed in short matches or meaningless XPLOSION matches. I also was never exactly a big fan of the guy, he's big (for Impact) and can do some fun stuff, but considering the depth of talent on the indie scene these days, would be far from the first guy I'd call in. But while I not a big fan, I will say again that he never got a real chance. He was signed, appeared, and was presented as "just another guy," and stayed that way until he was released. I wish him luck, but with so much talent out there, he's easily replaced.
Eddie Kingston: It's funny, Eddie Kingston is a guy I generally like, but if I am being honest with you, I have never felt that he was a must see performer. The company signed him and put him in the DCC angle, and for the majority of hid run, managed to take away his best asset, his promos. To me it felt as if they signed Eddie Kingston but didn't want "Eddie Kingston," because they never let him be himself. He was shoehorned into a stable that was, in my opinion, dead on arrival. They ran some cool videos, the stable debuted, they jobbed almost right away and then turned into James Storm, walk and brawl Bram, and the guy that looked like Eddie Kingston. In my opinion, this is a win for both sides. The company clearly had no clue how to book Kingston and use his strengths, and Kingston will likely be happier working around the indies, where he can do his act, and be himself.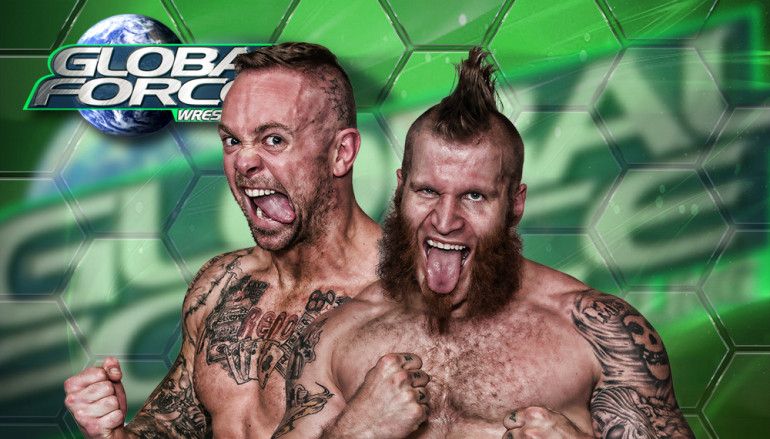 Reno SCUM: Reno SCUM were Jeff Jarrett's guys from the original GFW days. I have seen a fair amount of their work outside of Impact and find them to be a rock solid tag team, not a team you build your division around, but a solid team to have around and be a part of the division. They are sure as hell better than the Veterans of War. But with Jarrett taking a leave and then being let go by the company along with the company entering cost cutting measures (and possible Canadian relocation), their days in Impact were numbered. Adam Thornstowe being injured and the team being off TV for so long only made the move easier for the company to make.
Taryn Terrell: When Terrell left WWE, she was a horrible character and just about as bad a wrestler. But to her credit, she busted her ass, became a rock-solid character and turned into a good wrestler that had the ability to work up to her opponents and deliver in big matches. There may have been better wrestlers (as far as everyday matches) but not everyone has the ability to up their game and deliver in the big matches. She did some great stuff with Gail Kim, and that's why she came back to the company. It was smart getting her to come back; she was a ghost of Gail Kim's past and was aiming for revenge. Things were seemingly going well, and word was that she only returned as a favor to Kim to be a part in her retirement tour. Terrell appeared all in on her return, but them word came out that she was done with the company, reportedly because she won't be able to get into Canada, due to past legal issues (her issues with ex-husband Drew McIntyre). It's a shame that her return led to no real conclusion, but I honestly never thought her comeback would last very long. I figured once the angle with Gail was done that Terrell would bounce back into retirement and motherhood by the end of the year.
Rockstar Spud: Rockstar Spud was the winner of British Bootcamp, a favorite from the Dixie regime and someone I have been fearing would depart the company. Love him or hate him, the little guy made the absolute best out of everything the company handed him. The fact that TNA failed to capitalize on the feud with EC3 after he and Spud had their great hair vs. hair match, where Spud came off as a tremendous babyface/underdog star to only go back to a lackluster heel was so disappointing. The word is that Spud requested his release due to the company failing to properly fill out the paperwork for his visa, which's why head been gone for so long and working exclusively in Europe since June. I think Spud will end up being fine, the dude is talented and there are already reports that WWE has interest.
Jeff Jarrett:Back in June, I half jokingly wrote about Jeff Jarrett being the smartest man in wrestling. Anthem Entertainment got rid of Carter when they bought the company, and brought Jarrett back into the mix to run things. Jarrett immediately brought in his wife Karen, Dutch Mantel, Scott D'Amore, and Sonjay Dutt and integrated the GFW titles that he could into the Impact product as part of the build to Slammiversary. Anthem Entertainment then bought Global Force Wrestling from Jarrett, and then it was finally announced that Impact Wrestling was re-branding to Global Force Wrestling. Jeff Jarrett had won, Global Force Wrestling failed upward in a way that no one could have expected years ago, but that many speculated would once Jarrett was brought back. Jeff Jarrett had just completed the best long con wrestling has seen in years.
But things weren't as clean and tidy as it appeared to be. The Anthem/Global Force Wrestling was never finalized, and after a long time of rumors regarding Jarrett and his issues with drinking at shows, things got worse. Anthem put Jarrett on a leave of absence in early September; a decision that was made by Anthem's Ed Nordholm due to unhappiness about Jarrett's "erratic behavior." On October 23rd, Impact terminates their business relationship with Jarrett. October 24th a Canadian promoter claims that Jarrett passed out from drinking in a locker room and wrestled drunk. On October 25th, Jeff Jarrett entered WWE sponsored rehab.
Jarrett's departure is deeper than a promoter, a booker or the state of the company, it is about a man that needs help and looks to finally be getting it. I mentioned long time rumors above, for years there have been the rumors of Jarrett's alcohol abuse. Showing up to shows and seminars inebriated, performing under the influence and similar things. But they were constantly swept under the rug by the old boys club, his friends refused to speak out and others refused in fear of losing bookings; that's why it remained rumor and innuendo.
In Jarrett's case, I don't care if he ever returns to the company or the business in any way. He's a husband and a father, and has more important things to worry about. I hope he gets healthy and happy and can focus on making things right with his family. I don't want to be writing a eulogy for him anytime soon.
There is concern among talent that the company will ask to renegotiate deals in order to take lower pay over the next week. The company has been cost-cutting heavily as of late, with the company not bringing talent in until whichever taping dates they are needed for and then sending them home when they're done. We haven't seen the last of the departures…
– End scene.
– Thanks for reading.