Csonka's Evolve 38 Review 3.08.15
March 9, 2015 | Posted by
Csonka's Evolve 38 Review 3.08.15
Introduction
As a reminder, this will not be another traditional recap, but instead it will be a mash up of the Rs, Instant Analysis and my usual Twitter ramblings I would do during the shows; completely uncensored and as the ideas flow unfiltered to the old keyboard. Remember, this is a review; and I am here to review the show. As always, I encourage discussion and even disagreement, just do so in a respectful manner. I will be doing the review for Raw and most PPVs and iPPVs going forward.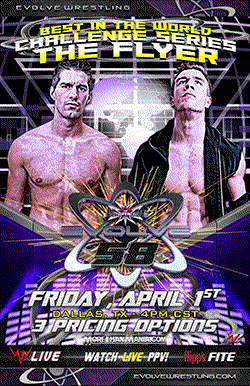 Click on the banner to order the show.
Evolve 38 Review 3.08.15
OFFICIAL RESULTS
~ Biff Busick defeated Martin Stone @ 5:15 via submission [**½]
~ Team Tremendous defeated Earl Cooter and Jody Kristofferson @ 10:30 via pin [**¾]
~ AR Fox defeated Matt Cage @ 12:30 via pin [***½]
~ Chris Hero defeated Drew Gulak @ 19:10 via pin [****]
~ PJ Black defeated Caleb Konley @ 12:30 via pin [***]
~ Davey Richards defeated Anthony Nese @ 21:25 via submission [**½]
~ Non-Title Steel Cage Match: Roderick Strong defeated Drew Galloway @ 21:10 via referee stoppage [***½]
---
* This was a show that came about late, but the company opted to take the shot and run prior to Mania weekend. Trent Baretta was pulled from the card (sounds like he signed an ROH deal), so things got re-shifted and Martin Stone is getting a shot against Biff Busick. Also, PJ Walker makes his WWNLive debut early and takes on Caleb Konley. Beyond Wrestling's Team Tremendous gets to make their debut, and finally, one half of the TNA Tag Team Champions Davey Richards, makes his Evolve return to battle Anthony Nese.
* Rob Naylor is on commentary tonight.
* The show was scheduled for an 8PM ET start, but the show that ran before this one at the same venue ran long. The show actually started at 8:30PM ET.
Martin Stone vs. Biff Busick: Martin Stone worked WWE Developmental as Danny Burch. He was under contract from late 2011 to April of 2014, and was then released. He's been working the independents, and also appeared at the recent TNA One Night Only: Gutcheck tapings. Biff Busick is awesome and someone you should be watching more of. Seriously, Busick has been working on a high level for sometime now, and is a fantastic technical brawler similar to a Fit Finlay in many ways. They had a fine outing here, Stone's style fit well with Busick and I'd like to see more of him. He was here to put Busick over, but did well for himself in the ring. This flew by time wise, they know the style, they work it well, I just wanted to see more. But I felt that this is exactly what this was supposed to be; Busick won with the choke, and promised to take out Chris Hero in San Jose
Team Tremendous of Dan Barry & Bill Carr vs. Larry Dallas' New Team: Larry Dallas' new team was Earl Cooter and Jody Kristofferson. Yup. Cooter is a mainstay in the WWNLive shows, working a lot of FIP and was on the tour of China where he teamed with Jody Kristofferson. Kristofferson was under also under a WWE developmental deal from 2012 to 2013. Team Tremendous has been a ton of fun from what I have seen from them in Beyond Wrestling, and am happy to see them get a look on this show. I felt Team Tremendous made a really good debut here, Cooter is an undercard guy and Kristofferson is generally not impressive; but with that being said this was a good and clean match. The crowd loved Team Tremendous and they need to be brought back. This was a lot of fun. Miscommunication between Cooter and Kristofferson led to Team Tremendous hitting a doomsday sliced bread for the win. Also, bonus points for Larry Dallas not getting involved at all or talking.
Matt Cage vs. AR Fox: Matt Cage has been getting a lot of buzz recently, and was "endorsed" by Uhaa Nation as part of Evolve's new deal where talent "recommend" talent to be brought in. Fox attacked right away, and Naylor did a great job of explaining that they have history and came up together, which was appreciated. This was the complete opposite of the opener, which was a deliberate and physical match. This was fast paced from the opening bell. I haven't had the chance to see Cage before, but I enjoyed the debut. He got to show off a lot of his game and was treated as an equal to Fox, who is established in the WWNLive universe. I feel that is important when introducing new talent. Stone did fine, but that was last minute and Busick is being groomed for bigger things, but I liked how this one was laid out. Fox hit two superkicks, the Lo Mein Pain and a 450 to put away Cage. Fox has hit several near falls, and this came across as he had to completely unload his bag of tricks to finish his opponent. Fox winning is the right call as he is booked in important matches for Mania weekend. I also appreciate that this match felt completely different than anything presented thus far on the show.
Chris Hero vs. Drew Gulak: This should feature a lot of striking and sound technical wrestling, which I enjoy. The start featured a very methodical, and deliberate pacing as they were essentially putting on a catch-wrestling clinic. Gulak was getting the better of things, which led to a Hero cheap shot and a striking battle. Gulak would eventually fight back after hero beat him down for a while, did some nice leg work and kept trying for the ankle lock repeatedly. This is just everything, style wise, that you don't generally see in the regular wrestling on TV. The pacing, the refusal to do cliché spots like constantly running the ropes or chinlocks for the sake of chinlocks, it felt like a fight and as if everything they were doing meant something. You not only believed both guys wanted to win in the worst way, but that this was personal. Hero won with a brutal looking tombstone on Gulak. I really enjoyed the match as I am a fan of the style, these guys are simply really good at it. This was completely different from Fox vs. Cage in every way, which is a compliment to the layout and booking of the show.
* Hero cut a promo post match and Busick came out. They looked as if they would have an impromptu match, but Hero threw Gulak into Busick and then they brawled. Busick got the choke, but Hero escapes. This was good build for their Mania weekend match. Busick showed Gulak respect as he helped him to his feet and they shook hands.
Caleb Konley vs. PJ Black: AR Fox is out for commentary to scout Black, as they face off Mania weekend. Black is of course the former Justin Gabriel. Konley is currently one half of the Open The United Gate tag team champions. AR Fox marking out on commentary while also putting over Black was fun and also good build for their upcoming match. The match wasn't as smooth as previous matches in terms of layout. The flow was odd in that it never felt as if they had a defined layout, instead they just did stuff. It was really impressive stuff at times, but there were points that it felt as if they were doing stuff with no real agenda or purpose. Black won clean with the springboard 450. Black was fun to watch outside of the WWE environment, and I can't wait to see what he can do over Mania weekend. I felt Konley losing here was perfectly acceptable, he's a tag wrestler right now and they had the chance to get Black for an extra date, which in theory helps to push the Mania weekend shows.
Anthony Nese vs. Davey Richards: Richards is replacing Trent Baretta on the show. Nese has been a really good and consistent performer for WWNLive and I tend to enjoy his performances. It feels like forever since I have watched Richards in an extended singles match, but he looked as if he was having a lot of fun and interacted with the crowd well. There was a hiccup or two early, but this was a good and fun match. It felt as if they were starting to work for something great, they hit third gear and then just stayed there. They started to unload down the stretch, but I never felt the buzz in the near falls or bought into them. Then they just started kicking out of a ton of stuff, the crowd was invested into both guys, which is always a good thing, but I came away feeling that they could do better. The match never built to that fever pitch and it didn't get me on the edge of my seat. I also didn't like the booking, with Konley already losing, Nese really shouldn't have lost here. Black is set for the major Mania weekend shows, we aren't sure when Richards is coming back. But if you needed Richards to win, then they should have booked him against someone else. In my opinion, this was another match that could have benefited from having about 10-minutes shaved off to make it a tighter presentation, it was way too long.
* Intermission to set up the cage started at 10:26PM ET. After 56-minutes, we're back to the live feed. On a personal note, I felt that this intermission completely crushed the momentum that the show had. We had a really good flow and it felt as if the show was flying by for the first two hours. I get that it can't be helped sometimes, but I felt it was a valid point to make.
* After nearly an hour, Strong was out and cut a promo. Galloway attacked and they brawled. Poor placement on the promo after the long intermission for set up of the cage.
Non-Title Steel Cage Match – Must Be A Winner By Pinfall, Submission Or Knock Out: EVOLVE Champion Drew Galloway vs. FIP World Heavyweight Champion Roderick Strong: These men have has a wild feud, and now they face off inside a steel cage to finally settle the score. Strong is one of the most consistent workers on the independent scene, and Galloway has been really good for WWNlive since his arrival so this has a lot of potential. This is Evolve's first ever cage match. For the most part, this was a very basic match in execution. They brawled with each other, trying to make it feel like a fight to play off of the feud that got them to this match. They used the cage well overall, making the impacts mean something and not just doing it because they were in a cage. They eventually started throwing vicious strikes, leading to Strong hitting some of his signature moves for near falls. Unfortunately they weren't ones that really made you bite. After several more minutes, they finally got the crowd to buy on a near fall after Galloway powerbombed Strong into the cage and then hit a piledriver on Strong. Strong then threw the ref into Galloway and hit a low blow, leading to a series of strikes and a back breaker for another good near fall. Galloway got slammed to the metal part of the buckle and was busted open. Strong then connected with another series of leaping knees, and then four sick kicks as Galloway was between the ropes and cage, which buckled. Strong kept delivering kicks and the ref finally called for the bell. The crowd chanted bullshit, as it was supposed to be pin, submission or KO and Galloway was not out. Strong then beat down Galloway post match until PJ Black made the save. The finish came off a bit weak in all honesty due to Galloway never really being out and the ref stoppage felt a bit like a cop out. But I appreciate a steel cage match with no run ins, guys not getting out and the fact that they made this feel like a fight. I also felt that they built well through out the match to the vicious ending as Strong came off as a complete asshole. In addition to that, many figured Galloway would win with no questions due to the Evolve Title being positioned higher than the FIP Title.
* Post match Black tried to cut a promo, but the mic went into business for itself. He wanted their match on the 26th to be for the title. Galloway agreed to the title match. Galloway then tried to cut a promo, the mic again decided against it and was cutting out. He was basically saying that he is finally getting to be himself, and thanked the fans for believing in him. He then put over Strong big time, but said that this feud wasn't over. He promised that they would finish this in New York the next time that they come. He then said that there were too many titles here, and that there should be one champion. Galloway wants to make himself vs. Gargano for the WWNLive Supershow to unify the titles. Galloway did well considering the mic issues, but it was rough as hell to get through.
* End scene.
* Thanks for reading.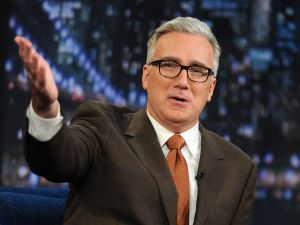 "Byyyyyyyyyyyyyyyyyyyyyye Felicia!"
7.6
The final score: review Good
The 411
As far as the wrestling goes, this was a good show. I felt that Team Tremendous has a good debut, as did Matt Cage. They performed well and the crowd reacted to what they in a very positive way. PJ Black had a fun outing nothing blow away, but a solid introduction to the company and I am excited to see what he can do over Mania weekend. Guys like Galloway and Baretta have come in and done very well in WWNlive, maybe he can be the next. The variety in the wrestling was something I personally enjoy. All too often, with WWE, TNA and even New Japan, things can feel too similar and start to lose their impact. We had fast paced aerial wrestling, catch wrestling, an all out steel cage war; and it all worked together well. The first two hours, prior to the intermission flew by and had a great pace and purpose to it. Hero and Gulak was tremendous stuff.

On a production note, the lighting was a bit rough, especially for brawling outside the ring. It was almost impossible to see the action at times. I don't need big time WWE production, but I need to see the action. Also, the live mic cut was frustrating on the promos we got, the promos here were actually important but were difficult to digest due to the audio issues. I mean, they were setting up a unification match for Mania weekend here but the mic issues killed the moment. What also hurt the show was that long intermission, I already discussed it above, but it killed the flow that the show had.

Despite the mic issues, I felt as if the company did good work to set up the three big shows on Mania weekend. The work on Hero vs. Busick, introducing Black to their fanbase, and setting up the long rumored title unification bout. That's a great hook for Mania weekend, and I feel that Galloway and Gargano could deliver a really good match. The booking of both tag champ losing was a bit frustrating and the Richards match was simply way too long.

Overall I enjoyed the show and do like the direction the promotion is heading. They really seem to have an identity and are sticking to it.
legend