Csonka's Evolve 40 Review 3.27.15
March 27, 2015 | Posted by
Csonka's Evolve 40 Review 3.27.15
Introduction
As a reminder, this will not be another traditional recap, but instead it will be a mash up of the Rs, Instant Analysis and my usual Twitter ramblings I would do during the shows; completely uncensored and as the ideas flow unfiltered to the old keyboard. Remember, this is a review; and I am here to review the show. As always, I encourage discussion and even disagreement, just do so in a respectful manner. I will be doing the review for Raw and most PPVs and iPPVs going forward.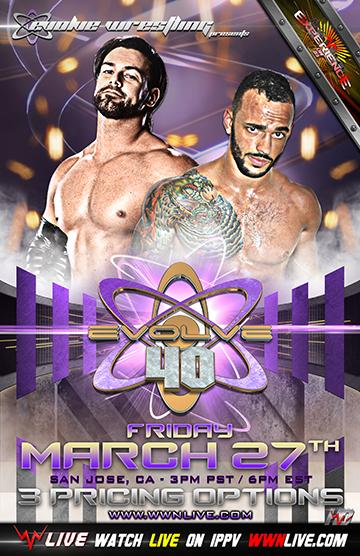 Evolve 40 Review 3.27.15
OFFICIAL RESULTS
~ Non-Title Match: EVOLVE Champion Drew Galloway defeated Uhaa Nation @ 10:00 via [***]
~ Timothy Thatcher defeated Tommy End @ 17:00 via submission [****¼]
~ Drew Gulak defeated TJ Perkins @ 12:00 via submission [***¾]
~ AR Fox defeated Ethan Page @ 14:00 via pin [***]
~ Chris Hero defeated Biff Busick @ 20:00 via pin [****¼]
~ Caleb Konley and Brian Cage defeated Rich Swann and Johnny Gargano @ 16:00 via injury [NR]
~ Ricochet defeated PJ Black @ 15:00 via pin [***½]
* You can order Evolve on iPPV & VOD at this link.
* You can read my Evolve 39 Review at this link.
* The show started a few minutes late, and we had no audio to start. Thankfully that was fixed within a few minutes and we got to action.
Non-Title Match: EVOLVE Champion Drew Galloway vs. Uhaa Nation: They worked some basics early, with Nation focusing his efforts on the arm. Galloway would constantly try to roll out or escape, but Nation would hold on, so Galloway had to use strikes to finally escape. As expected, Galloway (who is a face, although a very aggressive one) was working the subtle heel role here. They did pretty good job of working around the obvious winner here, Galloway had to win as he's going into the title vs. title match and Nation is WWE bound. They had some good near falls, Nation is always fun to watch as he got to show off his speed and power and the work was clean. The finish saw Galloway (after a hiccup) counter a backslide into the future shock DDT for the win. Good opener.
* Post match Galloway put over Nation, gave his "rah-rah Evolve is real wrestling" speech and then did the hard sell for tomorrow's title vs. title match with Gargano.
Timothy Thatcher vs. Tommy End: Both men were in fun matches at Evolve 39, but were on the losing end of things. This will be a grappler (Thatcher) vs. striker (End) match, which continues Evolve's dedication to highlighting styles other than just "pro wrestler". Both guys would venture into the other' specialty area a bit, and we ended up developing this into a worked MMA style. Thatcher and Gulak was more of a catch wrestling or grappling bout, but with the strikes and leg kicks this match resembled something closer to MMA. I have said it before and will say it again, the style is not for everyone but not only do I love it, I think it's so awesome when done well like this. Thatcher's selling of the head kick was excellent, looking like he got legit dropped and was out. They teased brawling on the floor, but it ended up as a countout tease on Thatcher as End kicked out his legs and he face-planted on the apron. Thatcher's strikes were good and I liked the play on real fighting as he was looking for knockouts/TKOs by having the ref count on his opponent as he'd back off to a corner. Thatcher was getting brutalized and was constantly covering up and fighting from the bottom to survive. They had a tremendous closing stretch, filled with strike counters and hold reversals, leading to Thatcher scoring the big win with the arm bar. Post match Hero was being a dick as Thatcher showed respect to End. Thatcher then shoulder bumped him on the way out. Thatcher and Hero face off tomorrow night. This match was fucking awesome, they had great intensity, the layout was that of a fight, the execution of the work was so good and realistic; it all was on point. Thatcher got the win, End got over with the live crowd with a great performance and they did some set up for Thatcher's big match with Hero tomorrow night. Good wrestling and building to the next night's card? This was awesome.
TJ Perkins vs. Drew Gulak: Gulak now has an entire team cornering him like he's an MMA fighter. Perkins was originally going to be a major part of Evolve when it started, but there was a falling out and he left. Commentary did a good job of selling his history as an early Evolve competitor and noting that the style we're seeing more of is something he was doing back then. They did some really slick grappling, with Perkins working the arm of Gulak. Gulak of course was working for his ankle lock. This had tons of great counters, like watching a grappling session of advanced BJJ or catch wrestling students. Gulak is another one of these guys that has this style down so well, and Perkins was good here. The only complaint really was that I think they should separated this more from Thatcher vs. End. AR Fox vs. Ethan Page is next, and could have been placed here to break it up and give the viewer some variety. Even with that being said, this was a really fun and really good match that I enjoyed. The hits keep on coming.
AR Fox vs. Ethan Page: They did a little comedy at the beginning, leading to Fox running wild and then hitting some dives. I felt as if I didn't see anything from Page last night, he was a guy and he did stuff and that was that. Tonight more personality came across, and I enjoyed the work he did tonight much more. There were a couple of hiccup spots in the middle, odd delays between moves and such, but they worked hard and provided some fun action. Also, it was completely different from the grappling/fight style fights, which needed to be separated by a more traditional pro wrestling match like this. Page got a near fall late off of a cutter on the apron, and unlike the night before the crowd actually bought into that. Fox battled back, hit strikes, an enziguri, Low Mein Pain and then the 450 for the win. This was a step down from the previous matches in my opinion, but not in a bad way; Fox vs. Page was just a good and enjoyable pro wrestling match
* Post match Page cut a promo about losing two nights in a row, saying people should boo him. He then discusses Gargano endorsing him, setting up the turn that's to come. Gargano then came out to the ring and told Page to shut up because he believes in him. Gargano said as long as he gave it his all he didn't let anyone down, and he has shown that he belongs. Gargano then hyped tomorrow's title vs. title match. That's appreciated.
Chris Hero vs. Biff Busick: Hero vs. Busick is a match I am looking forward too, due to the way that they mix things up but still work a different style. They will do pro wrestling basic stuff and transition into a bit of strong style, then do world of sport style grappling before going into a striking battle, and they make that potpourri of wrestling work and work with little effort. Hero dominated early, and was doing the "KO" gimmick like End was doing earlier. Leading into the match Hero had promised to KO Busick, while Busick had promised to choke out Hero. Busick then started to make a comeback and was landing these insanely hard, running, European uppercuts on Hero. Busick was relentless going for the choke, which almost cost him as Hero would counter later and hit a piledriver for a near fall. Busick returned the favor with a half nelson superplex for a near fall. He had hit a few of the regular variety earlier, looking to soften up the neck area for the choke. Hero hit two elbows late for a near fall, and then hit two more but Busick said fuck you and kicked out at one. FIGHTING SPIRIT! But it didn't last as hero hit another elbow and then the tombstone piledriver to finish off Busick. The story was that Busick said he didn't fear the elbow and that he wouldn't get KO'd and he didn't. Hero reluctantly clapped for Busick before leaving to show respect. They had a strong build to this match and delivered in the ring, waging a true battle that felt like a fight. This ended up being another great match, Tomorrow is Hero vs. Thatcher, and that could be really good and hopefully leads a huge win for Thatcher.
Johnny Gargano & Rich Swann vs. Caleb Konley & Brian Cage with So Cal Val & Andrea: They added to the set up of this match last night when Cage and Konley and beat down Swann after Swann's team won the six man tag match on that show. Swann got hurt late, and Gargano fought back and made Konley tap out for what appeared to be the victory completely out of nowhere. But then they announced that Konley and Cage won due to injury/referee stoppage. That unfortunately came off as a complete mess. Swann was reportedly down on the floor and drinking water, Gabe Sapolsky noted on Twitter that Swann is "ok" and in the back, and that the issue is with his ribs. Lets hope that this is nothing serious. The match felt as if it was about to get going into the home stretch before the odd stoppage. Due to the odd way it ended and the general incomplete feeling the match had, this was the "worst" thing on the show, but it wasn't bad, nor was it their fault. There will be no match rating due to the injury, the fact that it really wasn't complete, which makes it hard to give it any real rating that makes sense to me. I've done this in the past, it just seems like the fair thing to do.
* Ricochet came out and spoke about Swann being banged up, but hopes that it doesn't bring down the crowd for the main event.
Ricochet vs. PJ Black: AR Fox is on commentary as he faces Black tomorrow night. Black was part of the Evolve 39 main event, which I felt under delivered, lets hope that he steps up tonight against Ricochet. I mean, if you can't have a good match with Ricochet, there are issues. They did a lot of fast paced counters early, and then Ricochet took control. That dude is so good, as everything he does he does effortlessly and nearly flawlessly; he's good at this pro wrestling thing. They went back and forth in a striking battle, and then Ricochet looked to hit a 450 but missed, leading to Black hitting a springboard 450 for a near fall. Ricochet then got a near fall off of a reverse RANA off the top, which was cool. Ricochet then had enough of that shit and planted Black with a sick powerbomb, and then hit the 630 for the win. Black worked hard and overall this was a much better performance than the night before. This wasn't a great main event, but it was a quality way overall to close the show.
* They embraced post match and then Ricochet got on the mic. Ricochet put over Black, saying that without the handcuffs he's the man. Black said he's not "a promo guy" but says he left WWE so that he could wrestle guys like Ricochet. He wanted to wrestle like that every night, and he couldn't wait for this match.
* 411 will have LIVE WWE Hall of Fame coverage, starting at 7:45PM ET on Saturday night.
* 411 will have LIVE WWE WrestleMania 31 coverage, starting at 5PM ET on Sunday.
* I will be also be doing reviews for SHIMMER 71, The WWN Super Show, King of the Indies (both night one and two) and of course WrestleMania. Make sure to follow 411 all weekend, as we have all of the shows covered that are on PPV or iPPV.
* End scene.
* Thanks for reading.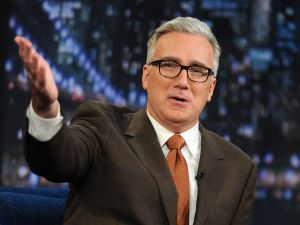 "Byyyyyyyyyyyyyyyyyyyyyye Felicia!"
8.5
The final score: review Very Good
The 411
Evolve 39 was a polarizing event, one that I was not a fan of and felt that it was the promotion's weakest show of 2015. The promotion rebounded big time with Evolve 40 to put on one of its best events of the year and more importantly the show I knew they were capable of. There was good wrestling up and down the card, and two excellent matches that really captured a lot of what the promotion has been building to and in ways wants to be defined by. Even with the unfortunate issue with the tag team match, I give an easy recommendation to check out Evolve 40.
legend